The perfect Mediterranean summer feast: Garlic-herb marinated grilled lamb with mint pesto...Plus, favorite Mediterranean sides and salads to serve along!
I am honored to partner with the American Lamb Board to bring you this post!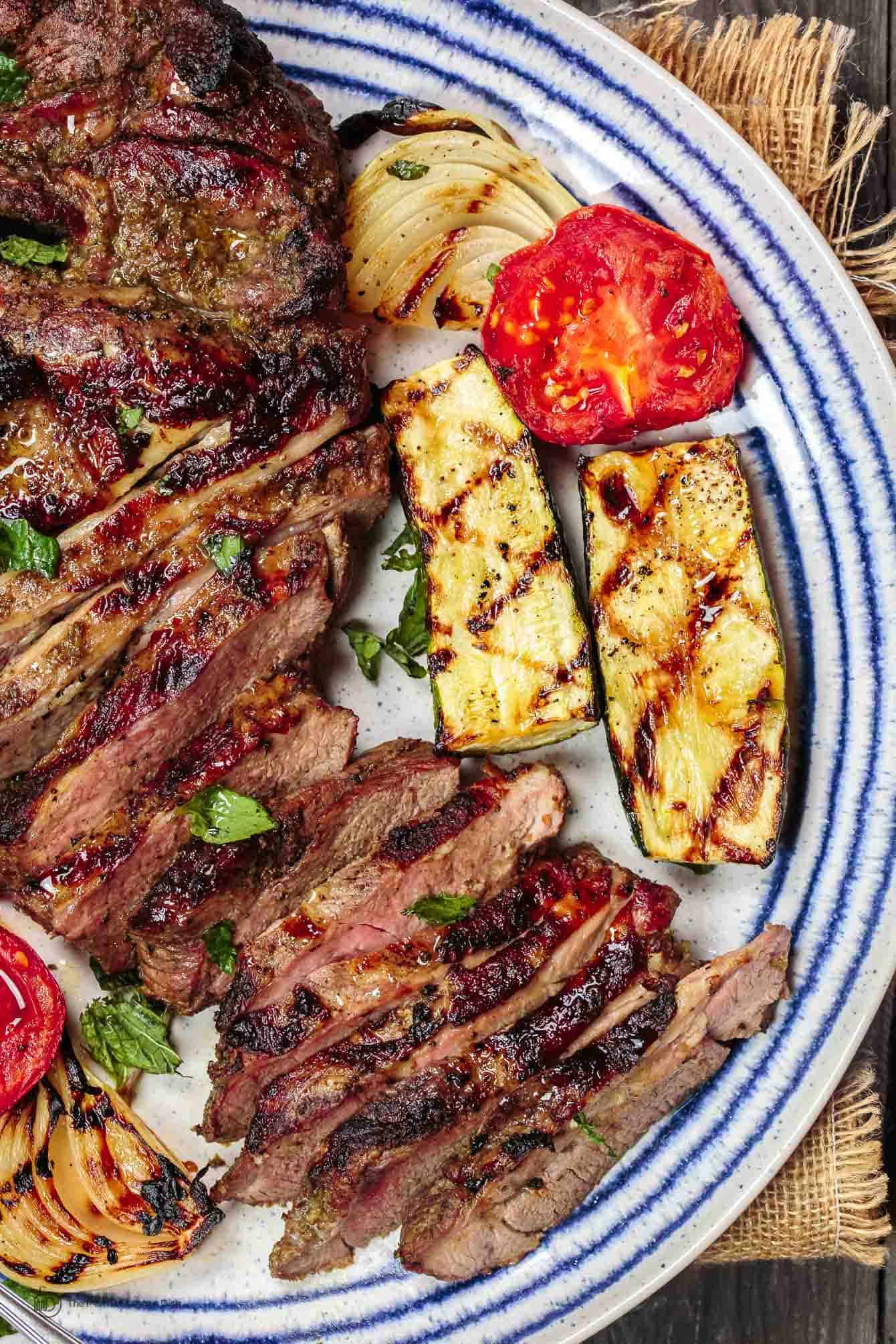 We're hanging out in the Eastern Mediterranean today where I get my love of lamb from…and where, before there was chicken, lamb had been the meat of choice.
I've talked quite a bit about lamb already. From Easter roasted leg of lamb and braised lamb shanks, to my "fancy" date-night dinner, Lamb Rack with Herb Pistachio Crust. (Off record, my mother would never defile lamb rack with a green crust. Her loss!)
And there is, of course, summer favorites like kofta kabobs and lamb chops!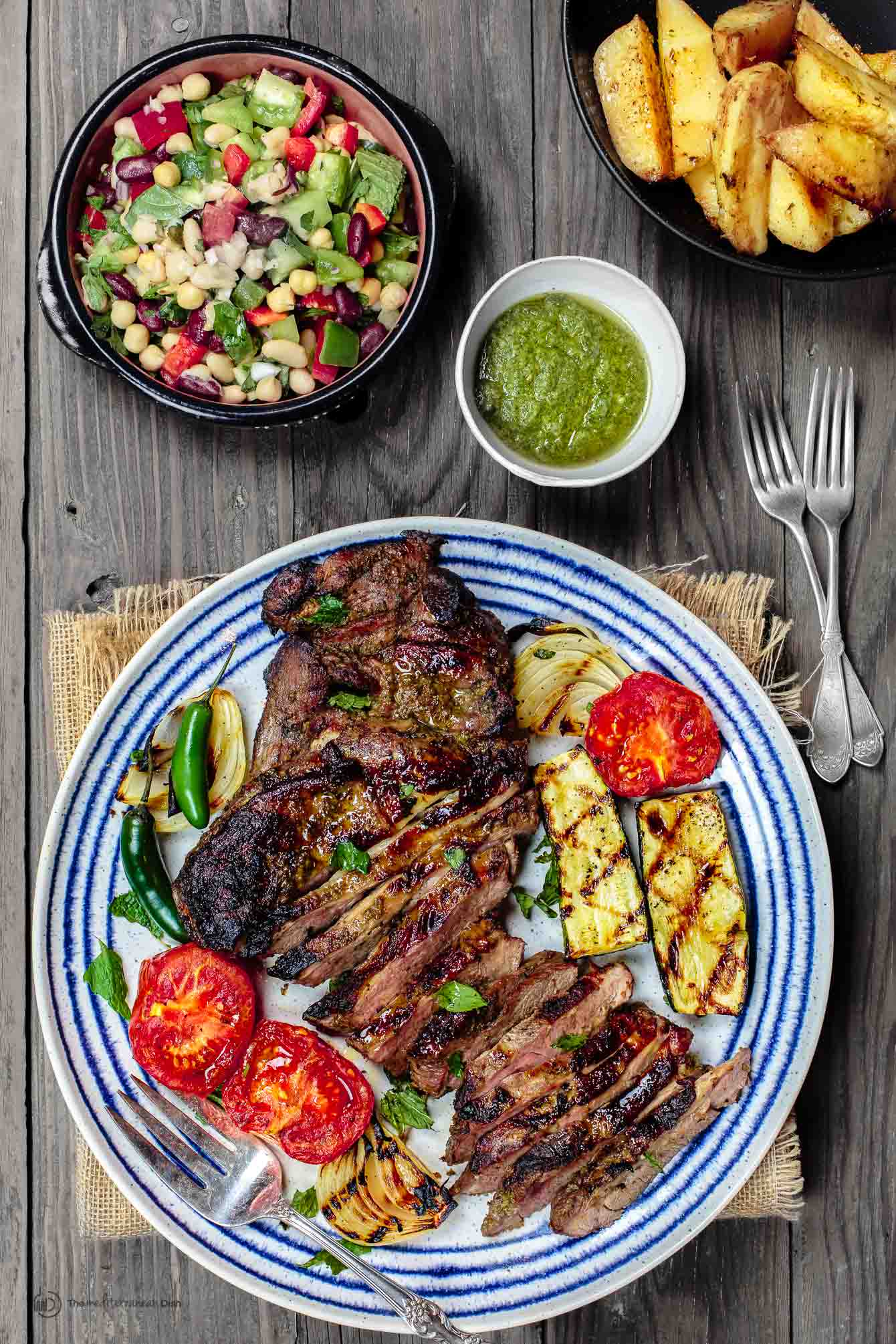 I use sustainably-raised American lamb, which is generally more meaty and sweeter in flavor than imported lamb. It's also fresher, having traveled up to 10,000 fewer miles and about 30 days less than imported lamb!
This time it's a big Mediterranean summer feast with grilled lamb leg!
Tips for Grilled Lamb Leg
It seemed a bit outside my comfort zone, but this grilled lamb leg recipe is fairly simple. The secret is in using leg of lamb that's been de-boned and then butterflied.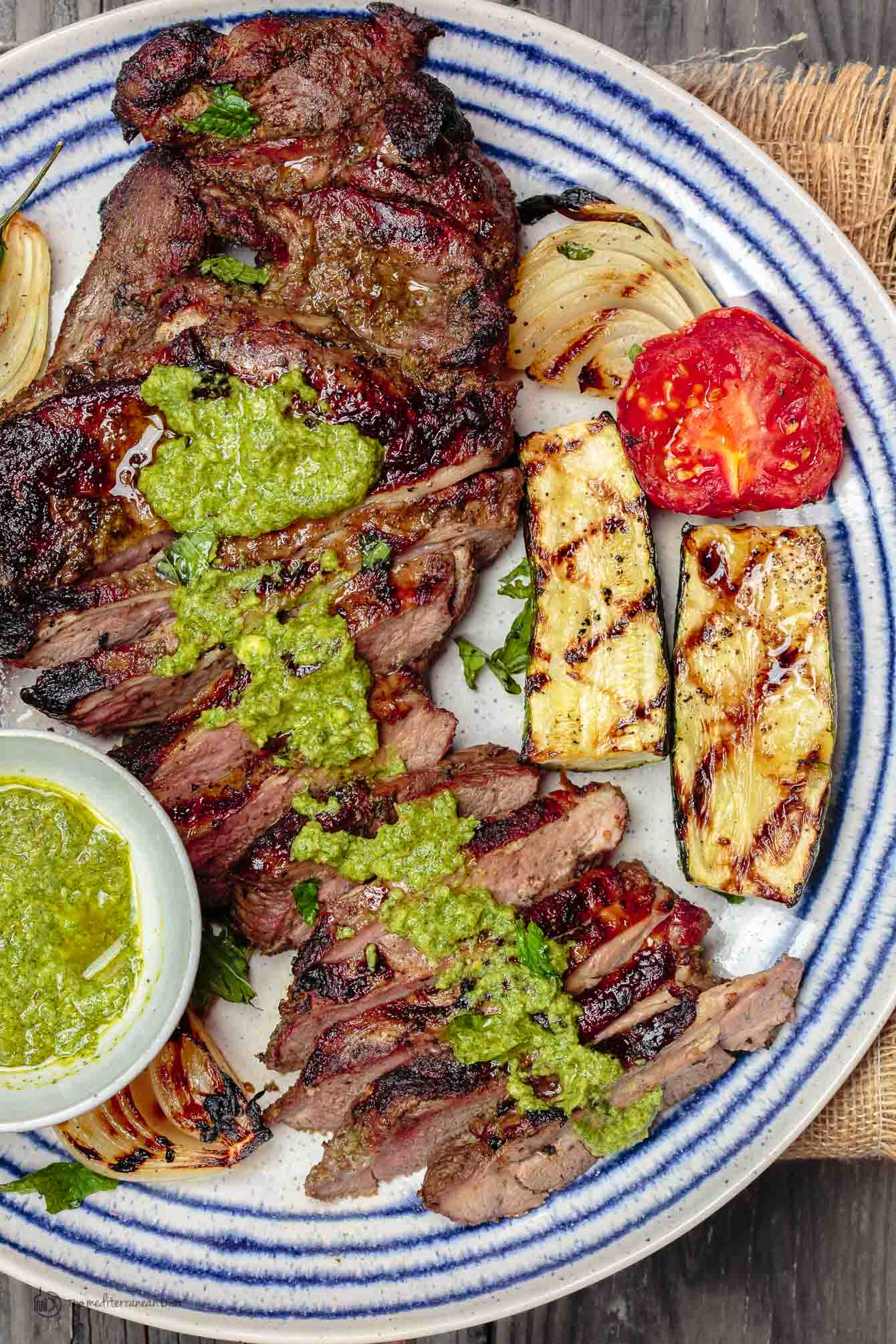 You can start with a packaged American-raised boneless leg of lamb, but just ask your butcher to trim and "butterfly" it for you. What he will essentially do is open the lamb up and cut down through sinew and any chunky parts, to give an even thickness. The result is a beautifully flat hunk of lamb, perfect for grilling!
To ensure tender, succulent grilled lamb, I did two more things. Using my meat tenderizer or mallet, I quickly pounded down the lamb leg. Then, the lamb leg took on a flavor-packed Mediterranean marinade with garlic, fresh herbs, and a few favorite spices.
If you have the time, marinate overnight, otherwise for two hours or so in the fridge.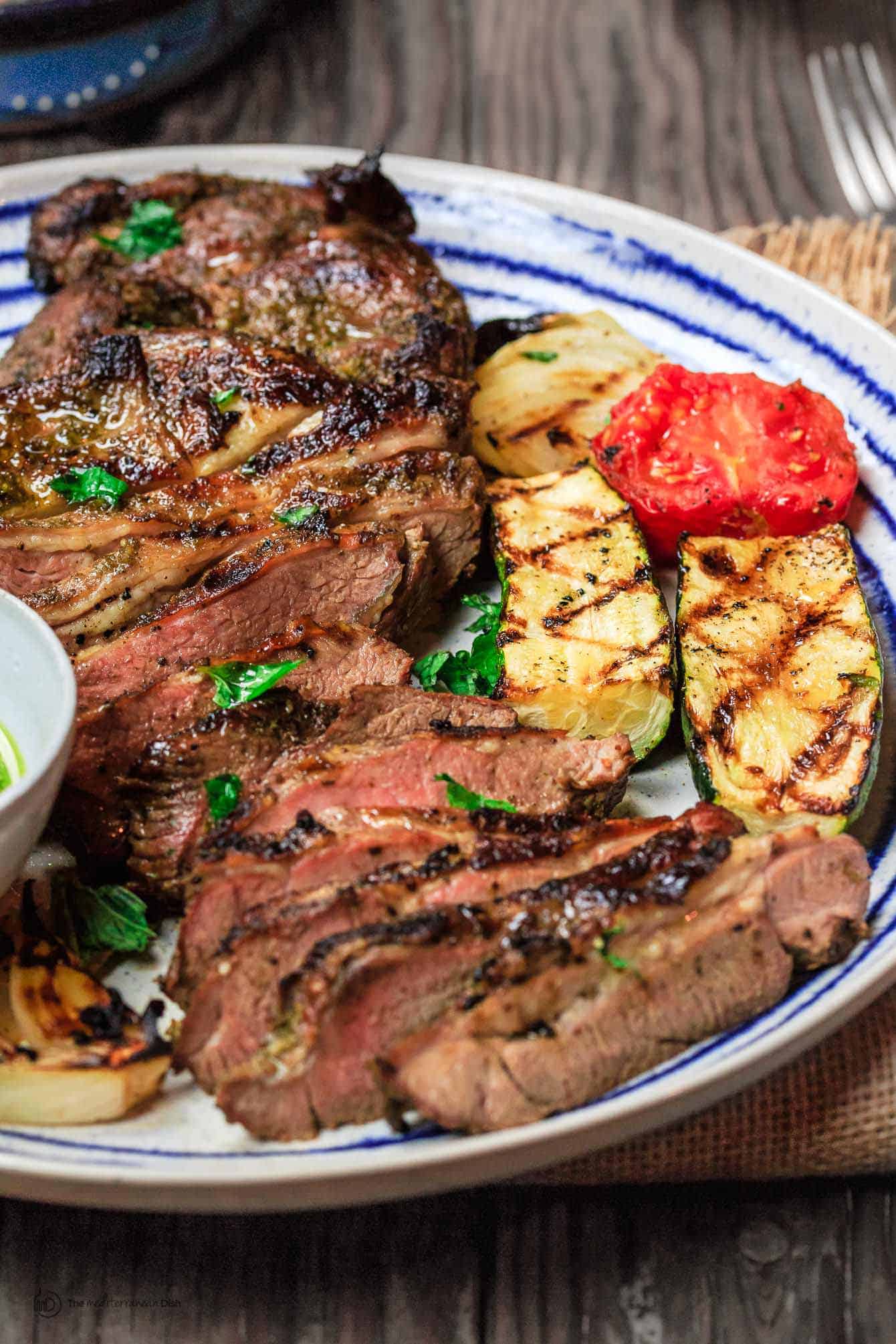 What to Serve with Grilled Lamb
Two sauces I love to serve with this grilled lamb, mint pesto and Greek Tzatziki sauce. Then, simply grilled vegetables like zucchini, tomato and sweet onions. Before grilling, season the veggies to your liking and toss in good extra virgin olive oil.
Turn it into a Summer Feast!
Wanna go the extra mile and turn this grilled lamb meal into a feast? Here are a few ideas:
Mediterranean Three Bean Salad; Tabouli Salad; Traditional Greek Salad or simple 3-Ingredient Mediterranean Salad.
Greek Potatoes; Easy Roasted Eggplant; Roasted Sweet Potato Fries.
Baba Ganoush; Roasted Red Pepper Hummus; or easy Mediterranean Farmer's Market Hummus. And, of course, some warm pita bread!
Print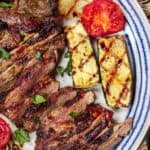 Mediterranean Grilled Lamb Leg with Mint Pesto
---
Description
The perfect Mediterranean summer feast: Garlic-herb marinated grilled lamb with mint pesto...Plus, favorite Mediterranean sides and salads to serve along!
---
1 cup

packed fresh parsley

½ cup

packed fresh mint leaves

1

small red onion, chopped

4

garlic cloves, chopped

1 ½ tsp

ground allspice

1 tsp

ground coriander

1 tsp

sumac spice

½ tsp

ground cardamom
Juice of

1

lemon

1

boneless and butterflied leg of lamb (weighing about

3

to

4

pounds)
Salt
Mint Pesto
2 tbsp

toasted pine nuts

1 cup

packed mint leaves
Juice of

1

lemon

1

small garlic clove, peeled

1

small shallot, chopped

½ tsp

honey

⅛ tsp

salt, more if needed
---
Instructions
Make the marinade. In the bowl of a food processor, add the parsley, mint, onion garlic, spices, lemon juice and olive oil. Run processor until you have a smooth green marinade.
Pound lamb. Place the lamb leg on a large cutting board, cover with heavy plastic wrap. Using the smooth side of a meat tenderizer or mallet like this one, pound lamb and make sure to even out any pieces that are too thick. But remember, the goal is NOT to achieve paper-thin lamb.
Pat the lamb leg dry and sprinkle generously with salt on both sides. Place lamb in a large freezer bag and spread the marinade all over it. Zip the bag closed and work the marinade into the lamb to make sure every part of the lamb is well coated. Refrigerate for 2 hours or overnight.
Remove lamb from fridge and let sit in room temperature for 20 minutes. (To make the lamb easier to turn on the grill you can insert a couple of metal skewers through the lamb, crosswise)
Heat an outdoor gas grill on high on all burners (this is just for the start).
Place lamb, fat-side down, on the hot grill. Sear 2 minutes or so, then turn over and sear on the other side for 2 minutes. Lower the heat to low (temperature between 300 and 350 degrees F). Cover and grill for 15 minutes or so, flipping once midway through, until a meat thermometer inserted into the thickest part of the lamb reads 130 degrees F (for medium-rare). [Read note #1]
Remove from grill onto a cutting board. Cover with foil and let rest about 5 minutes. If using skewers, remove them, and cut across the grain and place on a serving platter.
To make the mint pesto (during downtime as the lamb is grilling or resting), simply add all the ingredients into the bowl of a clean food processor or blender. Blend until smooth. Top the grilled lamb with some of the pesto and transfer the rest of the pesto to a small serving bowl.
You can also serve this grilled lamb with a side of this homemade Greek tzatziki sauce. Be sure to see suggestions for salads and sides up in the post under "what to serve with grilled lamb." Enjoy!
Notes
Grilling time will vary depending depending on how thick, and exactly how many pounds the lamb is. Mine was 1-2 inches thick and weighed about 3.25 pounds. Also, I used an efficient Weber grill. You'll notice also that my lamb is not medium-rare, I went a few extra minutes for my children's sake.
Recommended for this recipe Our all-natural allspice; sumac spice; coriander; and cardamom. SAVE! Try our Ultimate Mediterranean Spice Bundle, or create your own 6-pack or 3-pack of all-natural and organic spices!
Recommended for this recipe our Private Reserve Extra Virgin Olive Oil, from organically grown and processed Koreneiki olives.
Visit our store to browse our spices, olive oils and bundles!
Prep Time:

20 mins

Cook Time:

20 mins

Category:

Entree

Method:

Grilled

Cuisine:

Mediterranean
Keywords: Mediterranean Grilled Lamb Leg, Lamb with mint pesto, Mediterranean lamb, lamb leg with mint pesto
Try these delicious recipes:
Greek Boneless Leg of Lamb (Slow Cooker or Braised)
Shallot Garlic Mushroom Recipe
Homemade Pizza with Three Cheeses, Steak and Figs
Chunky Vegan Lentil Soup Recipe
Batata Harra: Middle Eastern Skillet Potatoes
Easy Mediterranean Shrimp Pizza on Flatbread
American Lamb is a flavorful, nutrient-rich food and an excellent source of Vitamin B12, niacin, zinc and selenium. See lamb nutrition facts. And here is more on how lamb is raised in the United States. Buy local and support local shepherds! Be sure to participate in the giveaway below.