With a bold yogurt-based marinade infused with lemon, garlic and warm spices, this authentic Shish Tawook (Middle Eastern chicken skewers) is next level delicious. Serve in a pita with some whipped garlic sauce or plated with a bright salad and some creamy hummus for an easy, healthy meal.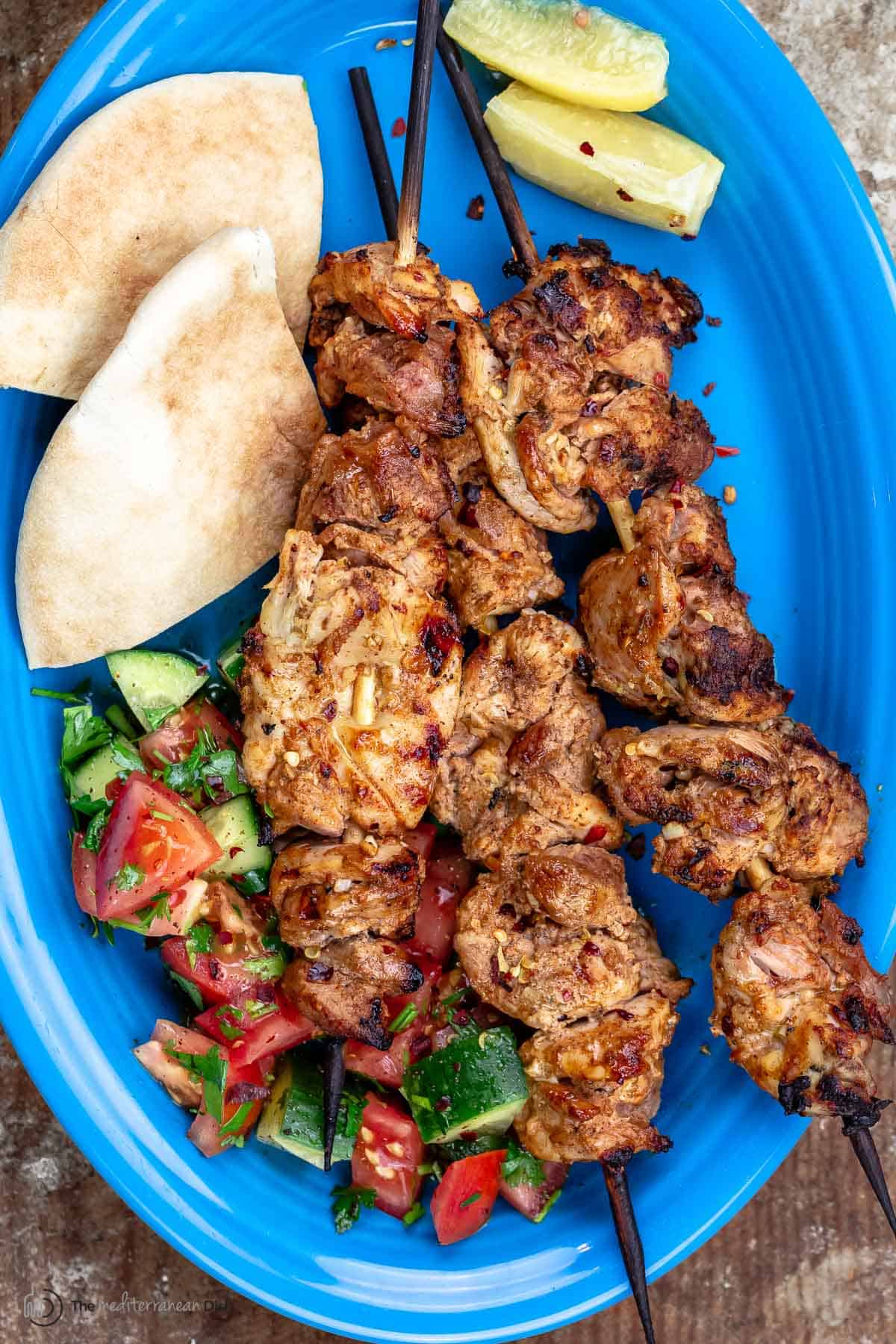 What is shish tawook?
In Turkish, the word "shish" means skewer, and "tawook," also spelled taouk, means chicken. Shish tawook is basically Middle Eastern chicken skewers or chicken kebabs, bathed in a bold yogurt-based marinade with citrus, garlic, and lots of warm spices. Originally, this dish was a part of Ottoman Cuisine, shish tawook became a popular dish in many parts of the Middle East, including Egypt and the Levant during the Ottoman's rule starting 1516 and through 1918, in the case of Lebanon.
To make this dish at home, you'll start by marinating the chicken in the yogurt-based marinade, then, the marinated chicken is then laced onto skewers and grilled to juicy perfection! You can go wrong serving this dish at your next BBQ with your favorite Mediterranean salads and sides like Greek oven fries, and dips like toum, tzatziki, or hummus!
What's the difference between tawook and shawarma?
While similar, chicken tawook and chicken shawarma are not the same. Yes, both are made of boneless skinless chicken and are loaded with Middle Eastern flavors, but there is a difference in the marinade and in the way each dish is prepared.
The key difference in the marinade is the use of yogurt, and there is also a difference in the flavor profile. Tawook uses a creamy yogurt-based marinade infused with lemon, garlic, seasonings--like oregano, allspice, and ginger--and a couple tablespoons of tomato paste which give the grilled chicken a beautiful red hue. Shawarma, on the other hand, skips the yogurt and the tomato past, relying more on olive oil and citrus for the base, onions, garlic, and a longer list of spices that lean warmer and slightly spicier, including turmeric, cumin, coriander, and cayenne.
The method of preparation and cooking is also different. Shish tawook is grilled on skewers, while shawarma is traditionally slow-roasted on a vertical spit for hours, though to make it at home, I bake my chicken shawarma in the oven for an easy option (you can also make it in the skillet like I do in this shawarma salad recipe)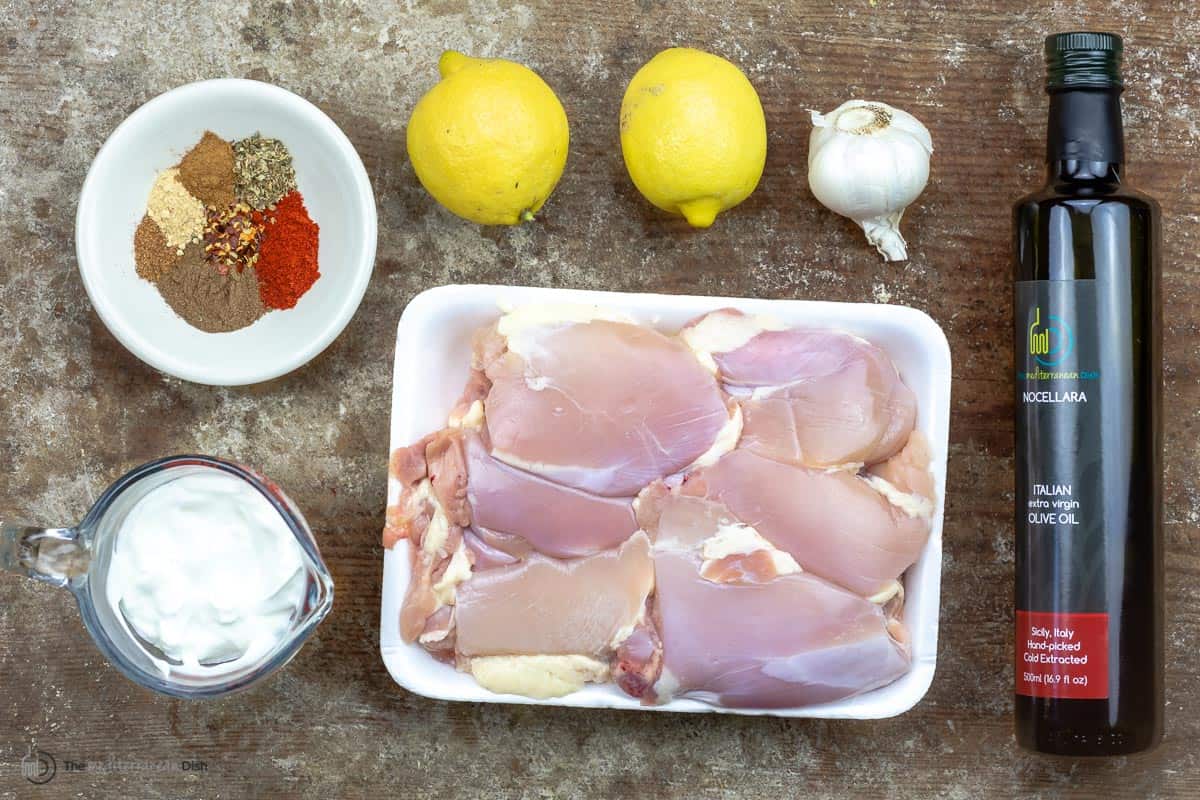 Why the yogurt-based marinade works
By now you know that the yogurt-based tawook marinade makes all the difference! With both meat and chicken, the job of the marinade is to tenderize, while adding flavor. Creamy, tangy yogurt acts as a great flavor carrier, but, more importantly, because yogurt has lactic acid and calcium, it work to gently break down proteins so that the meat is super tender and juicy.
With a yogurt marinade, as opposed to a highly acidic or vinegar-based marinade, you can allow the chicken to marinate in the fridge for hours or overnight without worrying about it getting tough or rubbery. (I wrote a long ode to the best chicken marinade earlier).
What you'll need for the shish tawook marinade
The marinade for these chicken skewers is bold and filled with flavor, and if you have the time, you'll want to give the chicken a couple hours in the fridge to soak in the marinade flavors! Here's what you need to make the marinade:
Plain Greek yogurt
Lemon juice and lemon zest
Tomato paste
Garlic...lots of it!
dried oregano
cinnamon
nutmeg
ground ginger
cayenne pepper, a pinch
How to make shish tawook
These Middle Eastern Chicken Skewers are super easy to make - you can easily throw the marinade together in the morning and come home to chicken ready to be grilled! The grill time is just 15 to 20 minutes, so these are great for busy nights!
Make the marinade. In a large bowl, whisk together the yogurt, lemon juice, olive oil, garlic, and spices.



Prepare the chicken. I used 2 pound of boneless, skinless chicken thighs, cut into chunks (breast will work as well). Pat the chicken dry and season well on both sides with kosher salt.



Marinade the chicken. Coat all pieces of chicken evenly with the marinade. If you have the time, I highly recommend you cover and refrigerate the chicken for 4 to 8 hours. If not, you can at least marinate the chicken while your grill is heating up.



Grill the chicken skewers. Heat the grill to medium and lightly grease the grates. Thread the chicken pieces on to skewers, folding larger pieces in half as necessary.
Arrange the skewers on the heated grill in one single layer. Cook for 15 to 20 minutes over medium heat, turning every 5 to 7 minutes, until the chicken fully cooked.


Tips for the best grilled chicken skewers!
Follow these simple tips for best results:
Cut the chicken into equal-size pieces. Cut all pieces of chicken into similar sizes, so that they cook evenly. I tend to like larger chunks of chicken when working with boneless thighs.
Don't cut the marinating time short, if you can help it! While the yogurt marinade helps infuse the chicken with flavor, it also works to tenderize it, making the the final product extra juicy. Shoot for anywhere from 2 to 8 hours in the fridge, but if you don't have the time, try for at least 30 minutes (and if you're chicken had been refrigerated, you can set it out for a few minutes at room temperature).
How to tell when grilled chicken is done? The most accurate way to tell when grilled chicken is done is to use an internal thermometer. Chicken is done when it reaches 165F.
Soak your wooden or bamboo skewers. If you are using wooden or bamboo skewers for this recipe, be sure to soak them in water for 30 minutes to an hour prior to placing them on the grill.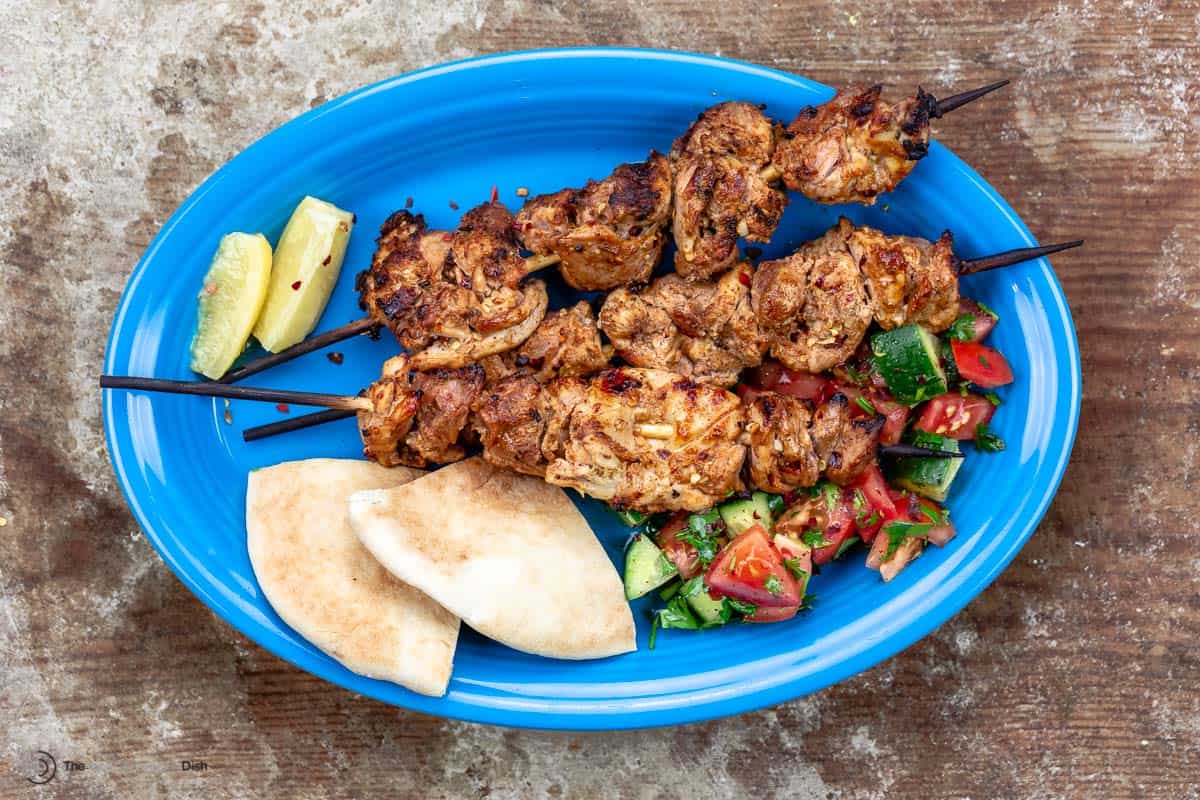 What to serve with tawook?
The sky is the limit for what to serve along your shish tawook! It's a kebab party, after all! I always like to include a couple of fresh salads such as my 3-ingredient salad, fattoush or a simple tomato salad. A heftier black bean and corn salad is fine too!
For dips, I love tzatziki, hummus, or baba ghanoush with tawook; my Lebanese friends say whipped toum is a must though! And if I have pickled cucumbers or preserved lemons, I throw those in the mix too!
You can also ditch the skewers and turn your shish into a loaded pita sandwich! Just unthread the grilled chicken into a pita pocket and add a drizzle of tahini and some fresh chopped veggies.
How to store leftovers
While I definitely recommend eating these juicy, flavorful chicken skewers straight from the grill, you can store them in the fridge for up to 4 days. Reheat once on the stovetop or grill or enjoy cold in wraps or atop salads!
More chicken recipes:
Browse more Middle Eastern recipes or all Mediterranean recipes.
Grilled Shish Tawook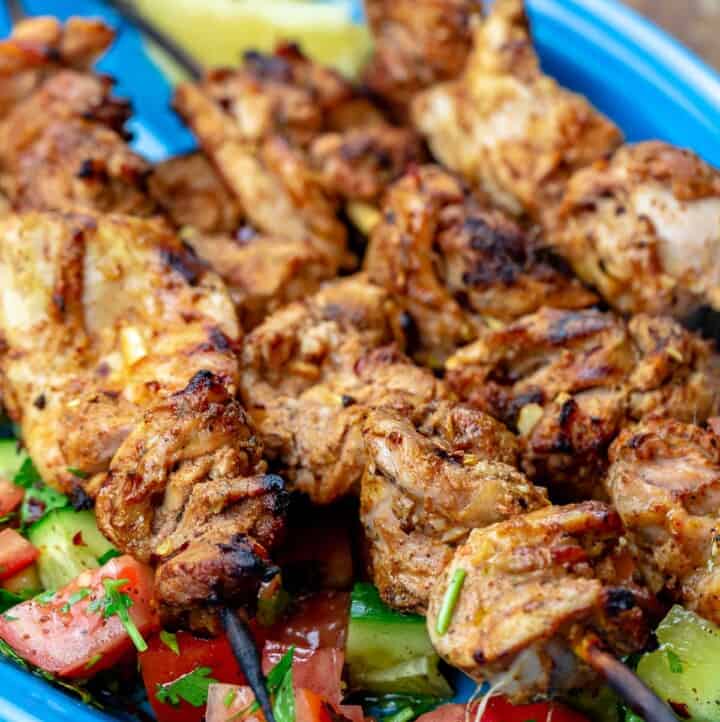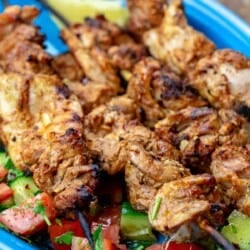 The best AUTHENTIC Shish Tawook (Middle Eastern chicken skewers) recipe you'll find. You'll love the amazing yogurt-based marinade that's loaded with garlic, spices and amazing flavors! If you can, budget some time to allow the chicken to marinate in the fridge for a few hours
Ingredients
For the chicken
2

pounds

boneless skinless chicken thighs

(cut into large chunks)

Kosher salt
For the marinade
¾

cup

plain Greek yogurt

¼

cup

lemon juice

(plus zest of 1 lemon)

¼

cup

extra virgin olive oil

2

tablespoons

tomato paste

8

garlic cloves

(minced)

1

teaspoon

paprika

1

teaspoon

allspice

¾

teaspoon

dried oregano

½

teaspoon

cinnamon

½

teaspoon

nutmeg

½

teaspoon

ground ginger

½

teaspoon

cayenne pepper
Instructions
Prepare the marinade. In a large mixing bowl, whisk together the yogurt, lemon juice, zest, EVOO, Tomato paste, garlic, and spices.

Pat the chicken dry and season with kosher salt on both sides.

Add the chicken to the marinade, and using a pair of tongs, toss to combine, making sure all the chicken pieces are well covered in the marinade. Cover and refrigerate for 4 to 8 hours.

Heat a gas grill to medium and lightly oil the grates.

Thread the chicken pieces through skewers (you can fold larger pieces so that they would fit better through the skewers, they also look better this way and are more manageable on the grill).

Arrange the chicken skewers on the heated grill in one single layer. Cover and cook for about 15 to 20 minutes, turning every 5 to 7 minutes, until the chicken is cooked through. Enjoy!
Notes
For best flavor, do allow a few hours of marinating time in the fridge. If you don't have the time, let your chicken marinate for 30 minutes or so while you prepare the grill.
Serve tawook with any number of Mediterranean salads and dips from this site. I shared a few ideas in the post including my 3-ingredient Mediterranean salad and sauces like tzatziki and hummus.
Visit Our Shop for quality Mediterranean ingredients including olive oils and spices used in this recipe.
Nutrition
Calories:
298.4
kcal
Carbohydrates:
5.2
g
Protein:
32.6
g
Fat:
16
g
Saturated Fat:
3.2
g
Cholesterol:
145.3
mg
Sodium:
189.9
mg
Potassium:
472.2
mg
Fiber:
0.8
g
Sugar:
2.2
g
Vitamin A:
375.3
IU
Vitamin C:
6.6
mg
Calcium:
65.9
mg
Iron:
1.7
mg