Simple oven-roasted Spanish Mackerel recipe, prepared Mediterranean-style with garlic, fresh herbs, and extra virgin olive oil. Add a side of Greek roasted potatoes or Greek lemon rice and some fresh salads to go along! I've got all sorts of ideas for you at the bottom of this post.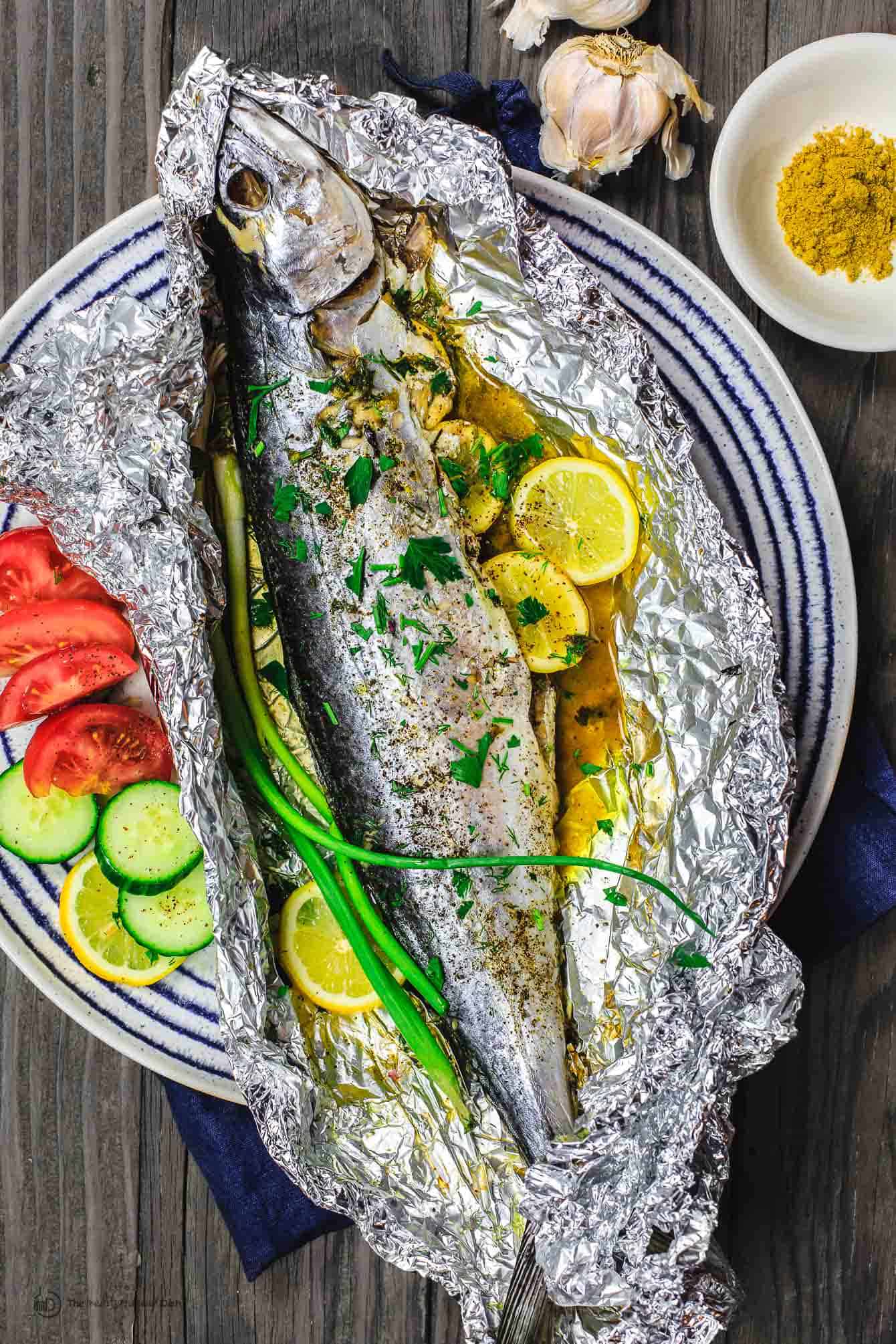 Working on this Spanish Mackerel recipe reminded me of childhood visits to Port Said's Souk El Samak (fish market). The souk was basically an entire square of narrow streets lined with small seafood stands and bins upon bins of fresh fish.
Exploring the day's catch, my dad and I would visit with several fishmongers before we made our decision. Our choice often landed on beautiful, large whole fish--similar options to snapper, trout, or -- which the fishmonger happily, and hurriedly, cleaned, gutted, and wrapped up in brown paper parcels.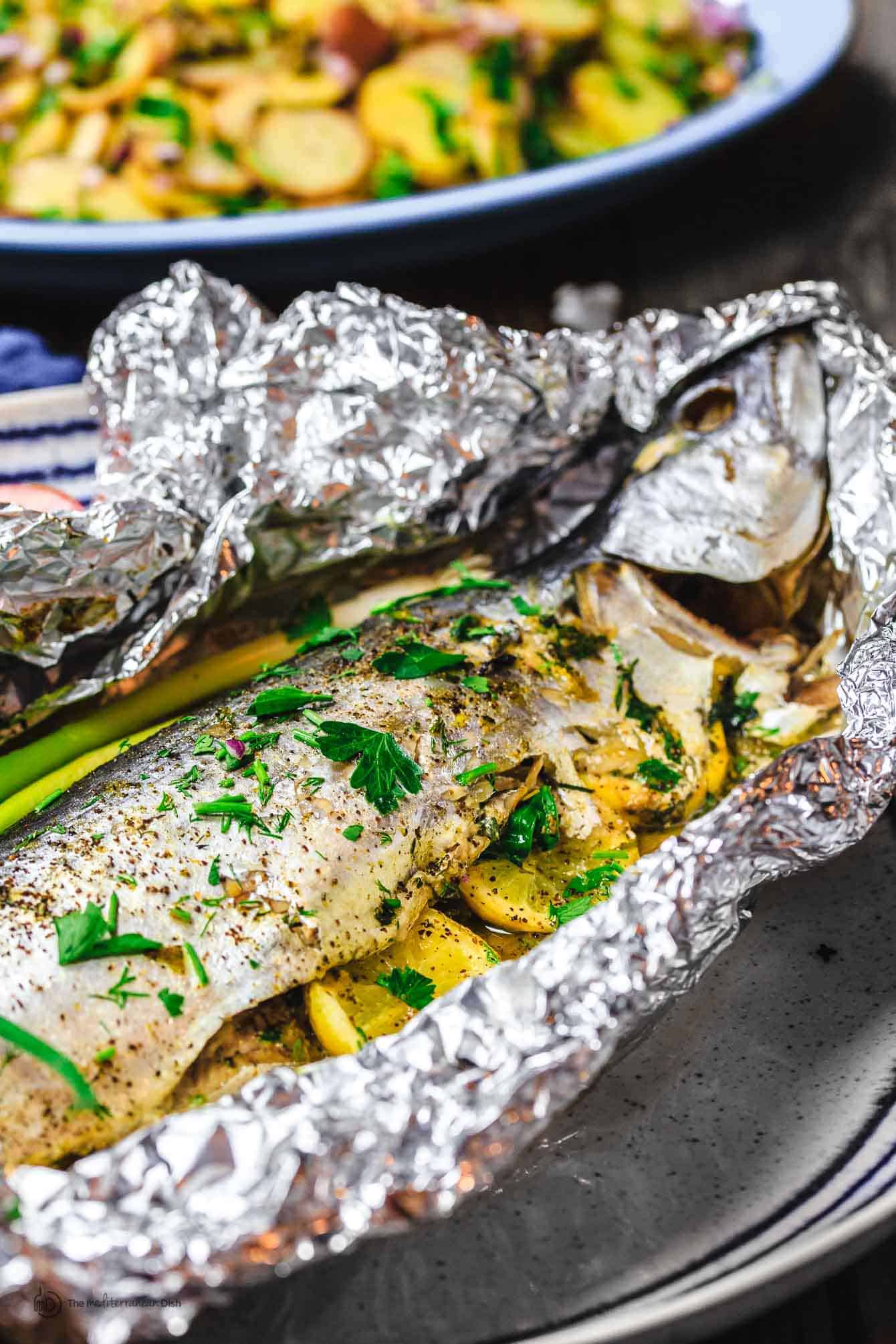 Spanish Mackerel Recipe, the Mediterranean Way
Mom, a very practical cook, didn't fuss much with whole fish. If it came home in one piece, it often took on a little seasoning and a generous drizzle of olive oil. In the oven it went--whole.
I followed mom's no-fuss approach with this simple Spanish Mackerel recipe. Here, the fish is stuffed with crushed garlic, herbs and lemons. Then, roasted in foil with quality olive oil (I used our Greek Early Harvest extra virgin olive oil, it's rich flavor complimented the fish with all the herbs and garlic!)
And, because Spanish Mackerel is a flavorful, oily fish, a generous squeeze of fresh lemon juice is the perfect finish to this whole roasted fish recipe.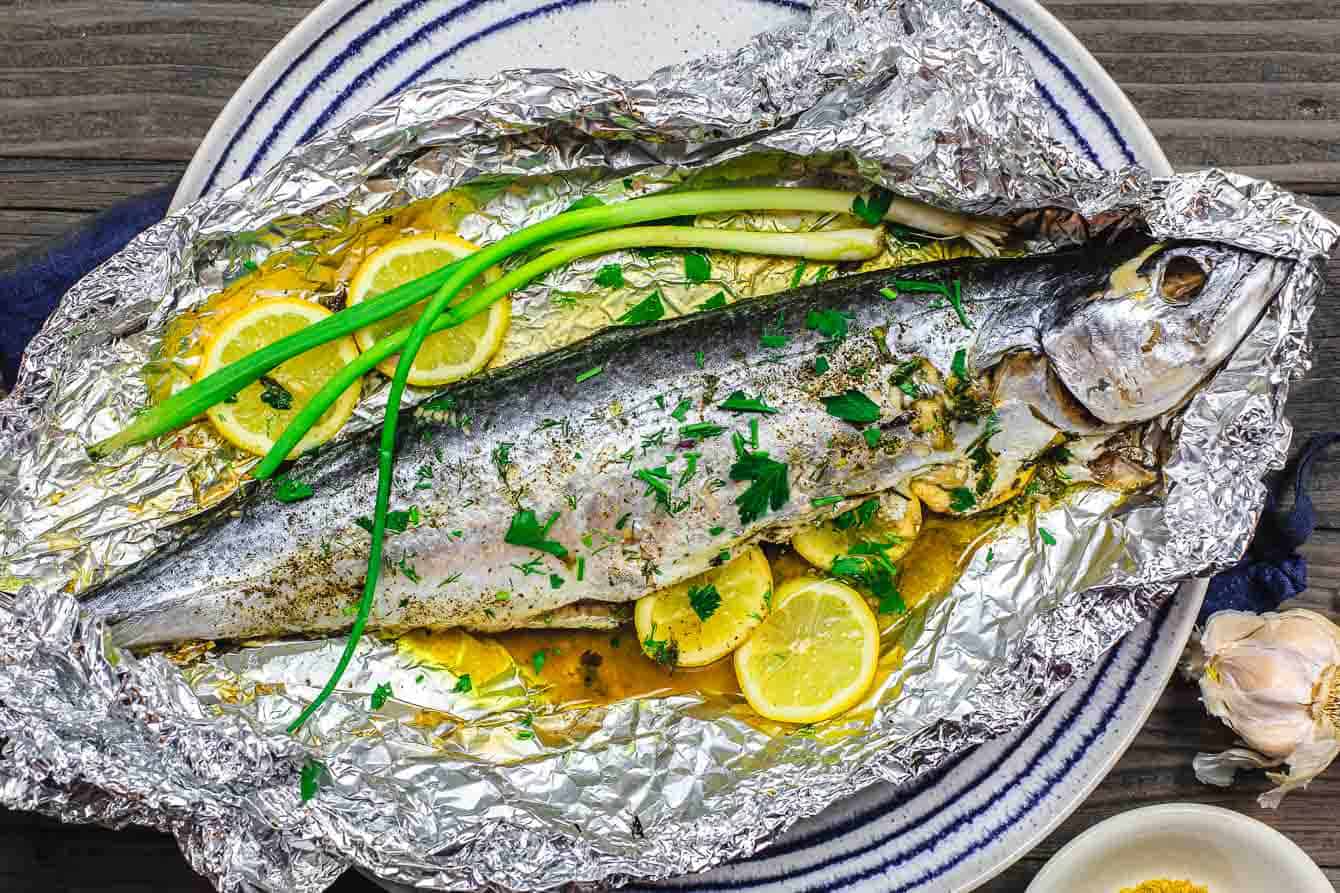 What to serve with this Spanish Mackerel recipe
When I make this Spanish Mackerel recipe, I often prepare a side of Greek lemon rice and a zesty fresh salad like Greek Salad, Fattoush or this easy Mediterranean salad. This time, I also added a new Mediterranean potato salad with capers. When tomatoes are in season, I like to start this whole meal with a little Gazpacho soup!
More Recipes to Try
Mediterranean Baked Halibut and Vegetables
Simple Mediterranean Olive Oil Pasta
Mediterranean-Style Homemade Salsa
Browse our Shop
Print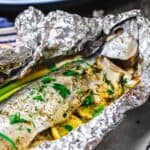 Mediterranean Oven Roasted Spanish Mackerel Recipe
---
Description
Easy all-star whole roasted Spanish Mackerel Recipe. Prepared Mediterranean-style with a stuffing of garlic, fresh herbs and lemons. Roasted in foil!
---
3

large garlic cloves

1 tsp

salt, more for later

1 tsp

ground coriander

½ tsp

ground cumin

¼ cup

finely chopped fresh parsley

¼ cup

finely chopped fresh dill

1 ½

lb whole Spanish Mackerel, cleaned and gutted (but with head)

1

lemon, thinly sliced
Early Harvest extra virgin olive oil

2

-

3

tablespoon fresh lemon juice
Optional Sides to Serve
---
Instructions
Preheat the oven to 350 degrees F and set a roasting sheet pan inside to warm.
Using a mortar and pestle, crush garlic with salt until smooth. Add coriander and cumin and continue crushing. Mix in parsley and dill.
Pat the fish dry, inside and out. Remove the dark vein that runs along the back of the cavity, if it's still there. And if needed, run your knife along the cavity to open it up some more. Salt generously inside and on both sides outside, then place on a lightly oiled piece of foil that is large enough to enclose the fish.
Stuff the fish cavity with lemon slices and the garlic and herb mixture you just prepared. Drizzle generously with olive oil.
Fold the foil over the fish lengthwise, tightly closing the top seam to trap the steam. Place the foiled fish on top of the hot sheet pan and bake in the 350 degrees F heated-oven for 30-40 minutes, depending on the thickness of the fish.
Remove from heat and add the lemon juice. Serve immediately with suggested sides and salads (see ingredient list).
Prep Time:

10 mins

Cook Time:

30 mins

Category:

Entree

Cuisine:

Mediterranean
Keywords: Spanish mackerel recipe, Mediterranean seafood
*This post was republished with an updated recipe in May 2017.
More Recipes to Try
Whole Roasted Red Snapper with Vegetables
Mediterranean Foil Baked Salmon