Simple, and festive roasted cauliflower salad with butternut squash, spring greens, and a lemon-honey vinaigrette! Serve this fall salad for lunch or pair it with your favorite entree for the perfect meal.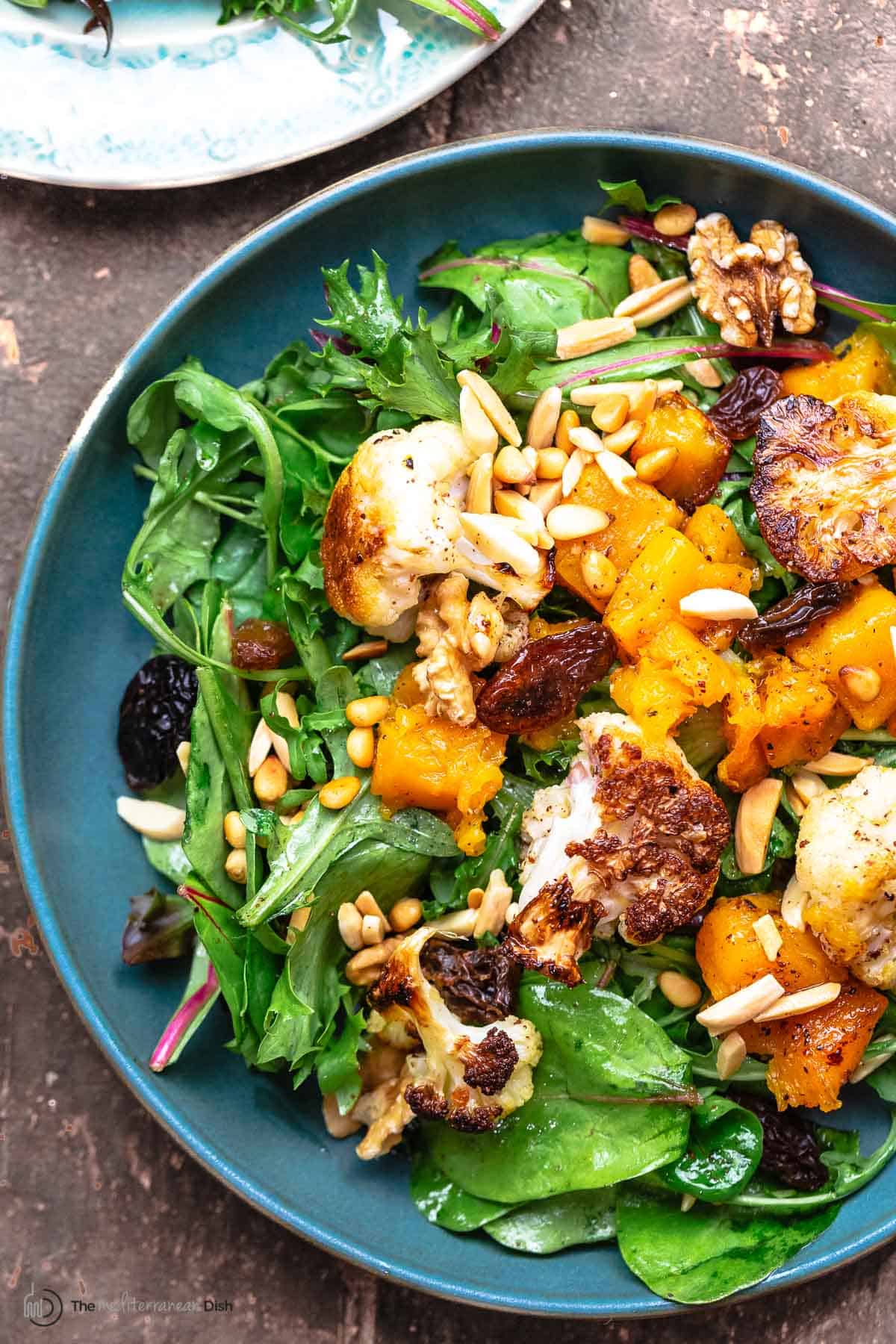 The perfect cauliflower salad for the fall!
The beauty of this healthy roasted cauliflower salad with butternut squash, is that it combines the simple comforts of roasted vegetables with fresh, crisp salad greens – all dressed in a delightfully bright lemon-honey vinaigrette.
Roasted vegetables, particularly roasted roots like beets or butternut squash, taste great simply cooked with a drizzle of olive oil and salt--the kind of comfort I look forward every fall.
This simple recipe is similar to our butternut squash and kale salad, but here cauliflower shares the spot light. Both vegetables are roasted to tender perfection, then tossed (while still warm) in a light lemon and honey vinaigrette, and piled on top of spring greens. For texture, I love to add some toasted nuts and raisins or cranberries, which make this salad a festive little dish.
If I were the planning type, I'd file this roasted butternut squash and cauliflower salad under "Thanksgiving side dishes."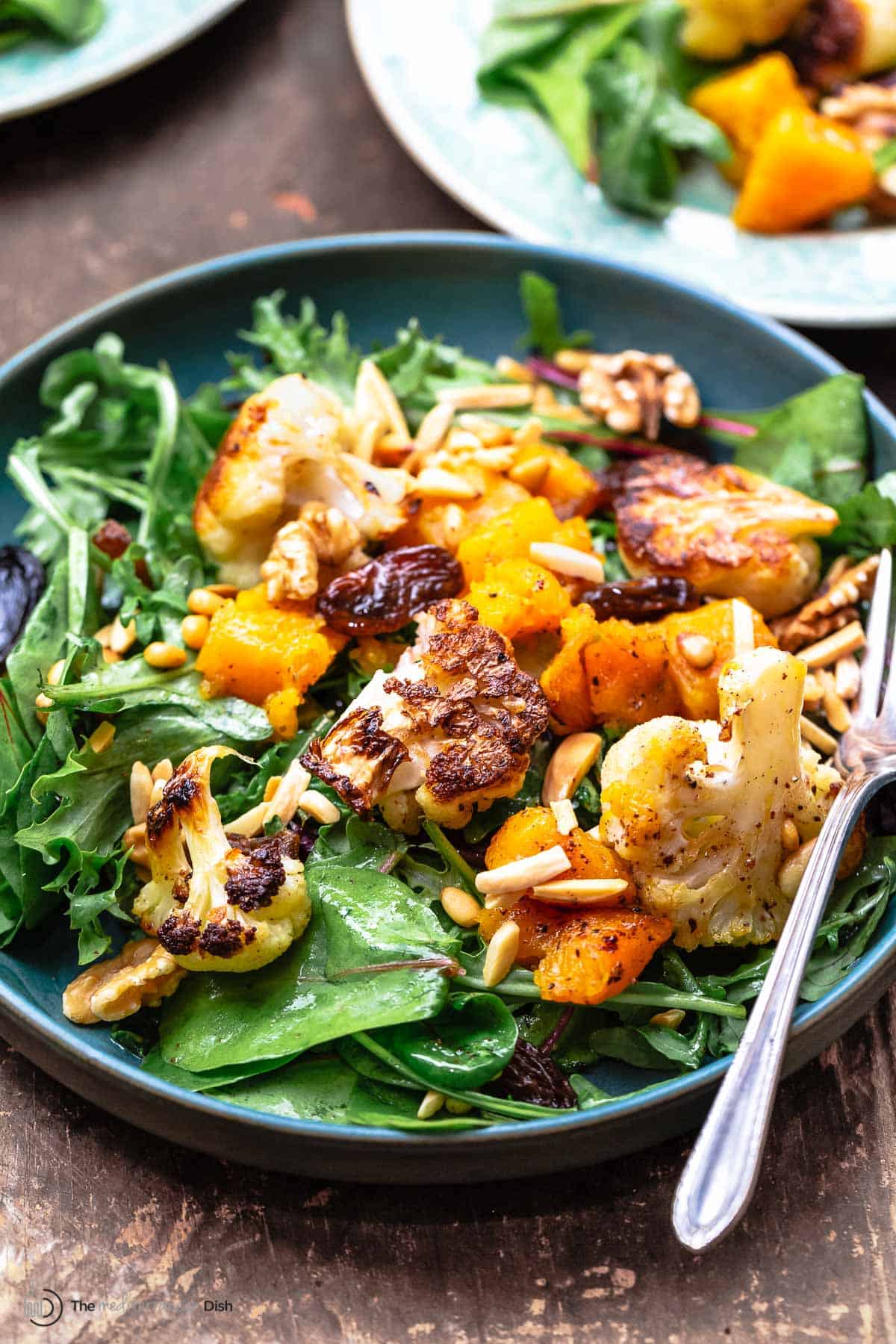 Ingredients you need to make this fall salad
Cauliflower
Butternut squash
Spring mix - or any baby salad greens of your choice, such as spinach or kale
Toasted nuts of your choice- I used a combination of almonds, pine nuts, and walnuts
Raisins or dried cranberries (or other chopped dried fruit), optional
Dressing for roasted vegetable salad
The lemon-honey dressing is really what makes this salad shine, giving the roasted vegetables lots of flavor, brightness, and a hint of sweetness. Remember to toss the roasted veggies up with the dressing while they're still pretty warm so that they will absorb as much for the flavor as possible. Here is what you need to make it this dressing:
Lemon juice
Dijon mustard
Quality honey
Kosher salt and Pepper
How to make roasted cauliflower salad:
Caramelized roasted vegetables, fresh salad greens, a bright, zesty dressing, and a sweet and crunchy topping all come together to create a gluten-free, vegan fall salad that is both healthy and comforting. Here's how to make this roasted vegetable salad:
First roast the veggies. Toss the cauliflower florets with extra virgin olive oil and season with salt and pepper. Arrange in a single layer on a sheet pan. Cover and roast in a 450 degrees F heated oven for about 15 minutes. Uncover and add butternut squash cubes (also after tossing them in olive oil and seasoning). Roast uncovered for another 30 minutes or until the veggies are tender and beautifully charred (take a look occasionally and toss the veggies if needed for even cooking)



Make the dressing. Whisk together the olive oil, lemon juice, Dijon mustard, and seasonings.



Put the salad together and serve. Toss your spring mix or salad greens with about 2 tablespoons of the dressing and arrange them on a platter. When the roasted vegetables are finished, toss them with the reamining dressing (while till warm), then add them to the salad. Garnish with nuts and raisins or dried fruit of your choice.In a large bowl, mix the salad greens with two tablespoons of vinaigrette before transferring to a serving platter.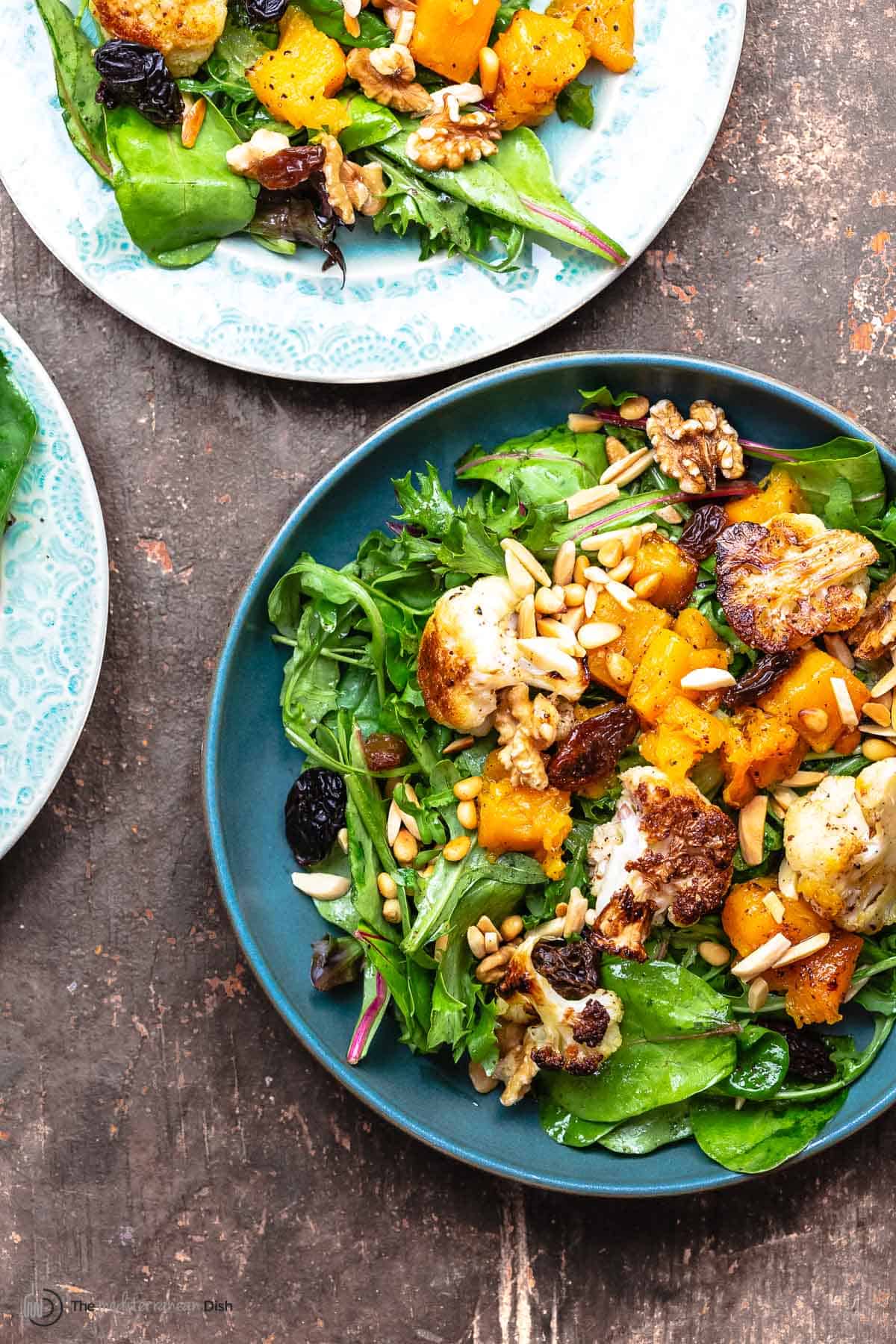 How to roast cauliflower without getting it mushy?
I wrote a full post on how to roast cauliflower perfectly so that it is beautifully charred with just a hint of sweetness but never mushy. The secret? First, start with fresh cauliflower rather than frozen bags. Make sure the cauliflower is cut into similar size florets so they cook evenly at the same time. To cook it well, at first, cook the cauliflower covered in a high-heated oven (this will help trap the moisture to cook it properly on the inside). Then uncover and finish cooking it in high heat so that it will crisp and char on the outside.
How to serve this fall salad
This beautiful fall salad recipe is perfect served while the roasted veggies are still warm or at room temperature. I like to serve it as a composed salad with the roasted vegetables arranged on a bed of my spring greens on a large platter or salad dishes. It looks lovely that way, and you get to enjoy all the fall colors and textures.
What to serve along
This roasted vegetable salad makes a perfect light meal on its own or next to a fall soup like roasted butternut squash soup. It would also be a delicious side for festive entrees like Citrus Rosemary Chicken, Roast Rack of Lamb.
More cauliflower and butternut squash recipes to try
Browse more salad recipes. Browse all Mediterranean recipes.
Visit Our Shop.
Roasted Cauliflower Salad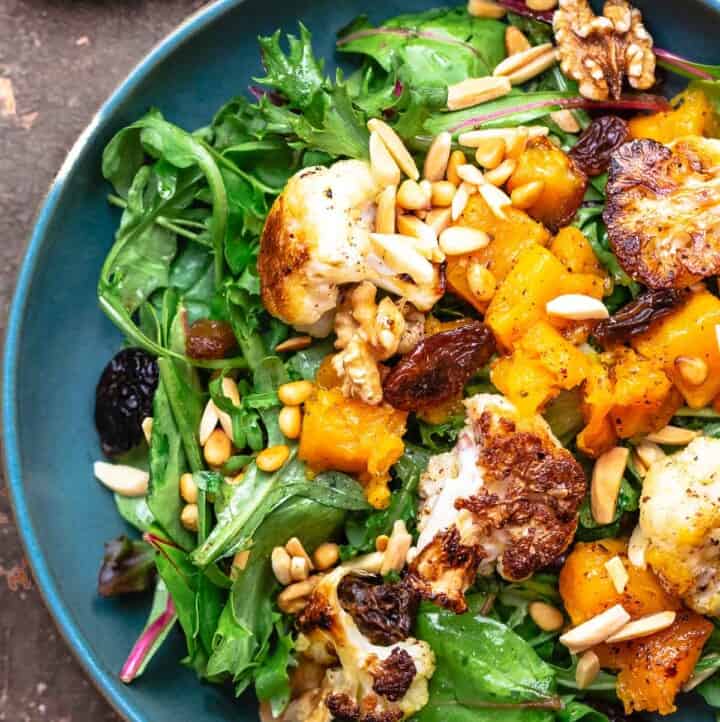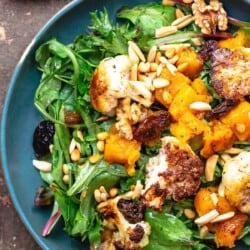 Simple roasted cauliflower salad with butternut squash, spring greens, a light zesty dressing, and toasted nuts. You'll love the texture and flavor of this fall salad. Serve on its own or next to your favorite fall entree (I've added some suggestions in the post)
Ingredients
2

cups

cubed butternut squash

1

whole head cauliflower

cut into small florets of equal size

Salt and pepper

5

ounces

spring mix

¼

cup

toasted nuts of your choice such as sliced almonds

pine nuts, and walnuts

2

tablespoons

raisins

optional
Lemon-Honey Vinaigrette
2

tablespoons

lemon juice

6

tablespoons

extra virgin olive oil

1

teaspoon

Dijon mustard

2

tablespoons

good quality honey

Kosher salt and Pepper

1

teaspoon

sumac
Instructions
Preheat the oven to 450 degrees F and position a rack in the middle.

Spread the cauliflower florets on one large sheet pan. Season with salt and pepper. Drizzle with olive oil. Toss to coat.

Cover the sheet pan with foil. Roast in the heated oven for 15 minutes, covered.

Meanwhile, toss the butternut squash cubes with a bit of olive oil and season with salt and pepper. Set aside for now.

When ready, carefully remove the cauliflower pan from the oven and uncover the foil. Push the cauliflower aside and add the cubed butternut squash, making sure not to crowd the pan (everything should be in one layer touching the hot pan surface). Return the pan to the oven and cook for another 25 to 30 minutes, turning the vegetables over as needed. (If needed, broil ever so briefly to get more char).

Prepare the lemon-honey vinaigrette. In a small bowl, whisk together the lemon juice, olive oil, Dijon mustard, honey, salt, pepper, and sumac.

In a salad bowl, mix the spring mix (or leafy salad greens of your choice) with 2 tablespoon of the lemon-honey vinaigrette. Transfer to a serving platter.

Pour the remaining vinaigrette over the roasted butternut squash and cauliflower (while the vegetables are hot), carefully toss to coat.

To assemble, add the roasted butternut squash and cauliflower on top of the salad greens. Garnish with the nuts and raisins. Enjoy!
Notes
For best flavor, be sure to toss the roasted vegetables with the vinaigrette while the vegetables are still warm.
Make-ahead: You can roast the vegetables one night in advance. You can toss them with the vinaigrette right then, or store them in the fridge but be sure to warm up the next day and coat them with the dressing.
Leftovers: keep leftover salad in a tight-lid container in the fridge for up to 3 days
How to toast nuts: Simply heat a skillet, add a small drizzle of olive oil, and toast the nuts, tossing regularly, until they change color. With pine nuts, this can happen very quickly – watch them carefully so they don't burn.
Visit our shop to browse quality Mediterranean ingredients including olive oils and spices.
Nutrition
Calories:
210.2
kcal
Carbohydrates:
21.1
g
Protein:
2.8
g
Fat:
14.4
g
Saturated Fat:
2
g
Monounsaturated Fat:
10.3
g
Sodium:
242
mg
Potassium:
542.8
mg
Fiber:
3.2
g
Sugar:
8.7
g
Vitamin A:
5229.9
IU
Vitamin C:
63.7
mg
Calcium:
49.4
mg
Iron:
1.1
mg
*This post originally appeared on The Mediterranean Dish in 2015. The recipe and post have been updated with new information and media for readers' benefit.