Bean recipes are a big part of the Mediterranean diet and for good reason. Not only are they tasty, but beans are also versatile, budget-friendly and loaded with health benefits like fiber, protein, folate, zinc and more. Add beans to soups and stews, salads and pastas, whip them up for creamy dips and appetizers.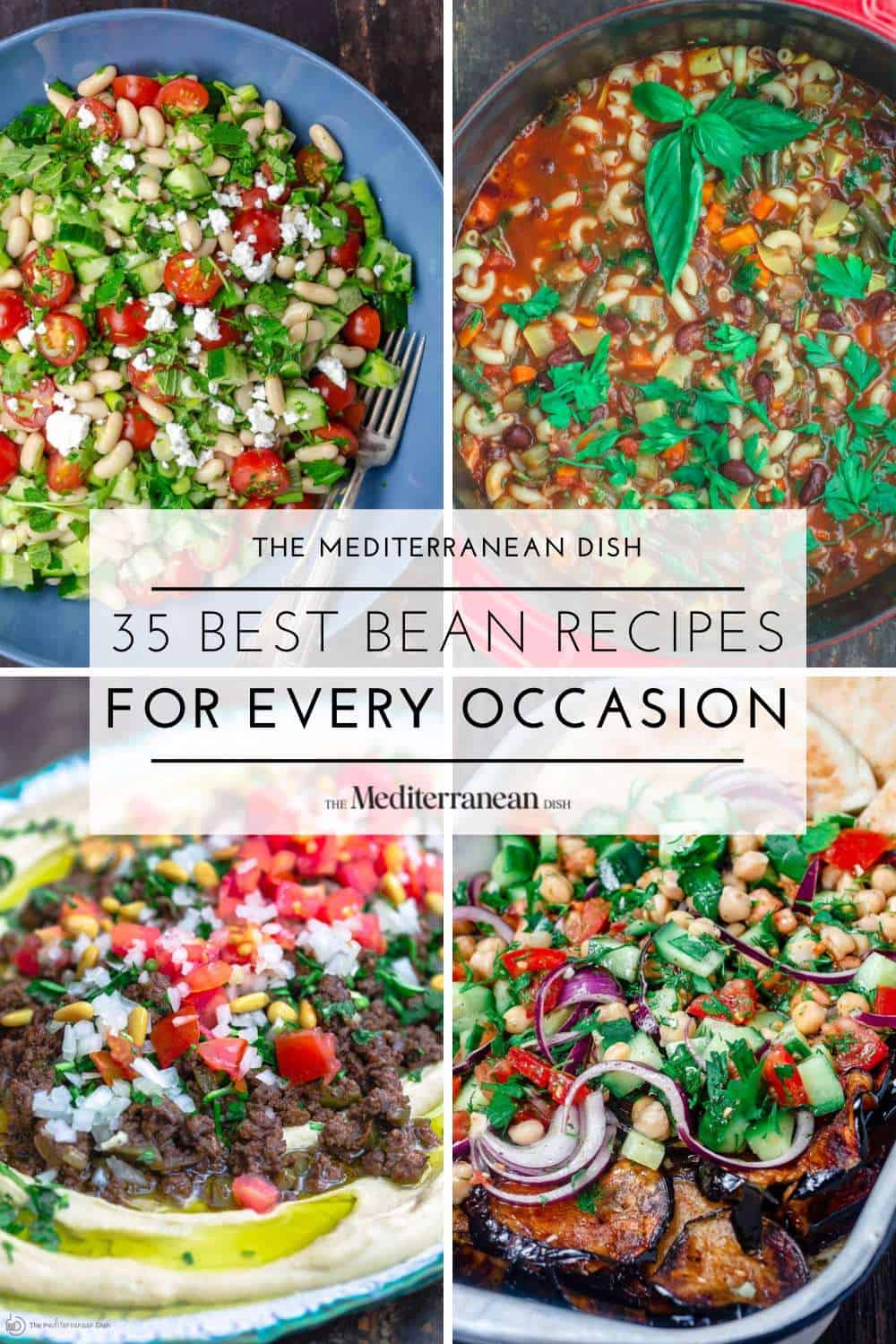 I wanted to share my favorite bean recipes for any night of the week because bean recipes are so EASY! And who doesn't need dinner to be a little easier every now and then? Healthy bean recipes come together quickly and are great to use for a weeknight main, a party appetizer, or a simple side dish.
I keep all sorts of dried and canned beans in my Mediterranean pantry. A quick scan of the shelves reveals black beans, red kidney beans, black eyed peas, and, of course, chickpeas.
It takes minutes to transform canned beans into a hearty stew, use them to add protein to a big salad, serve them as a side to my favorite chicken recipe, or feed a friend a flavorful vegan dinner.
In addition to being healthy, beans are an affordable way to add protein and fiber to your diet without breaking the bank. Obviously, canned beans are the easiest and quickest way to get dinner on the table, but a little planning makes dried beans a great option too.
Table of Contents
Dried vs. Canned Beans
Most of the recipes listed here use canned beans, but if you regularly cook dried beans you can use those instead. Here's a quick guide to help you substitute cooked dried beans for canned beans in any of these recipes.
If a recipe calls for canned beans and you'd rather cook your beans from scratch, here is a rough idea of how to convert the measurements:
1 cup dried beans = 3 cups of cooked beans
1 pound dried beans = up to 6 cups cooked beans
1 (15-ounce) can of cooked beans = 1 ½ cups drained cooked beans
If a recipe calls for 1 (15-ounce) can of cooked beans, start with a heaping ½ cup of dried beans (which you will need to soak and cook before using in the recipe).
Healthy Bean Salad Recipes
Mediterranean Three Bean Salad
This three bean salad is so bright and packs tons of flavor from fresh herbs, capers, and a zesty garlic Dijon vinaigrette. It's the perfect potluck salad and makes a great side for any dinner.
This family recipe is Mediterranean diet-friendly and loaded with crunchy veggies, fresh herbs, and a tangy garlic and lime dressing. This bean salad is so filling and satisfying you can serve it as a vegan main meal.
This simple white bean salad is loaded with bright Mediterranean flavors! I toss canned chickpeas, chopped veggies, and fresh herbs together in one large bowl. No fancy dressing here, a squeeze of lemon juice and extra virgin olive oil is all you need!
This salad is loaded with cooked chickpeas, chopped cucumbers, tomatoes, mint, basil, parsley, and Mediterranean favorites like olives and sun-dried tomatoes. A bright salad dressing with garlic and sumac marries all the flavors. This is the perfect bean salad recipe for your next backyard barbecue, picnic side, or weekly meal prep.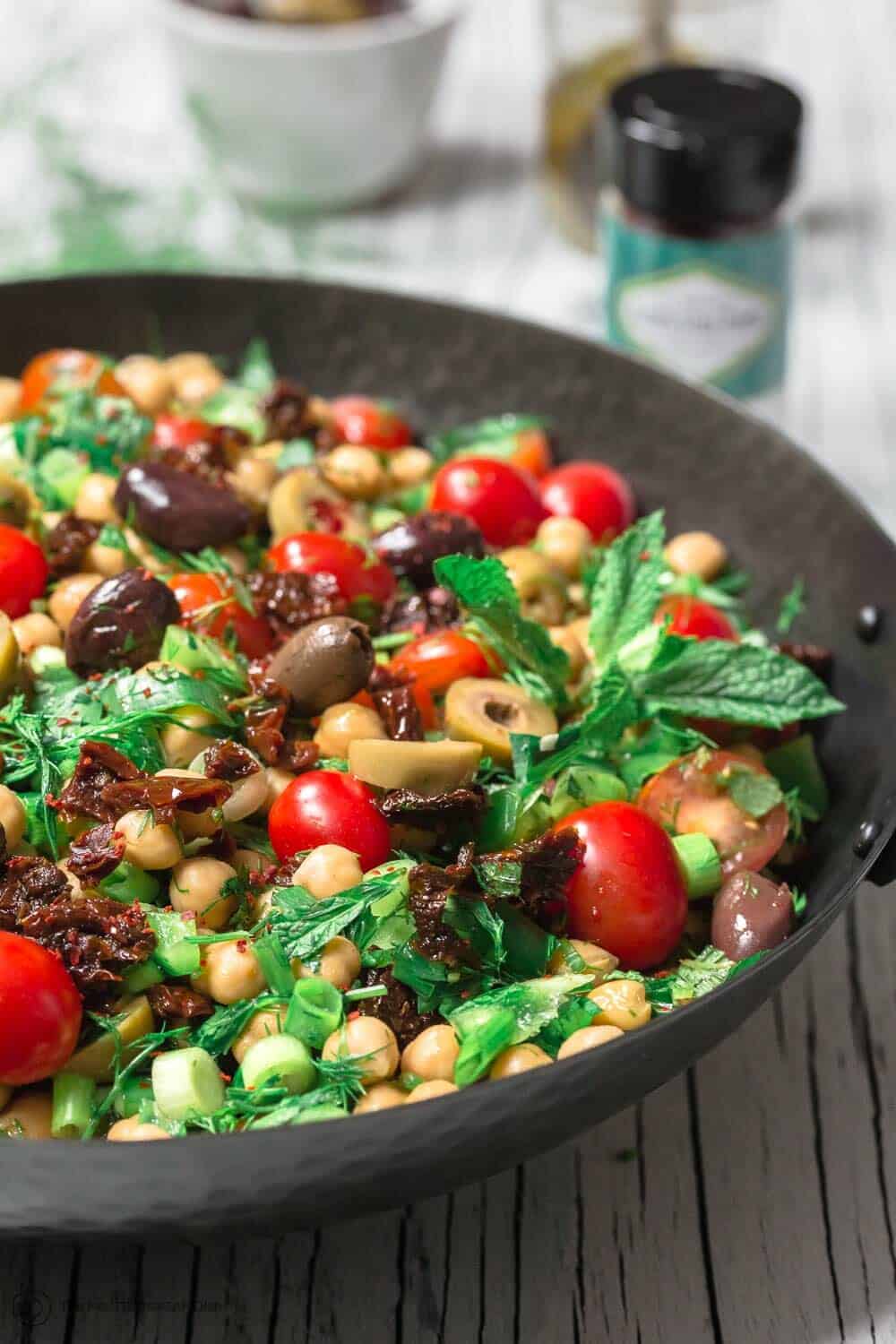 I love a good vegetable and bean salad – no lettuce required. This recipe comes together in 15-minutes. Crunchy veggies and red kidney beans are dressed in a simple Dijon vinaigrette and brightened with a pop of cilantro.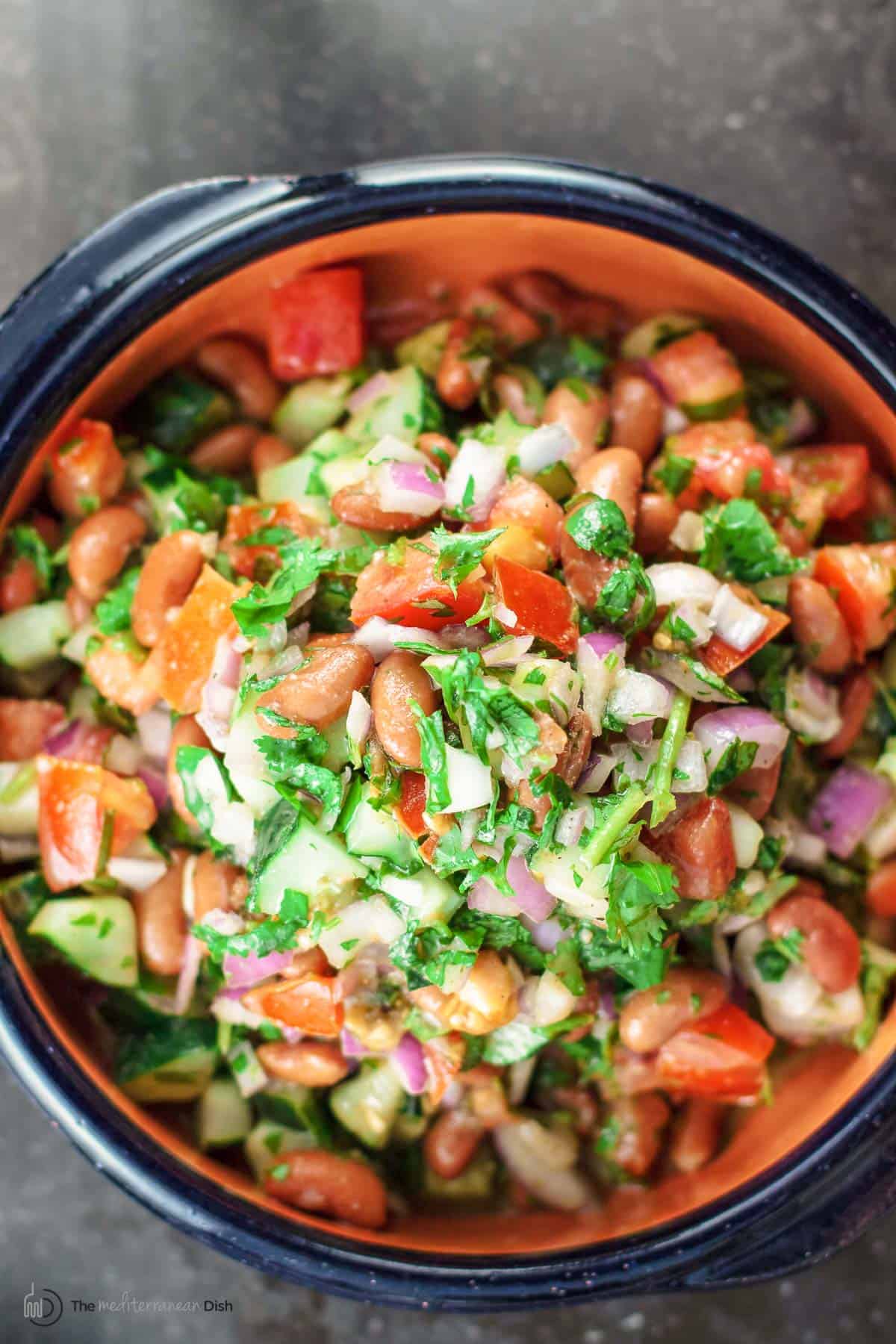 Mediterranean Chickpea Egg Salad
Not your average egg salad recipe! Crunchy cucumbers and celery provide the refreshing crunch in this bean recipe while creamy chickpeas and protein-rich eggs offer a balance of textures and nutrition. A little dijon mustard, parsley and lemon juice round it out. Don't worry, you won't miss the mayo!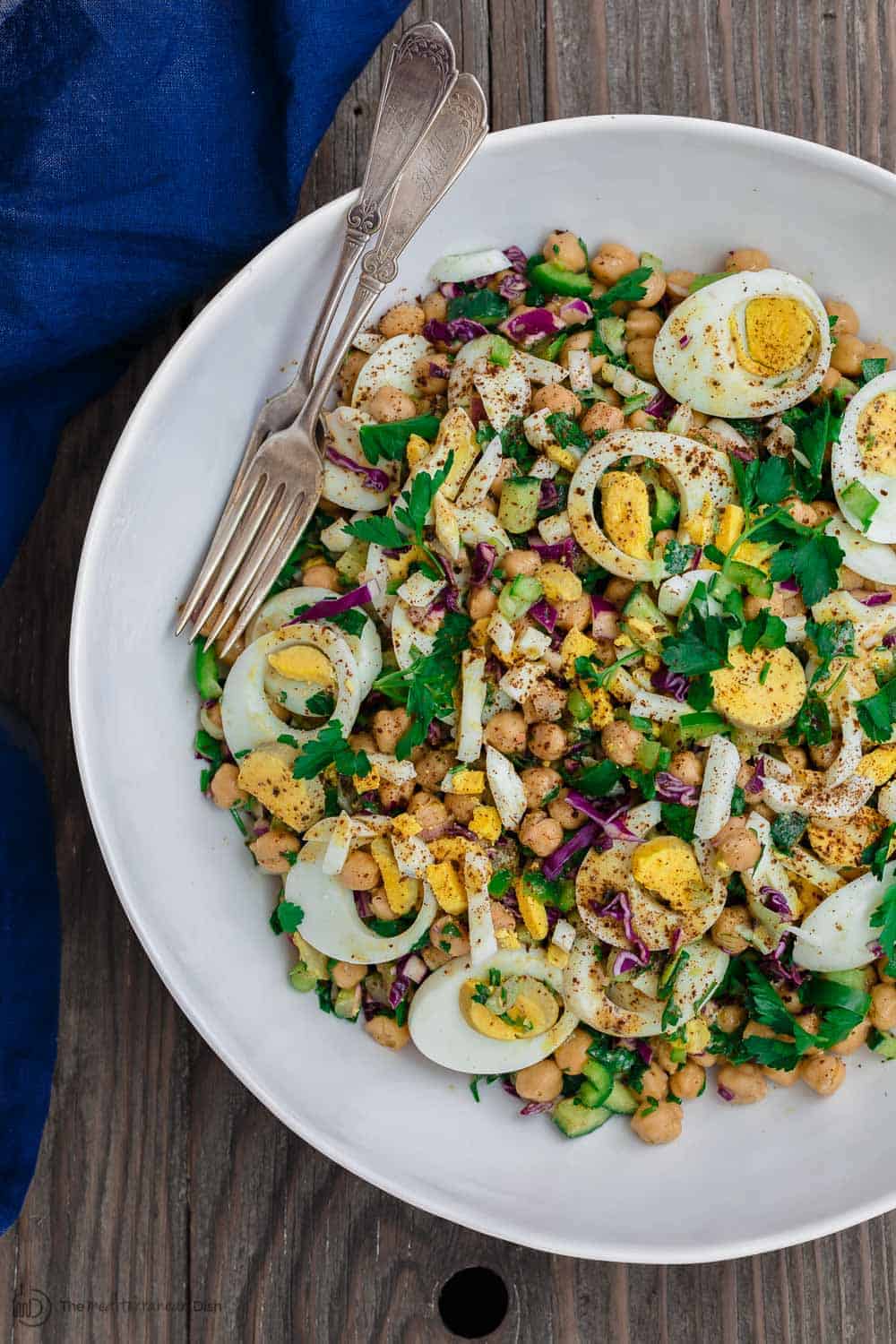 Looking for a quick and easy lunch recipe? Look no further! This hearty black eyed pea salad with chopped vegetables, fresh herbs, and pomegranate arils will keep in the fridge for up to 3 days. Store the dressing separately and pack it for lunch throughout the week. Keep it vegan or add a sprinkle of creamy feta to finish!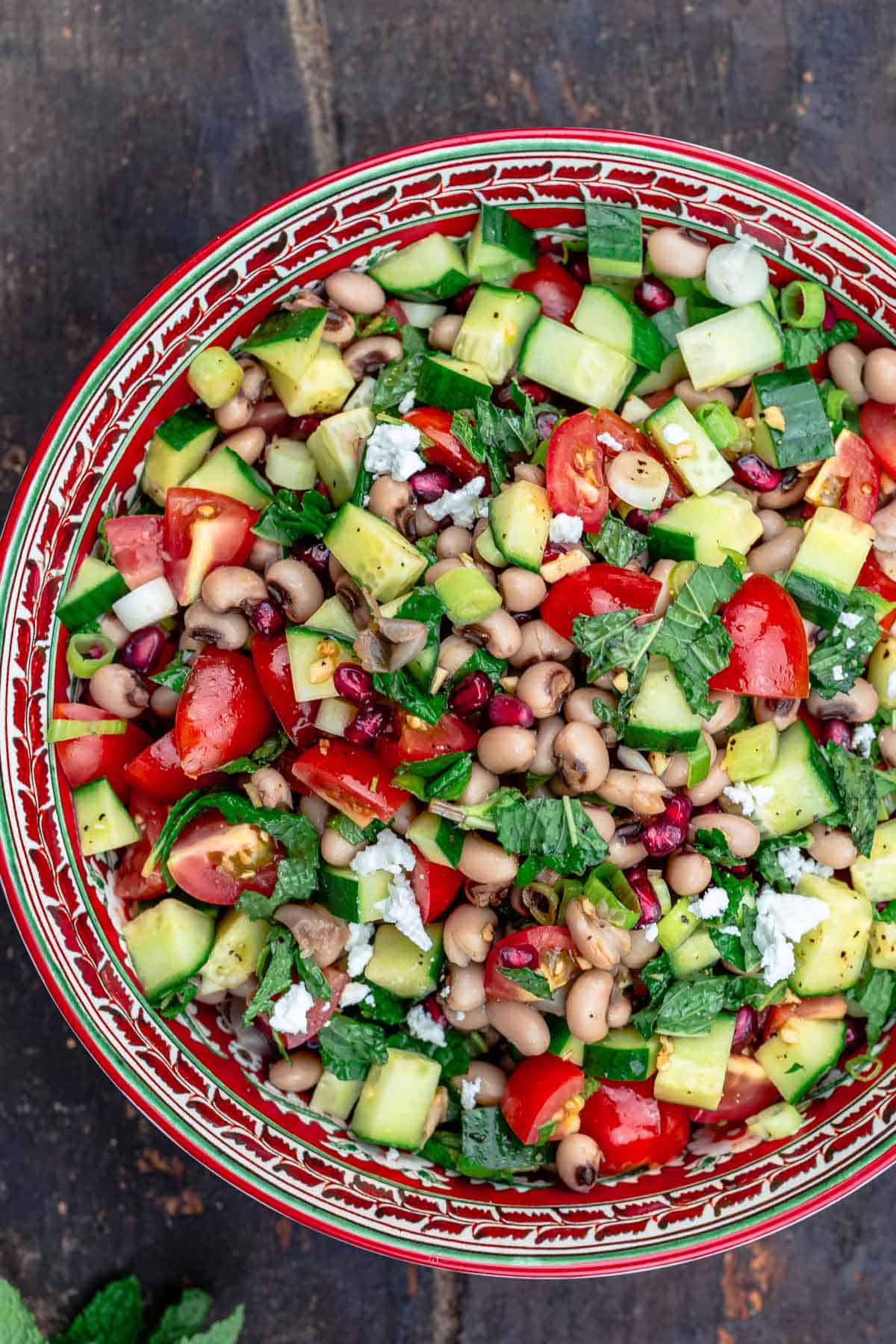 Piyaz: Turkish White Bean Salad
Healthy eating doesn't have to be time consuming. This salad made with white beans, tomatoes, onions, parsley and garlic comes together in 10-minutes. This is your, "too-tired-to-cook go to salad!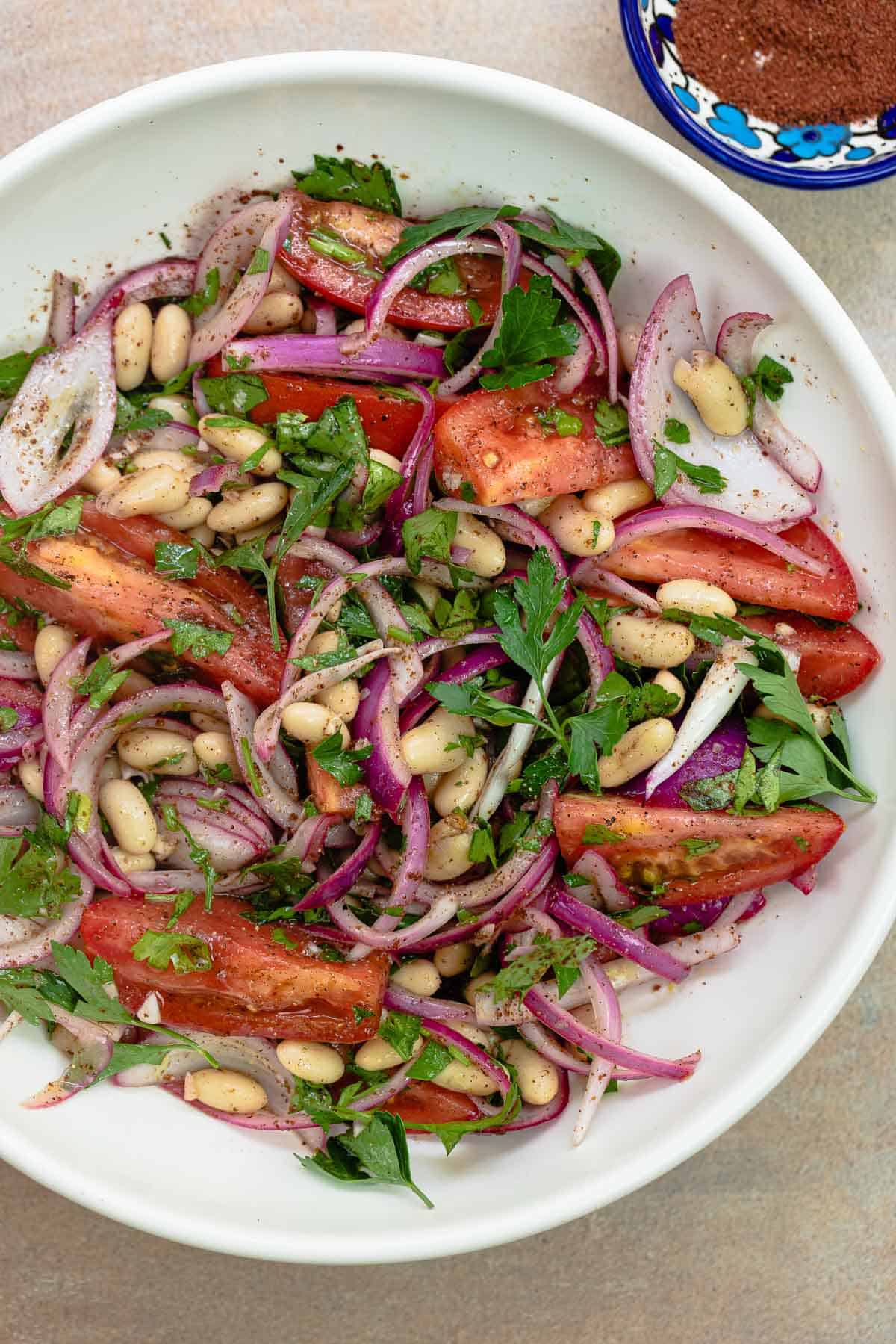 15-Minute Mediterranean Sardine Salad
Sardines are easy to find near the canned tuna in your local grocery store. This salad is loaded with white beans, fresh herbs, tomatoes, and onions. A light dijon dressing ties this healthy, flavorful, and filling bean salad recipe together.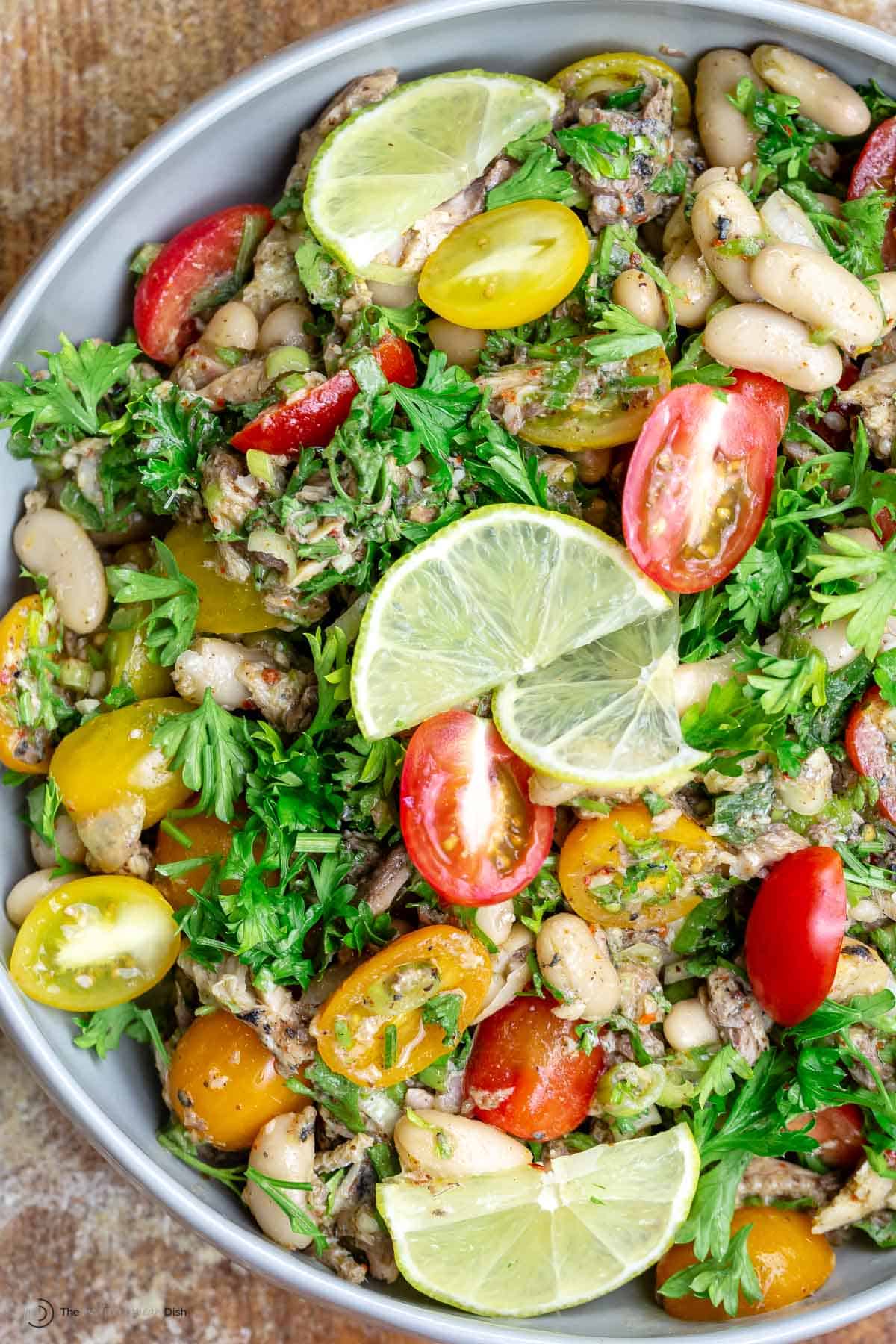 Bean Soup, Stew and Chili Recipes for Busy Weeknights
Italian minestrone soup is comforting, filling, and packed with vegetables, fresh herbs, and beans. A little pasta to finish it off makes this a one-pot meal you can eat on repeat. Serve it with a simple side salad if you want even more veggies.
White Bean and Kale Soup with Chicken
This is the soup to make when you're short on time! All you need is 30 minutes, some chicken, kale and a can of white beans. Make a pot and feed a crowd.
Tomato pesto dresses up this humble soup made with three types of beans — kidney beans, cannellini beans, and chickpeas. It's a pantry soup recipe if there ever was one. Serve it with a fresh batch of homemade focaccia and dinner is served!
Harira (Moroccan Lentil and Chickpea Soup)
Harira is a classic Moroccan lentil and chickpea soup made with fresh herbs and loads of warm spices. Get ready for delicious leftovers because this vegetarian soup is even better the next day. Serve it with lemon slices and warm pita bread.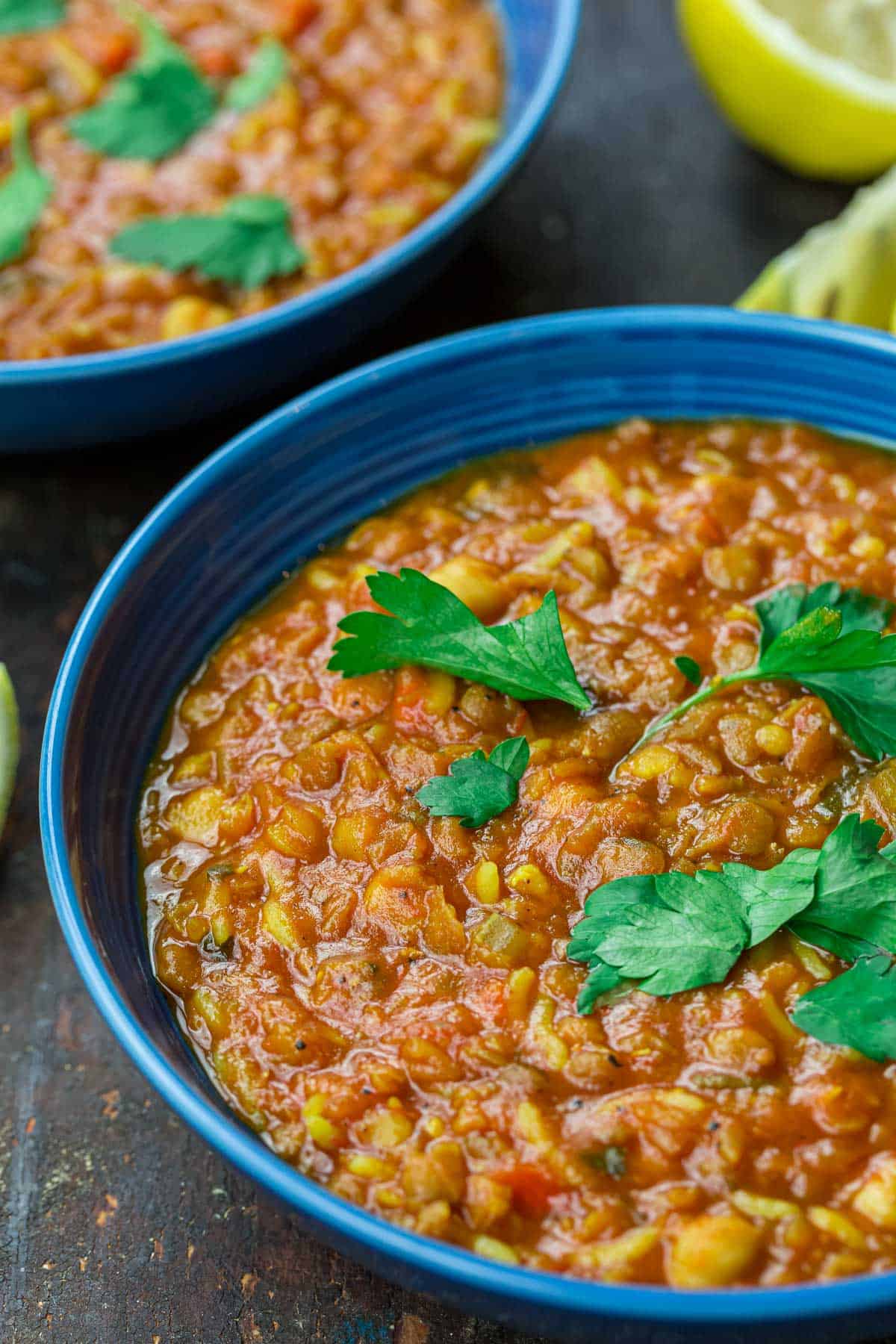 Roasted Cauliflower and Chickpea Stew
This chickpea stew is a hearty vegan stew, loaded with roasted cauliflowers, carrots, tomatoes, and a few warm spices.
Fasolada: Greek White Bean Soup
Make Fasolada (Greek Bean Soup) when you want a flavorful and hearty weeknight dinner. Garlic, onions, celery and a generous drizzle of good Greek extra virgin olive oil will put this vegan and gluten-free soup on your weekly rotation.
Easy vegan chili with a bold Mediterranean twist! Quinoa, two different types of beans, and chopped vegetables are layered with Mediterranean aromatic flavors, warm spices, fresh herbs, and a splash of citrus. It's a plant-based protein powerhouse!
This slow cooker chili recipe is a favorite in my house and perfect for busy nights when I'm running kids from one place to another. It's vegan and loaded with tomatoes, sweet corn, onions, peppers, and, of course, chickpeas!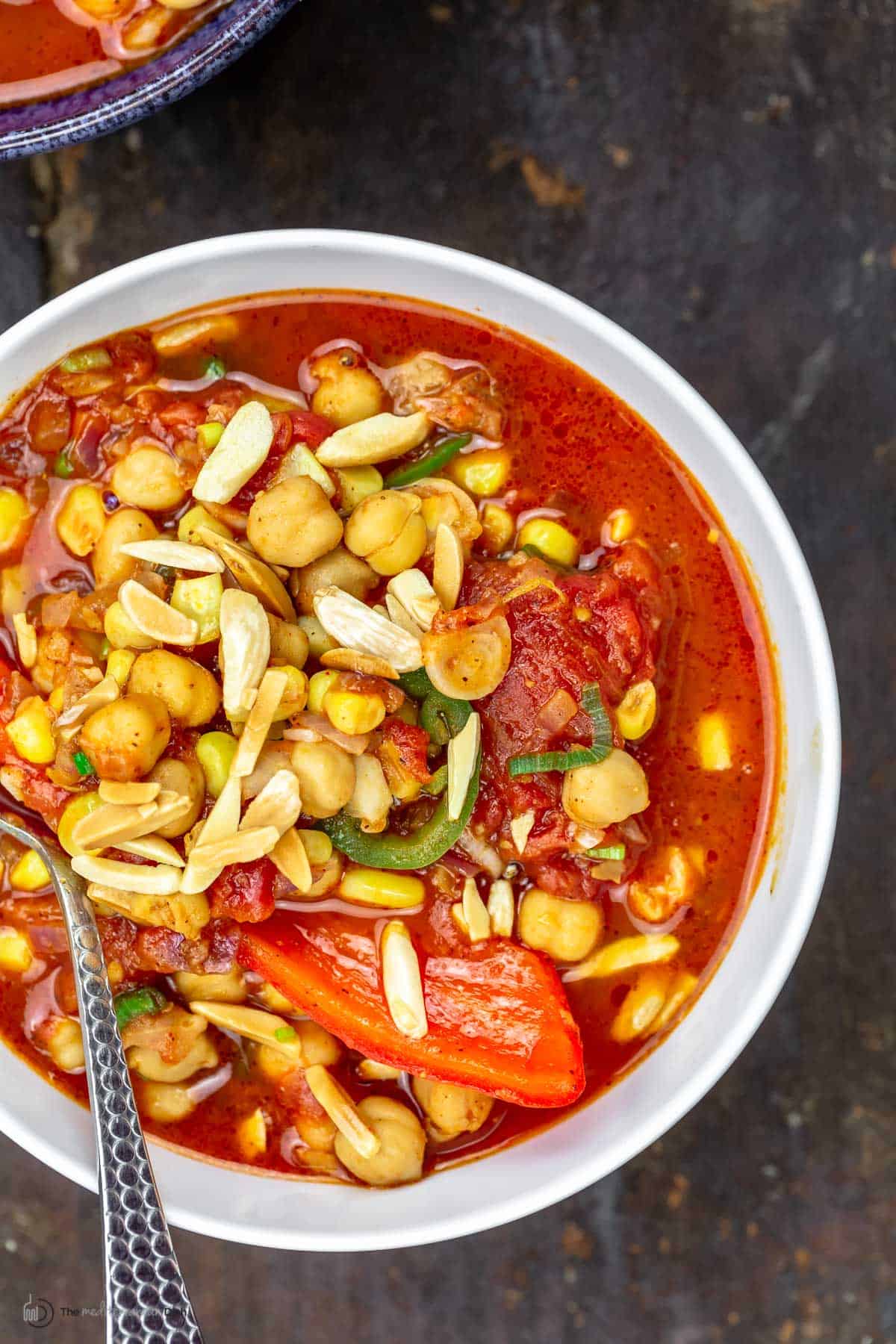 You don't have to be vegan to love this healthy black-eyed pea recipe. Simple pantry ingredients are dressed up with onions, garlic, and bold Greek spices. A squeeze of citrus and a handful of fresh herbs make this a crowd favorite.
Ribollita (Tuscan White Bean Soup)
Make this soup on the stovetop or if you're pressed for time make it in your slow cooker. Ribollita is a classic Tuscan soup made with white beans, vegetables, and crusty day-old bread.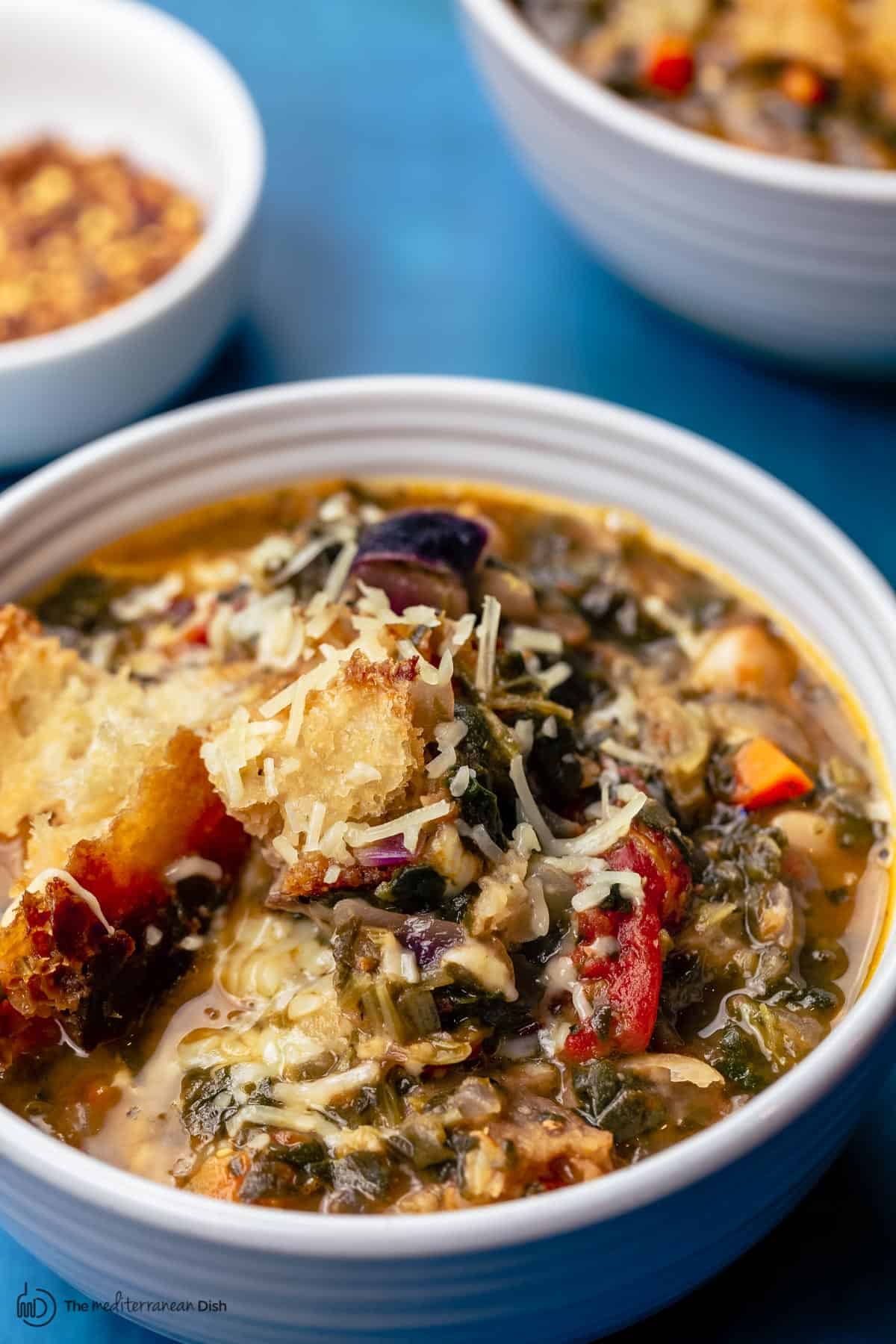 Bean Dip, Snacks, Sides, and Appetizer Recipes
Move over 7-layer bean dip, this layered hummus dip is great for parties and casual get togethers! I top creamy hummus with a layer of spiced ground beef then finish it off with diced fresh tomatoes, a sprinkle of parsley, and toasted nuts.
When you're in a snacky mood, these crunchy roasted chickpeas will hit the spot. If you like chickpeas with a kick, add a pinch of cayenne after roasting then add them to salads or sprinkle them over hummus.
If you like classic homemade hummus, you will love roasted garlic hummus. Roasted garlic adds a subtle caramelized sweetness with a smoky undertone and just a hint of spice. Perfect for scooping up with homemade pita.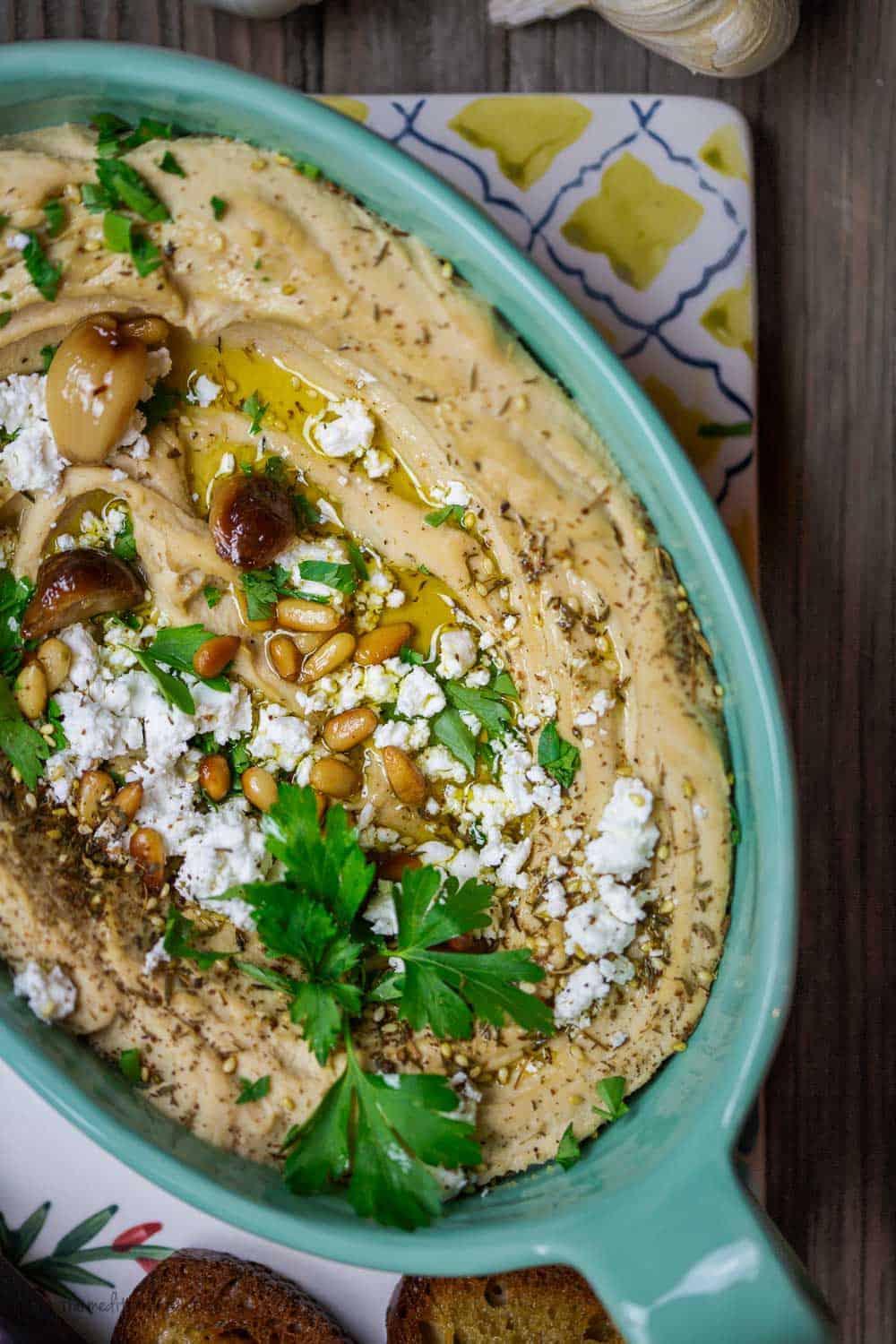 All you need is a couple of cans of cannellini beans, and 15 minutes to make this white bean recipe with garlic, Parmesan, and cherry tomatoes. Serve it as an easy meatless dinner with your favorite crusty bread or as a side to chicken or fish.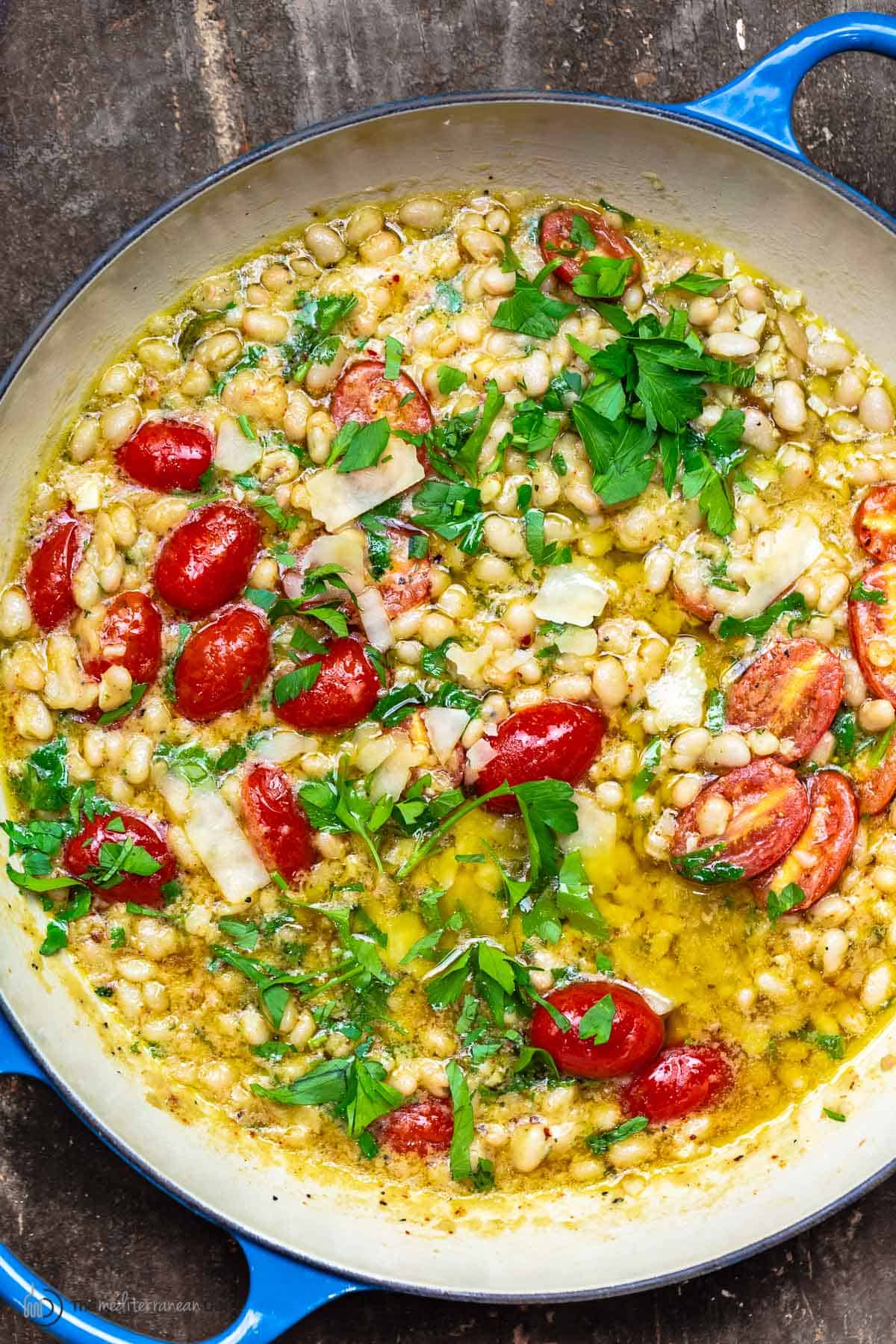 Ultra Creamy White Bean Hummus
Most people know hummus is made with chickpeas, but you can make a creamy, luxurious and lemony hummus with white beans too. Scoop it up with your favorite veggies or pita.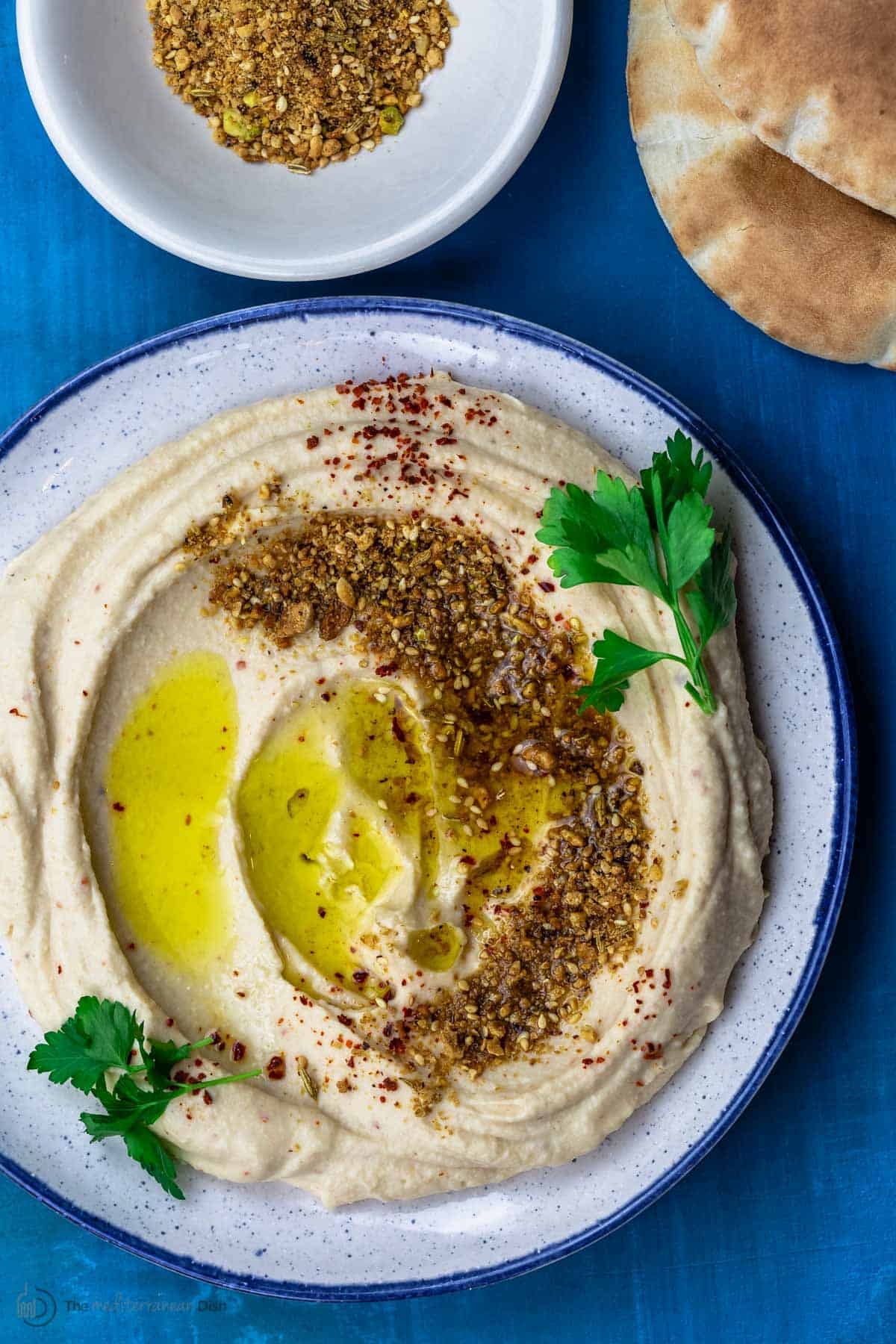 Mediterranean-Style Bean Dip with Roasted Squash
Roasted acorn squash and a can of white beans are the stars of this rustic bean dip. Caramelized shallots, garlic, and paprika, cumin, coriander and sumac are the flavor boosters.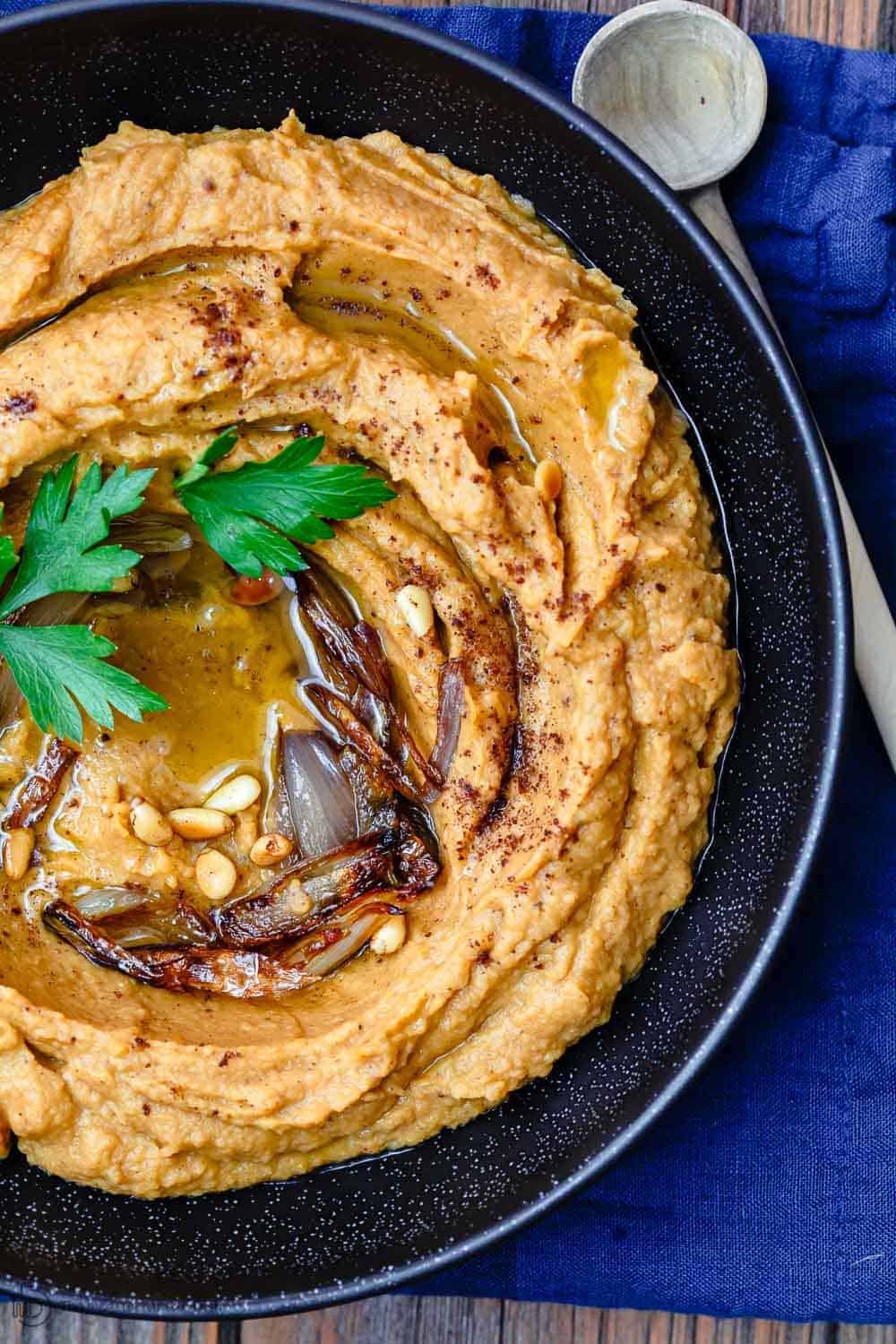 Beans for Breakfast
Growing up in Egypt, we ate this for breakfast all the time, but really you can eat it any time of day. Fava beans are smashed with a fork then seasoned with ground cumin, fresh herbs, and a lemon garlic sauce that adds just the right kick. Serve it with warm pita.
This protein-packed vegetarian meal takes only 10-minutes to put together. Eat it for breakfast, lunch, or dinner. Keep it vegan or add sliced boiled eggs on top for extra protein.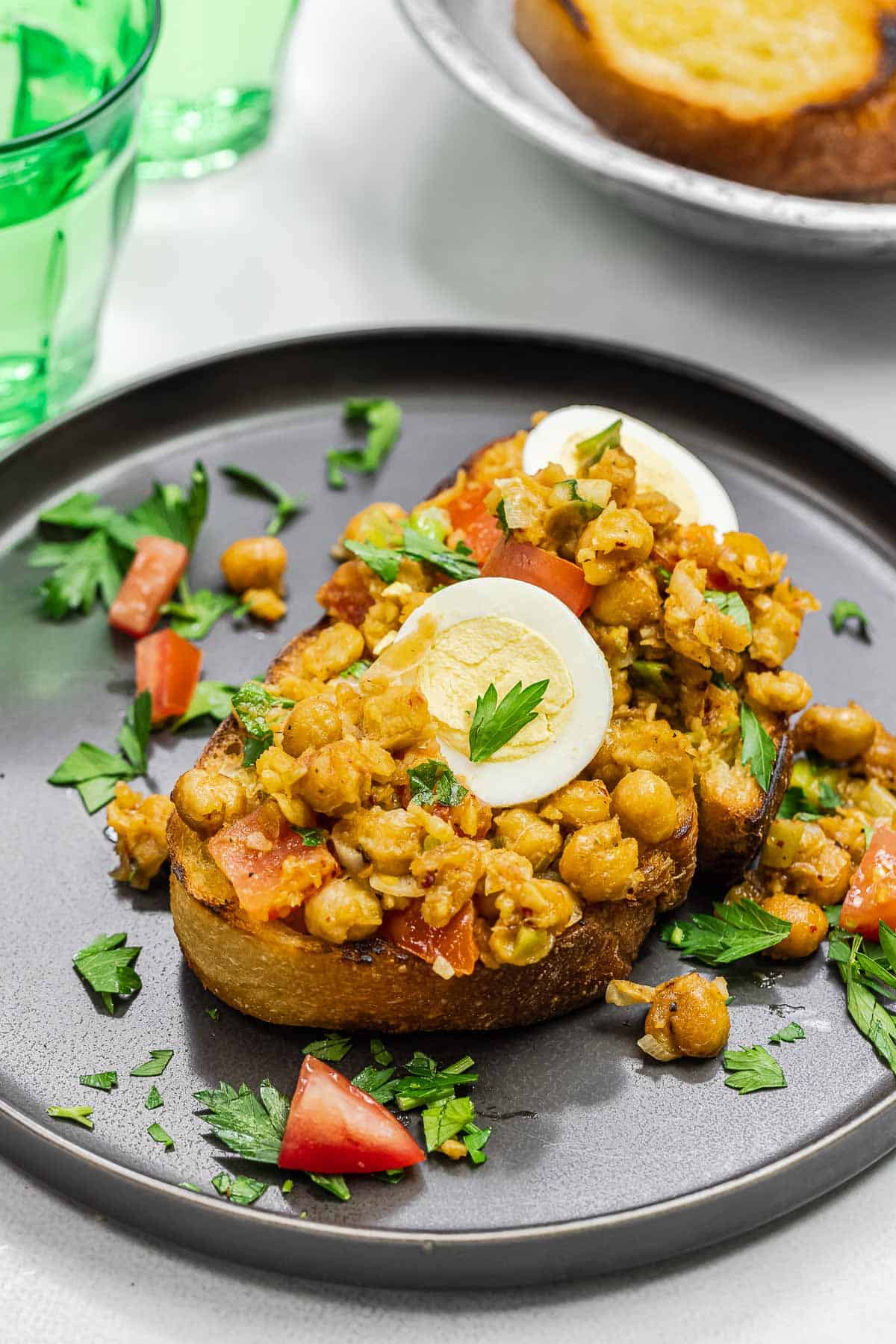 Beans for Dinner
Vegetarian Stuffed Peppers with Basil Vinaigrette
These vegetarian stuffed peppers with orzo, tomato, and chickpeas are from my cookbook, The Mediterranean Dish: 120 Bold and Healthy Recipes You'll Make on Repeat. Serve them as a satisfying meatless main or filling side dish. They're a guaranteed crowd-pleaser!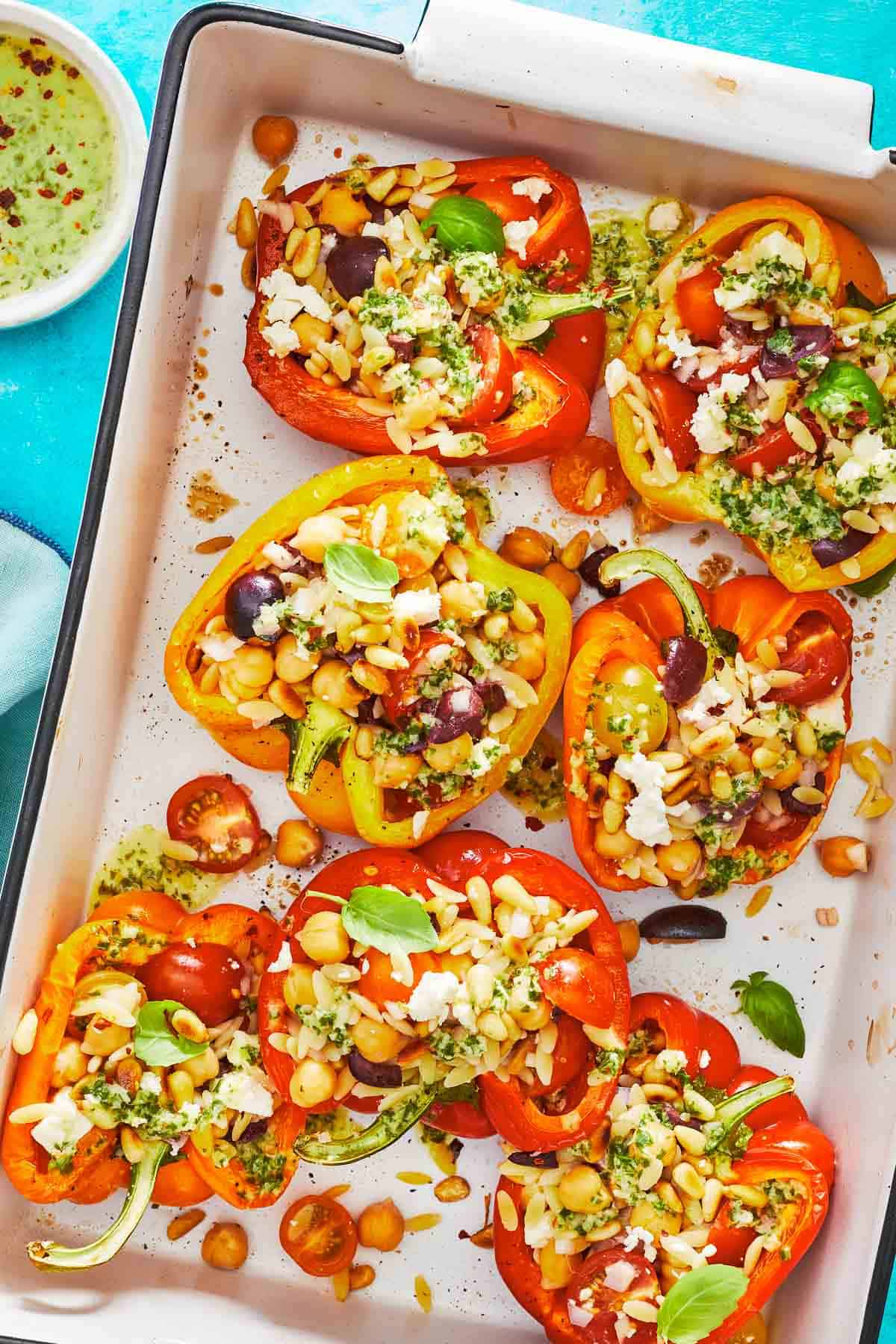 Broccoli Pasta with White Beans
Simple broccoli pasta with hearty white beans, tossed in a light olive oil sauce with garlic, onions, and oregano. A good handful of fresh parsley and freshly grated Parmesan cheese finish this light and flavorful pasta dinner.
Easy and Authentic Falafel Recipe
This is my family's falafel recipe made with chickpeas, fresh herbs, and spices. Make a batch then tuck them into warm pita sandwiches with tahini sauce or hummus, and a tomato and cucumber salad.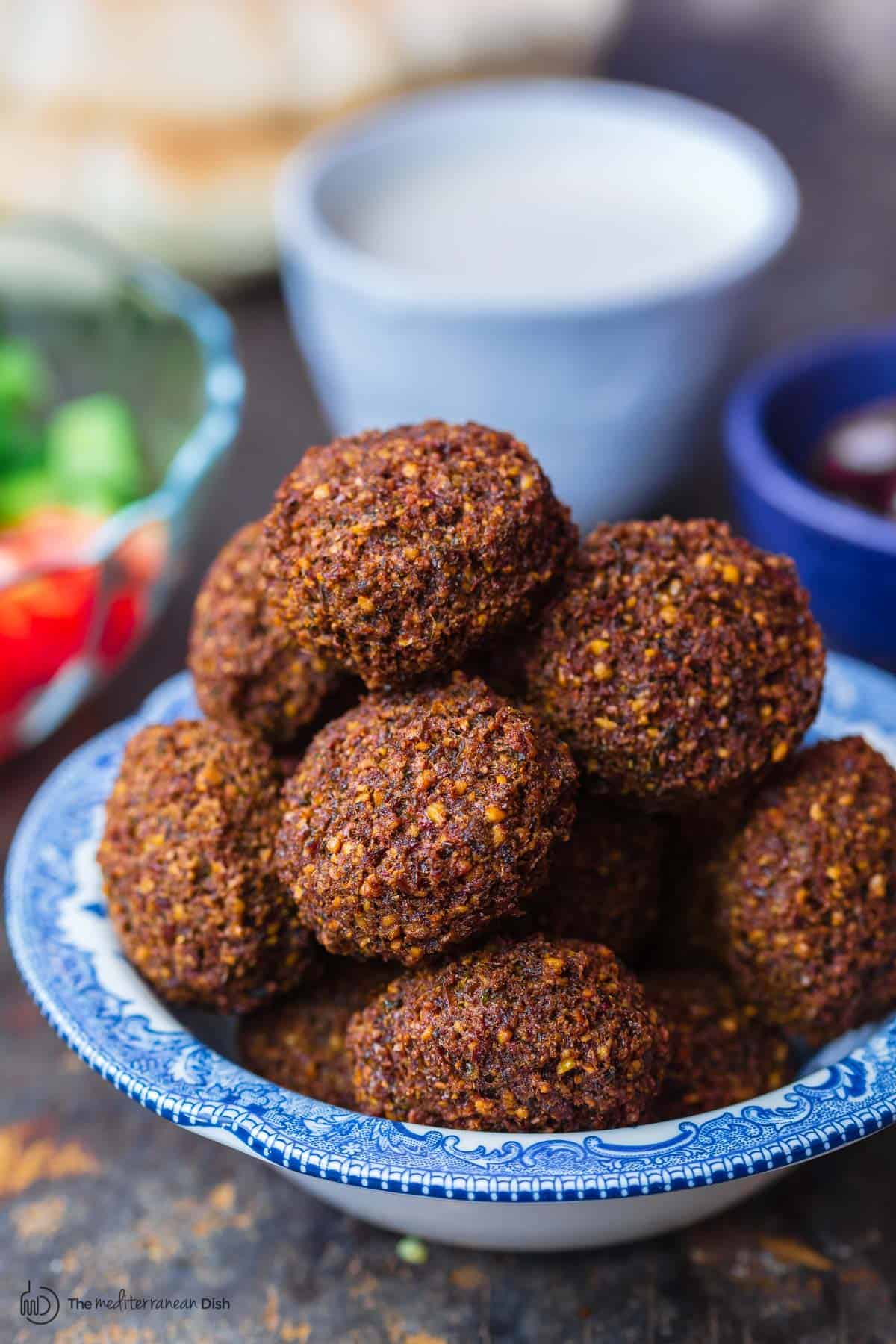 Chickpea Farro Bowls with Shrimp
Chickpeas and nutty farro are mixed with chopped cucumber, tomato, and fresh herbs. Dressed with a bold Mediterranean dressing. This is a great make ahead meal!
Orecchiette with White Beans, Tomato and Olives
This Mediterranean pasta dish is made with simple pantry staples. White beans add fiber and plant-based protein, making it an extra satisfying weeknight dinner. Tomatoes, garlic, fresh herbs, and Kalamata olives pack in the flavor!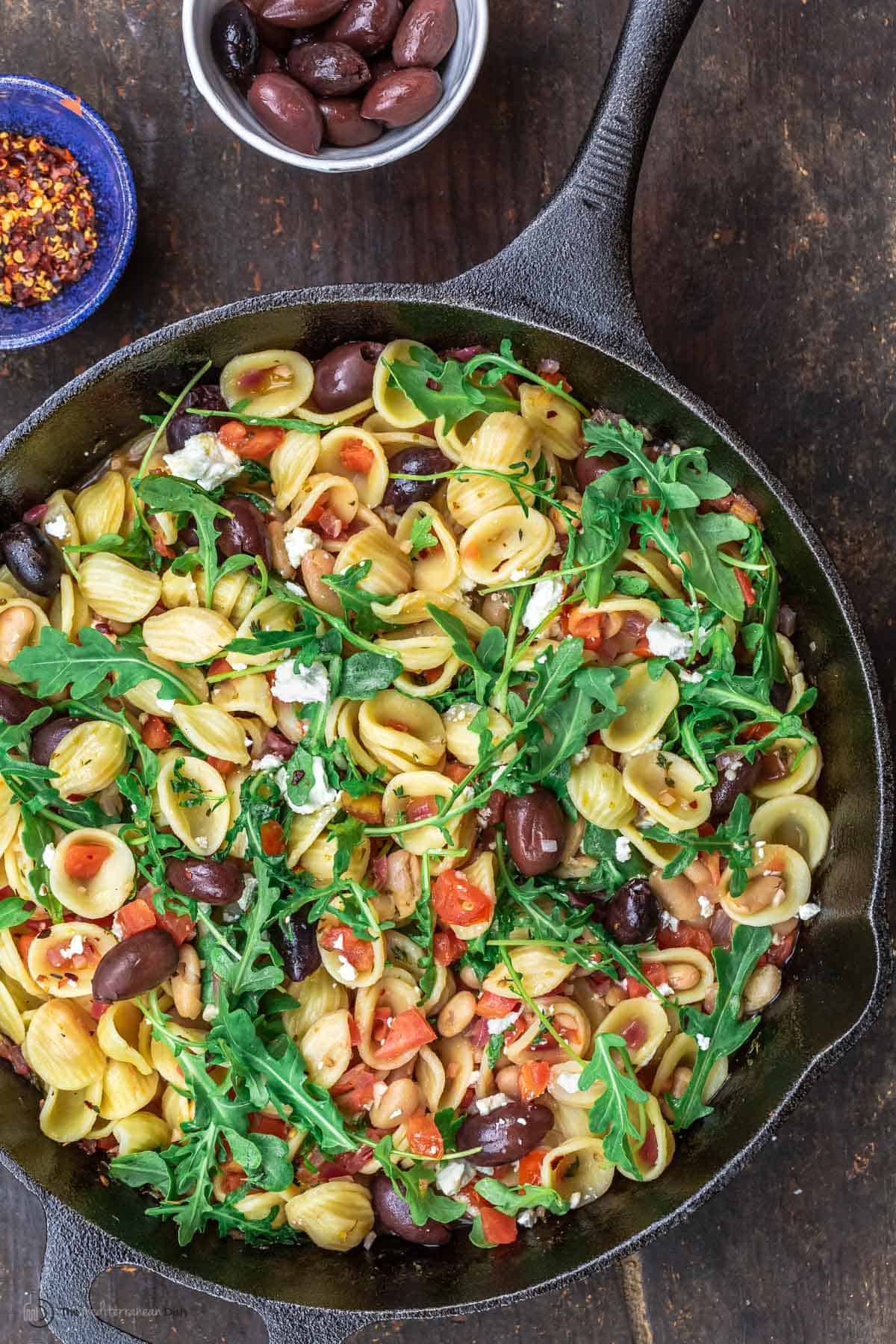 Creamy Tomato Pasta with Chickpeas
Creamy Tomato Pasta with Chickpeas is flavorful, nutritious, and rich! It takes only a few simple pantry staples and is ready in a flash.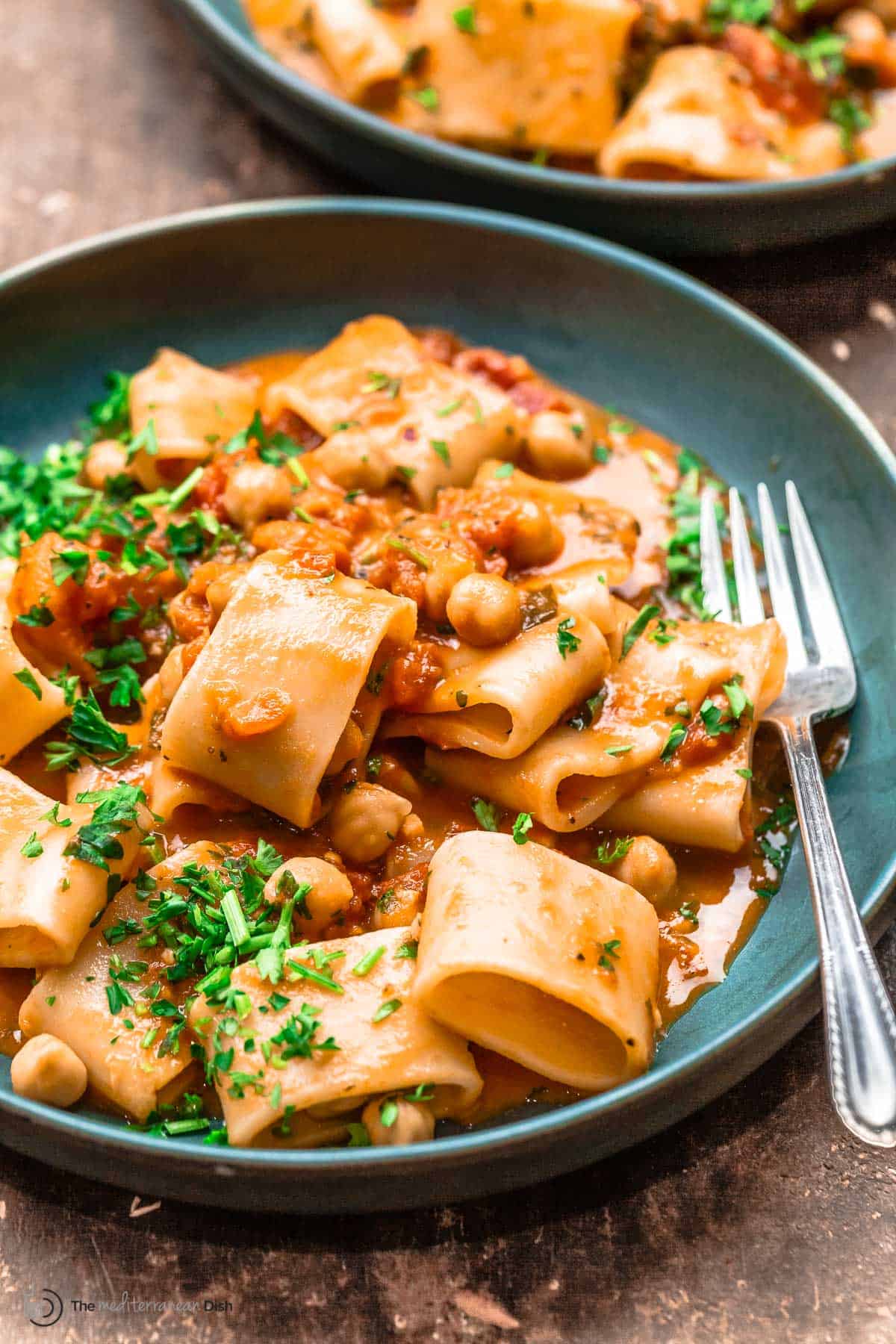 Mediterranean Grain Bowls with Chickpeas and Lentils
Grain bowls come in all shapes and sizes and this one is layered with both lentils and chickpeas, but that's not all. Zucchini, cherry tomatoes, olives, avocado, shallots and farro round out this nutritional powerhouse.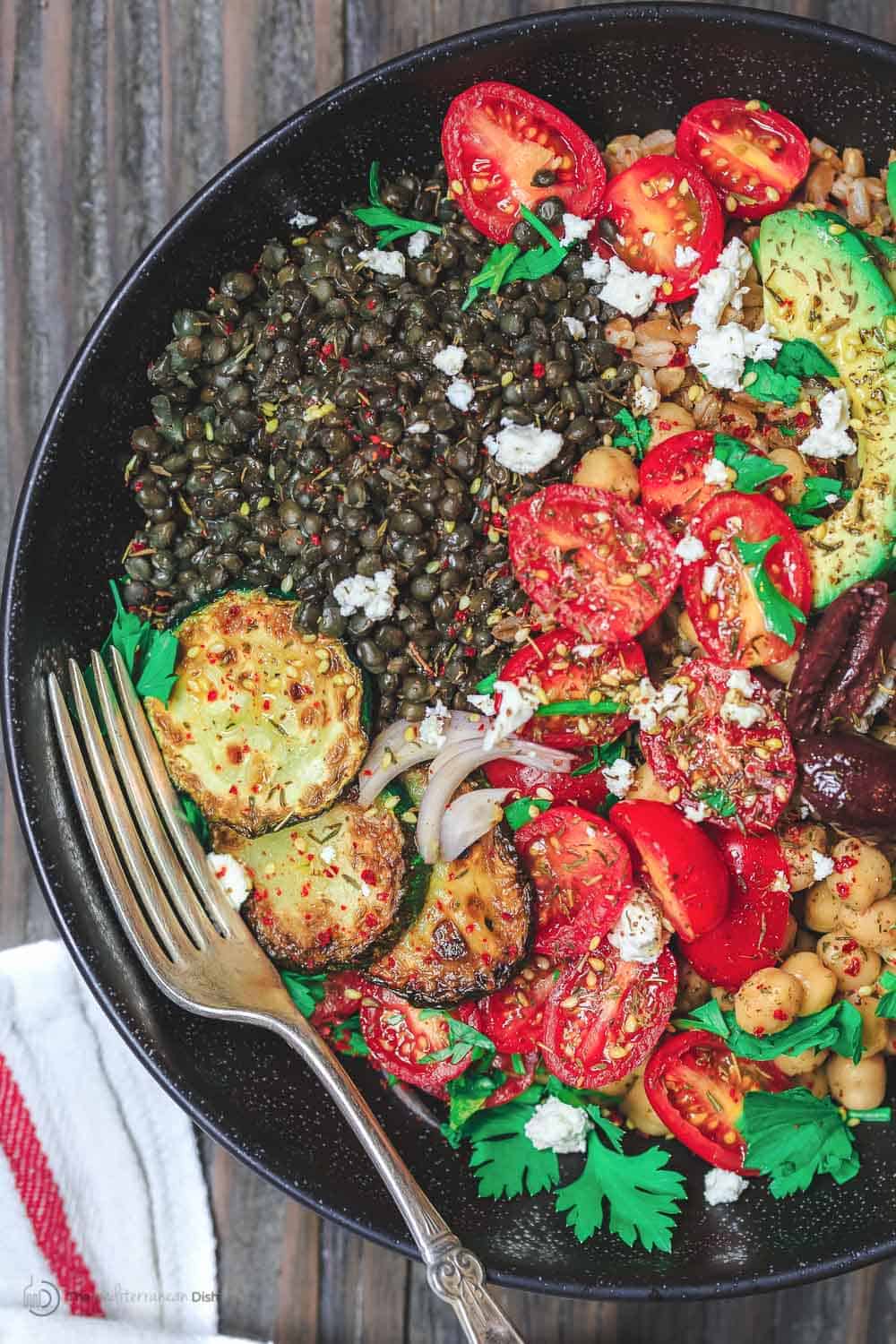 Sheet-Pan Smoked Paprika Chicken with Chickpeas and Carrots
Sheet-pan dinners make weeknight meal planning a snap. They are easy to make and easy to clean up. Chicken thighs, chickpeas, carrots and onions are tossed together in a tomato sauce with garlic, citrus and spices then popped into the oven. This comforting is recipe from my cookbook, The Mediterranean Dish: 120 Bold and Healthy Recipes You'll Make On Repeat.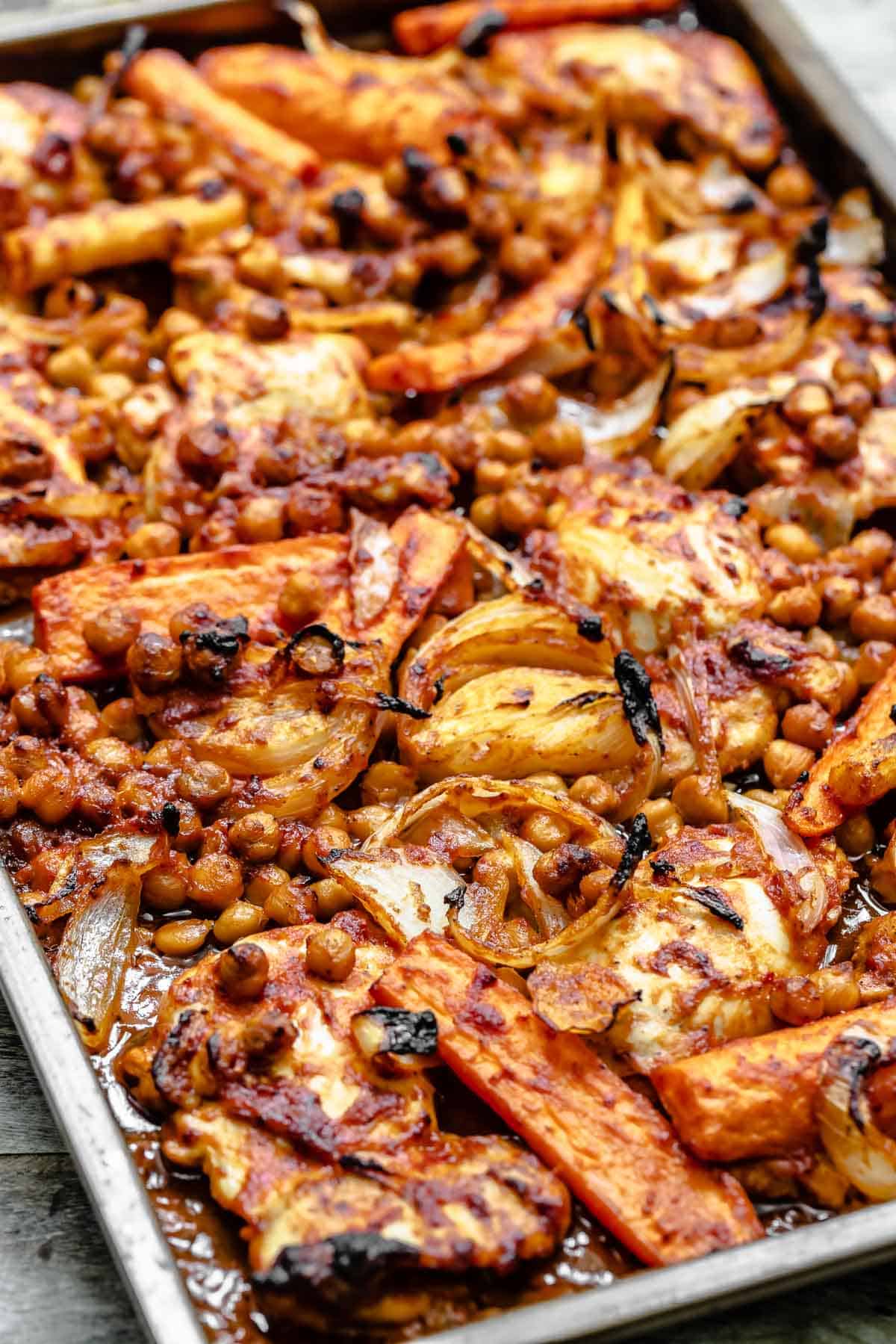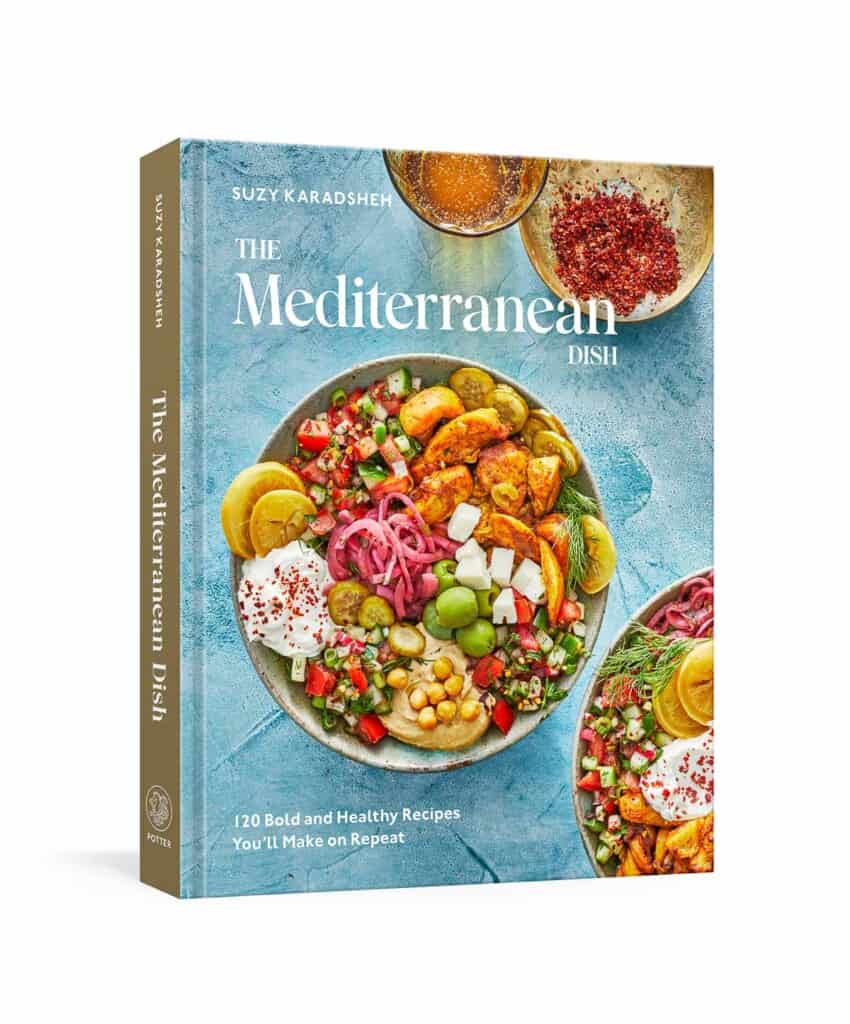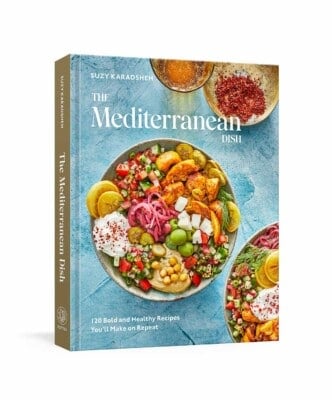 35 Best Bean Recipes: Vegetarian Minestrone Soup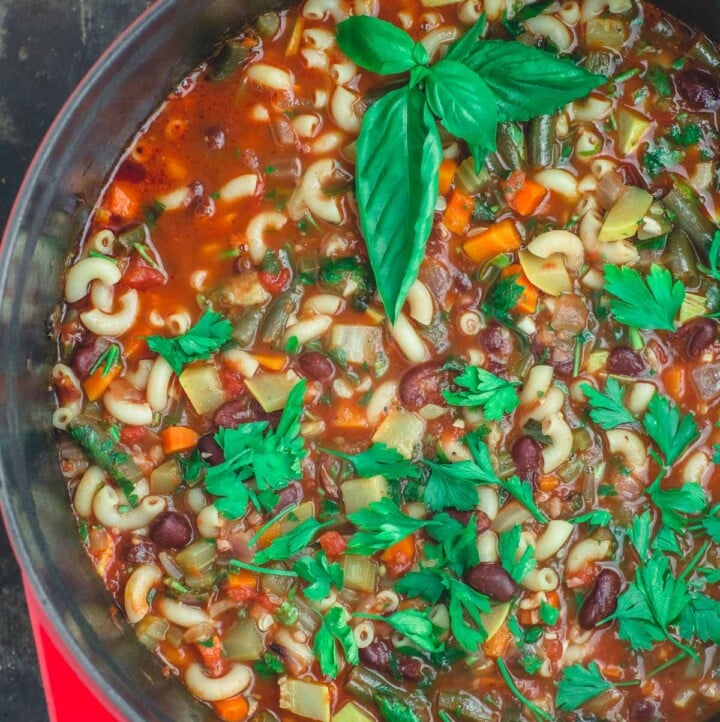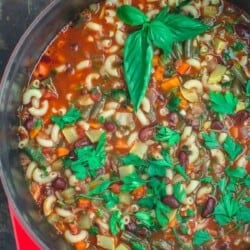 Hearty vegetarian minestrone soup is an Italian speciality. Brimming with vegetables, kidney beans, and pasta, it's a great soup to use up what you have on hand. The thick, flavorful tomato broth is scented with rosemary, lots of fresh herbs, and Parmesan! One bowl will never be enough!
Ingredients
¼

cup

extra virgin olive oil

1

small yellow onion,

chopped

2

carrots,

chopped

2

celery stalks,

diced

4

garlic cloves,

minced

1

zucchini or yellow squash,

diced

1

cup

green beans,

fresh or frozen, trimmed and cut into 1-inch pieces, if needed

Kosher salt and black pepper

1

teaspoon

paprika

½

teaspoon

rosemary

1 15-

oz

can crushed tomatoes

6

cups

broth,

vegetable or chicken broth

1-

inch

Parmesan cheese rind,

optional

1

bay leaf

2 to 3

sprigs fresh thyme

1 (15-

oz)

can kidney beans

Large handful chopped parsley

Handful fresh basil leaves

Grated Parmesan cheese,

to serve (optional)

2

cups

cooked ditalini or elbow pasta
Instructions
In a large Dutch oven, heat the extra virgin olive oil over medium heat until shimmering but not smoking. Add onions, carrots and celery. Raise heat to medium-high and cook stirring regularly, until the veggies soften a bit (about 5 minutes or so). Add the garlic and cook another minute, tossing regularly.

Add the zucchini or yellow squash and green beans. Season with paprika, rosemary, and a generous pinch of kosher salt and pepper. Toss to combine.

Now add the crushed tomatoes, broth, fresh thyme, bay leaf and Parmesan rind (if using.) Bring to a boil, then reduce the heat to a gentle simmer and partially cover the pot. Let simmer for about 20 minutes or so.

Uncover the pot and add the kidney beans. Cook for another 5 minutes.

Finally, Stir in the parsley and fresh basil. And, if serving immediately, stir in the cooked pasta and simmer just until the pasta is warmed through; do not overcook. (See Cook's Tip #2)

Remove the cheese rind and bay leaf. Taste and adjust seasoning to your liking. Serve the minestrone hot with a sprinkle of grated Parmesan and a drizzle of extra virgin olive oil.
Notes
Pasta reminder: Cook the pasta before adding it to the soup.Simply follow package instructions for al dente pasta. You will start with 1 cup of dry pasta, which will yield 2 cups cooked pasta.
Make it your own: Minestrone is meant to be adapted, so feel free to make this recipe your own by using what vegetables and beans you have on hand. Adding a handful of spinach or diced potatoes is common. You can use white beans instead of kidney beans, or use a combination of both. If you're looking for a low-carb option, feel free to omit the pasta. And if you need something meaty, add cooked ground turkey or even leftover rotisserie chicken. You can add that early on, once you've cooked the onions, carrots, and celery.
Make-ahead tip: If you are not serving this minestrone soup immediately, do not add the cooked pasta to the pot until you are ready to serve. This will give you best results and will prevent the pasta from soaking up too much of the broth and getting too mushy.
For meal prep: Related to the note above, if you plan to make minestrone to use for lunch over several days, definitely keep the cooked pasta out. You can just add a small portion of the pasta directly to your bowl, and then add an appropriate portion of hot minestrone on top.
Recommended for this recipe: From our all-natural and organic spice collections, sweet paprika. And be sure to see our selection of extra virgin olive oils including Nocellara extra virgin olive oil.
Visit Our Shop for quality Mediterranean ingredients including extra virgin olive oils, spices, and grains.
Nutrition
Calories:
211.9
kcal
Carbohydrates:
26.7
g
Protein:
6.8
g
Saturated Fat:
1.5
g
Cholesterol:
0.7
mg
Potassium:
650.6
mg
Fiber:
7.4
g
Vitamin A:
4456.4
IU
Vitamin C:
19.4
mg
Calcium:
83.3
mg
Iron:
2.6
mg
*This post has recently been updated with new information for readers' benefit.