Darn tasty, easy, wholesome bean recipes for any night of the week! From soups and stews to salads and pastas, there is something for everyone in this roundup of bean recipes. You can make these recipes using canned beans or from dried beans.
Plus all your bean questions answered! How to cook dried beans? How to store beans? And more!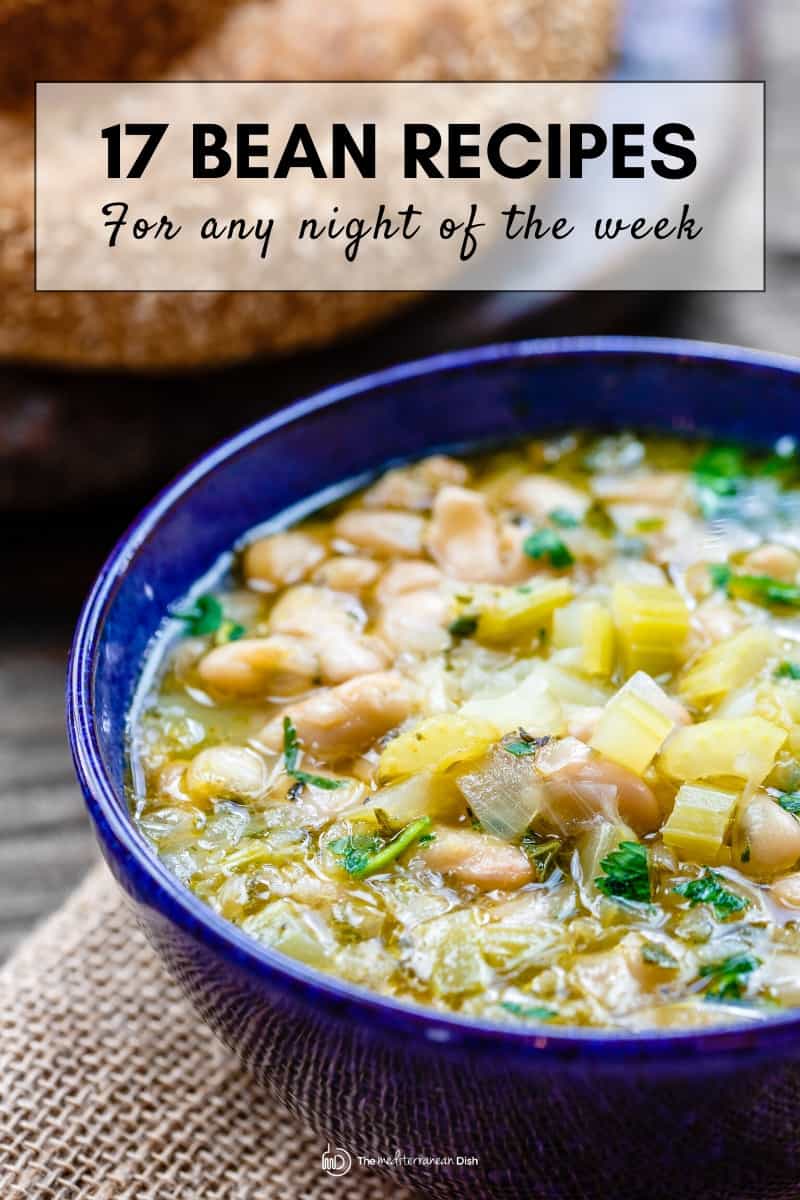 Beans are called the magical fruit for a good reason. They're healthy, satisfying, and can be used in a heck of a lot of ways.
Really, you can turn a couple cans of beans into a wholesome big salad next to your favorite chicken, a hearty stew, or a vegan dinner to feed a crowd.
I keep all sorts of beans in my Mediterranean pantry from black beans, to red kidney beans, black eyed peas, and chickpeas. Canned and dried.
Today, I thought I'd share a roundup of tasty bean recipes for any night of the week.
For the most part, these bean recipes call for canned beans. Canned beans are convenient and quick to use, no need to soak or cook them. But dried beans are so worth a try as well.
If you're inclined to use dried beans in these recipes, let me cover a few things before we jump to our roundup of amazing bean recipes. (Scroll down to the roundup)
Bean recipes: dried vs. canned beans
Bulk dried beans are the economical way to go. They are inexpensive and easy to store, plus you can cook dried beans in batched and freeze them for later use.
If a recipe calls for canned beans and you'd rather cook your beans from scratch, here is a rough idea of how to convert the measurements:
1 cup dried beans = 3 cups of cooked beans
1 pound dried beans = up to 6 cups of cooked beans
1 15-ounce can of cooked beans = 1 ½ cup cooked beans drained
If a recipe calls for 1 15-ounce can of cooked beans, start with a heaping ½ cup of dried beans (which you will need to soak and cook before using in the recipe).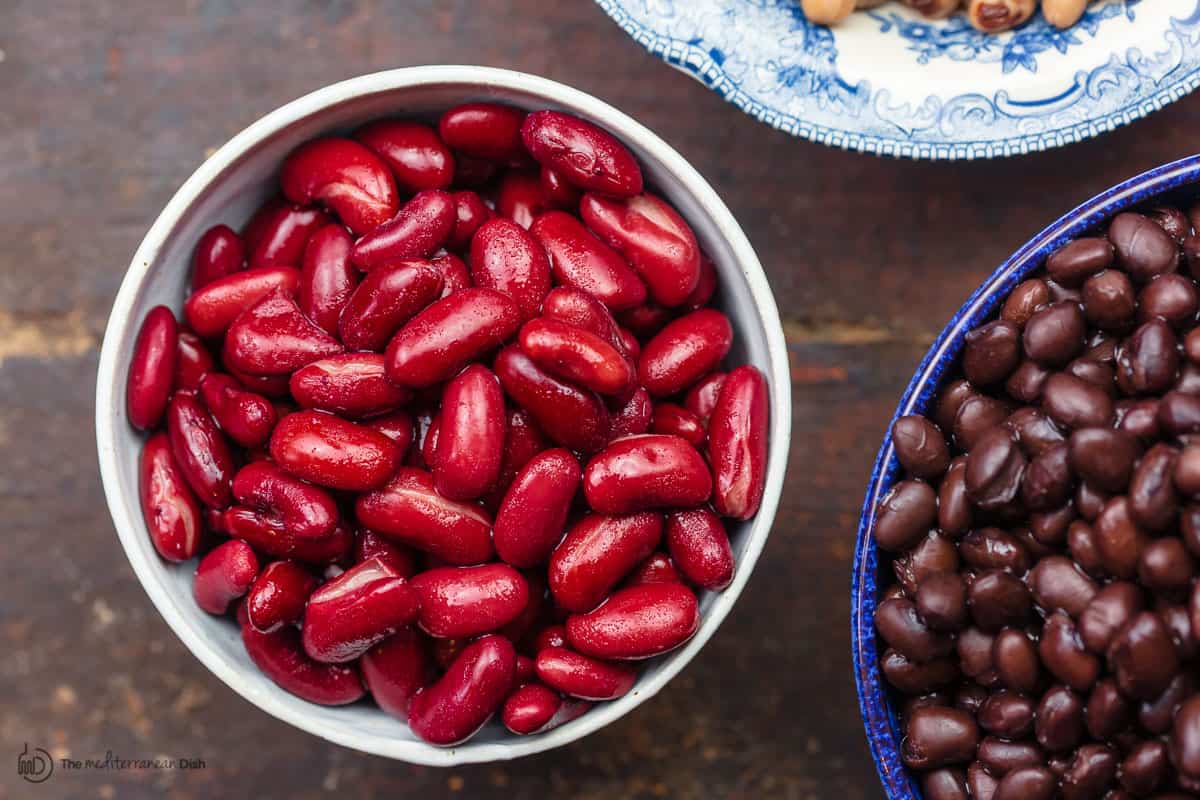 How to soak dried beans?
Cooking dried beans could not be any easier. You need the beans, water, and either a large pot or a slow cooker. Aromatics and spices can be added early in the cooking process to flavor the beans.
Before you cook dried beans, soak them in plenty of water for 12 hours. This step is especially critical if you're cooking your beans on stove-top (you may be able to skip it if you're using the slow cooker method).
Why soak dried beans? Not only does soaking the beans help them cook properly, but it also removes some of the anti-nutrients and enzymes that cause intestinal discomfort making the beans more easy to digest. Remember to discard the dirty soaking water containing the anti-nutrients.
How to soak them? Rinse 1 cup of beans under cool, running water. Pick out any beans that look shriveled or unappetizing. In a large bowl, dissolve about 1 ½ tablespoons of kosher salt in 8 cups of water. Add the beans and let soak overnight (about 12 hours).
Safety note for Red Kidney Beans: If you are using kidney beans, boil them in water for 10 minutes then let them soak off heat. This neutralizes a toxin called phytohemagglutinin that may cause acute digestive distress (I learned this tidbit from The Kitchn).
How to Cook Dried Beans?
My preferred ways to cook dried beans are either stovetop or in a slow cooker. How I choose to cook my beans really depends on how much beans I need to cook.
If I'm looking to cook 1 cup or so of dried beans, I'll go for the stove-top method. But the slow cooker is my go-to when I want to make a nice large batch (1 to 2 pounds) of tender and creamy cooked beans to store and use as needed.
Stovetop method
1. Soak the beans overnight (for 12 hours). Like I mentioned earlier for 1 cup of beans, you'll want to soak them in 8 cups of salted water (1 ½ tablespoon of salt). This briny water will help the beans cook a bit faster
2. Drain the beans from soaking water and give them a gentle rinse. The beans will have doubled in size overnight as they absorb water.
3. Transfer the drained beans to a large heavy cooking. Add the aromatics (garlic, bay leaves , carrots etc.) and 2 teaspoons of salt.
4. Add enough water to cover the beans by about an inch. Bring to a boil over medium-high heat.
5. Reduce heat to low, cover the pot only part-way, and let the beans very gently simmer until they are tender (anywhere from 1 ½ to 2 ½ hours).
Slow cooker method
1.Rinse and soak the beans. Although it is not as critical to soak beans when you use a slow cooker, I still do it because, as mentioned earlier, the soaking bit helps the beans digest more easily. For the slow cooker method, I use 1 or 2 pounds of beans. Add the beans to a large pot and cover with water by a few inches and let soak for 12 hours or so (you do not need to add salt to the soaking water using this cooking method).
2. Drain the beans and add them to your slow cooker (for 1 pound of beans, a small 3 ½-quart slow cooker will work well). Add aromatics, if using (garlic, bay leaves, carrots etc.) Pour enough water over the beans to cover them by about 2 inches. Add 1 teaspoon or so of salt and stir to dissolve.
3. Cook on low for 6 to 8 hours, but check at around 5 hours of cooking. If the beans are soft but still a bit firmer than you like, you can add one more teaspoon of salt and keep cooking until nice and tender.
Store or freeze cooked beans
If you've followed my slow cooking method to make a large batch of cooked beans, you can store them for later use.
Drain the beans from any excess water. Cool the beans completely and transfer them to a tight-lid container. Store them in the fridge for up to 1 week.
You can also divide the cooked beans into different freezer-safe bags and freeze for up to 3 months.
17 Tasty Bean Recipes for Any Night of the Week
(Click the recipe names in red to see the complete recipe)
What a tasty way to use up a can of kidney beans! The crunchy veggies and Dijon vinaigrette take this salad to a new level of delicious.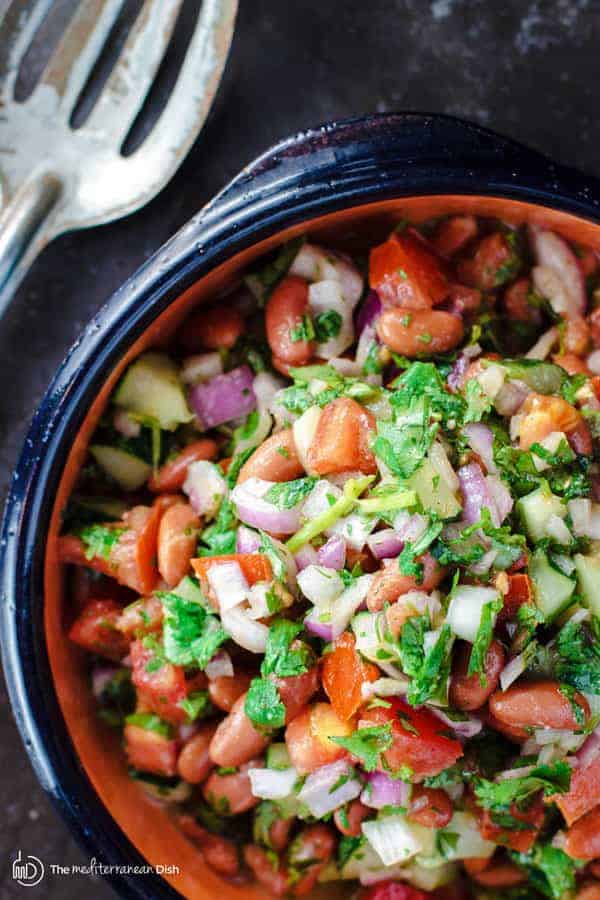 Hearty Italian minestrone soup, brimming with vegetables, beans and a little pasta. The draw here is in the thick, flavorful tomato broth with piney rosemary, lots of fresh herbs and more!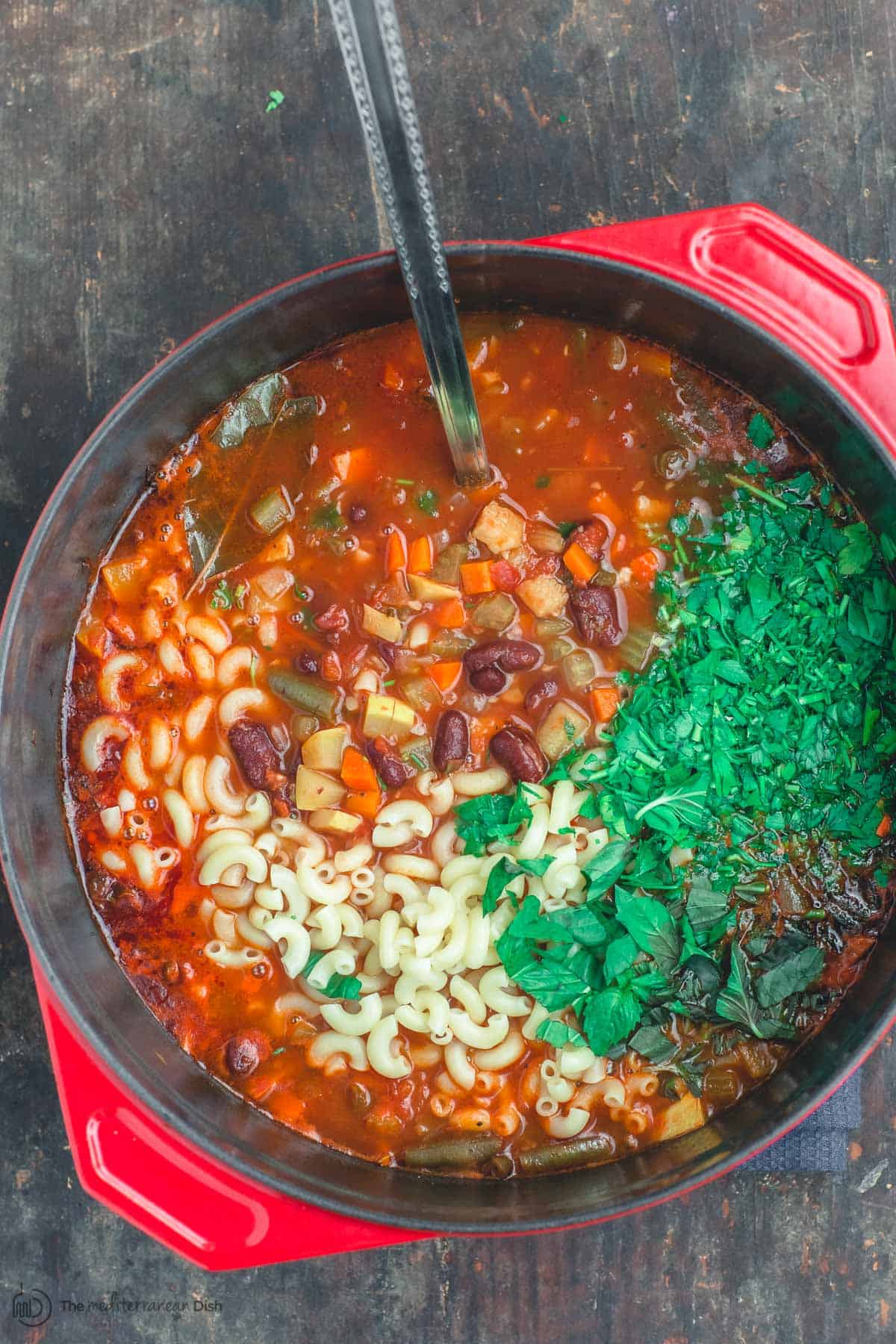 Chickpea Farro Bowls with Shrimp
Chickpeas and nutty farro mixed with chopped veggies, fresh herbs, and a bold Mediterranean dressing. Make it a couple hours ahead for full flavor impact.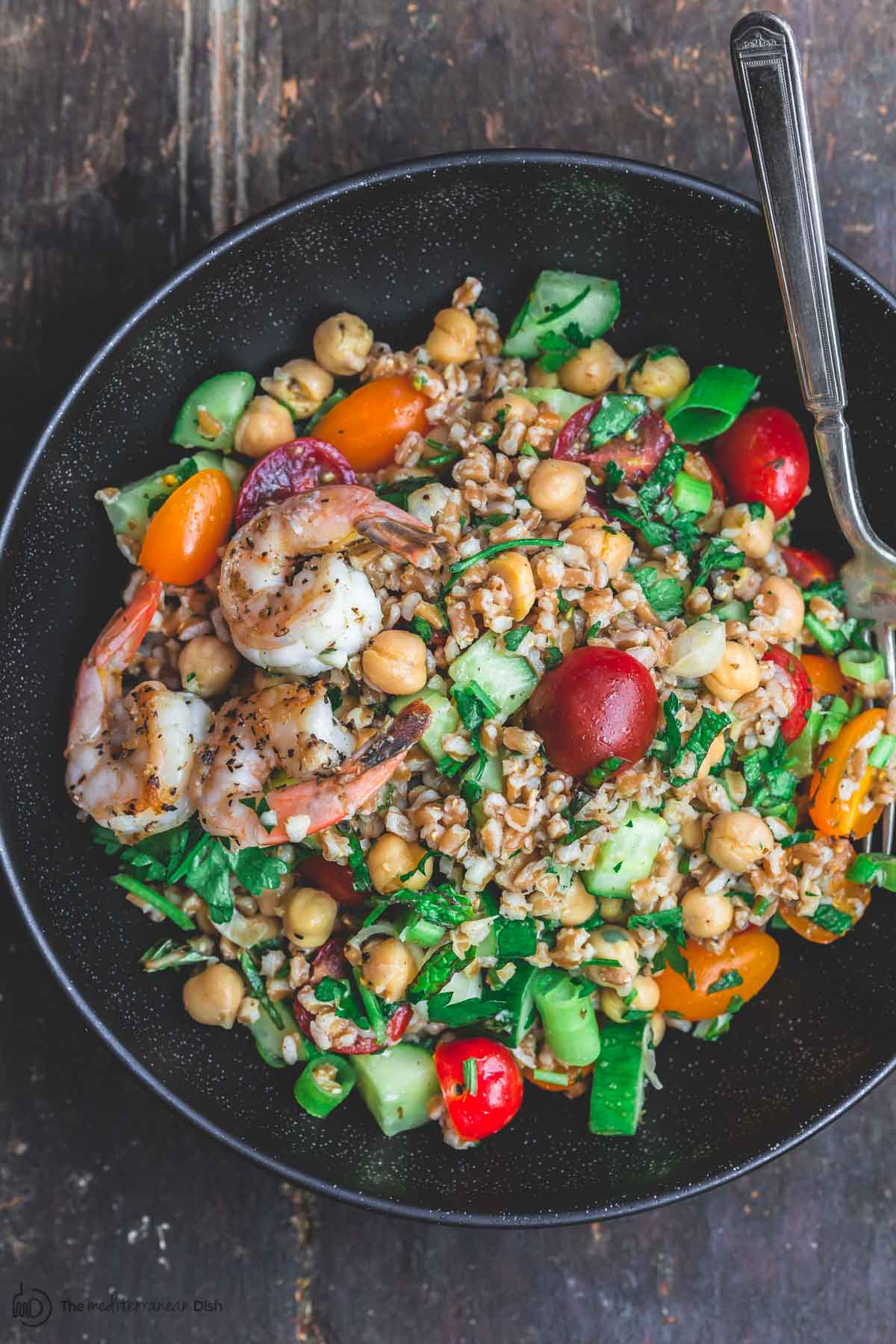 White Bean and Kale Soup with Chicken
Takes 30 minutes or less to prepare. And with the added chicken, this white bean soup is one comforting and satisfying pot to feed a hungry crowd!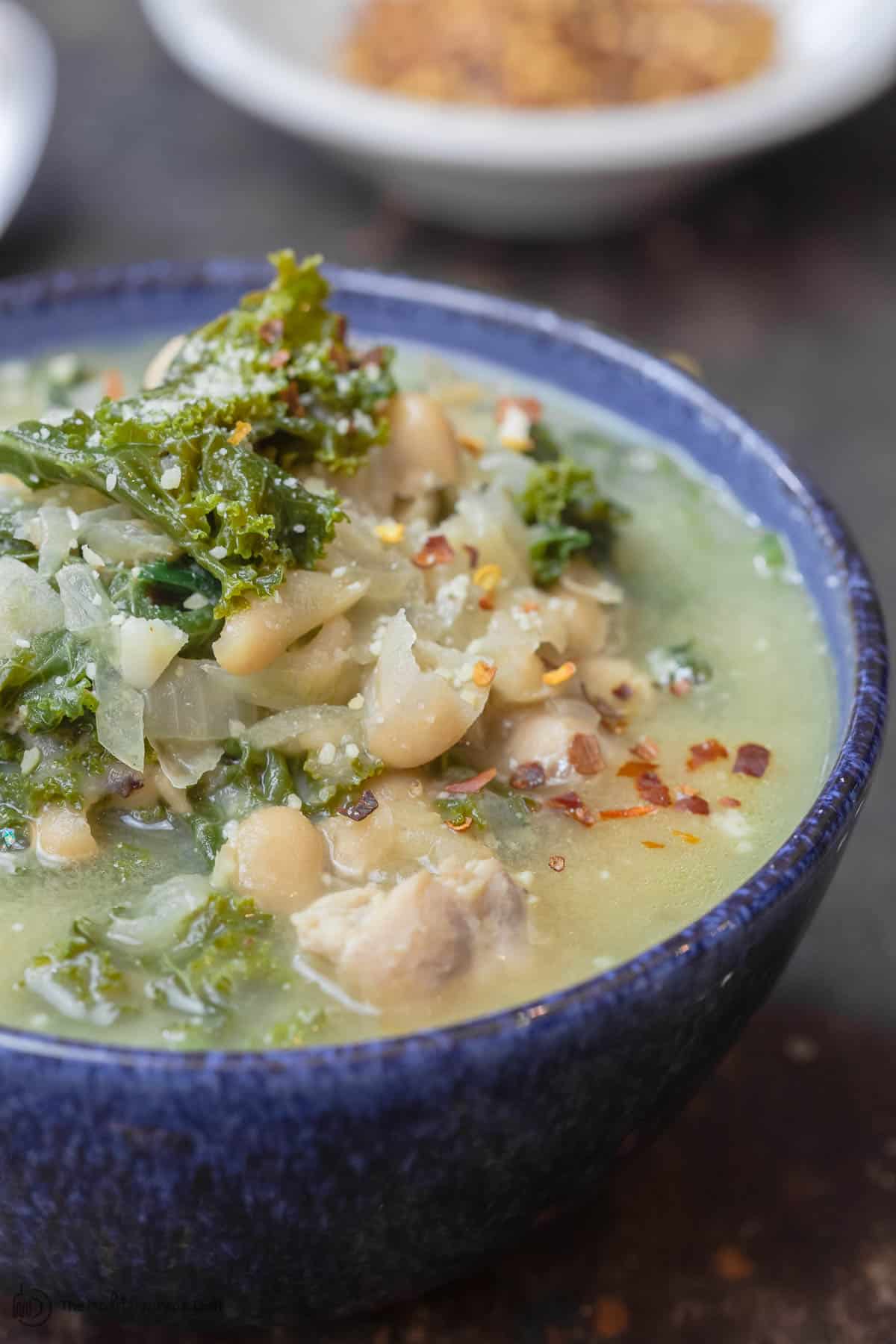 Humble pantry ingredients get a flavorful makeover with onions, garlic, and bold Greek spices. Finished with citrus and a handful of fresh herbs!
This vegan black eyed peas stew is popular even among meat lovers!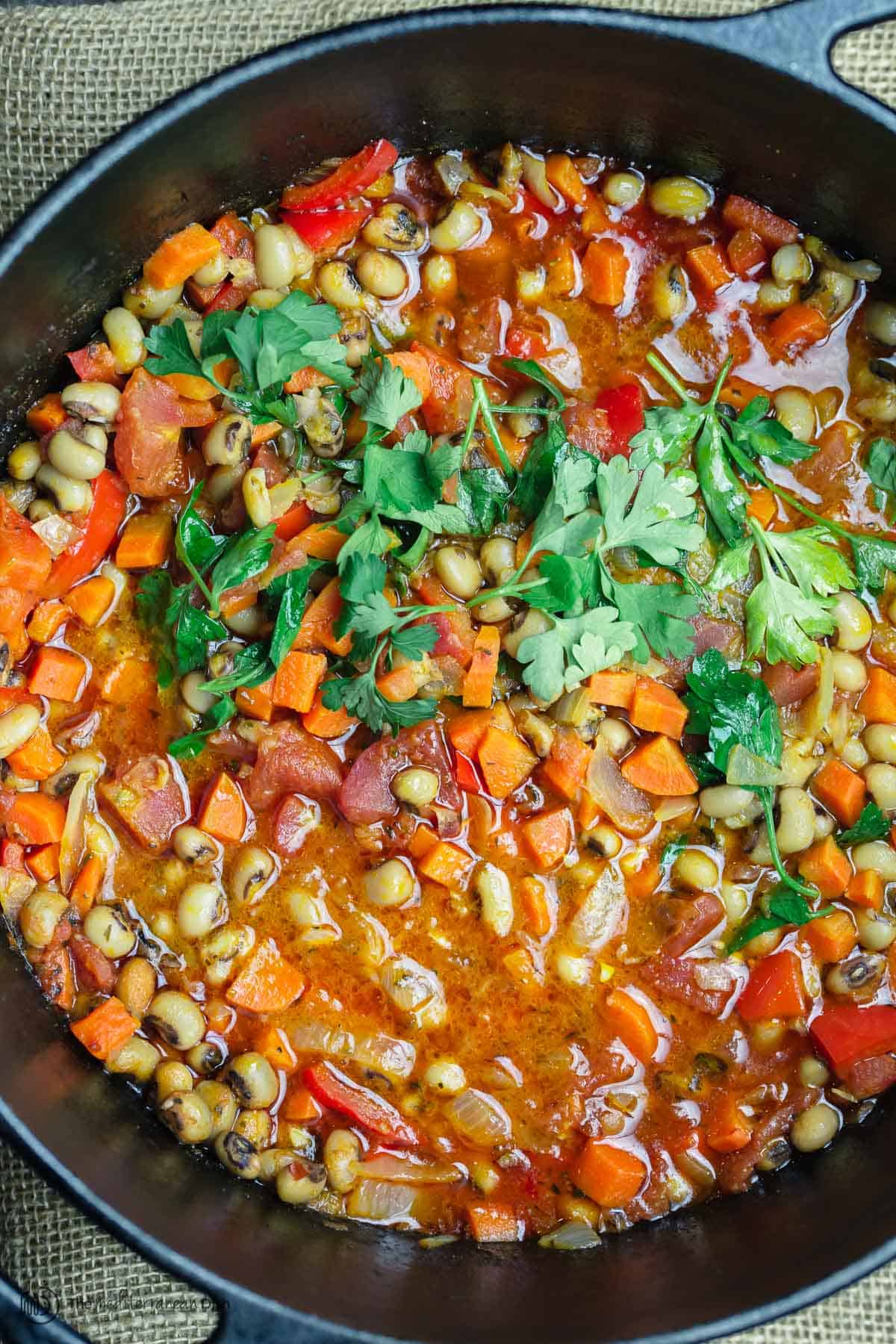 Mediterranean Three Bean Salad
This three bean salad is so bright and packs tons of flavor from fresh herbs, capers, and a zesty garlic Dijon vinaigrette. It's the perfect potluck salad. And it makes a great side next to any dinner.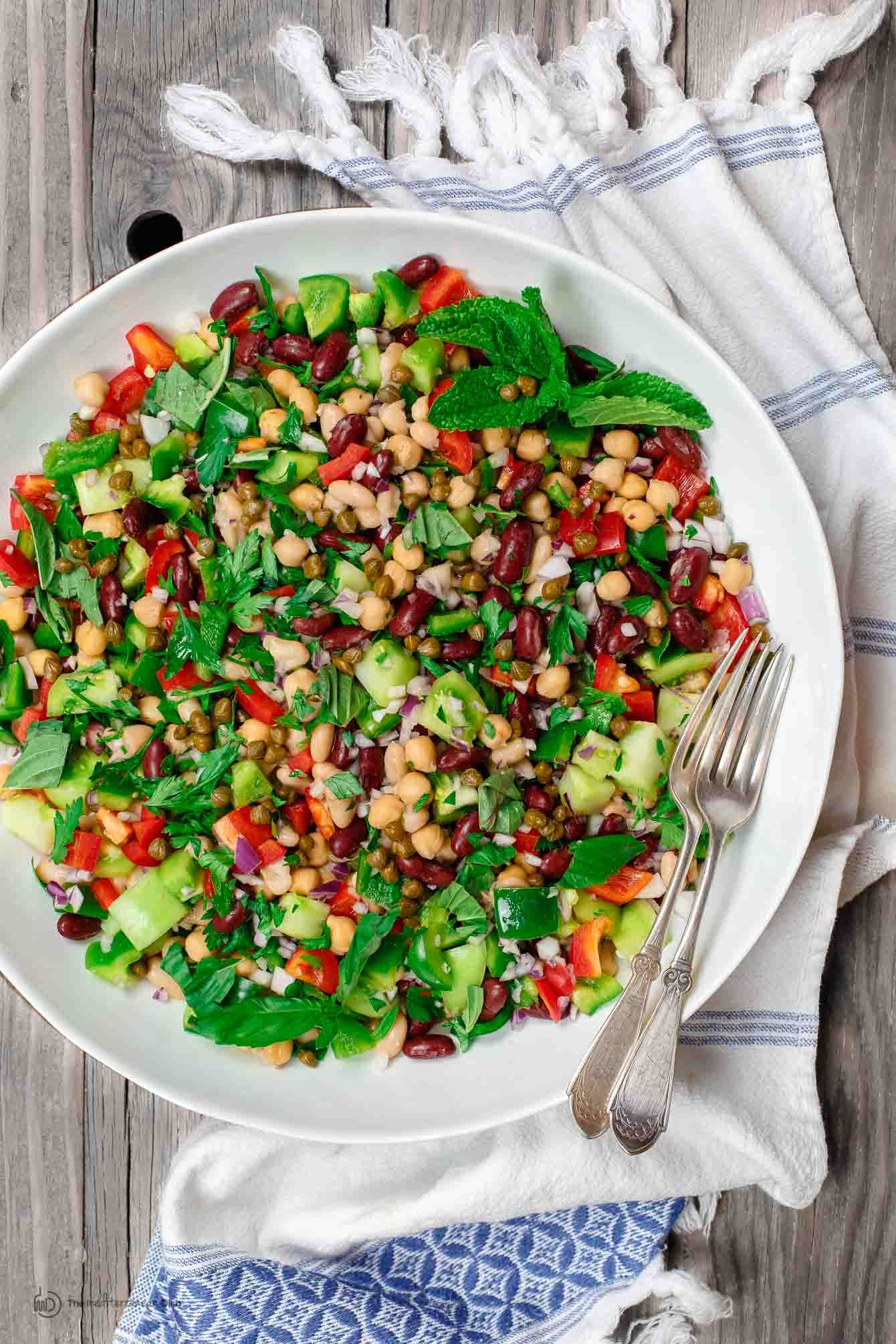 Move over 7-layer bean dip, this layered hummus dip is a satisfying show-stopper! Creamy hummus, topped with a layer of perfectly-spiced meat mixture with warm flavors like allspice and cinnamon. Finished with fresh tomatoes, a sprinkle of parsley and toasted nuts.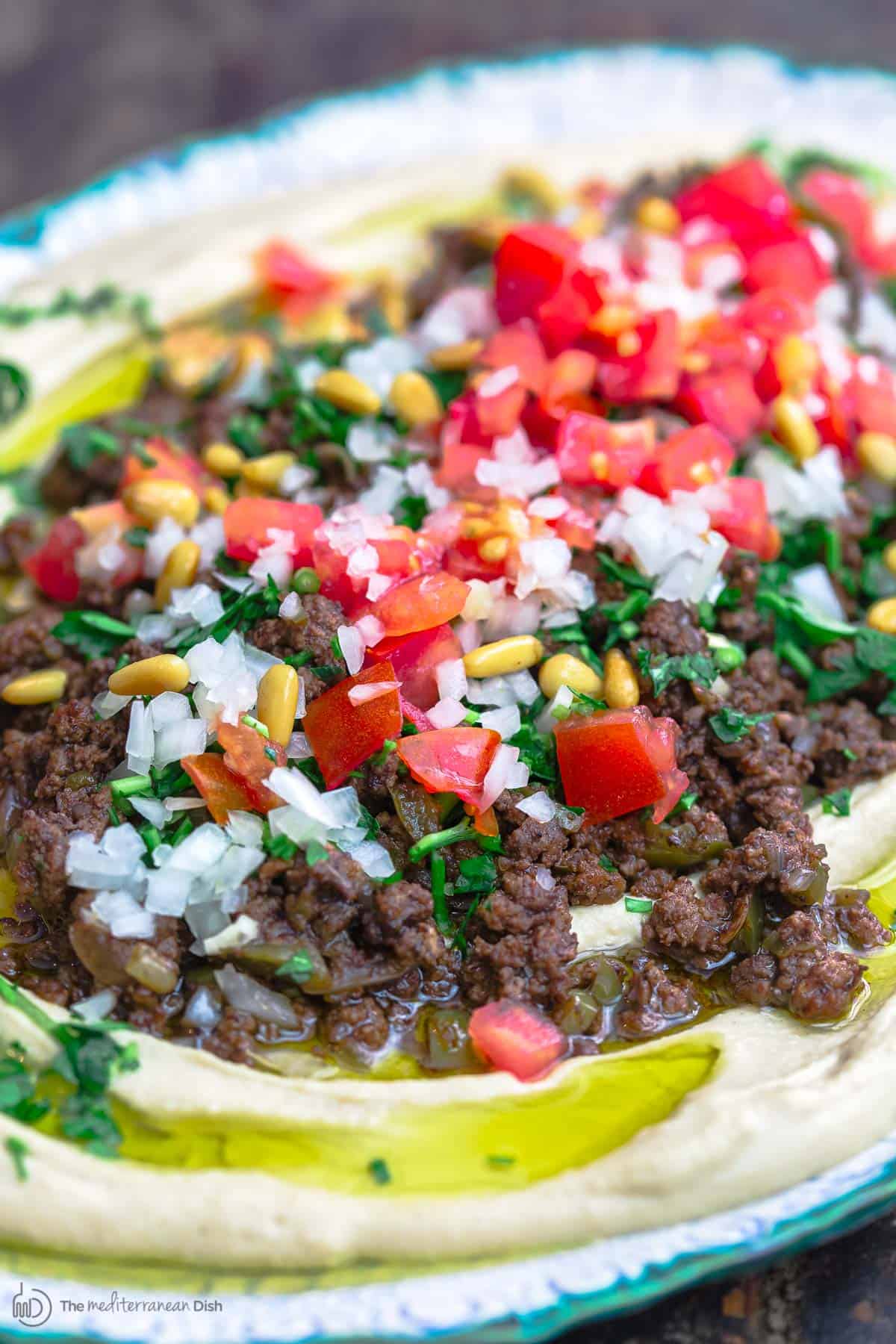 If you ever thought beans are boring, this delicious, cozy 3 bean soup will change your mind. Three humble cans of beans and a few vegetables take on a few spices and a bright tomato pesto. So good! Pass the crusty bread.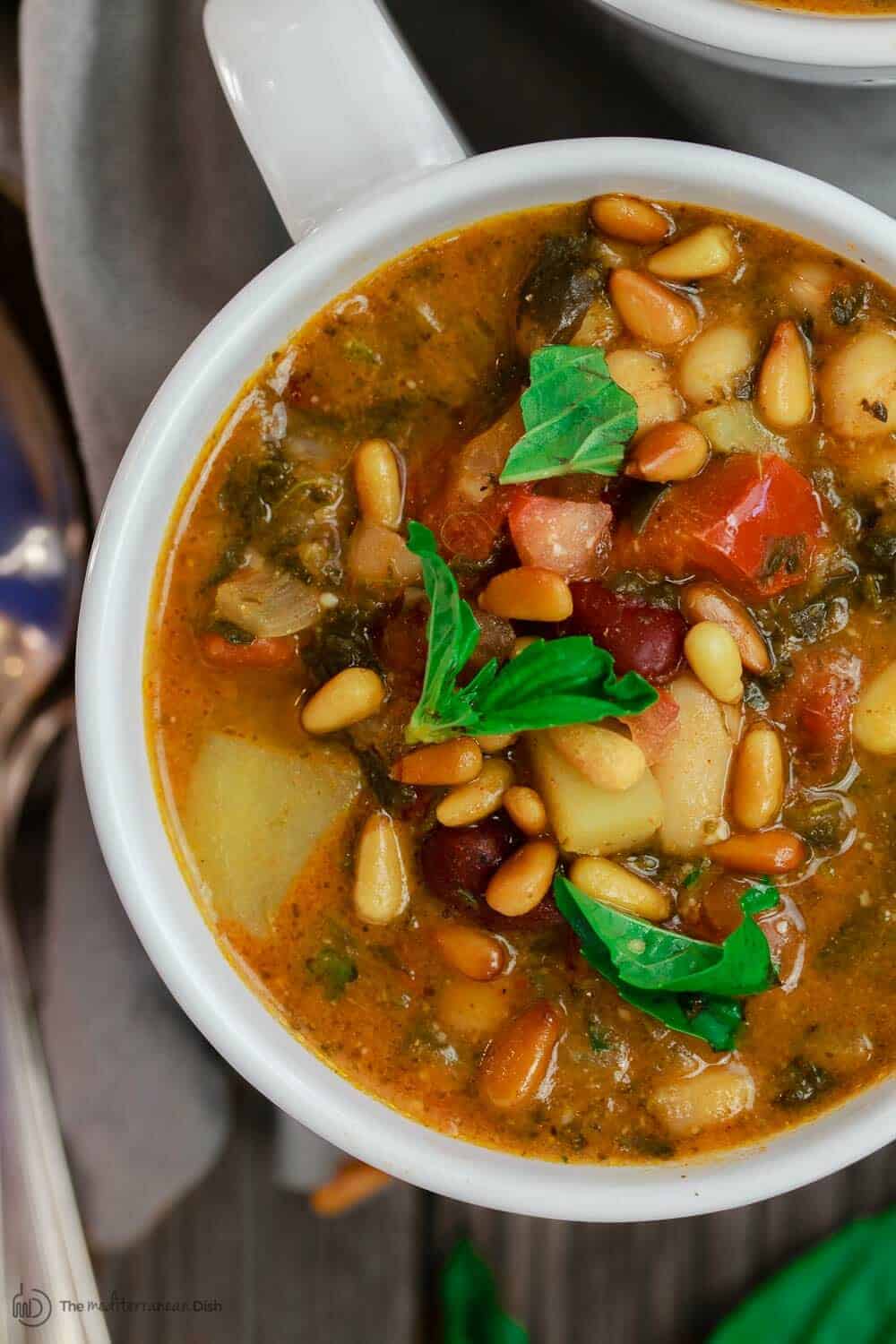 Roasted Cauliflower and Chickpea Stew
This chickpea stew is a hearty vegan stew, loaded with roasted cauliflowers, carrots, tomatoes, and a few warm spices.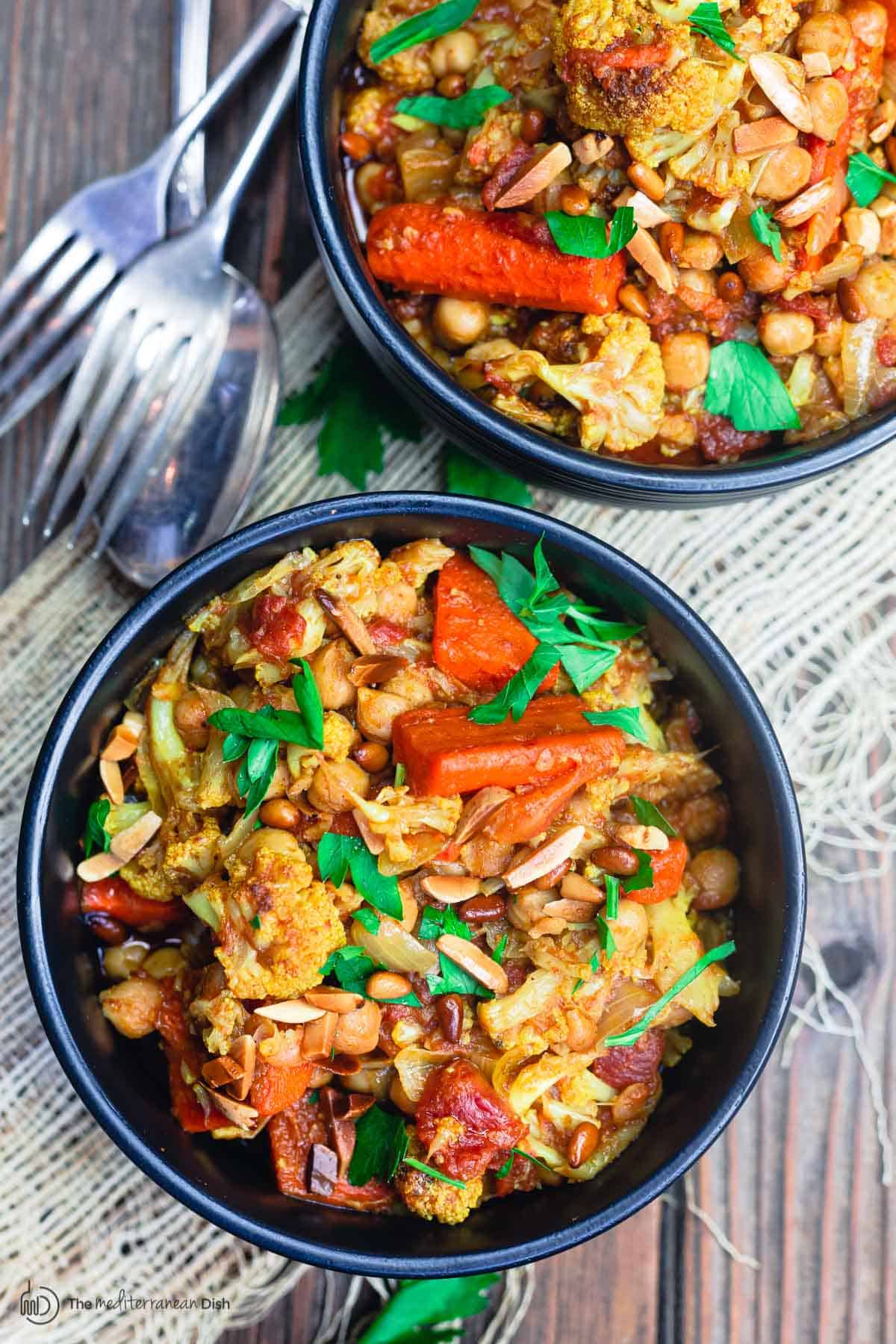 Broccoli Pasta with White Beans
Simple broccoli pasta with hearty white beans, tossed in a light olive oil sauce with garlic, onions, and oregano. A good handful of fresh parsley and freshly grated Paremsan cheese finish this light and flavorful pasta dinne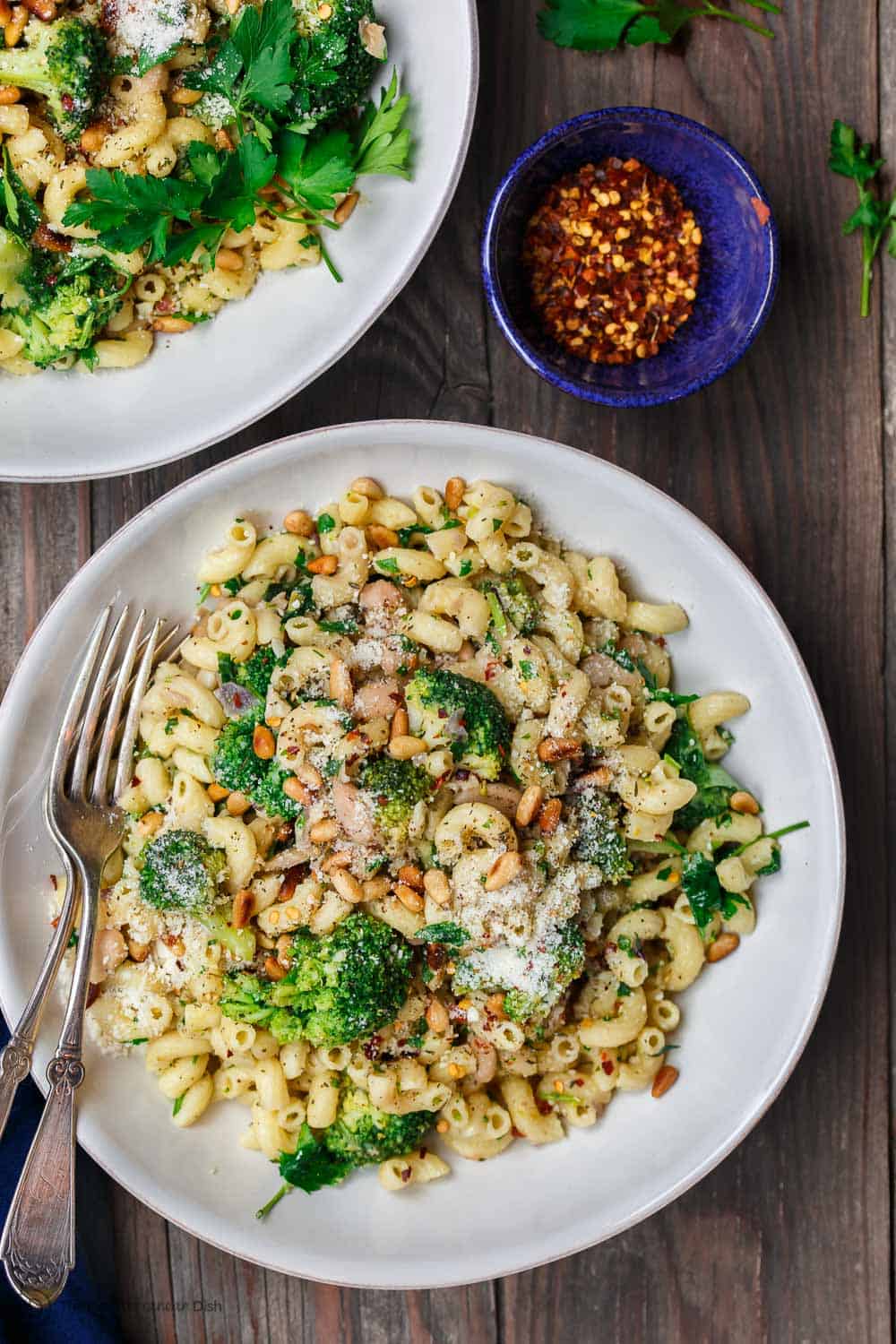 Fasolada: Greek White Bean Soup
A quicker Fasolada (Greek Bean Soup) makes for a delicious and satisfying weeknight dinner. You'll love the bold Greek flavors in this vegan and gluten free white bean soup with garlic, onions, celery and a generous drizzle of good Greek extra virgin olive oil. This Fasolada recipe takes a bit of a modern approach–a little shortcut makes all the difference!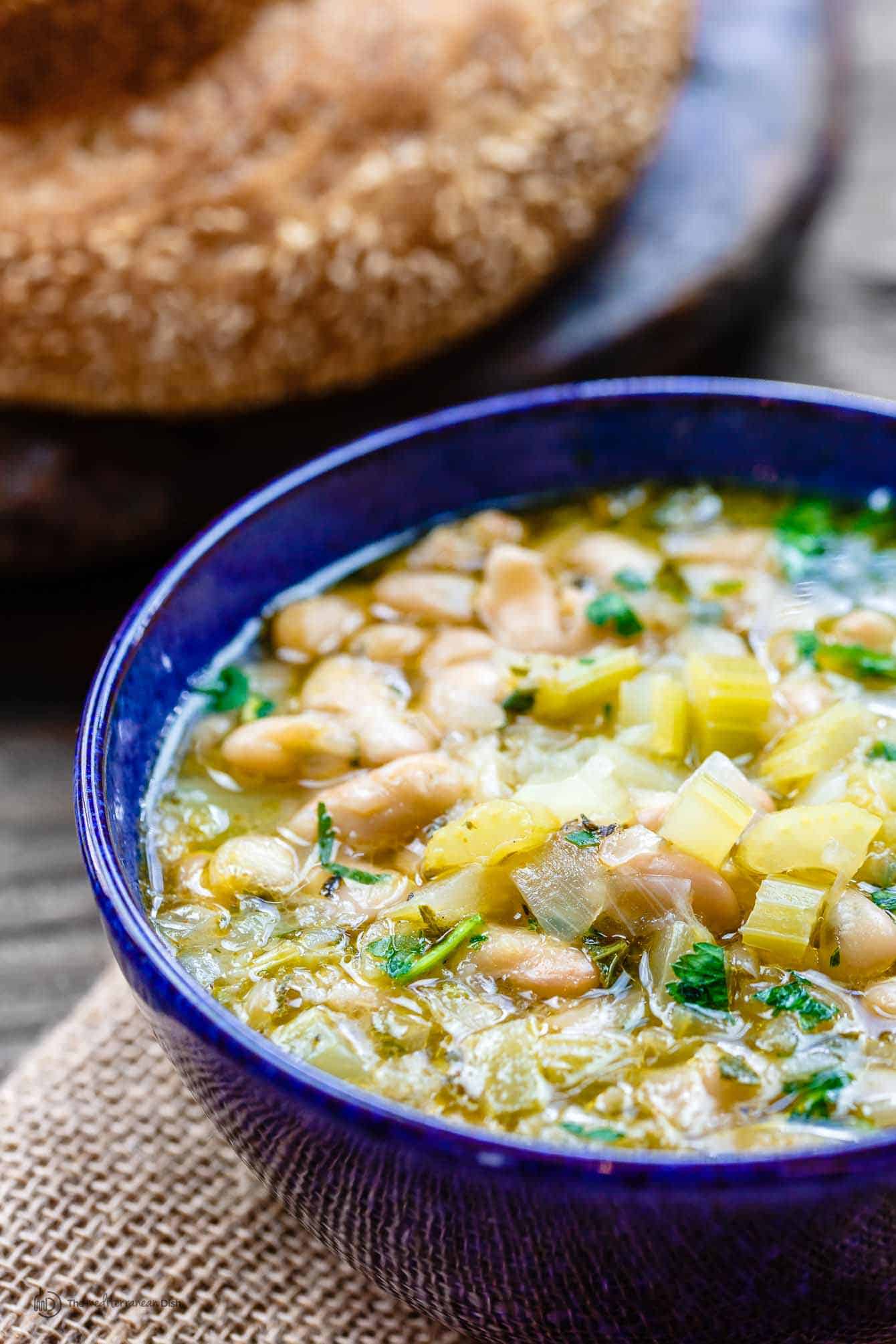 My family's secret Mediterranean chickpea salad is loaded with crunchy veggies, fresh herbs, and a tangy garlic and lime dressing! A Mediterranean diet recipe that's a winner every time
This salad is so hearty and satisfying that it can stand alone as it's own vegan meal with a side or roasted or fried eggplant.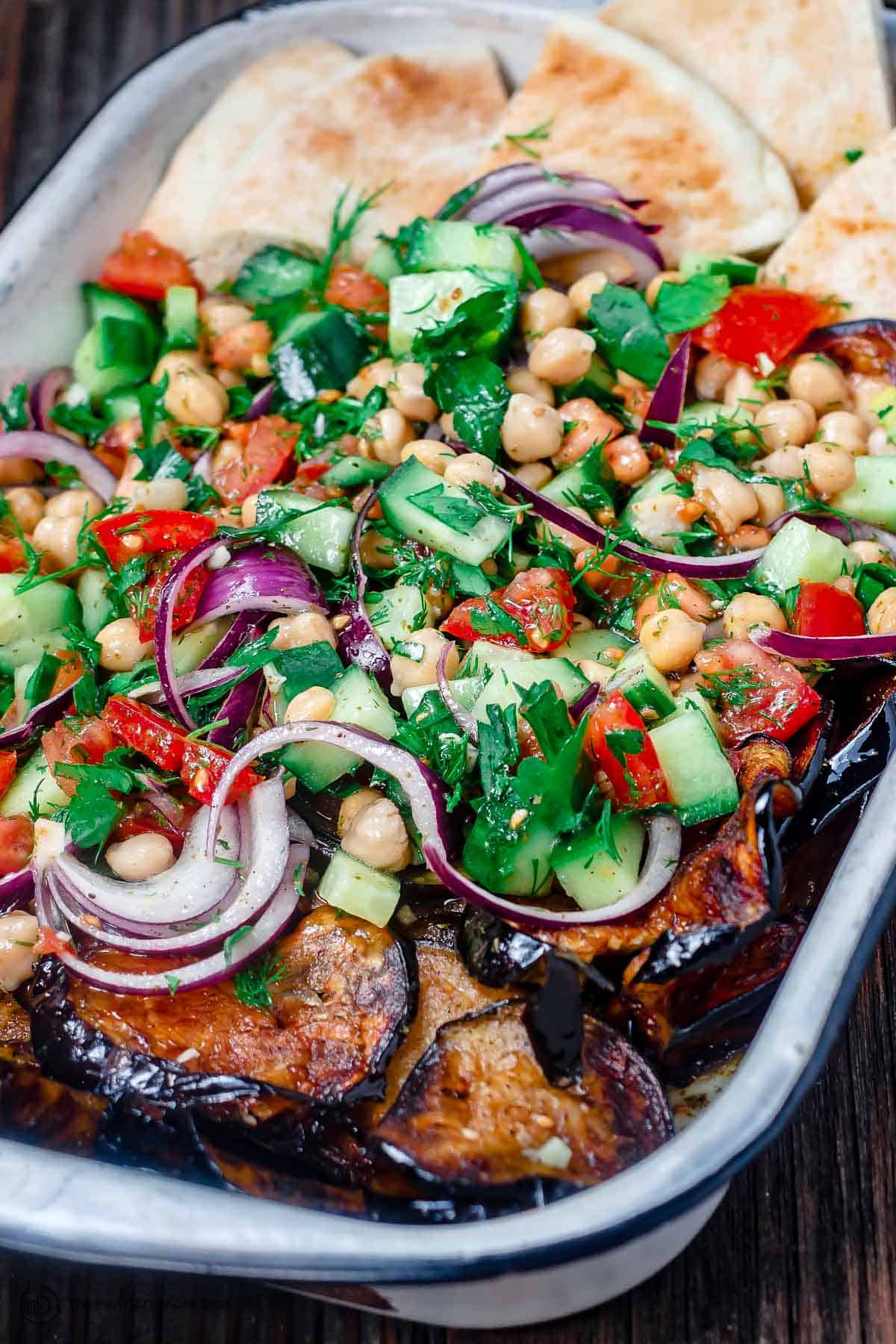 Hearty, creamy fava beans loaded with flavor from ground cumin, fresh herbs, and a zippy lemon garlic sauce with hot peppers! Don't worry, the sauce is not spicy, but it adds just the right kick. Serve it with warm pita.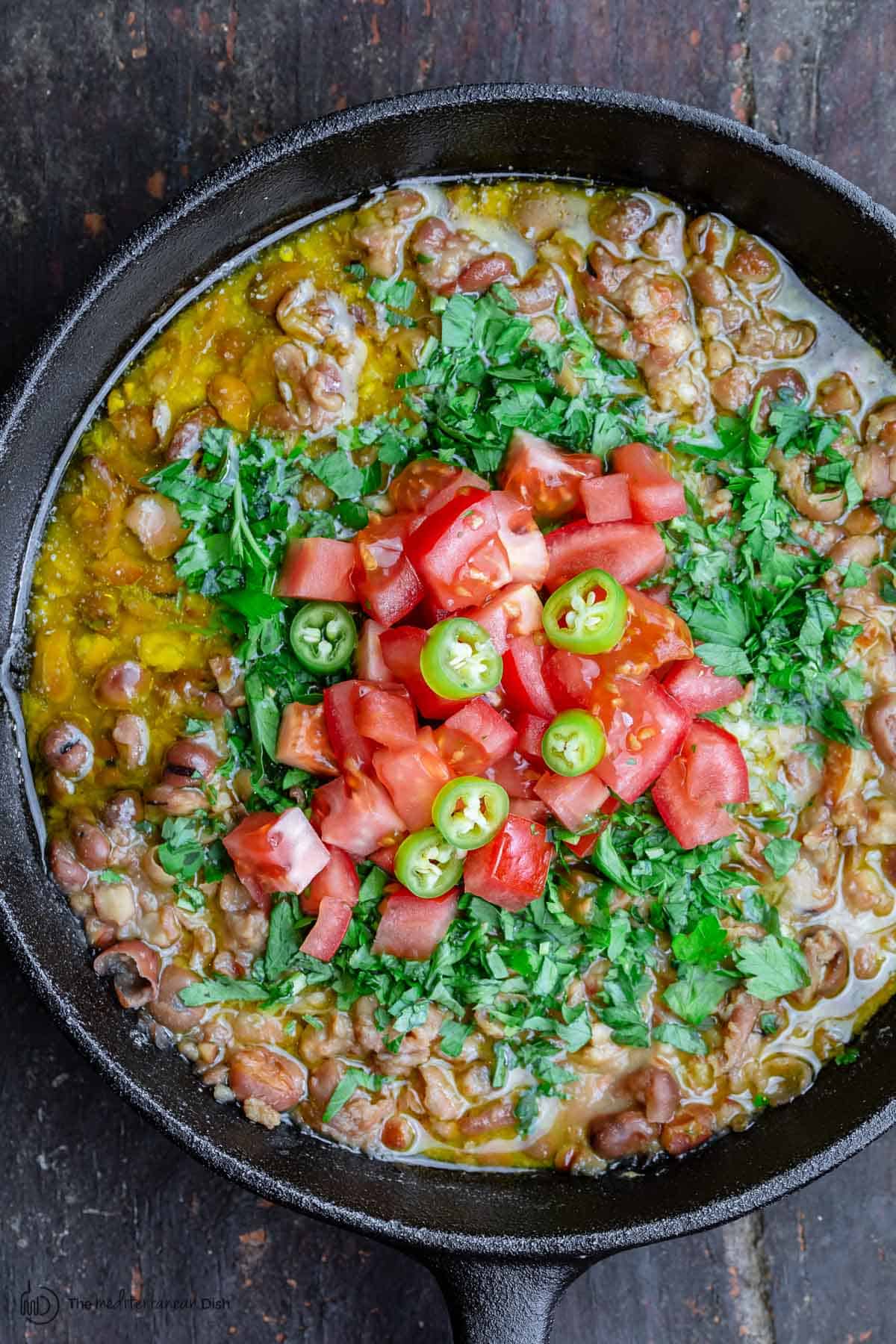 Simple white bean salad loaded with bright Mediterranean flavors! Canned beans, chopped veggies, and fresh herbs tossed together in one big bowl. No fancy dressing here, a squeeze of lemon juice and extra virgin olive oil is all you need!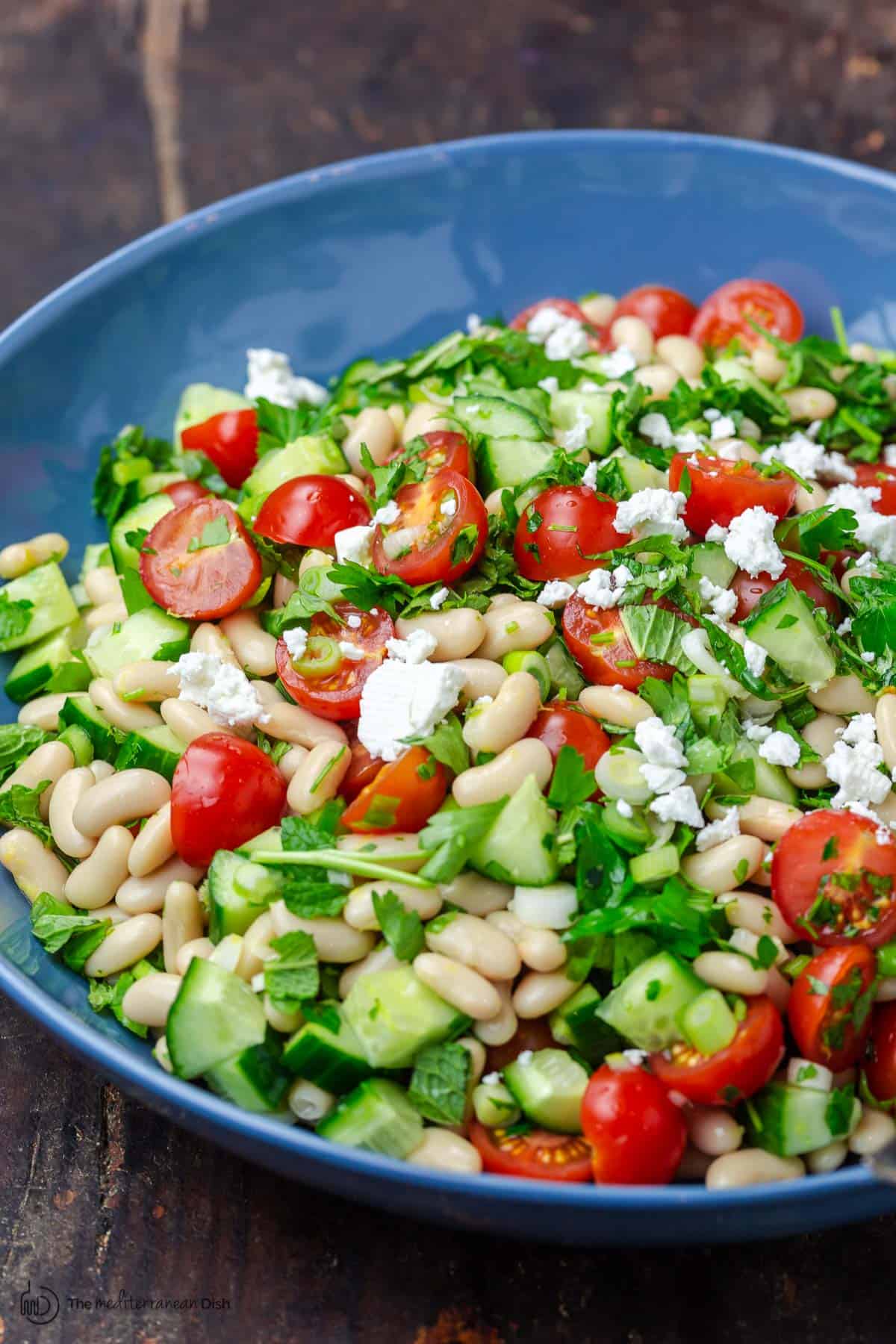 This simple, savory snack is addictive on so many levels! If you like your crunchy chickpeas with a kick, add a pinch of cayenne after roasting.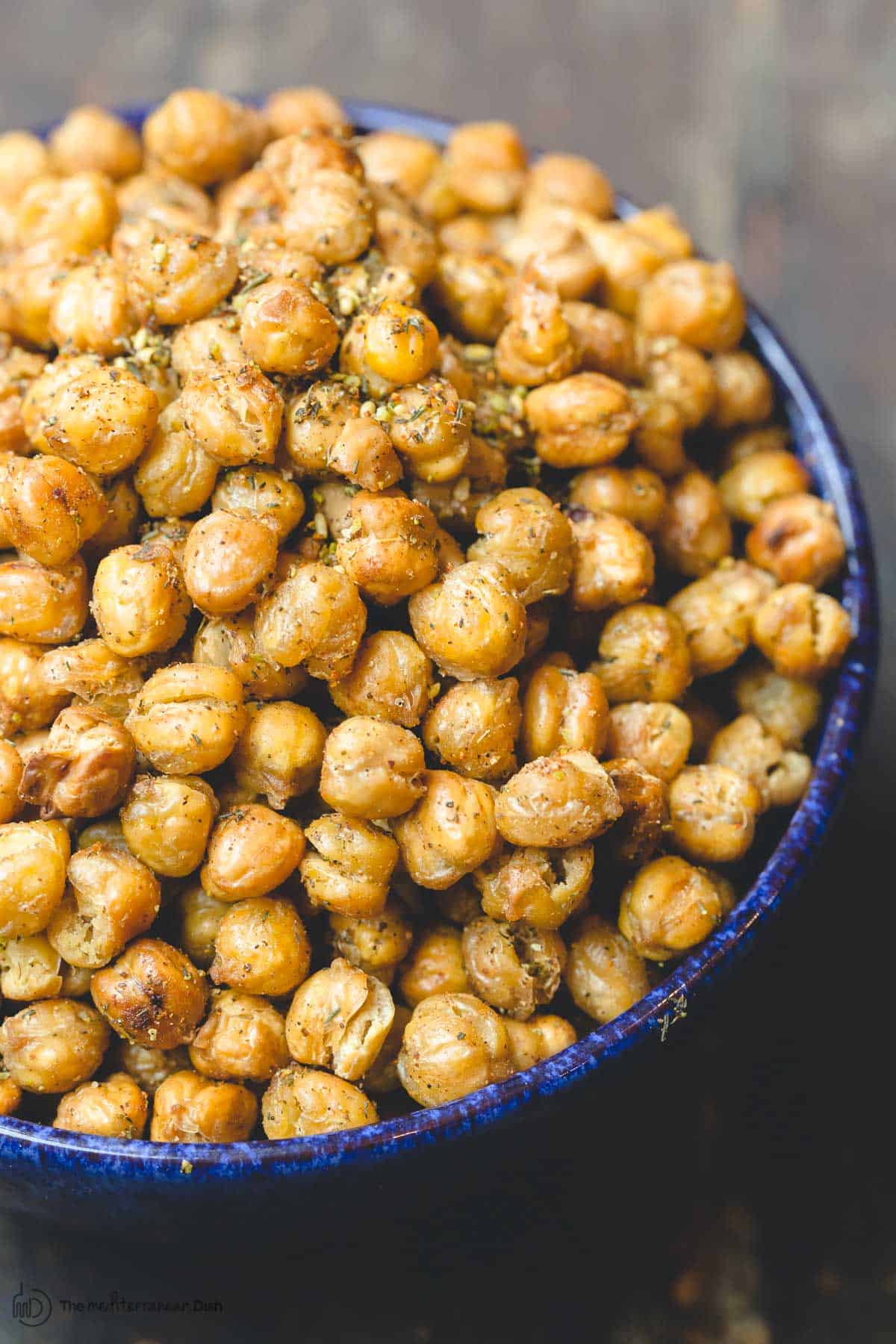 Easy vegan chili with a bold Mediterranean twist! It includes the protein-powerhouse quinoa, two different types of beans, chopped vegetables and is layered with Mediterranean aromatic flavors, warm spices, fresh herbs, and a splash of citrus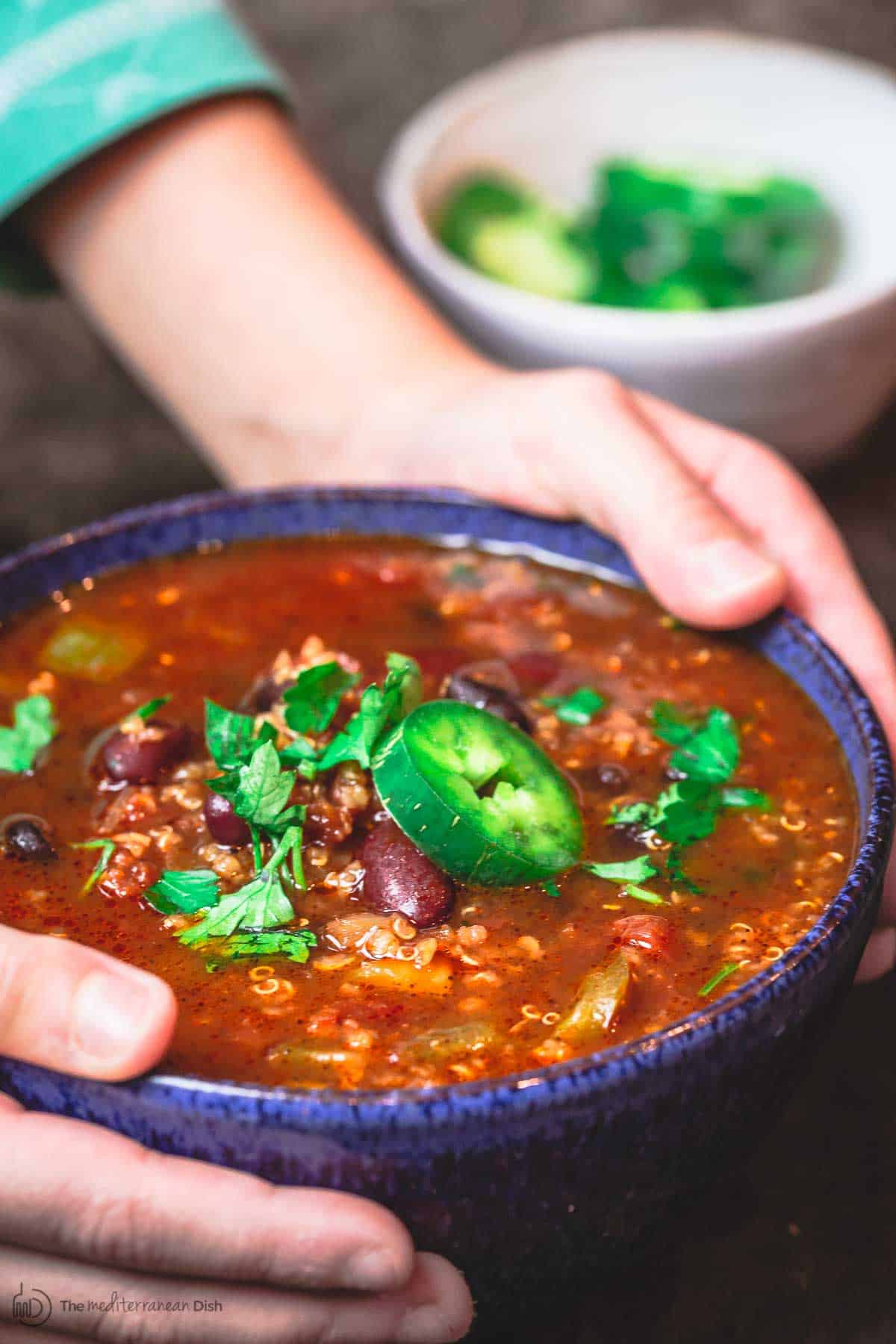 That's it for my roundup of crazy tasty bean recipes! I can't wait to hear which recipes you try!
Be sure to view our collection of Mediterranean diet recipes. For all recipes, visit us here.