Delicate, flavor-packed fried eggplant with green peppers and tomatoes. This humble Mediterranean dish makes a great vegetarian main with your favorite grain or warm pita bread. You can also serve it as a side dish, or as an appetizer with other mezze favorites.
Be sure to check out important cooking tips and see the step-by-step tutorial below.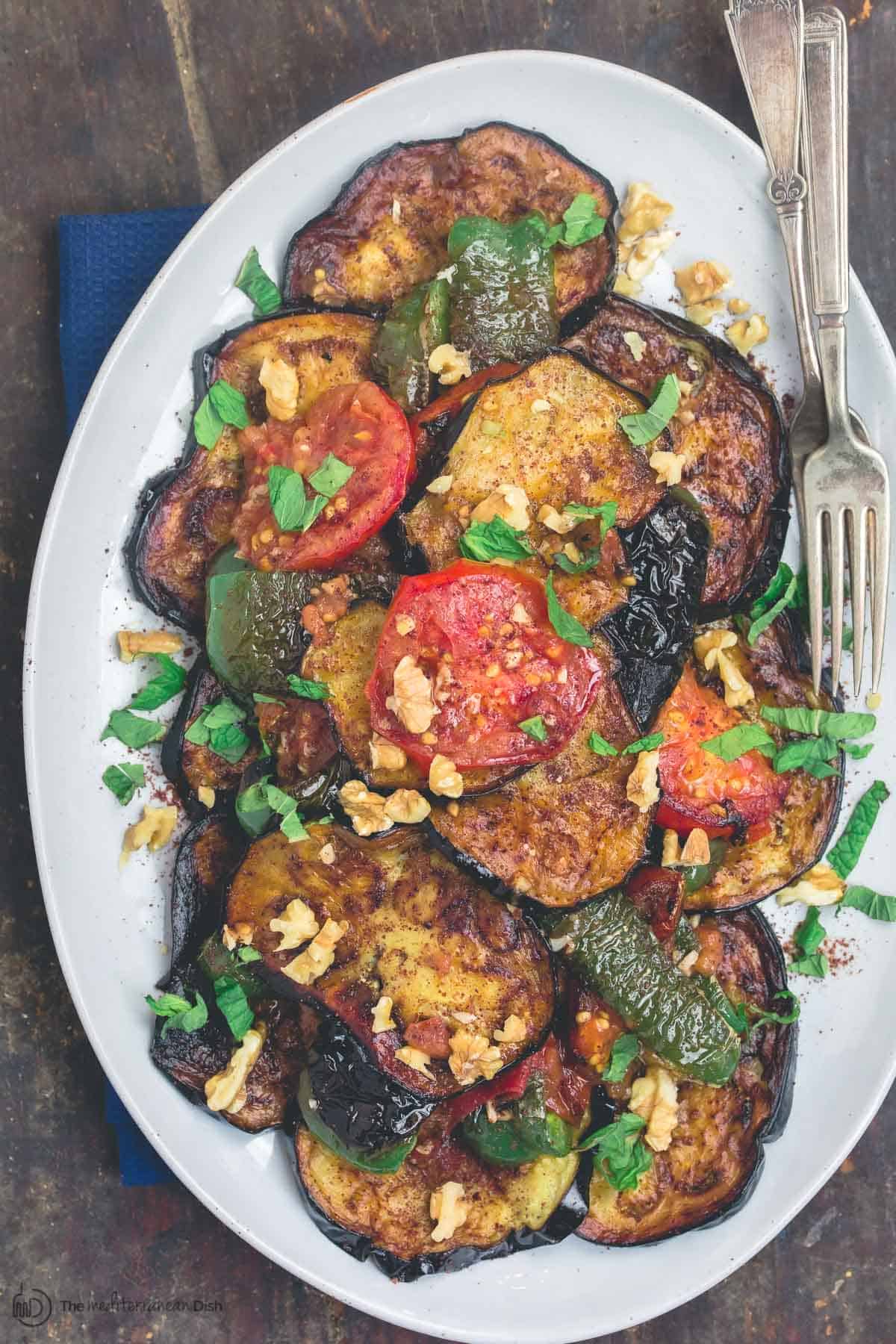 I was first introduced to this fried eggplant recipe with green peppers and tomatoes while on a tour of Turkey back in 2006.
Our group had stopped at a small joint in historic downtown Istanbul for lunch. Our waiter greeted us with drinks, and soon after, what he called "small dishes for sharing." It was more of a feast of Mediterranean Mezze from dips like baba ganoush and bright salads, and even mini grilled kofta skewers.
One of the last dishes they served was a velvety tender eggplant dish, fried with green peppers and tomatoes (and a side of warm bread to sop up all the goodness). Let me tell you, our group was hooked! Such a simple dish with so much flavor.
I've been making my own version of this Turkish eggplant recipe for a while and super excited to share it with you!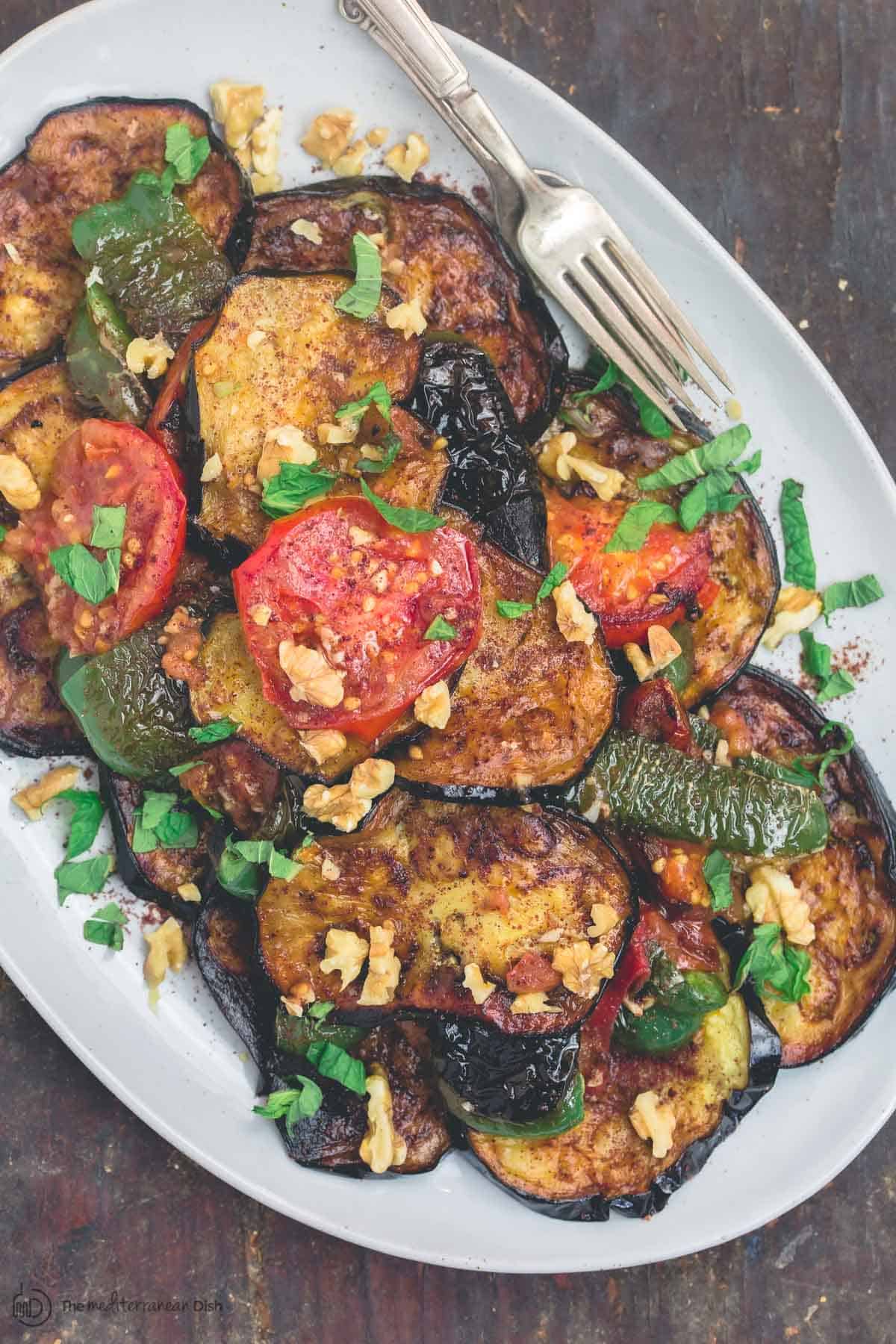 The gist of this fried eggplant recipe
When we talk about fried eggplant, the first image that comes to mind is something coated with some sort of a batter involving eggs and breadcrumbs or flour (like we do with eggplant Parmesan). This not the case here.
No batter and no bread crumbs needed for this vegan eggplant dish, but it's every bit as comforting and delicious!
The gist. Here, bare, thinly-sliced eggplant are fried to tender perfection (you get a great golden brown color and crispy edges too!)
And using the same method, we fry the green peppers. While they're nice and hot, we season the fried eggplant and green peppers with sumac, which lends great depth and a subtle tangy touch.
Finally, we fry the sliced tomatoes with a good amount of fresh garlic. The tomato and garlic mixture is spiked with a splash of vinegar, creating a little bit of a tangy sauce that's layered on top of the previously fried eggplant and bell peppers.
Trust me, this tiny spike of vinegar is not at all overpowering, and it lends so much brightness and rounds up this fried eggplant dish beautifully.
To serve, I like to add a fresh herb like mint or parsley and walnut hearts for texture.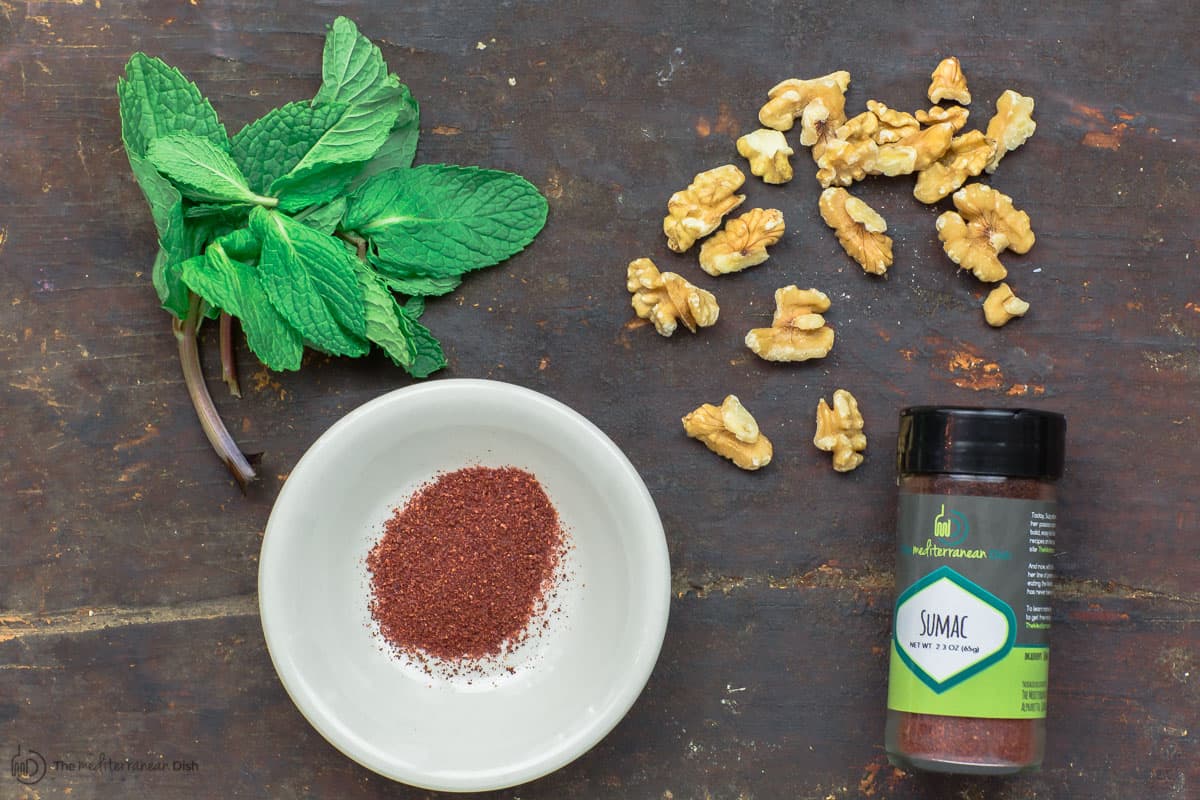 What healthy oils to use for frying?
As far as what kind of oil to use for frying, you have different options: sunflower oil, avocado oil, or quality extra virgin olive oil. First, a couple of things to remember with this particular recipe:
1. We are not deep-frying the eggplant here, you'll probably use about ½ cup or so of oil (you want about ¼ inch in the pan to start with, add as needed if the oil goes down too much)
2. For this fried eggplant recipe, your frying oil should be between 350°F to 375°F at most
The smoke point for quality extra virgin olive oils is typically something like 405 degrees F or higher (depending on quality.) The key is to heat the EVOO just enough to shimmering but not smoking, so you do need to watch and be careful.
I personally use Private Reserve Greek EVOO to fry vegetables. Keep in mind, the typical extra virgin olive oil you may find at a local grocery store has a much lower smoke point than other oils.
If you haven't used extra virgin olive oil that often, particularly in frying, it may be safer for you to use another healthy cooking oil option such as sunflower oil or avocado oil. (A friend of mine recommends this avocado oil, which she says has a high smoke point of 490 degrees F.)
Do you peel eggplant before frying?
For this recipe, I don't peel the eggplant. Eggplant skin is edible and nutritious. And when fried, the skins on thinly-sliced rounds of eggplant will create beautifully crisp edges. But, if the skins don't look too good or if you're working with an extra large eggplant that is older, the skin could be tougher and so it may be a good idea to peel it.
How do you keep fried eggplant from getting soggy?
Ah, the million dollar question. How do you fry eggplant and make sure it does not get soggy.
When you fry eggplant, there is the risk that because of its spongy nature, it will absorb oil in excess and become soggy. These two things can help:
Salt your eggplant before cooking!
To do this, slice the eggplant into rounds. Sprinkle with kosher salt and arrange on paper towels. This allows the eggplant to sweat out it's moisture for a few minutes. This step is debated among cooks, but in my experience, this small step of salting your eggplant before frying helps in two ways:
Breaks down the spongy texture of eggplant
Provides better flavor as the salt seasons the eggplant from the inside out. And if the eggplant has any hint of bitterness, it will have a chance to sweat that out a bit.
As soon as you fry a few eggplant slices, arrange them on some paper towels for a bit to allow any excess oil to drain. I do the same with the green peppers, actually.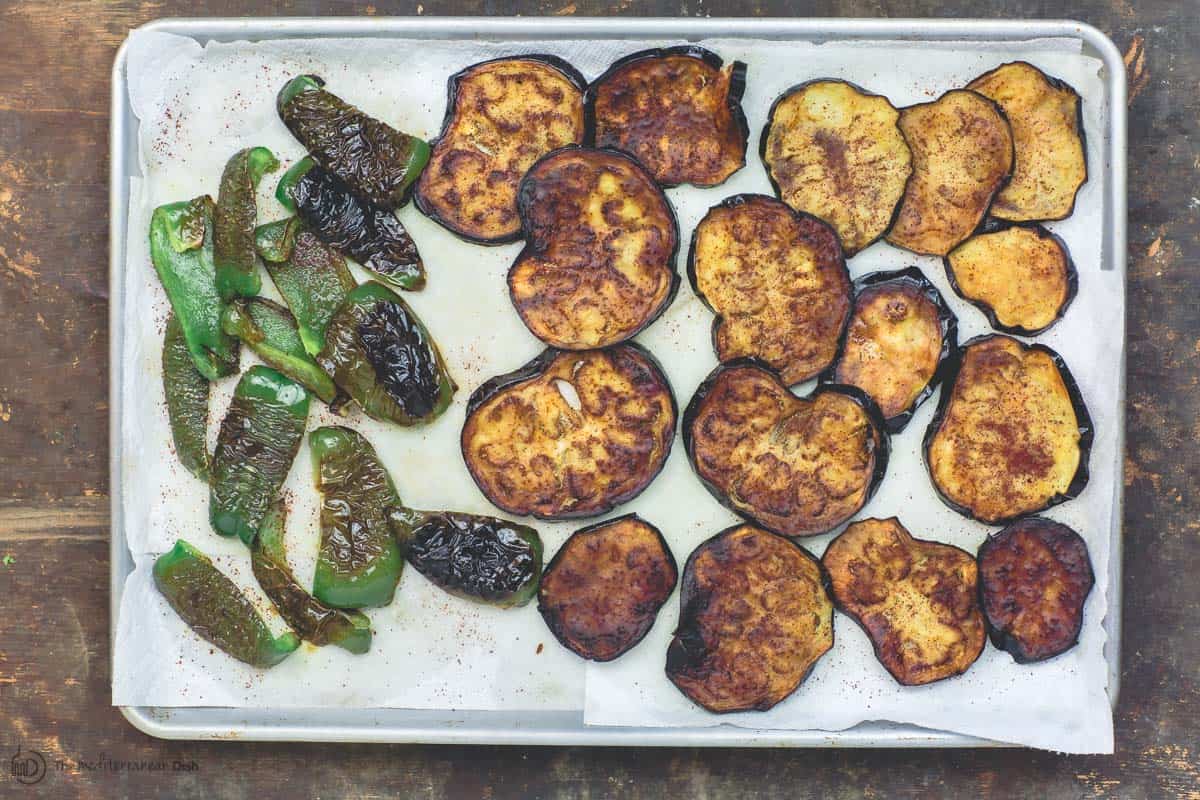 A couple safety tips
Trust me, even as you so carefully place the green pepper or eggplant slices in your cooking oil, it will splatter. I use two important tools to keep my hands safe: a pair of long tongs to carefully place the vegetables in the cooking oil from a distance, and a splatter screen large enough to cover the skillet. Also for your safety
You will be cooking the eggplant, green peppers, and tomatoes in batches. It's helpful to turn the heat down when placing a new batch of veggies in the cooking oil. This minimizes the oil splatter. You can raise the heat up and place the splatter screen on from there.
How to Make this Fried Eggplant Recipe
1 - Slice eggplant into rounds and place on a large tray or baking sheet lined with paper towels. Sprinkle generously with kosher salt on both sides. Let the eggplant sit for at least 30 minutes (if you have the time, leave it for 1 hour.) Pat dry when ready. (Work on prepping the rest of the ingredients in the meantime.)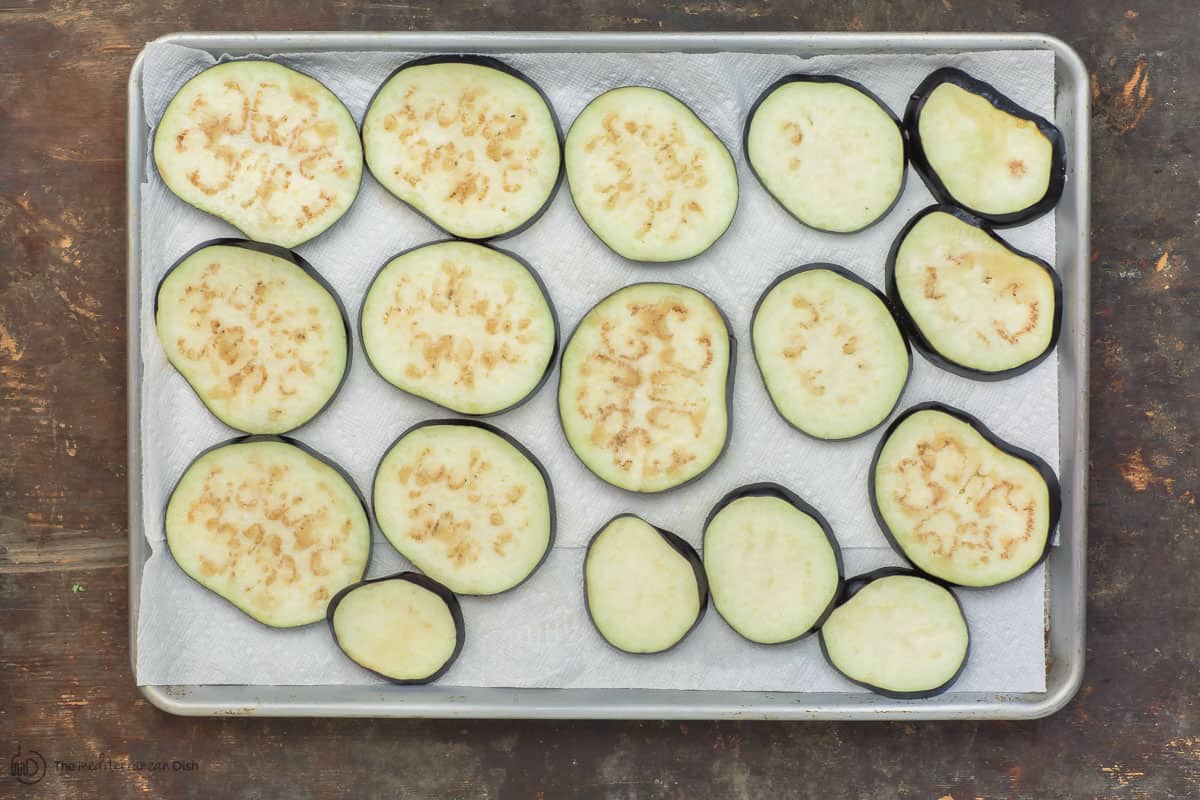 2. Heat ½ cup of oil in a heavy large frying pan. Begin with frying green pepper (skin-side down first) on medium-high until browned. Do this in batches and very carefully, please. Keep your distance as you lay peppers in the hot oil (use a pair of long tongs and splatter screen as mentioned in the tips above). Lay fried peppers on paper towels to drain. Sprinkle with salt and and a generous pinch of sumac.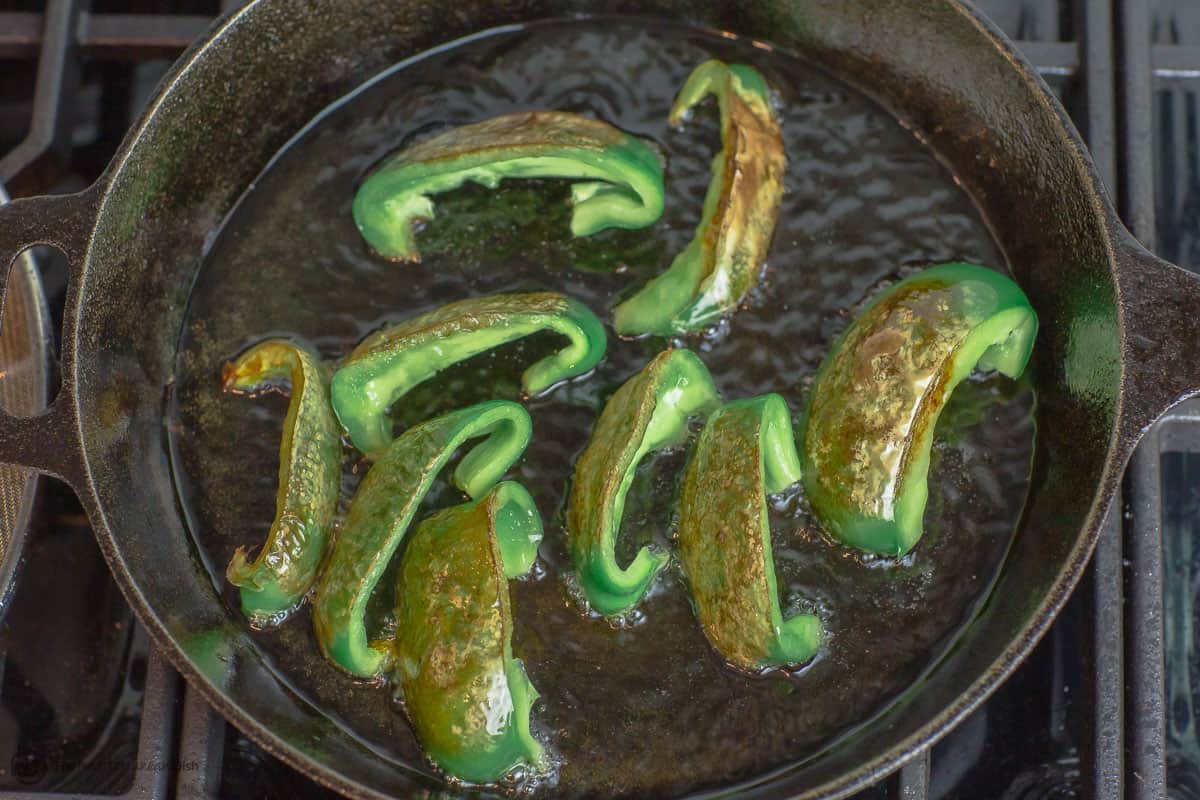 2. Next fry the eggplant slices. Important Tip: if your oil is not hot enough, eggplant will absorb way too much of it. Medium-high heat should be fine. Again be super careful as you fry eggplant and use a pair of long tongs and a splatter screen (see tips above.)
Fry eggplant on one side until you see edges turning golden brown then flip over on the other side. When eggplant turns a nice golden brown, remove from oil with a spatula (or your tongs.)
Set fried eggplant on paper towel to drain. Sprinkle with salt and a generous pinch of sumac (1 teaspoon or more)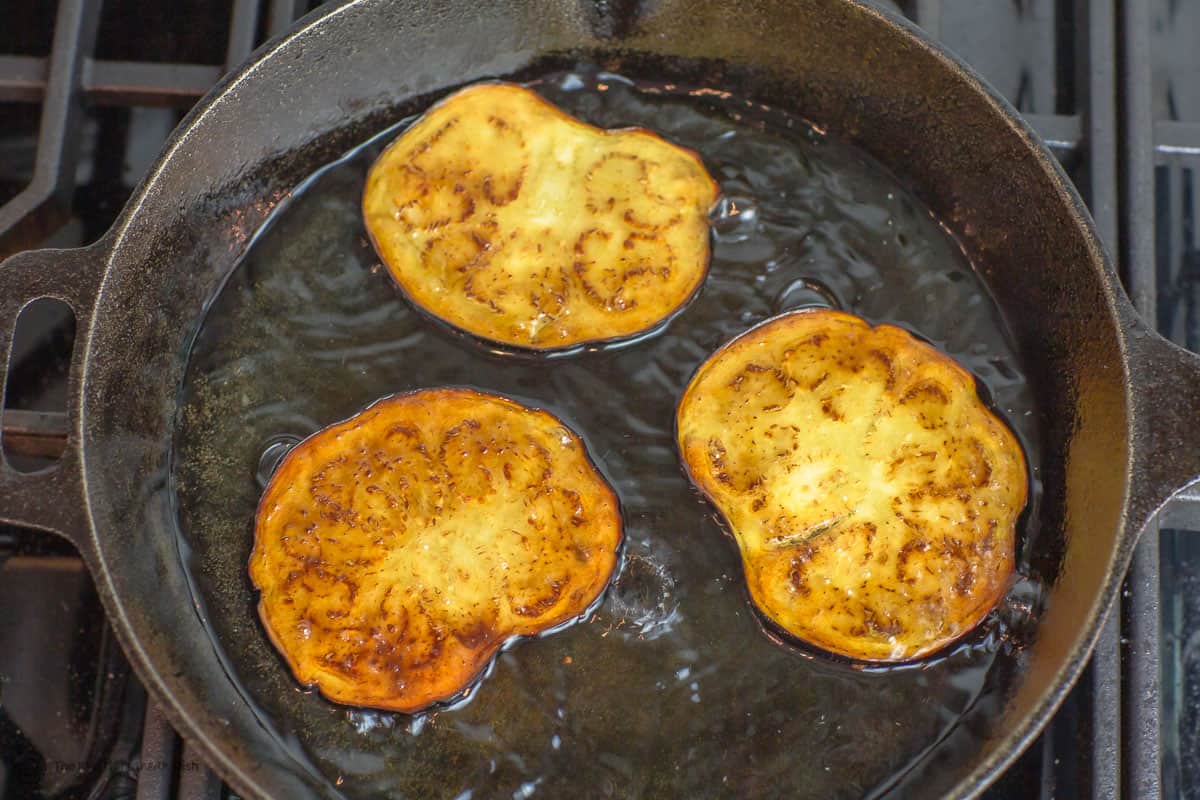 3. Fry the Tomatoes and Garlic. Lastly, fry the tomatoes and garlic. If needed, add a little more oil to the pan. First let the tomatoes fry about two minutes or so, then add garlic. Let cook together about 4 to 5 more minutes.
Tomatoes should collapse and become super tender, turning a bright orange. Add a little white vinegar; about two table spoons. Season with salt and more sumac.
4. Now, bring the party together. Assemble the fried eggplant dish. Grab a serving dish. Layer the vegetables beginning with a bottom layer of eggplant. Top with green peppers and tomatoes. Repeat as needed. Finish with a garnish of fresh herbs (I used mint, but parsley works) and walnut hearts (totally optional).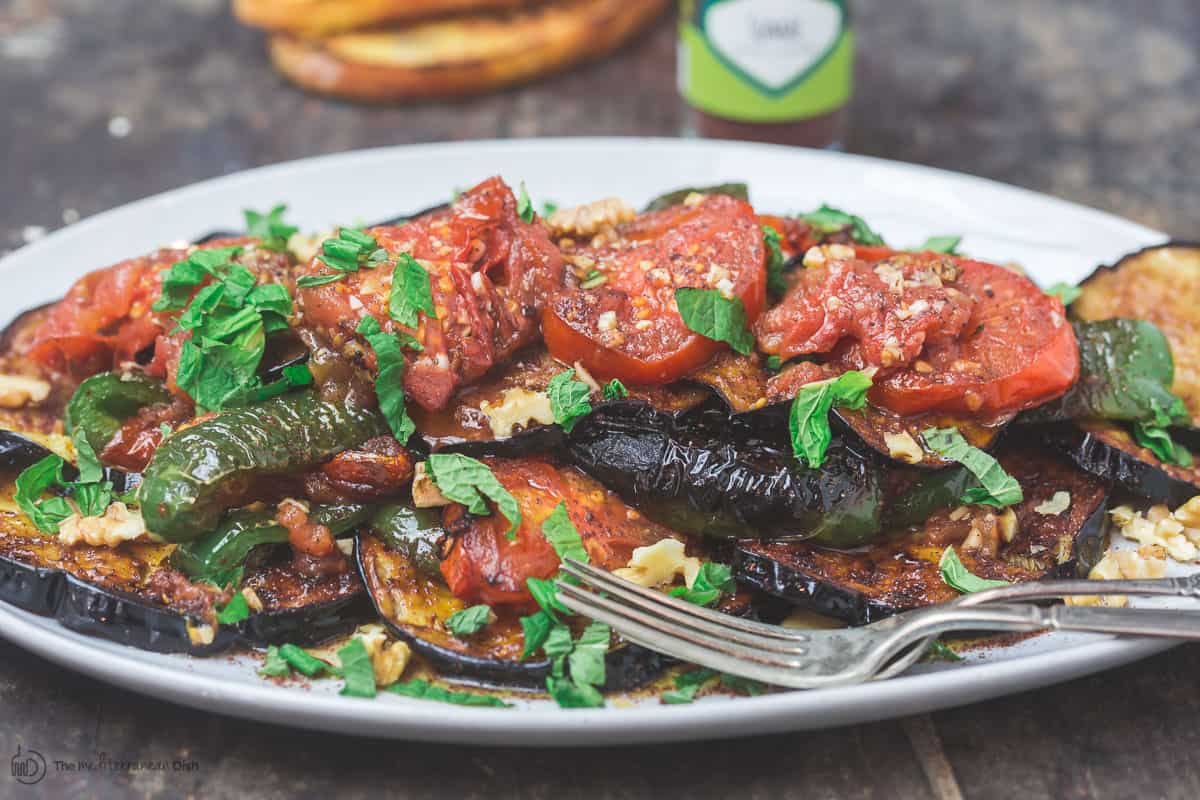 Serve it with
If you're serving this eggplant dish as a vegetarian main, you barely need anything but some warm pita or maybe a bed of Lebanese rice. And if you like, a big salad to start, let's go with balela.
You can also serve it next to grilled shrimp kabobs; seared trout; or Greek lamb.
And if frying doesn't suit you, try grilled eggplant or roasted eggplant recipe. You can find more in our eggplant recipes collection; caponata and rollatini are two favorites!
50+ Top Mediterranean diet recipes. For all recipes, visit us here. JOIN MY FREE E-MAIL LIST HERE.
Fried Eggplant Recipe with Green Peppers and Tomatoes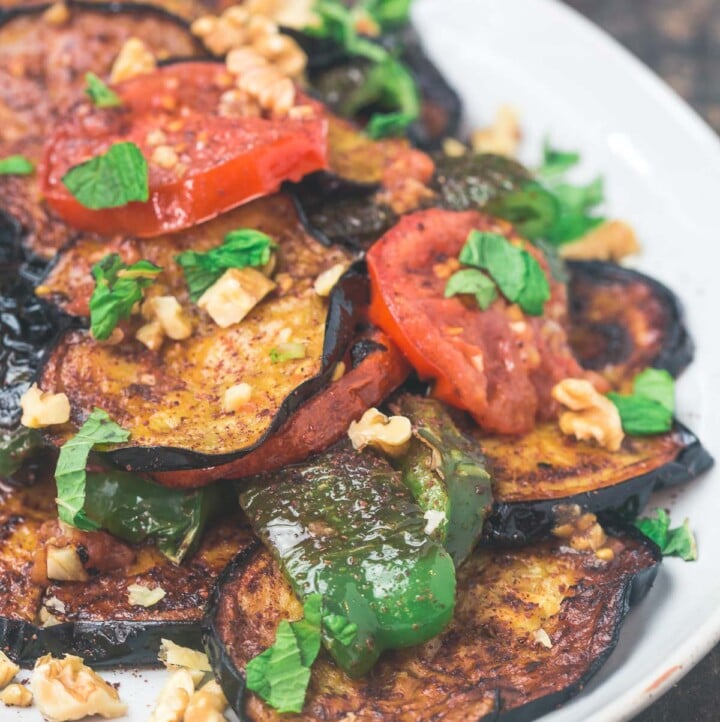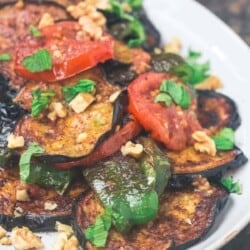 Vegan and gluten free fried eggplant recipe with green peppers and tomatoes! Serve it as a vegetarian main with warm pita bread, rice or your favorite grain. You can also serve it at room temperature as an appetizer next to other Mediterranean favorites. Allow 30 minutes of inactive time.
Equipment
Large cooking skillet

Splatter screen
Ingredients
1

large eggplant

washed, dried, sliced in ½" rounds

kosher salt

2

large green bell peppers

washed, dried, sliced in 1"- wide strips

5-6

large slicing tomato

washed, dried, sliced in ½"rounds

5

garlic cloves

Roughly chopped

2

teaspoon

or more sumac

2

tablespoon

white vinegar

½

cup

healthy cooking oil

more as needed (see post above for more information)

¼

cup

walnut hearts

optional

½

cup

fresh mint or parsley leaves for garnish

optional
Instructions
Spread eggplant slices on paper towels and sprinkle generously with kosher salt. Let sit for 30 minutes to sweat out any bitterness. Pat dry when ready.

Heat the oil on medium-high heat (be sure the oil is shimmering but not smoking). Start by frying green peppers, skin side down, until tender and skin turns brown. (Do this carefully and use a splatter screen as recommended.) Remove from heat and place on paper towels to drain. Sprinkle with a little salt and a generous sprinkle of sumac.

In the same frying pan, now fry the eggplant. Do this very carefully (use tongs to keep your distance and a splatter screen to cover the pan or skillet). Oil should still be hot or else eggplant will absorb way too much of it. When edges of one side turn golden brown, flip over. When eggplant turns golden brown on both sides, remove from heat and place on paper towels to drain. Sprinkle generously with sumac.

If needed, add a little bit of oil to your frying pan. Now, fry the tomatoes for two minutes then add the garlic. Cook another 4 to 5 minutes, tossing gently. Turn the heat down and add 2 tablespoon of vinegar, salt, and a generous pinch of sumac. When the tomatoes are tender, releasing juices and turning bright orange in color, turn the heat off.

Assemble the fried eggplant dish. Grab a large serving platter, layer a bit of the eggplant at the bottom, then add green peppers, then the saucy tomatoes on top. Repeat as needed till you have all the veggies on your platter. Garnish with fresh mint and walnut hearts.
Notes
Cook's Tip: Do not skip the first step of salting the eggplant, it is important as it helps break it's spongy texture a bit and prevents eggplant from absorbing too much oil. If you have the time, leave the eggplant to salt for a good hour or so, then pat dry.
Cook's Tip for Safety: As mentioned in the post, use a long pair of tongs to handle the vegetables at a safe distance from the frying oil, and a splatter screen for protection and easy clean up.
Leftovers? Drain excess oil first before storing any leftover fried eggplant. Refrigerate in airtight container for 3 to 4 days. You can serve this cold as a salad or at room temperature. To reheat, use medium heat (covered and with a little added liquid.)
This recipe will serve 4 to 6 people for dinner or more as an appetizer next to other Mediterranean mezze.
Visit our shop to browse our spices, including sumac, and olive oils and bundles!
Nutrition
Calories:
244.4
kcal
Carbohydrates:
12.1
g
Protein:
3
g
Fat:
21.8
g
Saturated Fat:
2.1
g
Sodium:
11.3
mg
Potassium:
546.4
mg
Fiber:
4.7
g
Vitamin A:
1439.3
IU
Vitamin C:
55
mg
Calcium:
37.3
mg
Iron:
1.1
mg
*This post first appeared on The Mediterranean Dish in 2015 and has recently been updated with new information and media for readers' benefit. Enjoy!