These bright stuffed zucchini boats loaded with Mediterranean favorites like tomatoes, feta, and fresh herbs can be ready in 20 minutes or less!
Add this to the list of fun zucchini recipes to use up your summer zukes! Be sure to check out our tips and video below.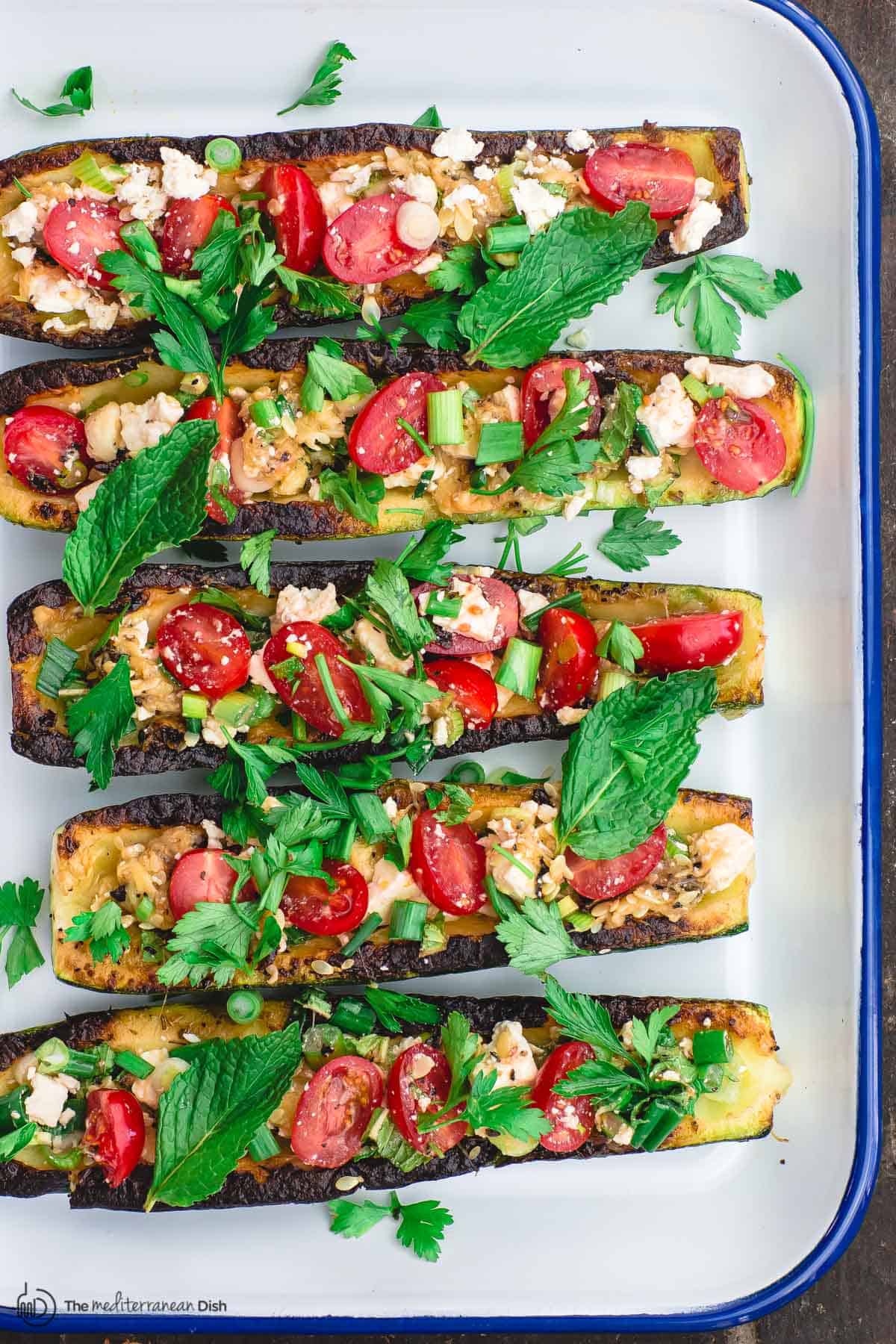 Stuffed zucchini for the modern cook = zucchini boats!
There's a reason people go nuts for zucchini boats.
They are easy to make--no special "cheffy" skills needed--and they are the perfect carrier for whatever toppings or filling you like!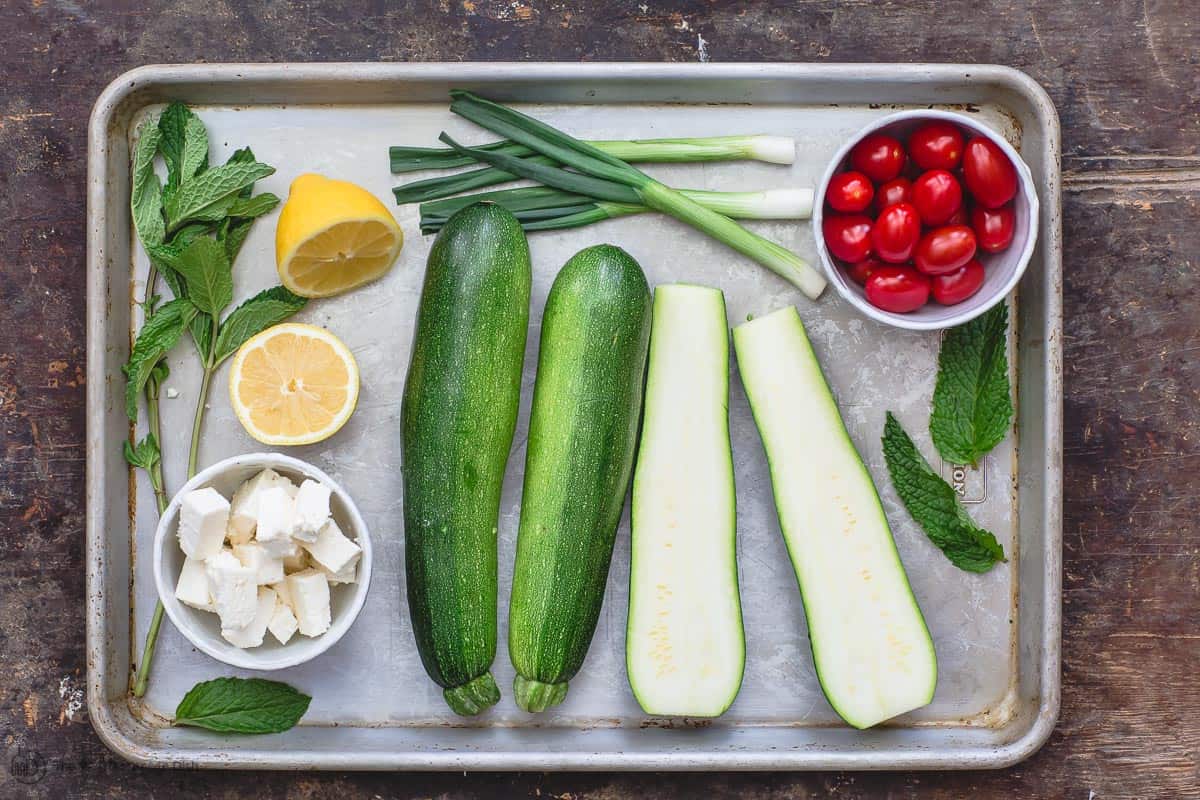 Classic stuffed zucchini boat recipes typically call for a heavy meat and cheese topping, but these vegetarian zucchini boats take on fresh Mediterranean flavors that will not disappoint.
Like our Greek stuffed onions, we make use of the entire vegetable, including the flesh; it goes right in the filling for the zucchini boats.
This is a simple recipe that takes 20 minutes or less! Here's how...
How to make zucchini boats
1. Season and grill zucchini halves on both sides (a little brush of quality extra virgin olive oil is important here).
Tip: grill zucchini until tender and nicely charred, this brings out the delicious flavor!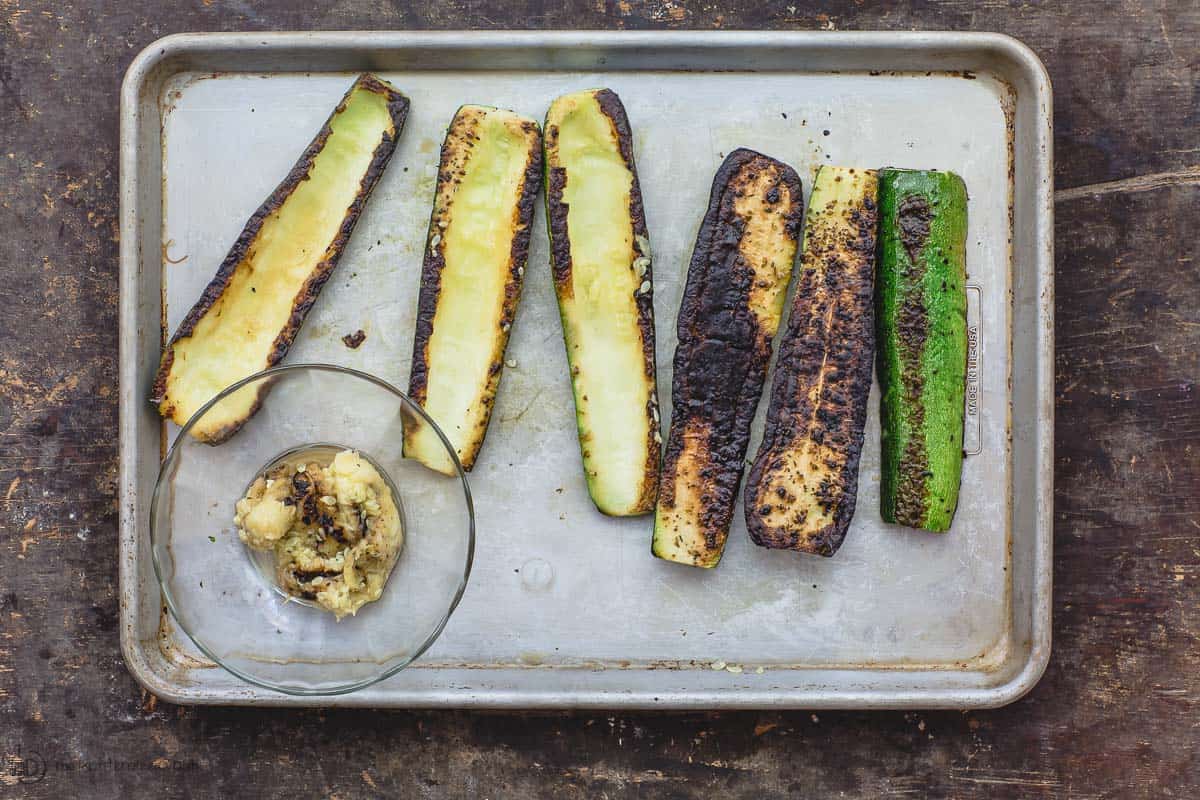 3. Scoop out the flesh to hollow out the zucchini halves...or to create "boats" for the topping or filling (do not discard the tender charred flesh, it's so tasty and we'll use it later).
4. Make the filling. The possibilities for the filling here are endless here (see more examples below), but I kept my filling simple, leaning more towards fresh and vegetarian options.
To make it, combine the zucchini flesh with Mediterranean favorites like tomato, feta, green onions, and fresh herbs. I love using a couple different herbs here like mint and parsley. And if you like a little extra zest, then do as I have and add a squeeze of lemon juice.
5. Fill the zucchini boats with the stuffing and enjoy!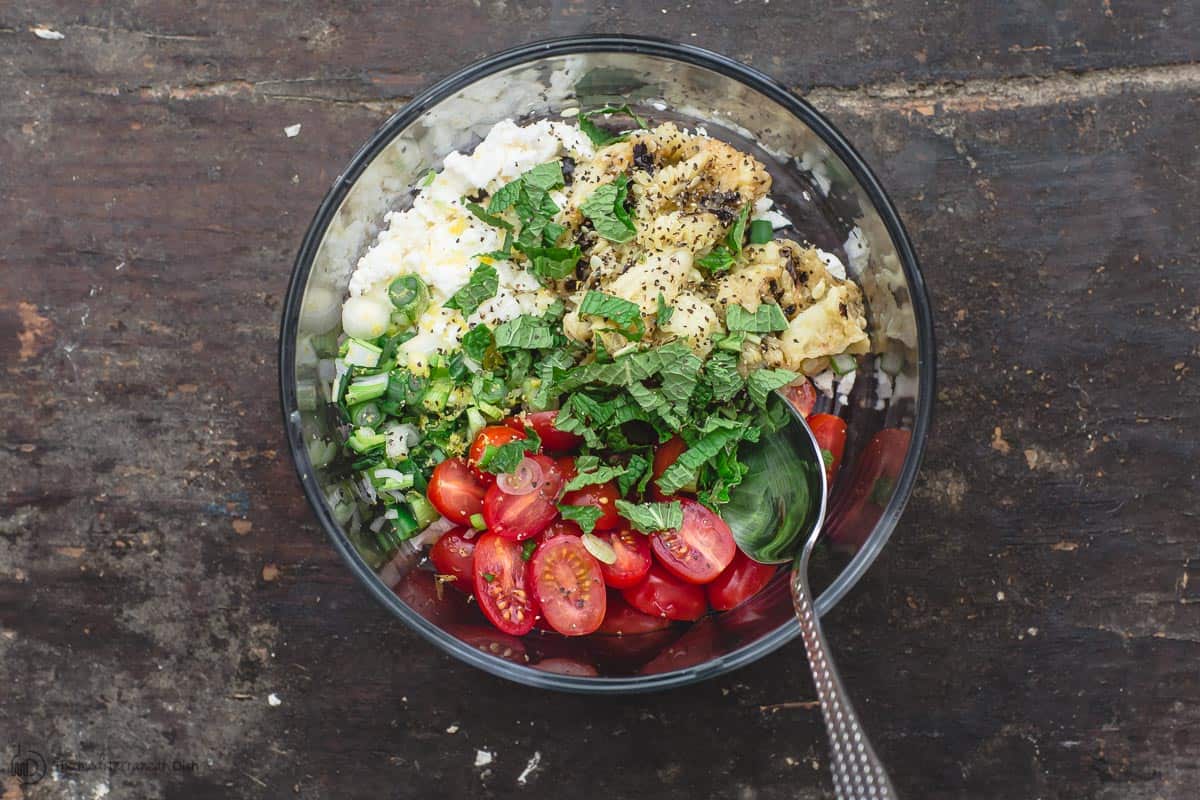 Stuffed zucchini boat variations
Wondering what else you can use for a topping or filling for these easy zucchini boats? Here are a few more ideas:
Add more vegetarian items like a handful of baby spinach, olives, or marinated artichokes. And if you like things spicy, add a pinch of hot pepper flakes (Oooh or even a little harissa, which is not necessarily spicy but will add an interesting kick!)
Give these vegetarian zucchini boats a little Italian flare by using baby mozzarella, fresh basil, and maybe a little cured meat like Prosciutto or salami.
If you're up for a little extra work, then make the meat and rice stuffing from this stuffed pepper recipe (it does make more than you need for 6 zucchini halves, but then you'll have more rice to eat later. Or, make more zucchini boats!)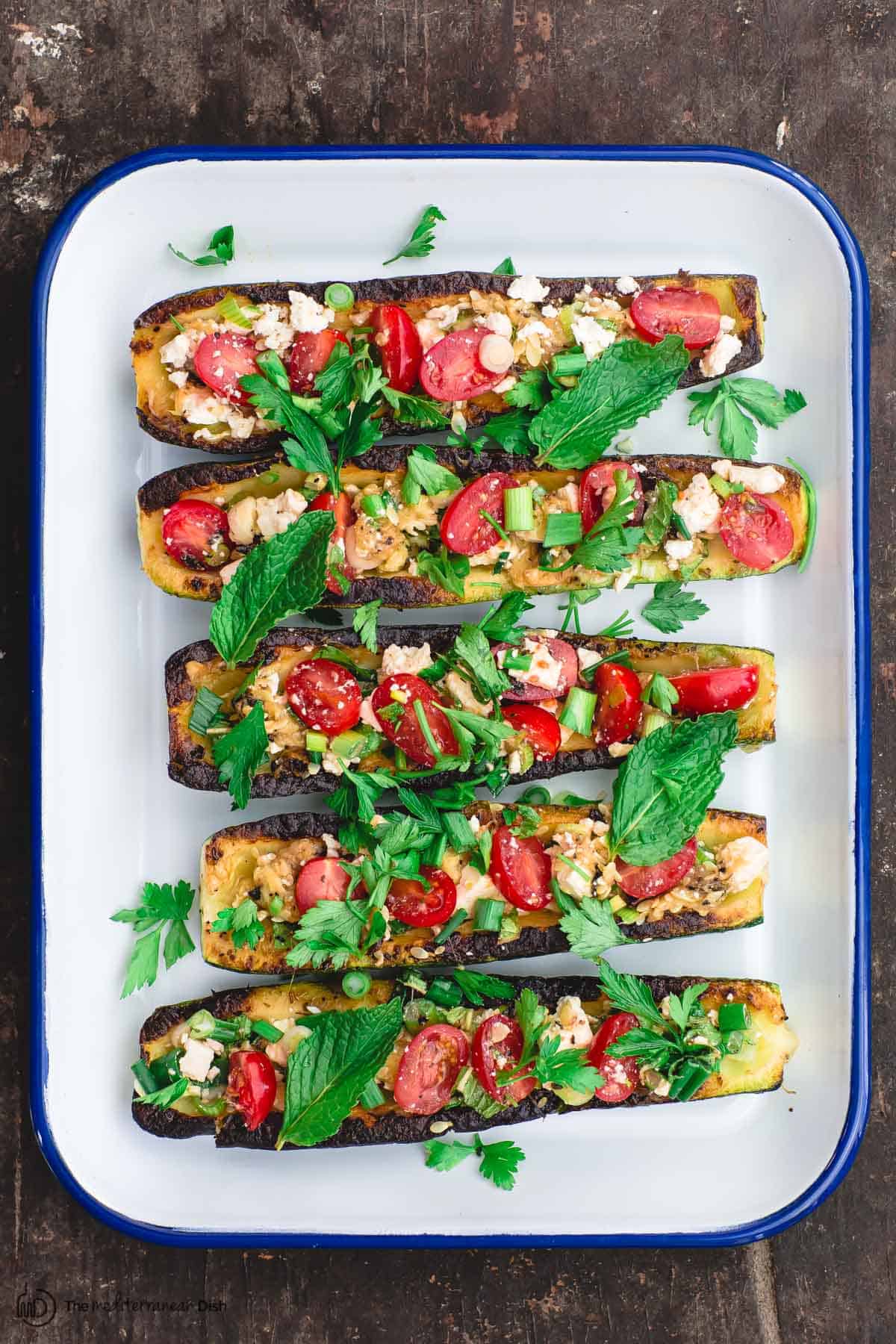 Ways to serve them
Mediterranean grilled zucchini boats are an obvious appetizer choice.
And here's a fun tip! If you're serving a larger crowd, you can cut the zucchini halves crosswise to create smaller "boats" that are much easier to pick up (no fork and knife needed.) A dollop of Tzatziki sauce on top doesn't hurt a bit!
Or you can serve these grilled zucchini boats as a side next to things like: Chicken Meatballs; Pan-Seared Trout; Lemon Garlic Salmon; or Lamb Burgers.
Can you freeze zucchini boats?
If you have leftovers, store them in the fridge in a tight-lid glass container for 2 days or so. They're great cold or at room temperature.
But I would not advise freezing zucchini boats. The grilled zucchini will be too mushy once thawed and the topping won't be in the best shape either.
Is zucchini healthy?
If you're searching for Mediterranean diet recipes or ingredients, zucchini will show up over and over. It's a staple in Mediterranean cooking and regularly on my shopping list.
Zucchini, also known as courgette is a type of summer squash. It's low in fat and carbohydrates, high in antioxidants and filled with vitamins and important nutrients like vitamin C, folate, and potassium.
For me, zucchini is essential in a hearty ratatouille and makes a great addition to a fun skillet dinner like this sauteed shrimp and zucchini. And I'll often serve a simple baked zucchini as a side next to nearly any protein.
You may also like 50+Mediterranean Diet Recipes. Or check out the archives for all our recipes. And be sure to join my email list for FREE weekly meal plans and more!
Stuffed Zucchini Boats with Tomato and Feta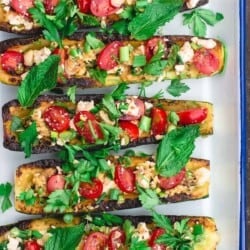 You'll love these easy grilled zucchini boats, prepared Mediterranean-style with tomato and feta. We make every use of the zucchini flesh too! Check out the tips and ideas in the post. Serve these as a fun appetizer or side next to your favorite summer entrees!
Ingredients
3

zucchini

trimmed and sliced length-wise into halves

extra virgin olive oil I used Early Harvest Greek EVOO

Kosher salt and pepper

to your liking

Dried oregano

large sprinkle to your liking

6

oz

cherry tomatoes

sliced in halves

3

green onions

both white and green parts, ends trimmed, chopped

½

cup

crumbled feta cheese

more to your liking

6 to 10

fresh mint leaves

chopped

Large handful fresh parsley

chopped

Zest of 1 lemon

Splash lemon juice

not too much
Instructions
Heat a cast iron skillet or indoor griddle over medium heat. (OR, If cooking on gas grill, lightly oil the grate and preheat grill to medium-low).

Brush zucchini generously with extra virgin olive oil on both sides. Season zucchini (particularly flesh side) with salt, freshly ground pepper, and oregano.

Place zucchini, flesh-side down, on the preheated grill (or indoor griddle). Grill for 3 to 5 minutes until soft and nicely charred, then turn on back side and grill for another 3 to 5 minutes until this side is also tender and gains some color. (If using an indoor skillet or griddle, you may need to adjust heat to medium-high.)

Remove zucchini from heat and let cool enough to handle.

To create zucchini boats, use a small spoon to scoop out the flesh (do not discard). Squeeze all liquid out of zucchini flesh (you might use a linen kitchen towel or paper towel to do this.)

Make the filling for the zucchini boats. Put the zucchini flesh in a mixing bowl and add the cherry tomatoes, green onions, feta, mint, parsley, lemon zest. Add a small splash of lemon juice and sprinkle a little more oregano. Drizzle a little extra virgin olive oil and mix everything together.

Spoon the filling mixture into the prepared zucchini boats and arrange on a serving platter. Enjoy!
Notes
Cook's Tips: You can cut the zucchini halves crosswise to create smaller "boats" that can be easily picked up by hand. This is ideal if you're serving a larger crowd as an appetizer (yields 12 instead of 6).
Cook's Tip: Grill zucchini until tender and nicely charred - this brings out the delicious flavor!
Cook's Tip: A drizzle of Greek Tzatziki sauce really seals the deal on these zucchini boats. Find recipe for homemade Tzatziki here.
Make Ahead Option: You can grill the zucchini ahead of time, then when ready to serve, follow recipe from step #5.
Other Filling Options: You can change up the existing filling in this recipe by simply adding more vegetarian items like a handful baby spinach, olives, or marinated artichokes. Or turn this into Zucchini Boats Antipasti. Just give your filling a little Italian flare using baby mozzarella, fresh basil, and maybe a little cured meat like Prosciutto or salami.
Visit The Mediterranean Dish Store for our Greek extra virgin olive oils and more! Our Early Harvest and Private Reserve extra virgin olive oils are both from organically grown and processed Koroneiki olives. And you'll also find a selection of all-natural and organic spices for Mediterranean cooking. Try the Ultimate Mediterranean Spice Bundle, or create your own 6-pack of spices.
Nutrition
Calories:
51.2
kcal
Carbohydrates:
5.7
g
Protein:
4.3
g
Fat:
1.9
g
Saturated Fat:
1
g
Cholesterol:
6.7
mg
Potassium:
334.1
mg
Fiber:
1.4
g
Vitamin A:
436.9
IU
Vitamin C:
25.5
mg
Calcium:
25.5
mg
Iron:
0.7
mg
*This recipe/article has been republished with new information and media for readers' benefit.