Ready to change the Easter menu game? This list of all-star Easter Recipes has something for everyone! From fall-apart tender Easter roasts to spring sides, bright salads and scrumptious Easter desserts that are anything but the ordinary tart.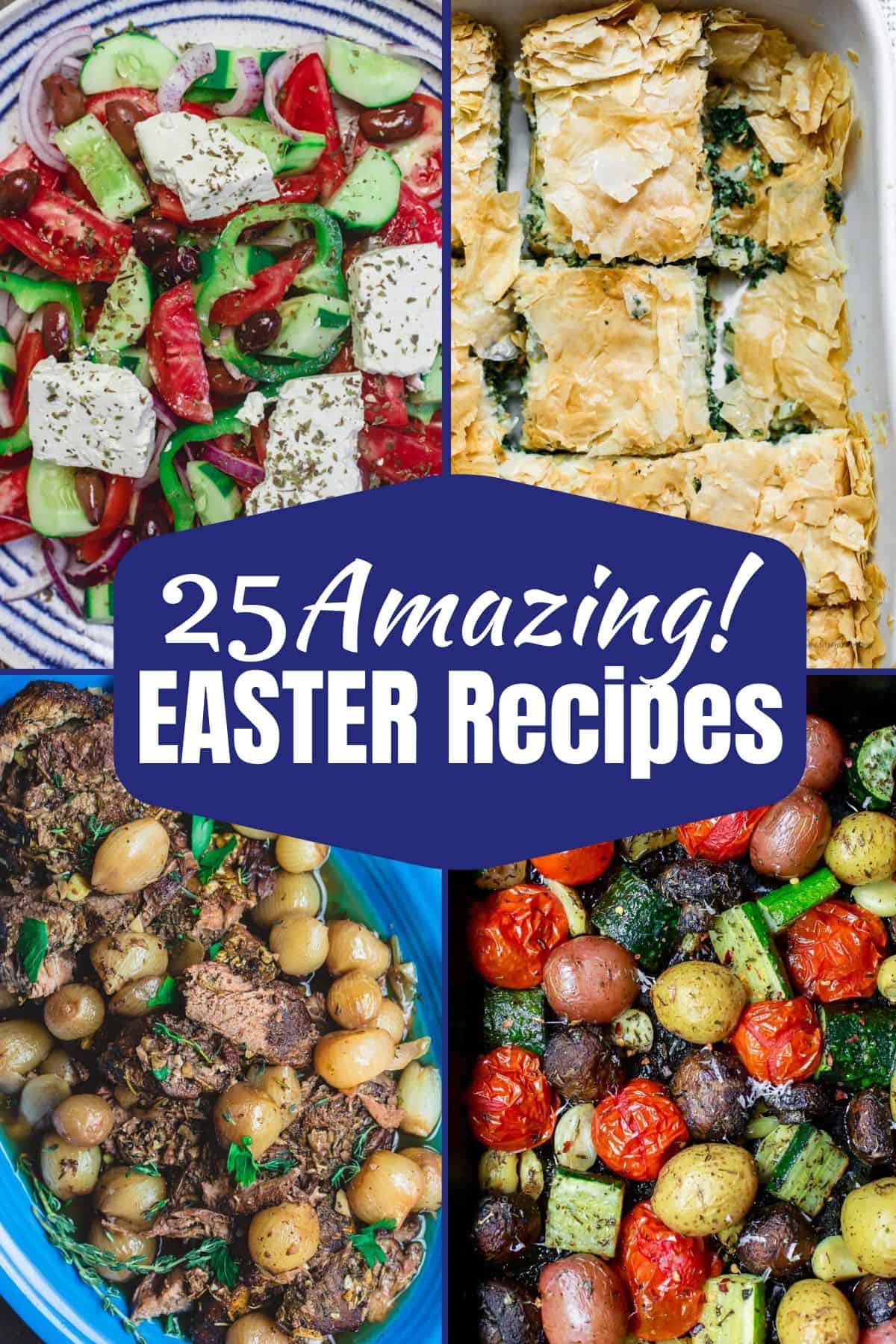 For my family, Easter this year will be just the four of us at the table. But that won't stop us from having a special meal! Plus, it means that we'll have some scrumptious leftovers to use up for the next few days.
I love changing things up for Easter dinner, so every year I sort through my favorite Easter recipes to see what new things I can add or switch out.
If you're looking for some ideas, I've got you covered with a list of tasty ideas: 25 Mediterranean Easter recipes.
Skipping the predictable ham? Roast a leg of lamb or serve up chicken or Cornish game hens for a smaller crowd. Heck, you could go pescatarian with a lovely baked salmon.
Spanakopita doubles up as a side or a vegetarian main. And those boiled eggs are the perfect addition to a large chickpea salad.
Easter bread and honey-drenched baklava + lots more ideas!
There is something for everyone on this list of Easter dinner recipes. Ready?
25 Easter recipes with a Mediterranean twist
(tap recipe names below to see the full recipe)
Easter dinner mains
The ultimate Mediterranean-style leg of lamb recipe! Leg of lamb covered in a rub of fresh garlic, Mediterranean spices, olive oil and lemon juice. Roasted with potato wedges and onions. Step-by-step tutorial included!
2. Greek Slow-Cooker Boneless Lamb Leg
Flavorful, succulent, fall-apart tender boneless leg of lamb, seasoned Greek-style with loads of garlic, rosemary, oregano and citrus. You can make this one in your slow-cooker--free up the oven for other things--or use your braiser or Dutch oven. Both methods included with the recipe.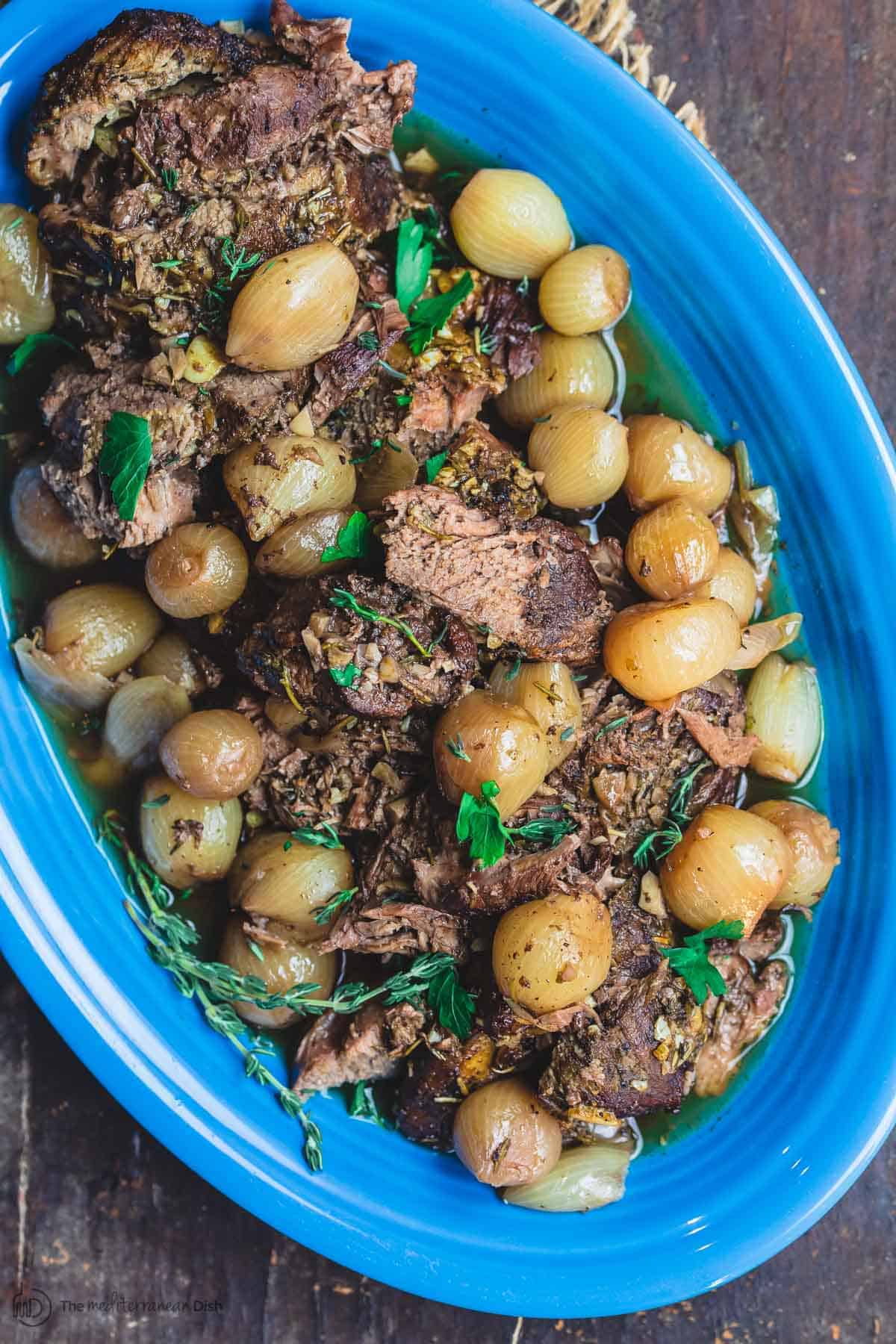 Spatchcocked chicken spiced the Mediterranean way! Two small tricks make the BEST and crispiest chicken ever.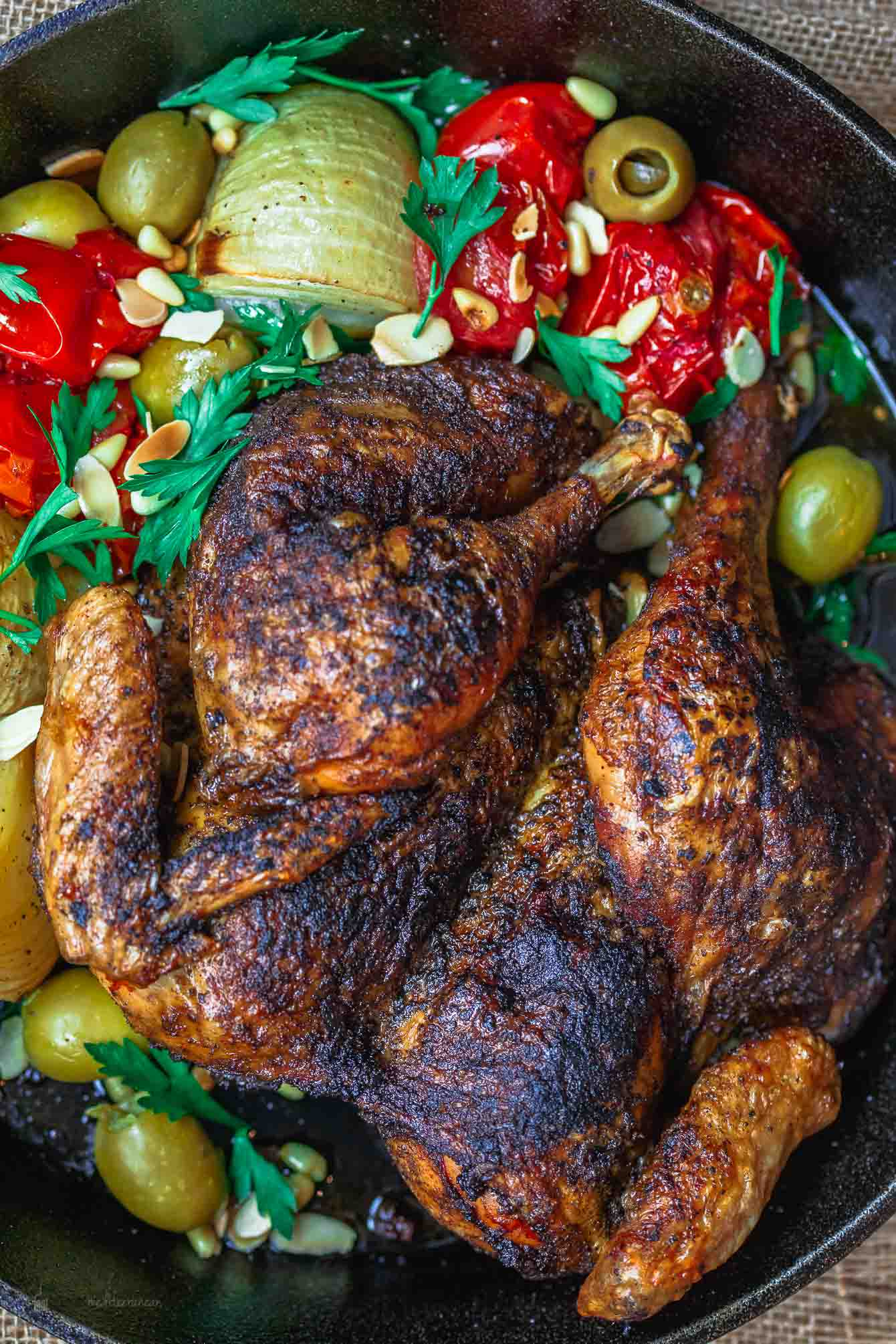 Perfectly flaky baked salmon covered in a tantalizing garlic lemon sauce. Best part? Ready in about 25 minutes! And if you're going pescatarian, here are more fish and seafood recipes.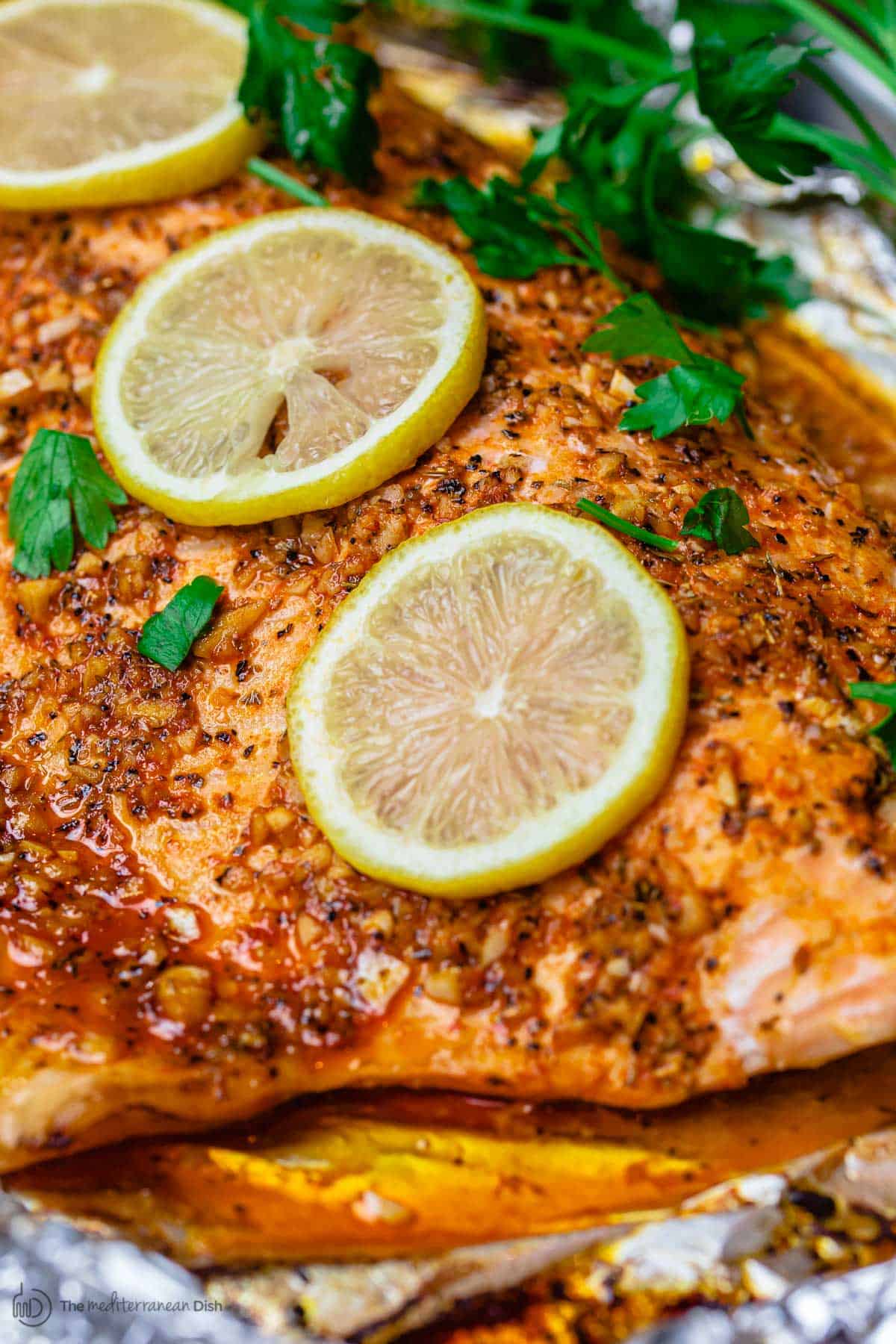 5. Cornish Game Hens with a Mediterranean Garlic-Spice Rub
Serve each person their very own chicken! The hens take on a flavor-packed garlic spice rub before roasting. Every bit as juicy and succulent as they look.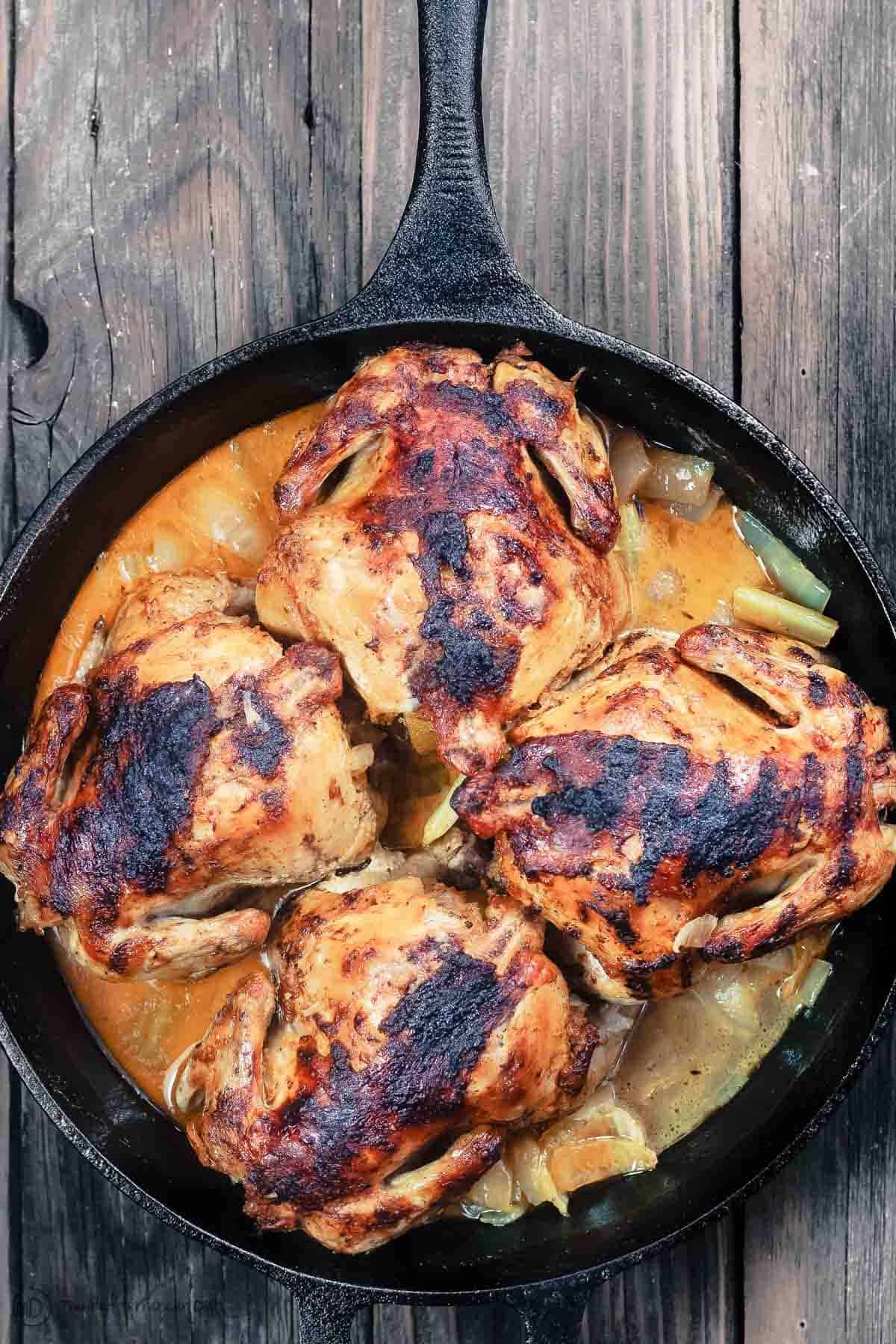 The beauty of a one-pot-wonder right here! Mediterranean-spiced braised lamb shanks, cooked in a red wine and tomato sauce with vegetables, aromatics, and fresh herbs. Recipe comes with braising and slow-cooker instructions!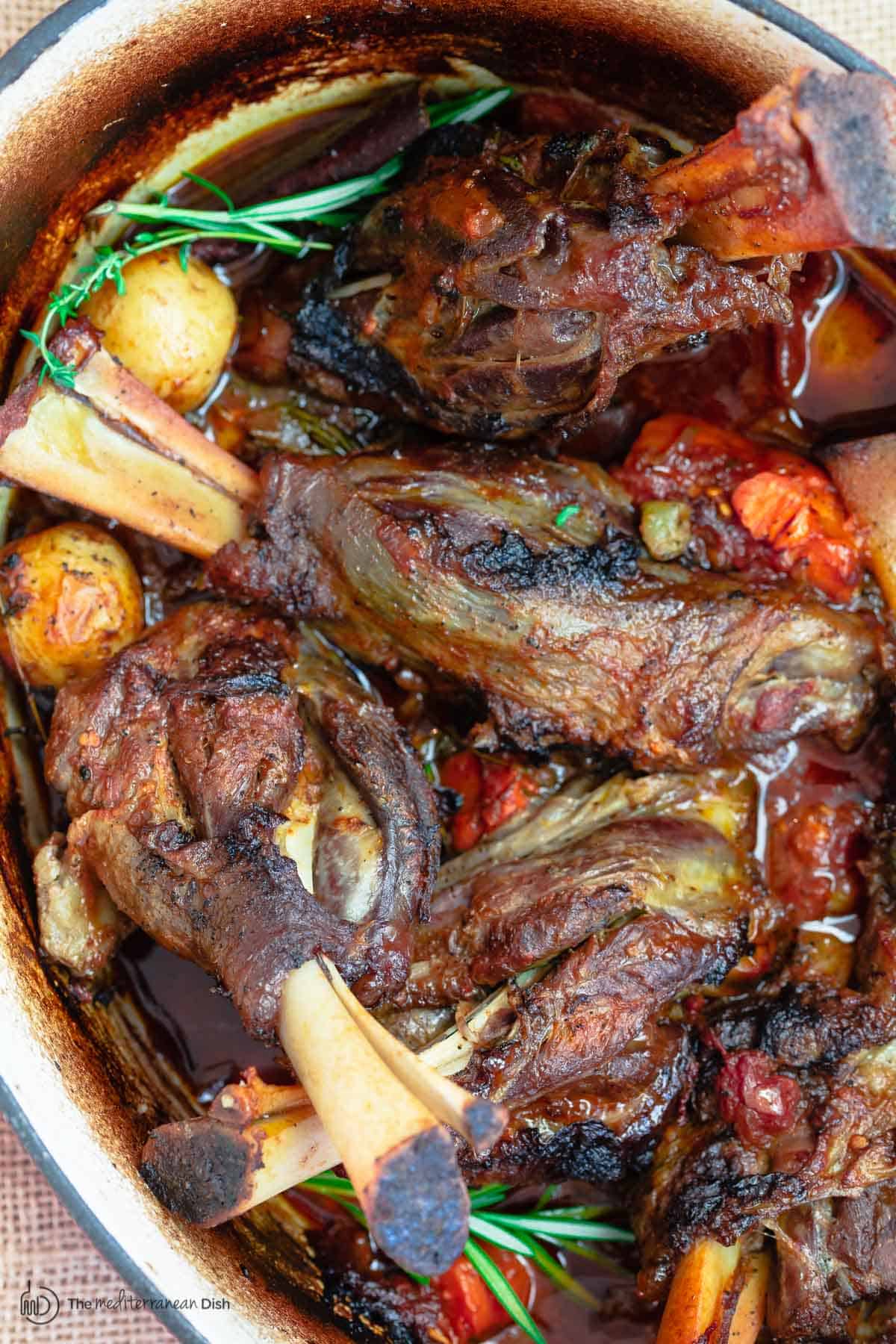 Easter side dishes
Crispy phyllo (fillo) pie with a comforting spinach and feta cheese filling. This is so much easier to prepare than you imagine! Check out the tutorial and video with the recipe.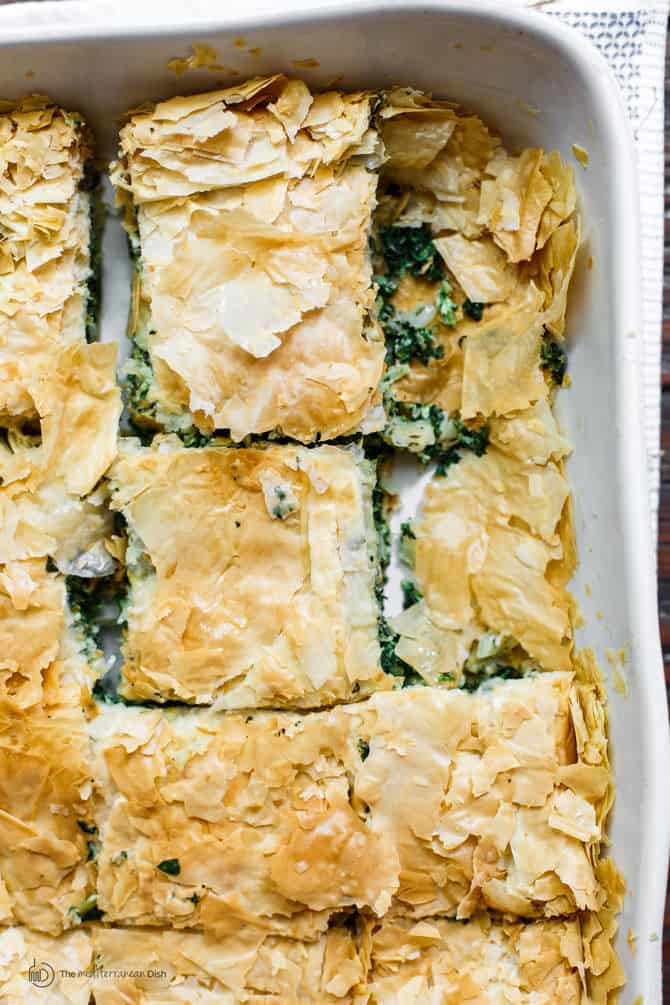 Easy and bright roasted vegetables with an Italian twist.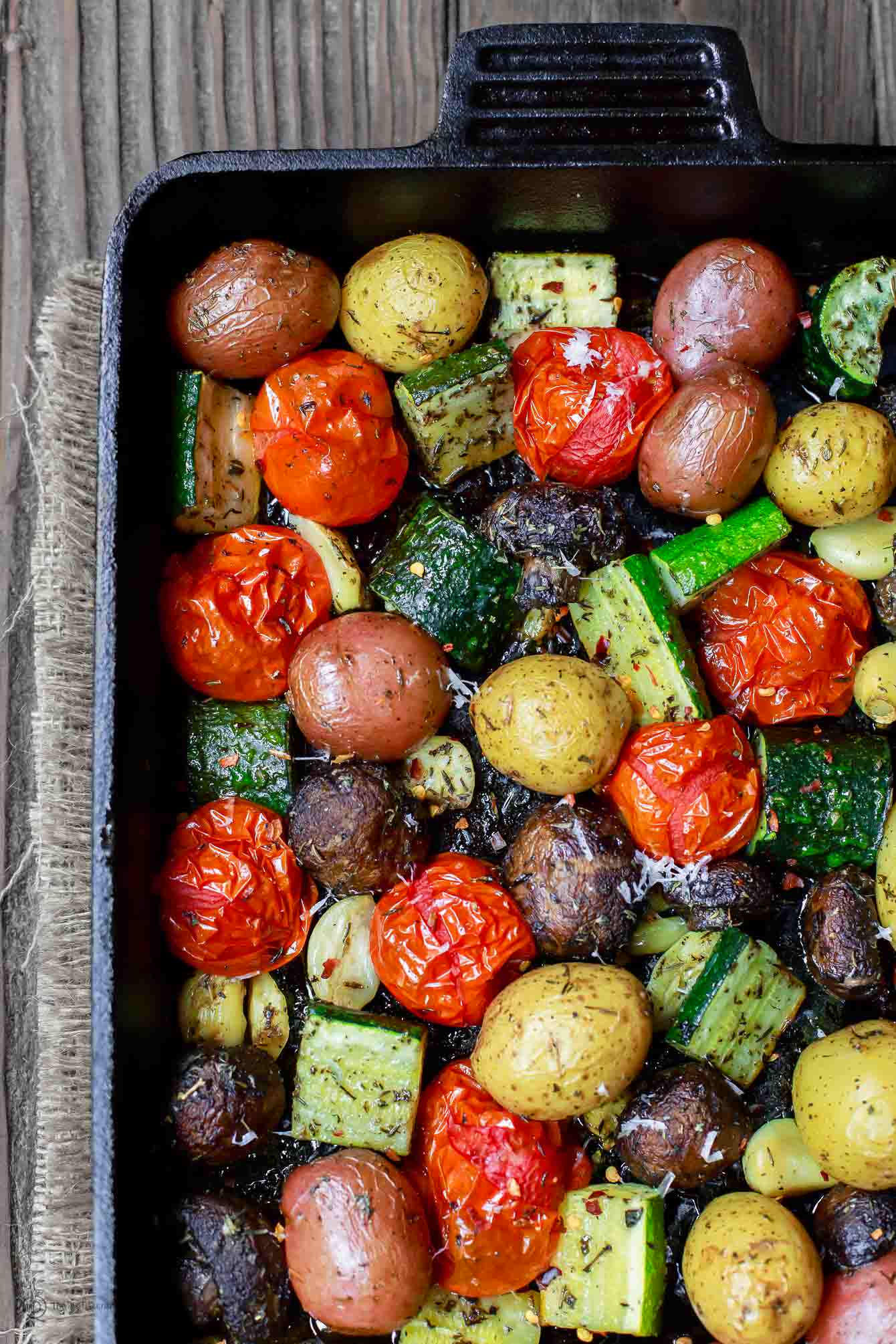 9. Greek Green Beans with Feta
This bright green beans dish with feta and olives is perfect as a side or salad.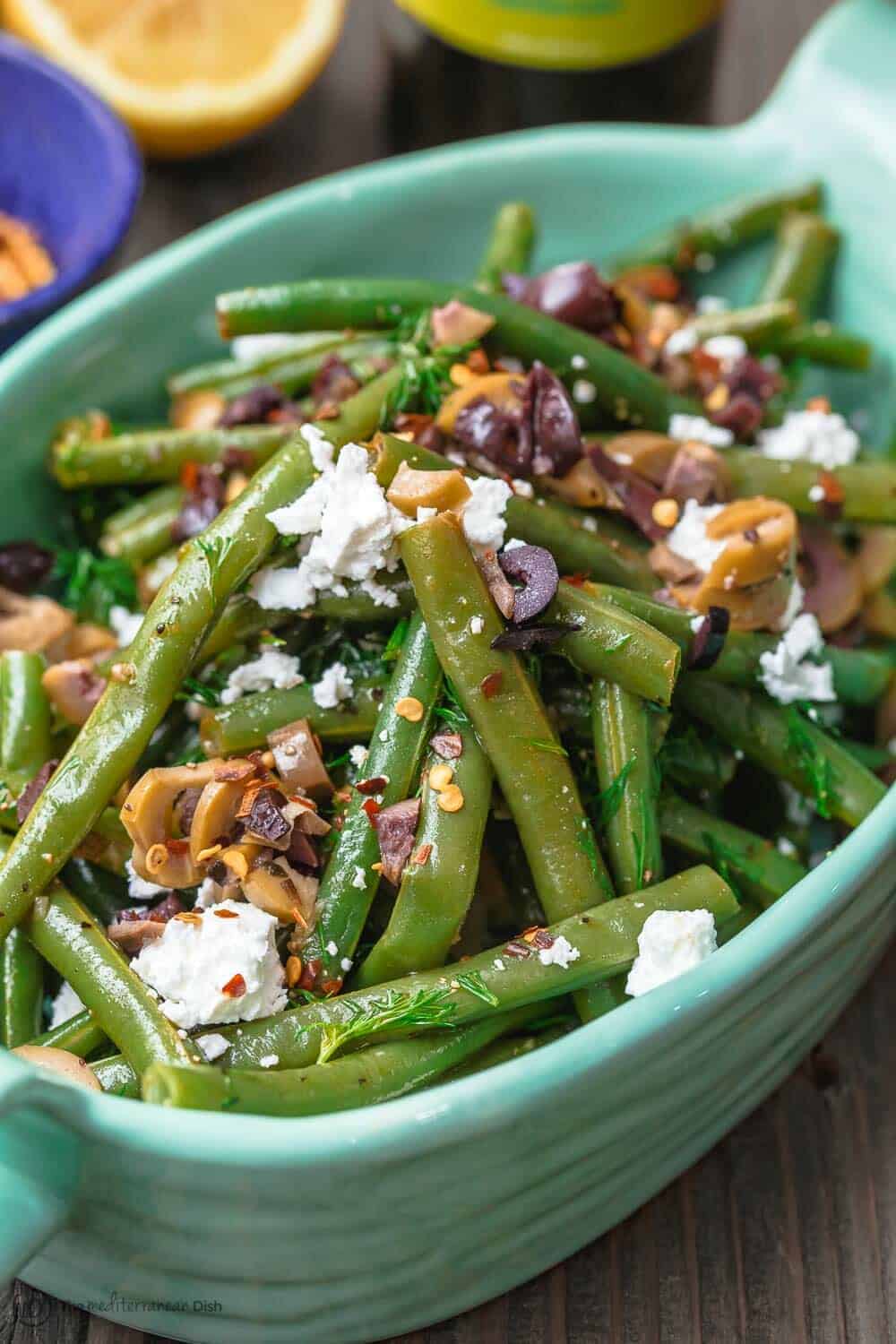 10. Moussaka: Greek Eggplant Casserole
Layers of eggplant and potatoes with a glorious spiced meat sauce nestled in between! This recipe also comes with a tutorial and you can prepare it ahead of time and reheat in the oven before serving. (And check out the Vegetarian Moussaka option).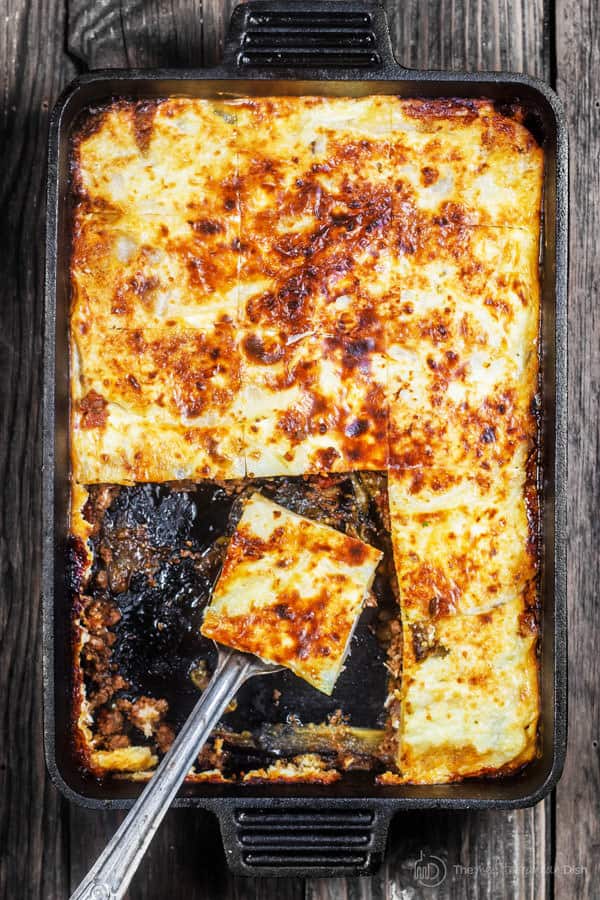 11. Greek potatoes
Some of the lamb recipes above already include potatoes. But if you're looking to make your potatoes separately, these should be it! Potato wedges take on a simple Mediterranean spice mixture, then roasted in a lemony broth with lots of garlic.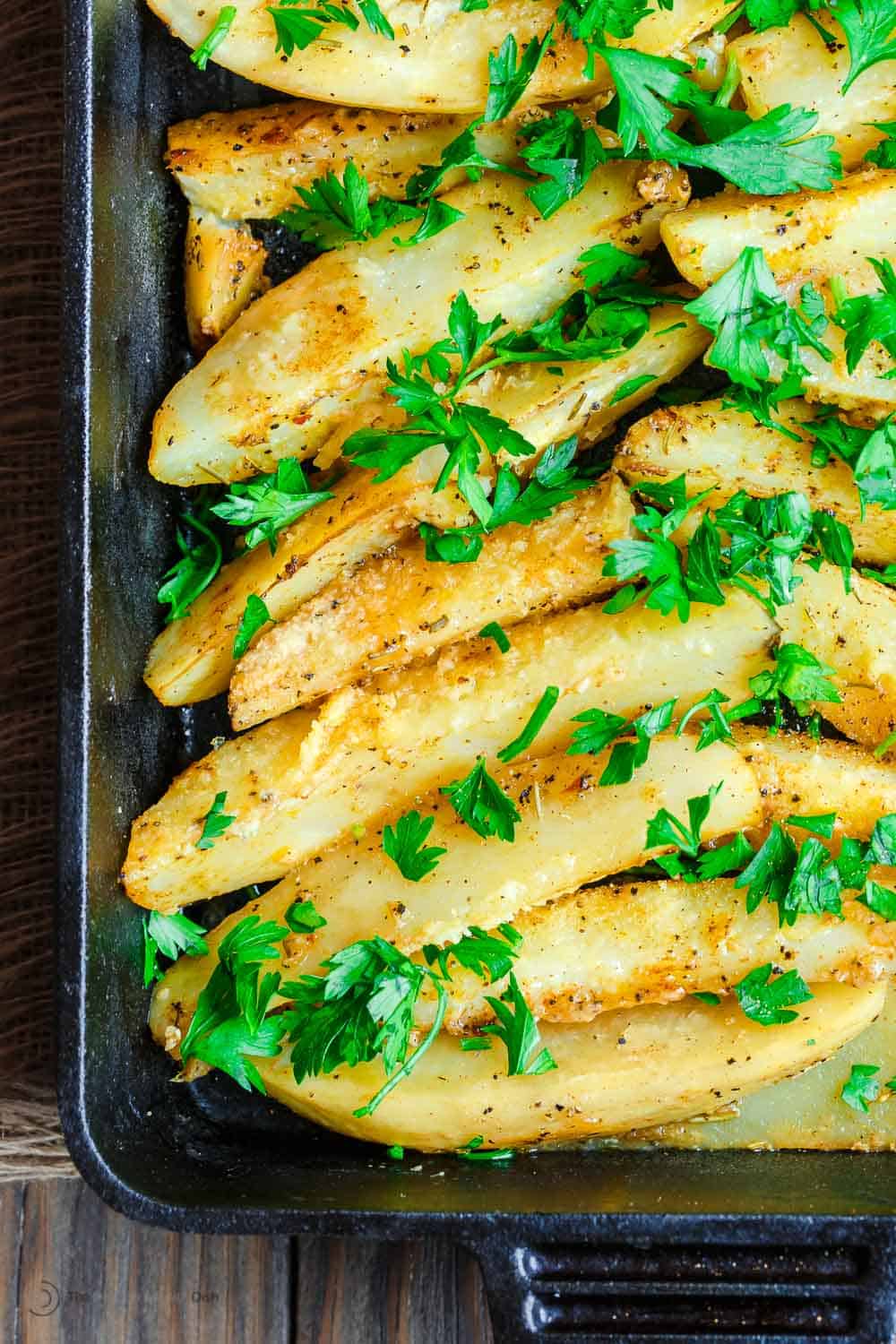 Layers of texture and flavor in this loaded rice dish with beef, nuts and raisins. A great gluten free option.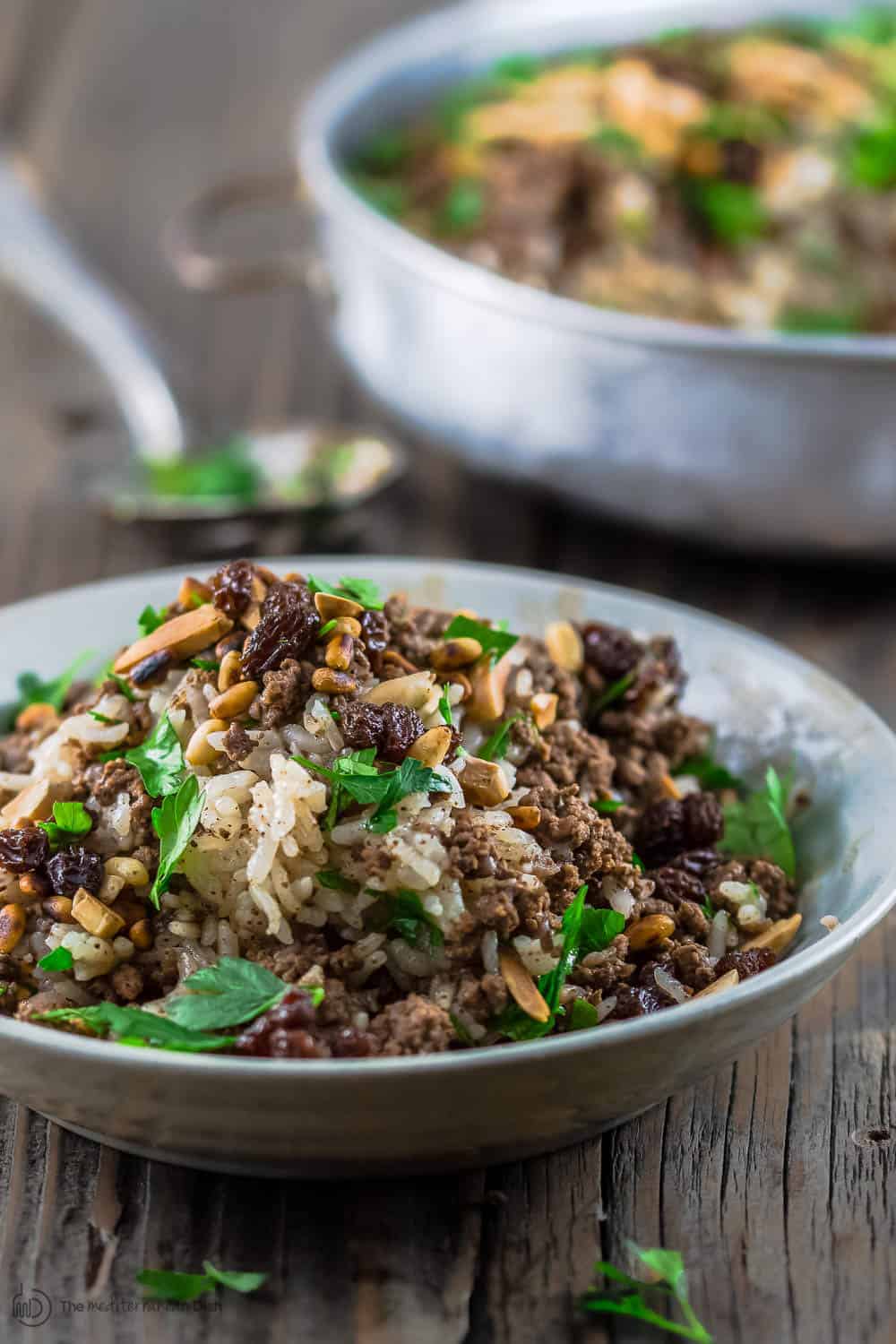 14. Olive oil fried brussels sprouts
Crispy olive oil fried brussels sprouts with caramelized onions and garlic! Finish with a sprinkle of freshly grated Parmesan cheese.

Salads and such
15. White Bean Salad
Simple white bean salad loaded with bright Mediterranean flavors! Canned beans, chopped veggies, and fresh herbs tossed together in one big bowl.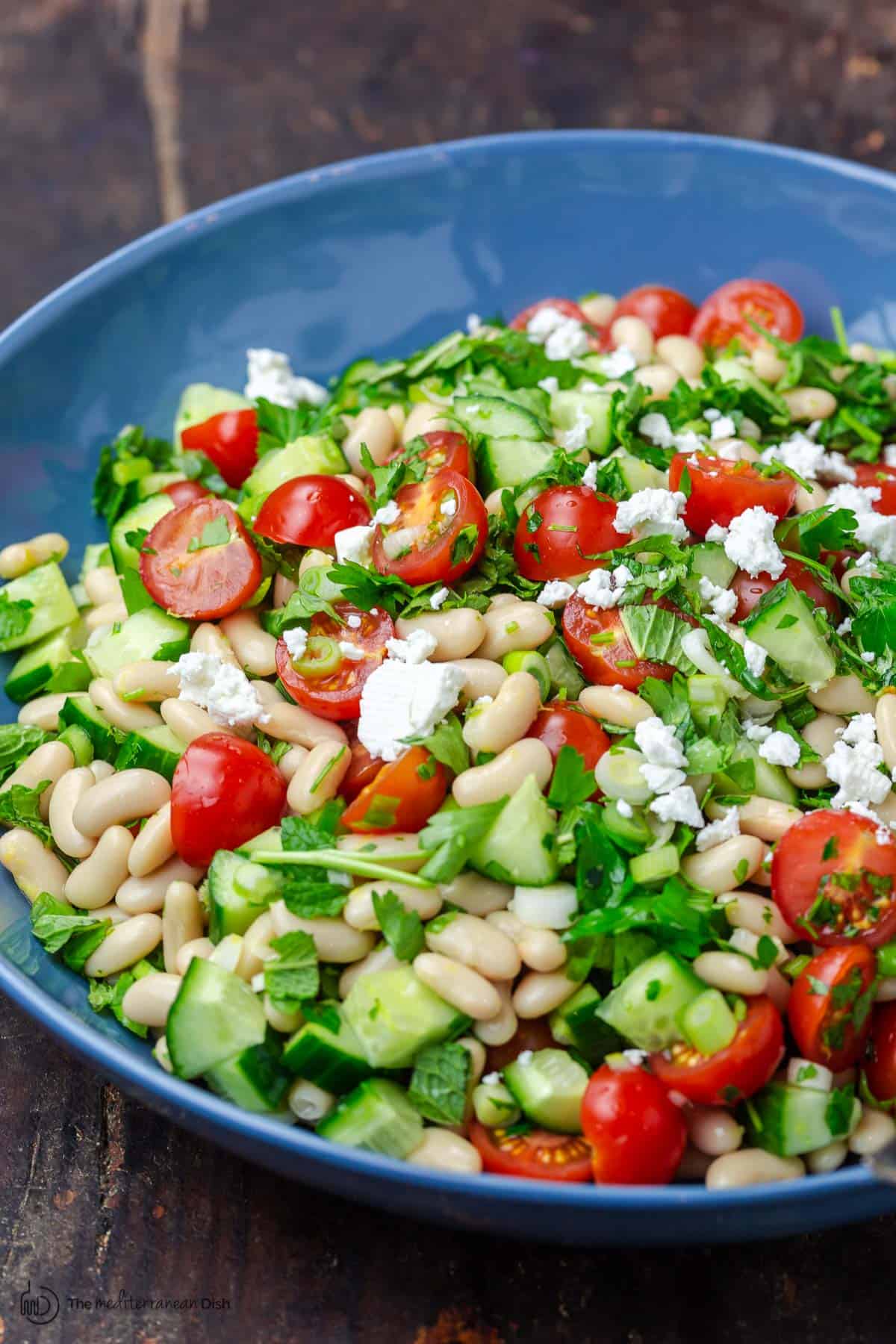 Chockful of chopped fresh veggies, chickpeas, and artichoke hearts! Tossed in a garlic-dill dressing.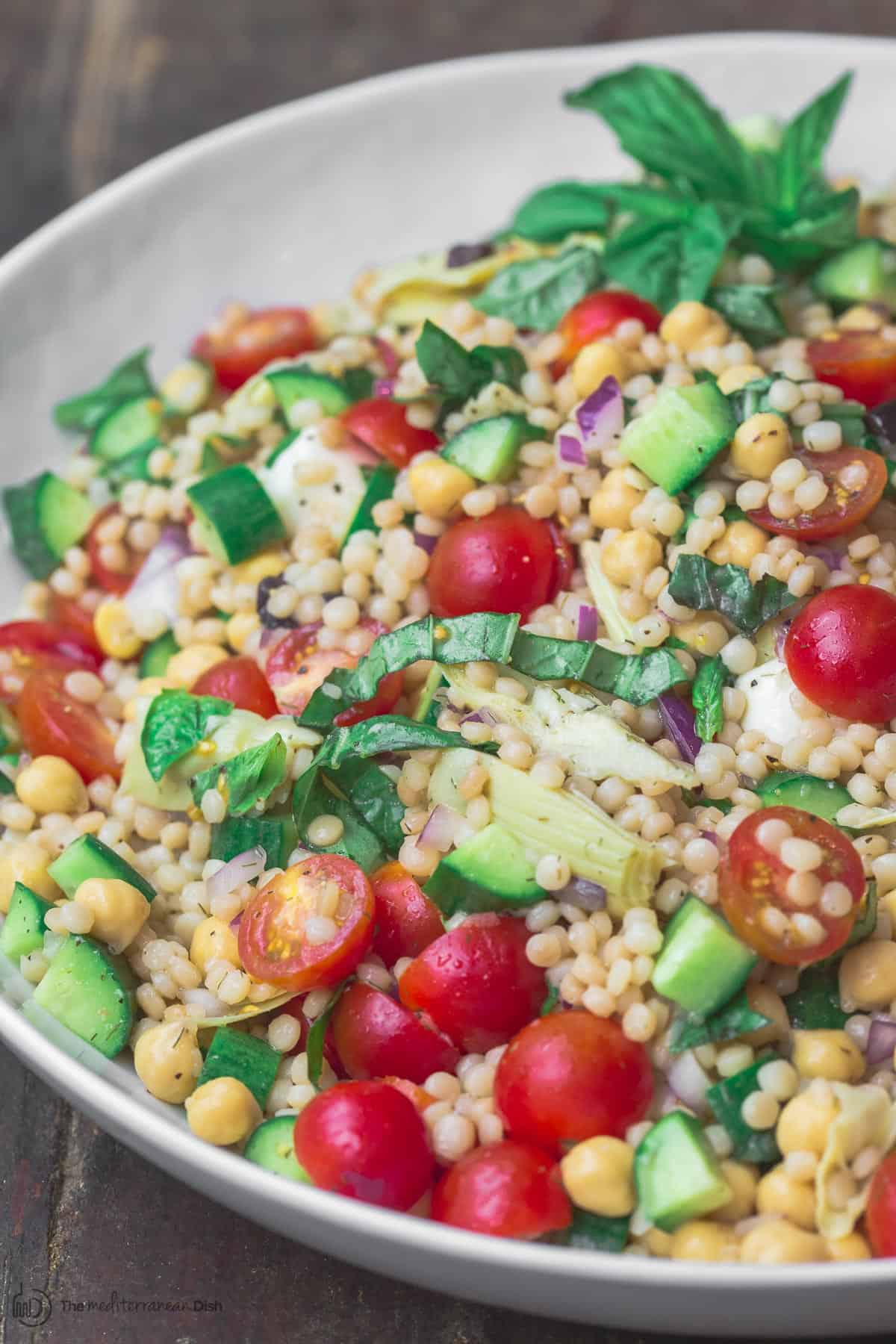 Lemony baby arugula with avocado, tomatoes and cucumbers. So simple and fresh!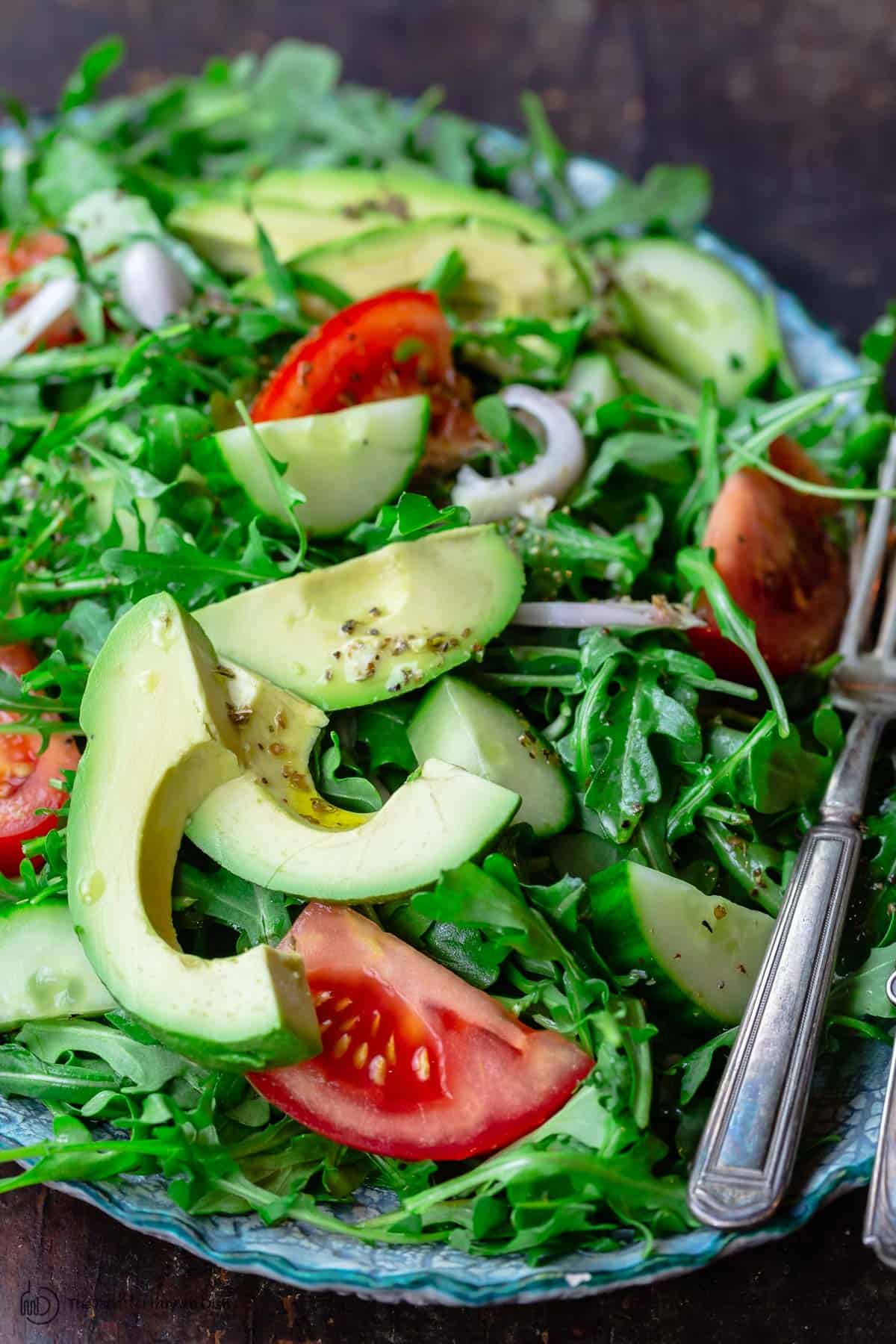 18. Greek Salad
Resist the temptation to add lettuce to this classic Greek salad. Serve it simply as they do in Greece with small blocks of feta on top!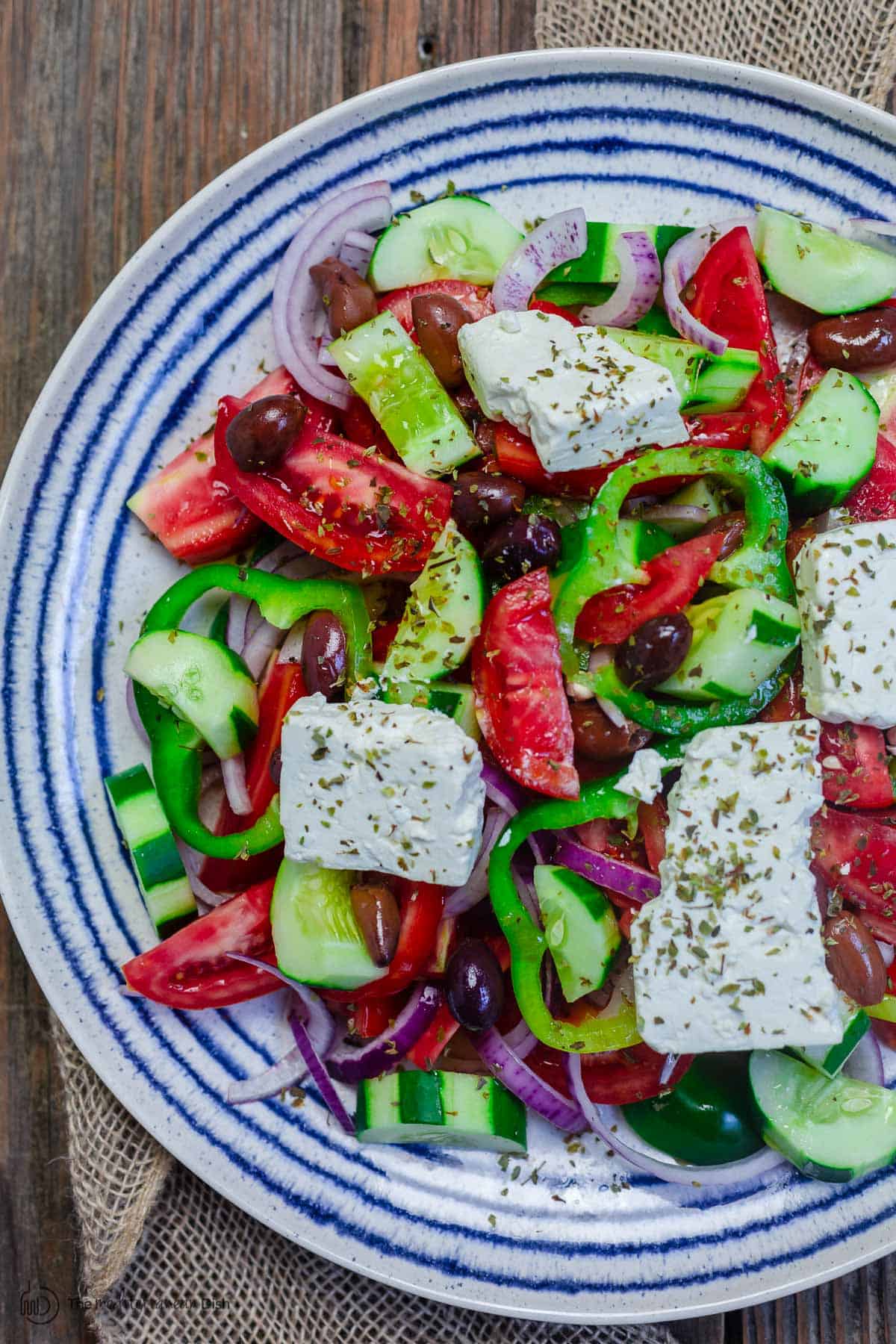 Chickpeas share much of the glory with hard-boiled eggs in this simple, Mediterranean-style egg salad. And cucumbers, green onions, and celery provide great crunch.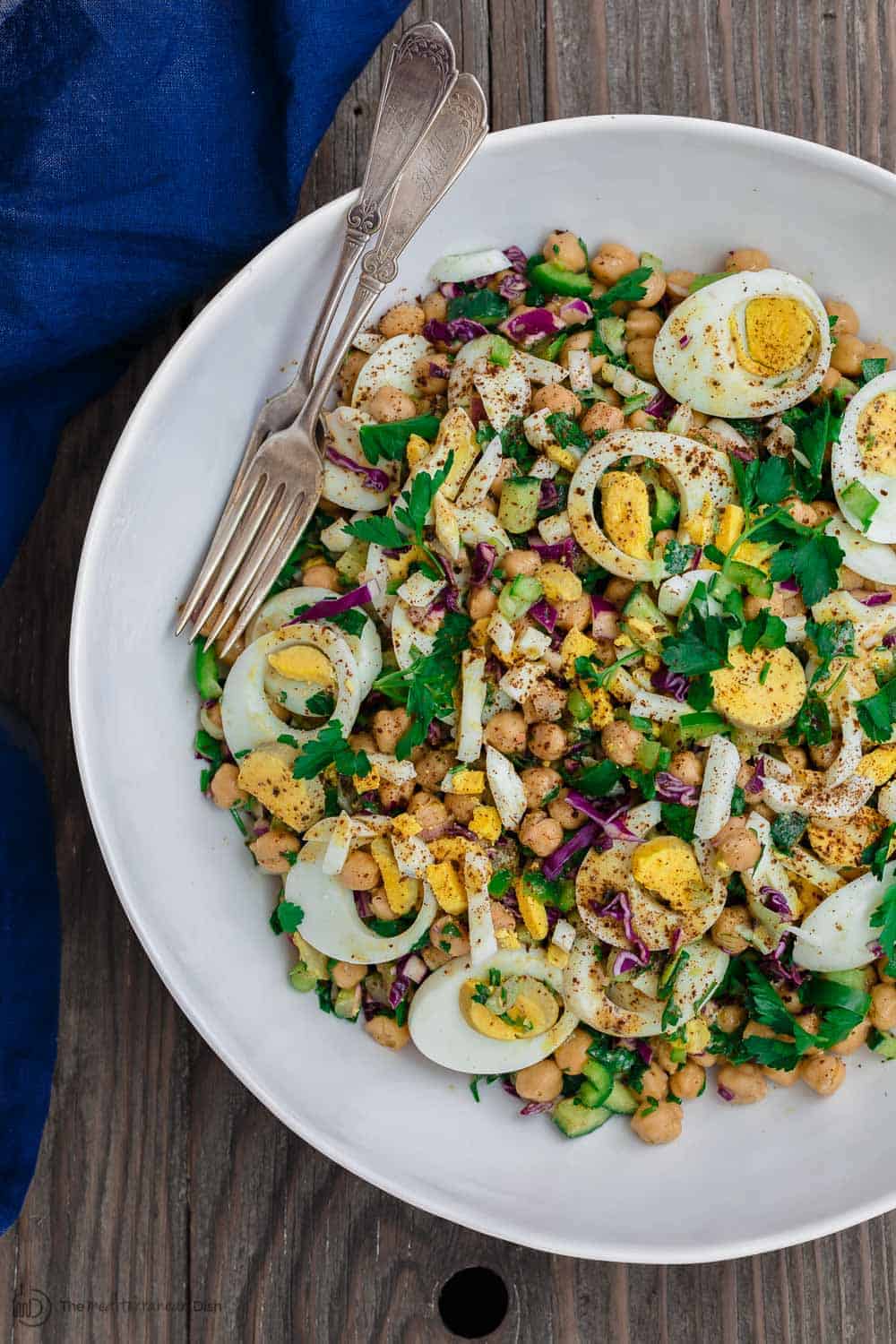 Greek Tzatziki--yogurt and cucumber sauce--is the perfect accompaniment to meat and poultary dishes. Serve it on the side with your lamb or as part of the appetizer buffet with warm pita.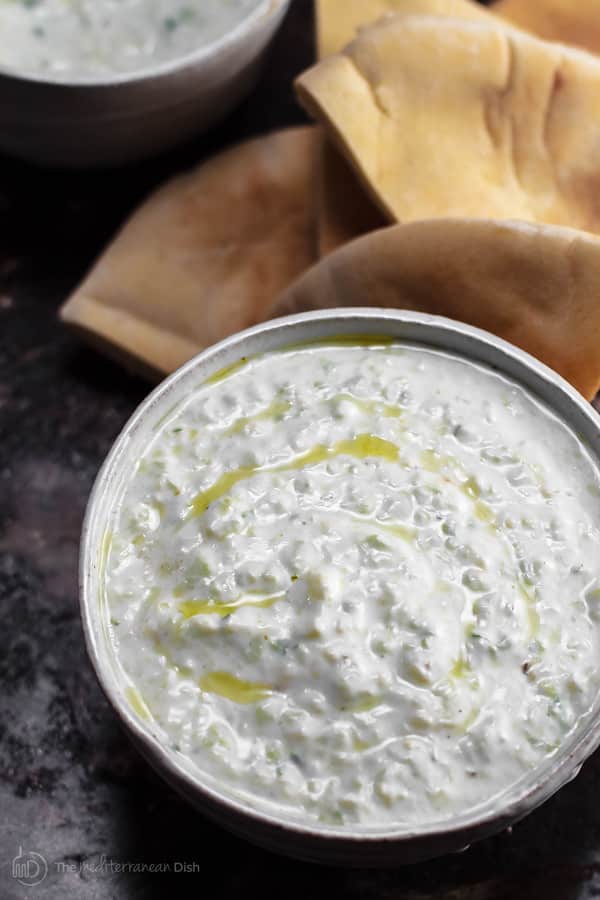 21. Classic Creamy Hummus and Veggies
There are a couple of tricks to making the BEST creamy hummus out there. This is a simple dip that is always a winner at my house.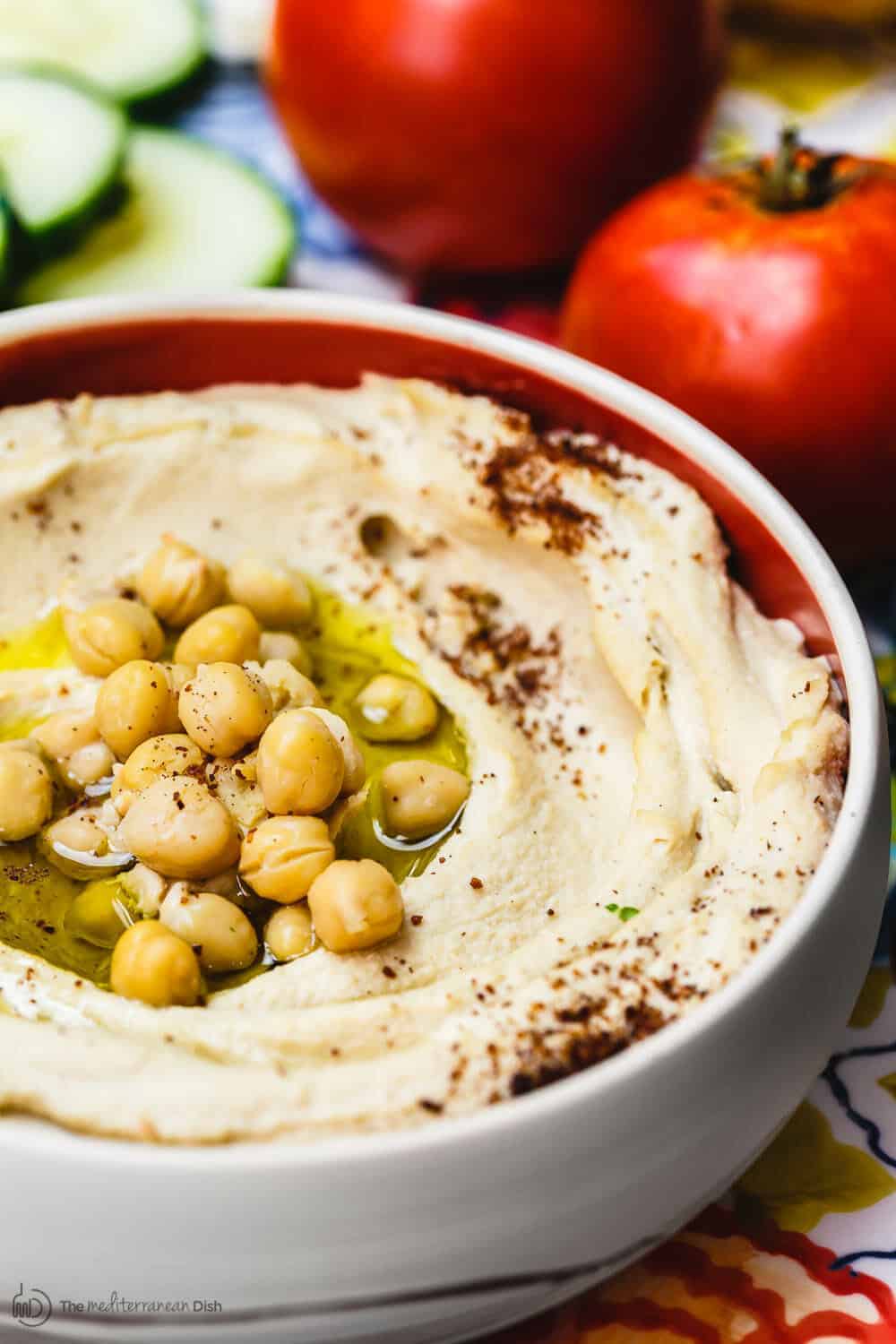 Easter desserts and breads
Tsourike (Greek Easter Bread) is a sweet yeast bread that is a bit brioche-like. You'll love this dense braided loaf that's adorned with red-dyed eggs. This bread is as delicious as it is meaningful.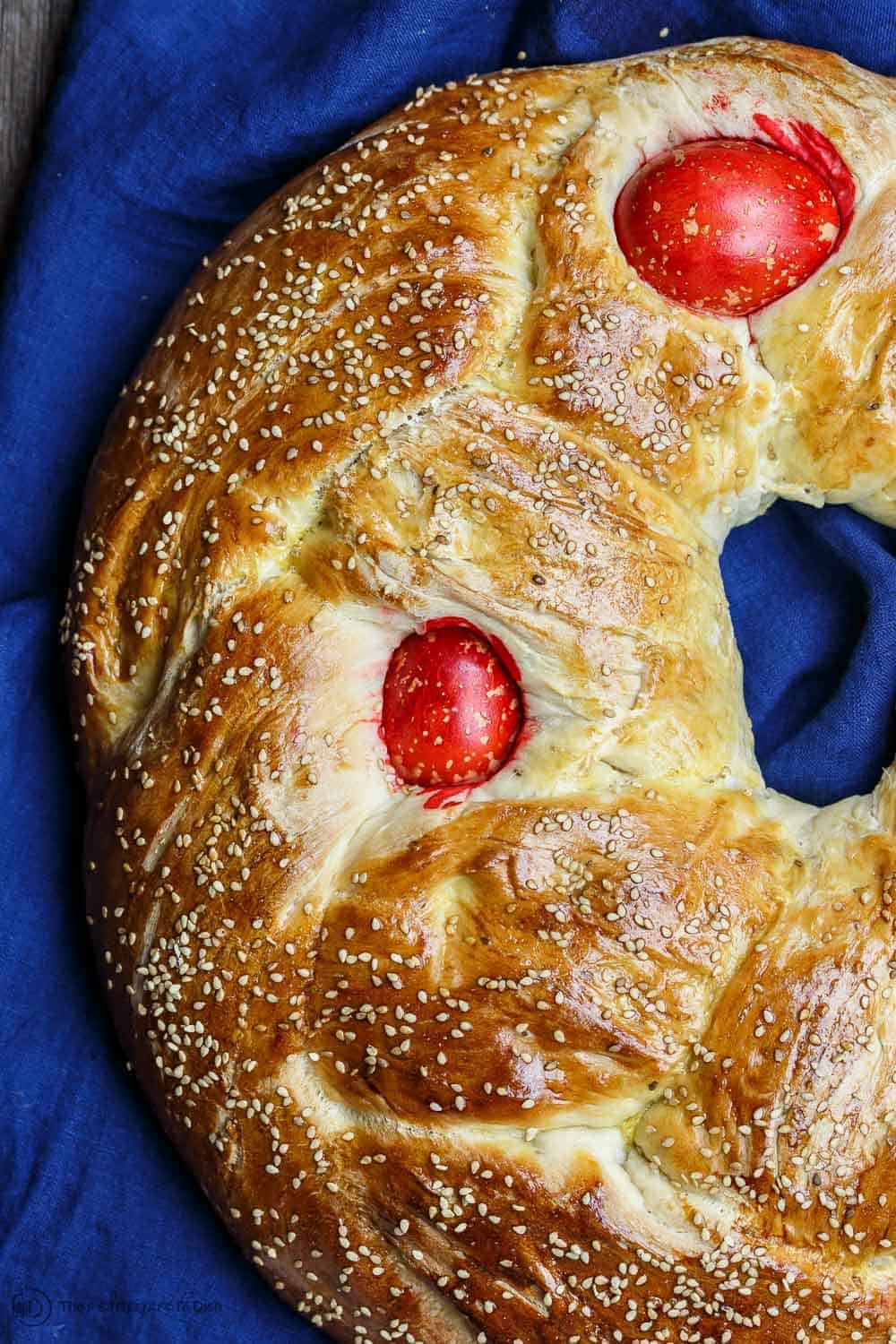 23. Greek Orange Honey Cake with Pistachios.
An inspiration from the island of Aegina, where pistachios and honey from local beekeepers are aplenty. This easy cake is a must-try (Easter or not), perfectly moist with tons of flavor!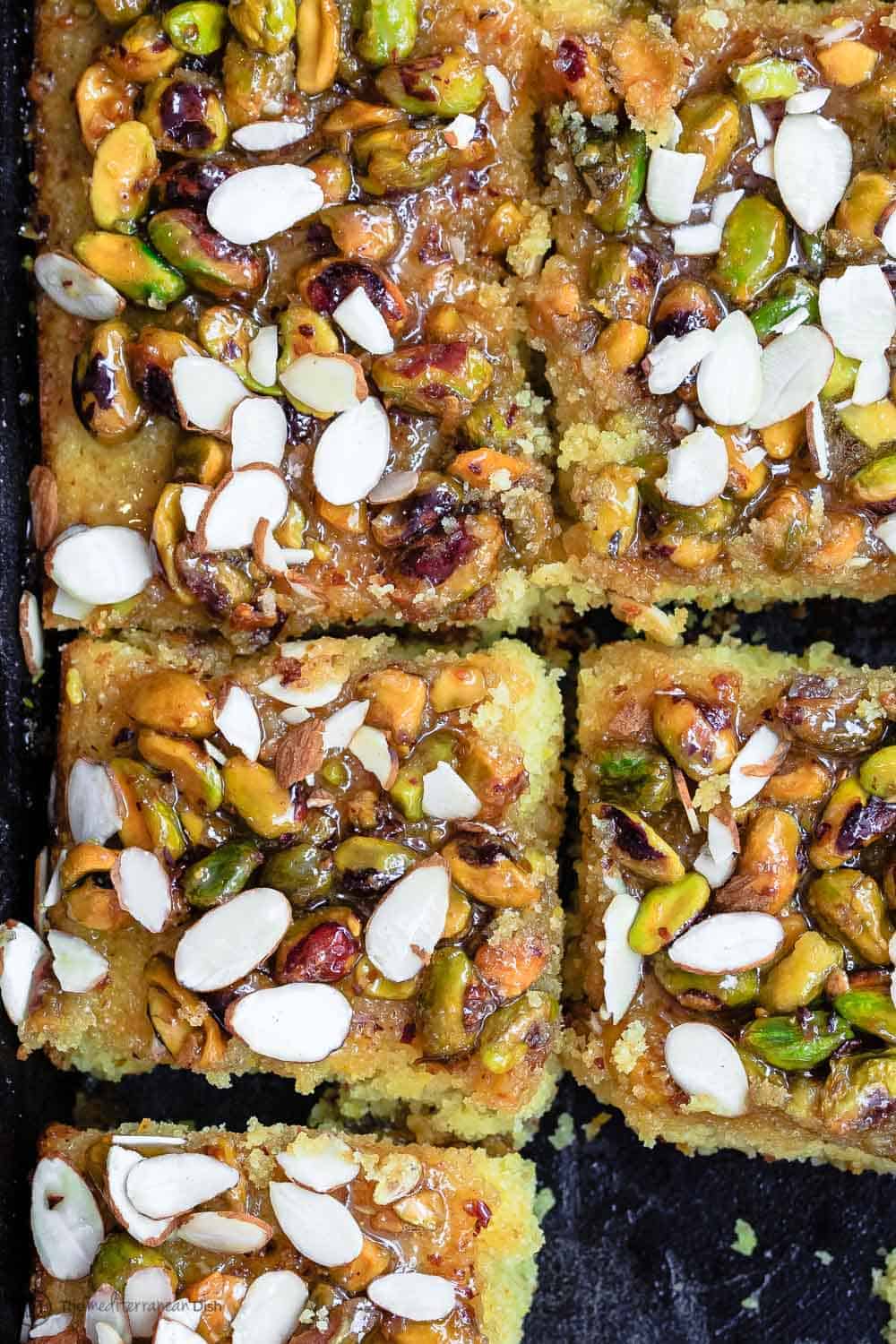 24. Tahini brownies
Super fudgy brownies, laced with nutty sesame tahini. This easy dessert will surprise your taste buds in the best way possible!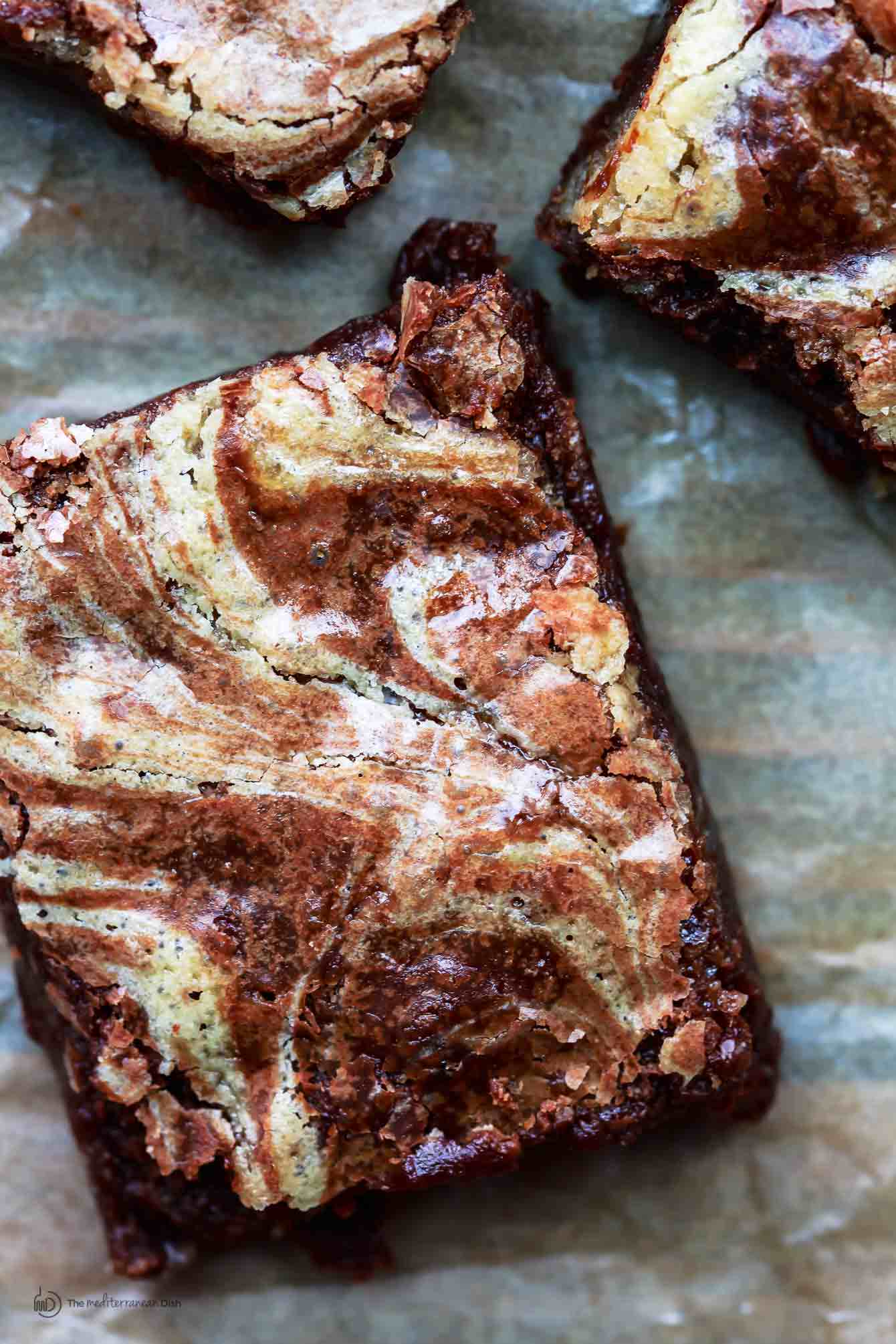 25. Bakalava
Perfectly crispy, appropriately honeyed layers of phyllo
with my favorite spiced nut mixture of pistachios, hazelnut and walnuts. A guaranteed winner! You can make this ahead of time; it's even better after one or two days. Recipe comes with step-by-step tutorial and video.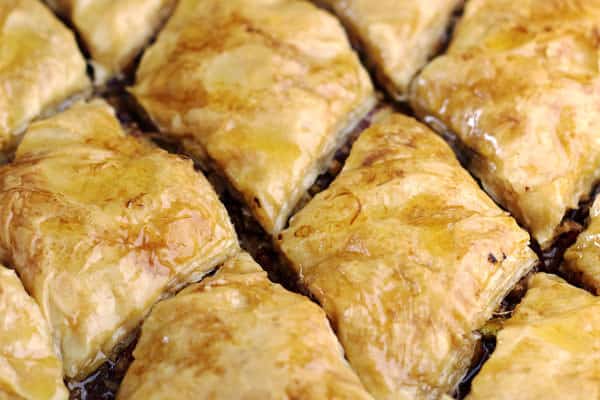 I can't wait to see what's on your Easter menu! Be sure to stop by and let me know and tag me on Instagram @themediterraneandish
*Note: This post has been updated for readers' benefit.