This is hummus 101 from the experts at The Mediterranean Dish. If you want to learn how to make hummus–authentic, creamy, best hummus you'll ever have–this recipe is all you need!  I'm excited to share with you my family's homemade hummus recipe, complete with all the tips and tricks you need to know! 
When I have friends over for mezze night, I like to serve this hummus with my quick homemade pita chips and other Mediterranean favorites like baba ganoush, tabouli, and falafel!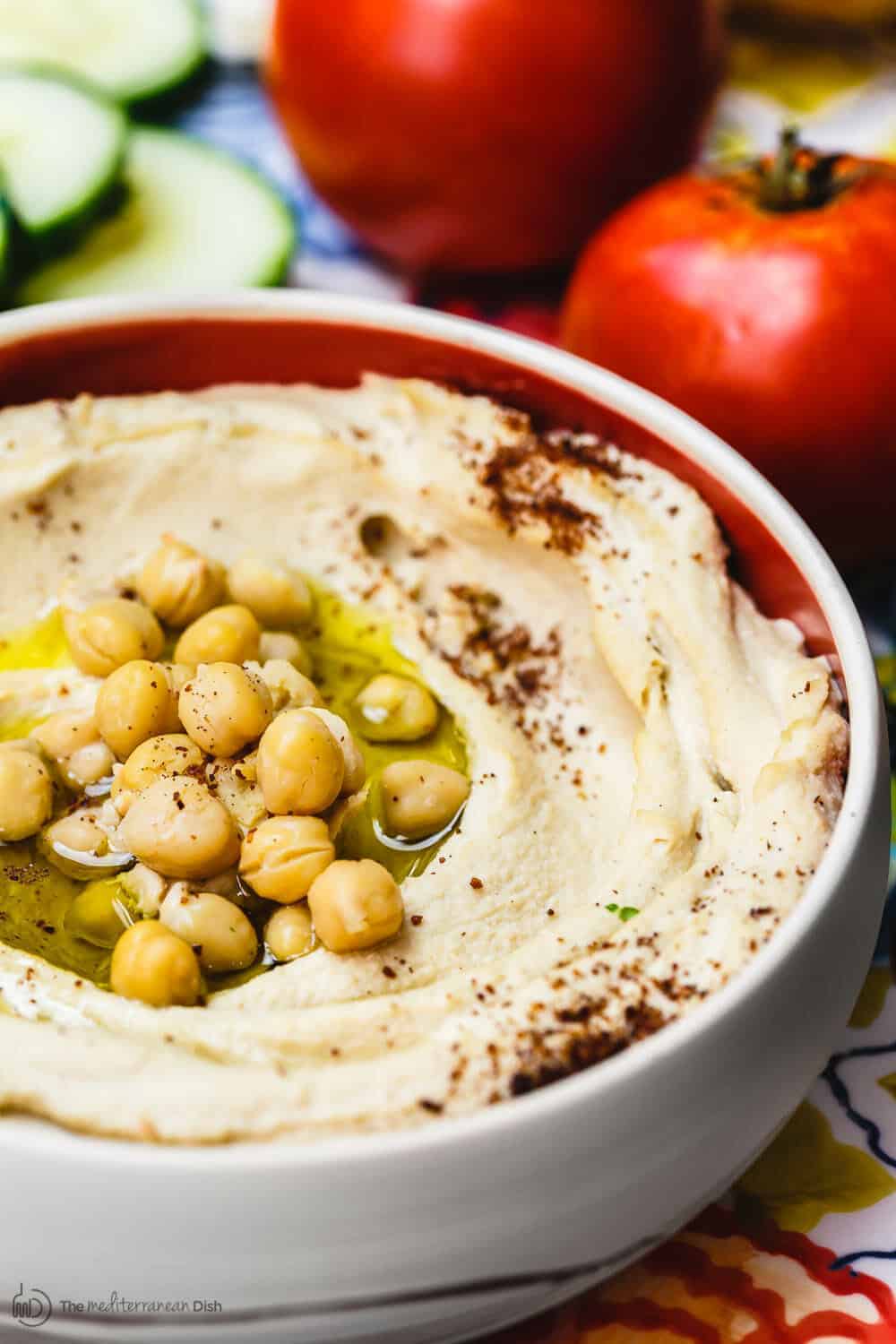 What is hummus?
Most everyone knows hummus. It's the quintessential Middle Eastern dip made by blending chickpeas with tahini, garlic and citrus. Best served with pita! And in my opinion, no mezze is complete without a bowl of creamy hummus and some warm pita!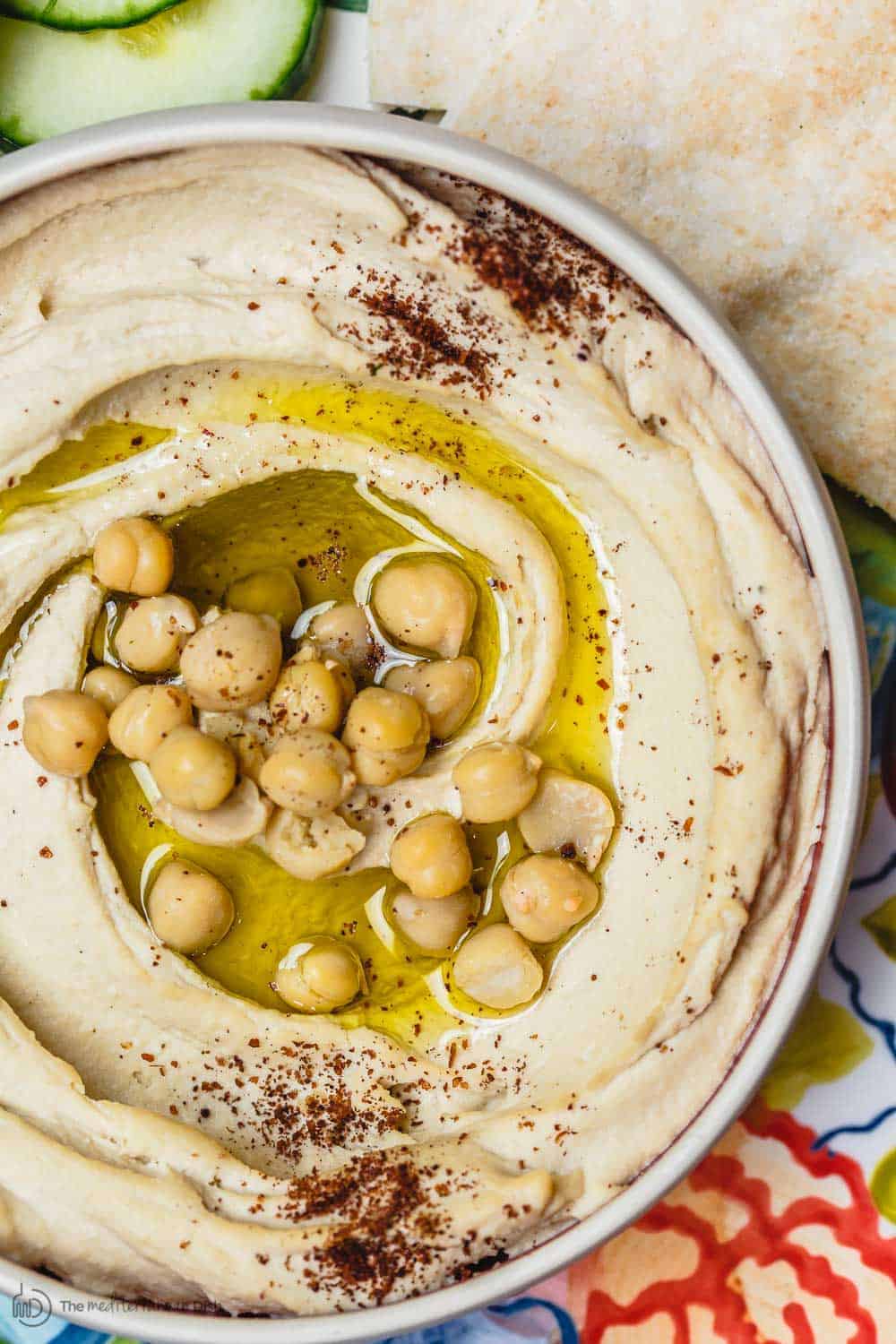 What's in a classic Homemade Hummus recipe?
I enjoy hummus in all its forms—roasted garlic hummus; roasted red pepper hummus; and even avocado hummus.  Still, I have a big soft spot for just classic, plain hummus.
There are four main ingredients that make this hummus recipe: chickpeas, tahini (sesame paste), lemon juice, and a little fresh garlic.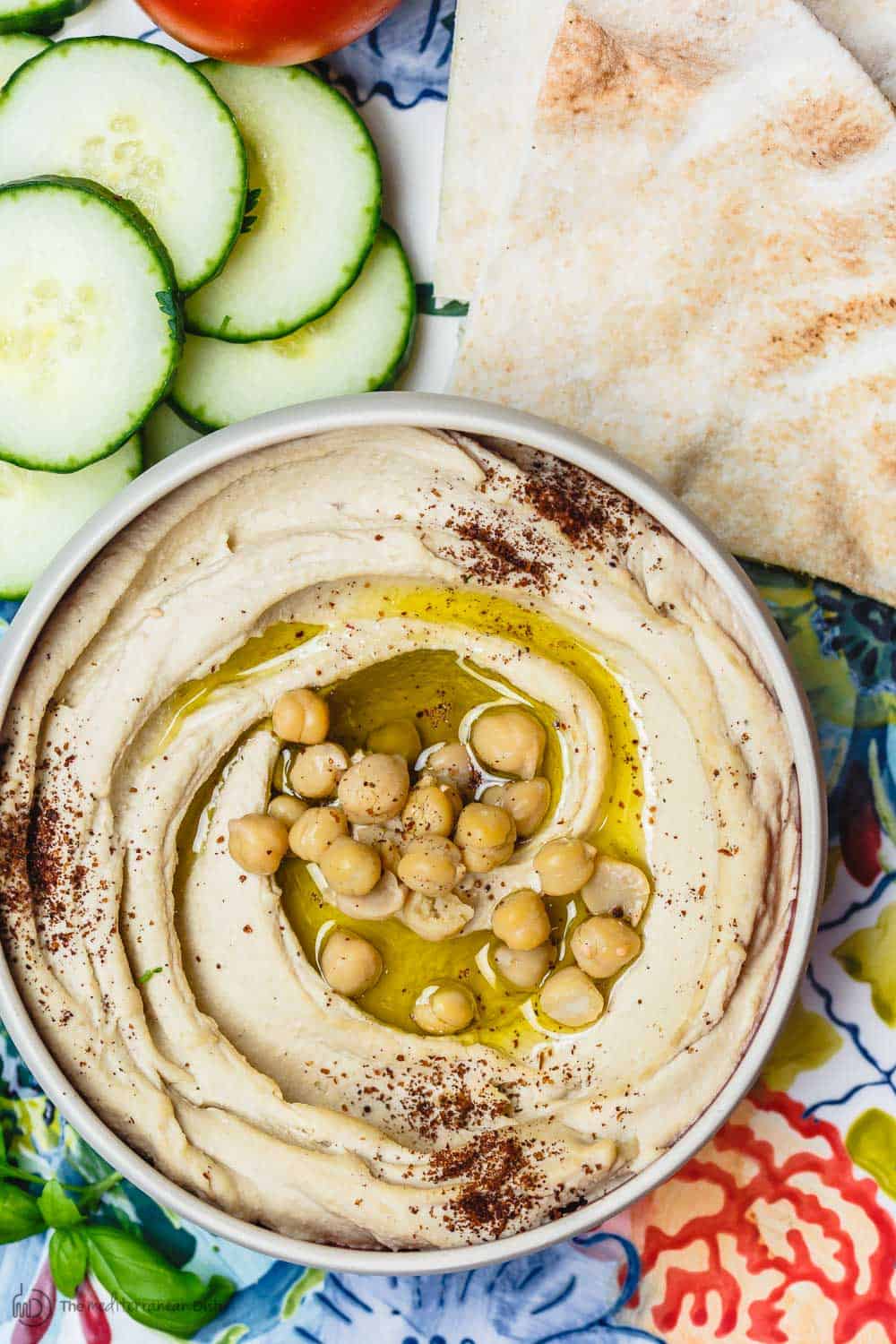 Tips for how to make hummus (the BEST extra smooth hummus)
Although the list of ingredients is short and predictable, not all hummus recipes are created equal.
It goes without saying, hummus kinda begins and ends with quality chickpeas. If you can, use dry chickpeas (they will require soaking overnight, then cooking for 2 hours or so). In a pinch, quality canned chickpeas will work (I prefer organic, no-salt-added.) But to get the best, creamiest homemade hummus, I have 3 important tips for you: 
1.Remove the chickpeas skins. I don't always do this step (case in point, this roasted red pepper hummus). But it really does make a difference. The easiest way to remove the skins is by placing cooked (or canned chickpeas) in hot water and adding about 1 ½ teaspoon of baking soda. Let it soak for 15 minutes or so, then rinse chickpeas under cold water and rub the skins off.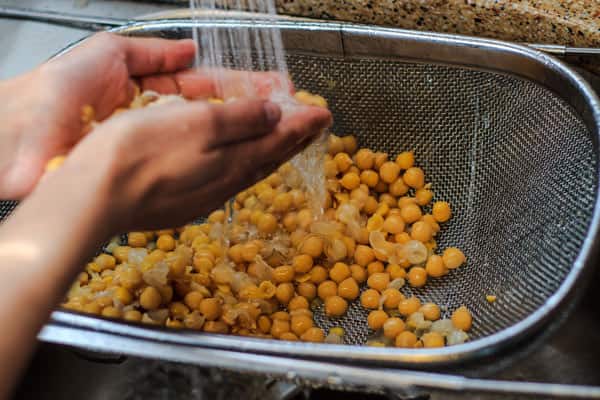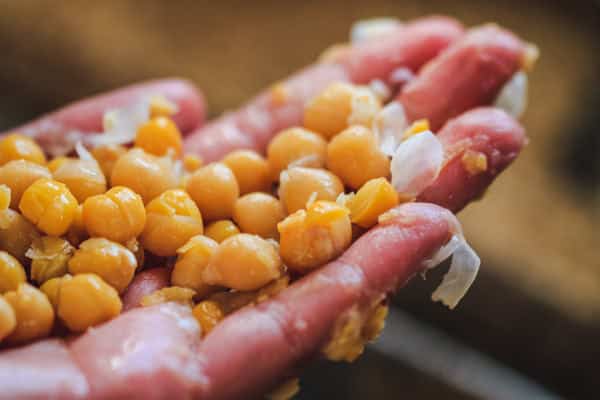 2. Add ice cubes as hummus mixture blends. This is a trick I learned from my mother-in-law who is a master of the Levant kitchen. The ice cubes help in whipping the hummus into a creamier texture–kinda like freshly churned ice-cream.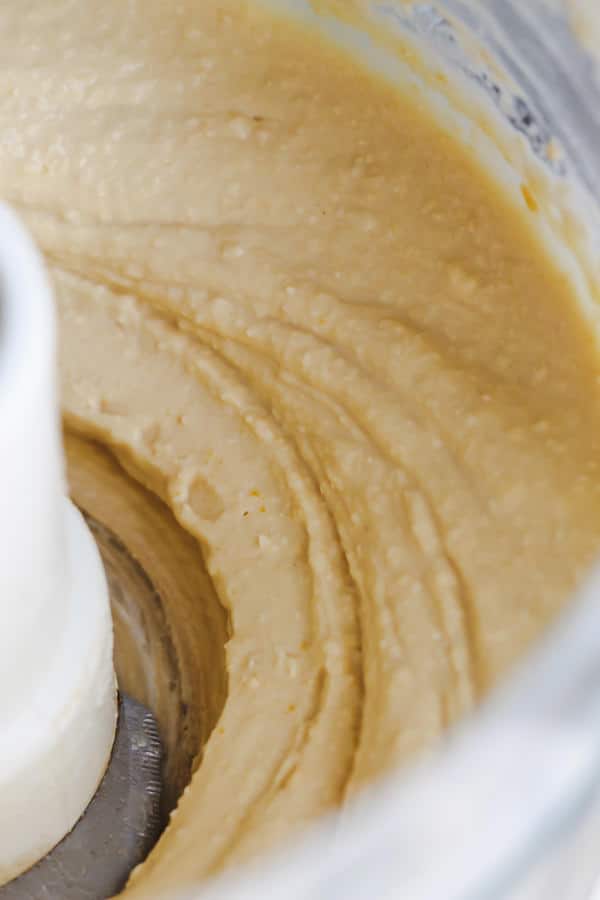 3. You will want to let the hummus mixture blend for a good 4 to 5 minutes.  Test, and if needed, add a tiny bit of hot water through the opener of the food processor as it's running to help continue to smooth the hummus even more.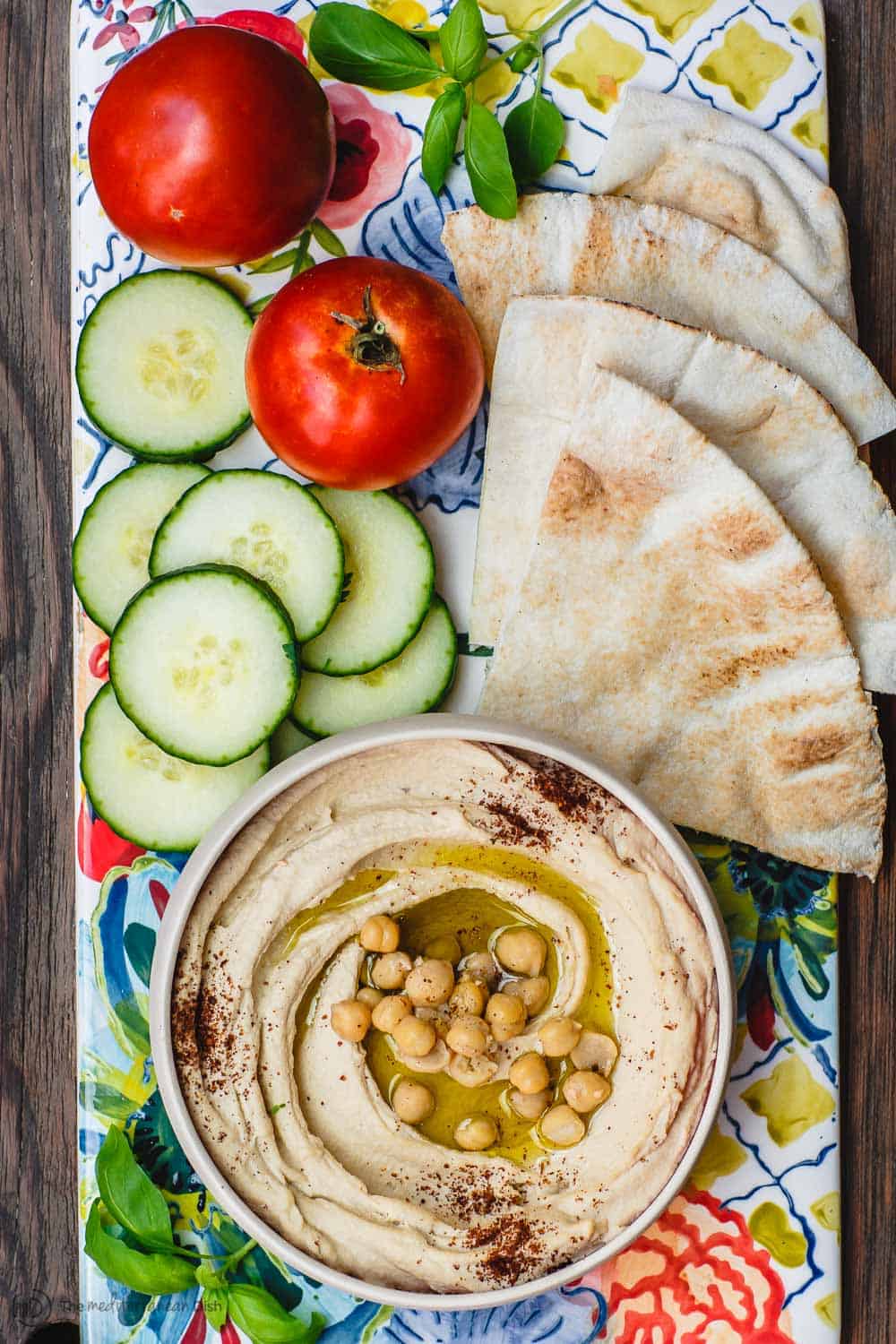 Aside from how simple and delicious hummus is, it is a wholesome protein-packed dip and really one of the healthiest, most satisfying snacks one can have. All you need is a few favorite veggies and some warm pita to serve.
A Huffington Post article gives 10 reasons we should eat more hummus. Wouldn't you eat more hummus if you knew that it will help you manage your weight and even prevent certain cancers?!
Watch the Video Below to See How I make this Hummus Recipe:
Print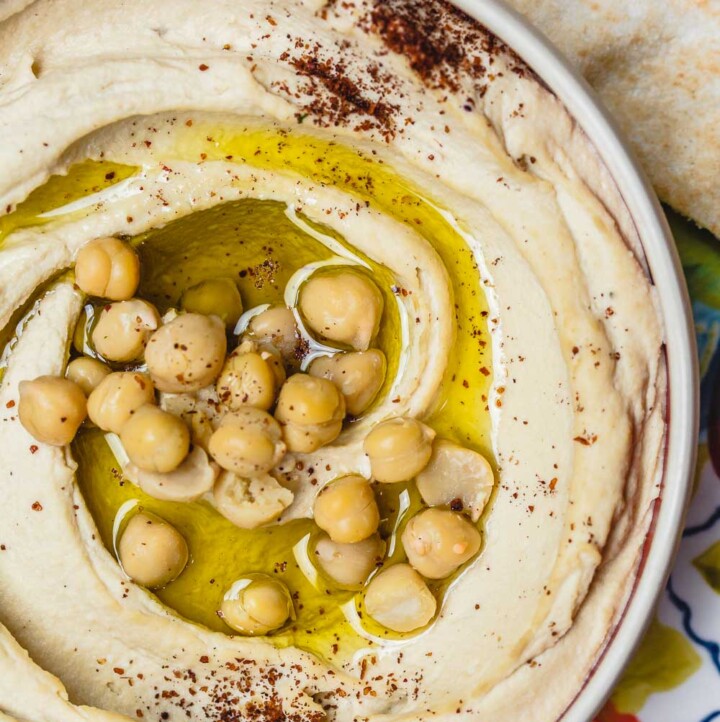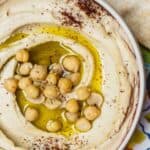 How to Make Hummus: Classic Hummus Recipe
---
Author:

The Mediterranean Dish

Prep Time:

5 mins

Cook Time:

15 mins

Total Time:

20 minutes

Yield:

serves up to 8 people
Description
How to make hummus the traditional way. No fuss. No extra flavors added. Just a plain, classic homemade hummus recipe. And a couple of tricks will ensure you achieve the best hummus ever–thick, smooth, rich, and ultra creamy. Be sure to see the video tutorial as well.
---
Scale
Ingredients
3 cup

s (

200 gram

s) cooked chickpeas, peeled (from 1 to

1 1/4 cup

dry chickpeas or from quality canned chickpeas. See recipe notes for more instructions on cooking and peeling chickpeas)

1

to

2

garlic cloves, minced

3

to

4

ice cubes

1/3 cup

  (

79 gram

s) tahini paste

½ tsp

kosher salt
Juice of

1

lemon
Hot water (if needed)
Early Harvest Greek extra virgin olive oil
---
Instructions
Add chickpeas and minced garlic to the bowl of a food processor. Puree until a smooth, powder-like mixture forms.
While processor is running, add ice cubes, tahini, salt, and lemon juice. Blend for about 4 minutes or so. Check, and if the consistency is too thick still, run processor and slowly add a little hot water. Blend until you reach desired silky smooth consistency.
Spread in a serving bowl and add a generous drizzle of Early Harvest EVOO. Add a few chickpeas to the middle, if you like. Sprinkle sumac on top. Enjoy with warm pita wedges and your favorite veggies.
---
Notes
To cook dry chickpeas: soak chickpeas in plenty of water overnight (water needs to be at least doubled the volume of chickpeas). When ready, drain chickpeas and place them in a medium-sized heavy cooking pot. Cover with water by about 2 inches. Bring to a boil, then reduce heat and simmer for 1 1/2 to 2 hours.
If using canned chickpeas, make sure they are drained and rinsed.
To peel chickpeas (cooked or from a can): cover cooked chickpeas in hot water and add 1 1/2 tsp baking soda. Take a handful of chickpeas and rub under running water to remove the skins. Place peeled chickpeas in a bowl.
I used to add 1 to 2 tbsp Greek yogurt to hummus to also add some creaminess, but with this recipe (and tips mentioned above) this is not needed
Recommended for this recipe: the best way to finish this hummus is with a generous drizzle of our excellent Early Harvest Greek extra virgin olive oil and a few sprinkles of sumac.  Find Early Harvest EVOO here; find Sumac here. SAVE! Try our Greek extra virgin olive oil bundle! Try our Ultimate Mediterranean Spice Bundle! 
Category:

Appetizers

Method:

Food processor or blender

Cuisine:

Middle Eastern
Keywords: how to make hummus, hummus recipe
*Note this post has been revised and republished for the benefit of our readers.
More Recipes to try
One-Pot Greek Chicken and Orzo 
Middle Eastern Stuffed Zucchini