Wondering what to make with too much zucchini? This list of delicious zucchini recipes is all you need. Everything from easy sides like grilled zucchini spears to dinner casseroles and even zucchini chips!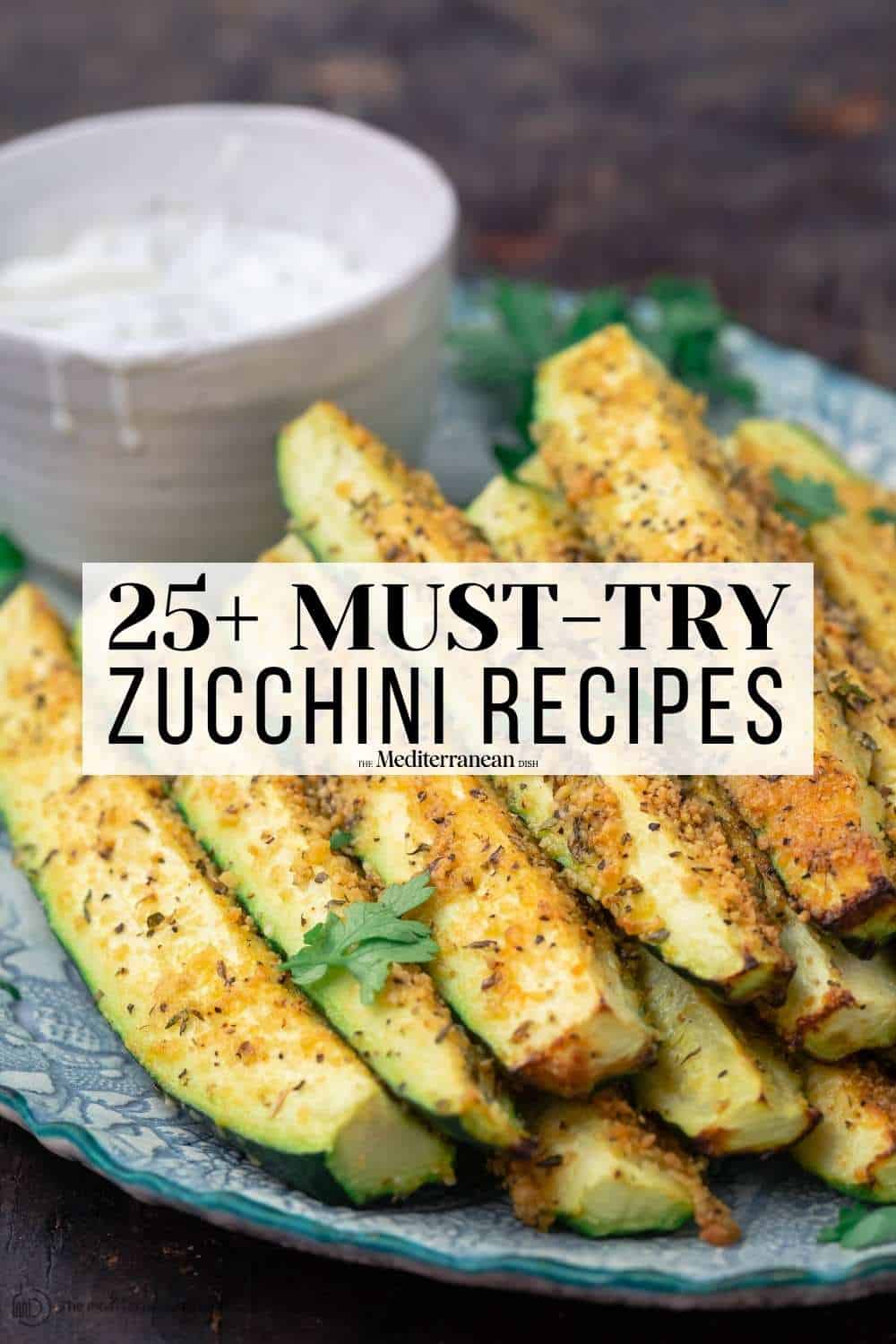 Zucchini!
A staple Mediterranean diet ingredient, zucchini boasts some great benefits. It is high in antioxidants, rich in nutrients and vitamins, and because of its high water and fiber content, it also promotes healthy digestion by reducing your risk of constipation.
Right around mid-July, gardens and markets are abundant with zucchini, and if you're one of the lucky ones who ended up with a few too many zucchinis, it's time to put them to good use!
Luckily, zucchini is a versatile ingredient that you can eat in a salad or sliced and dipped in your favorite dip. You can also cook zucchini many different ways: sautéed simply in a pan with a bit of good olive oil, roasted with other veggies, sliced and tossed in pasta, a pot of homemade vegetable soup, or turned into boats to hold a delicious mixture of tomatoes and fresh herbs for the perfect summer appetizer!

There are so many ways to cook zucchini, and I am sharing 25 easy zucchini recipes to get you started.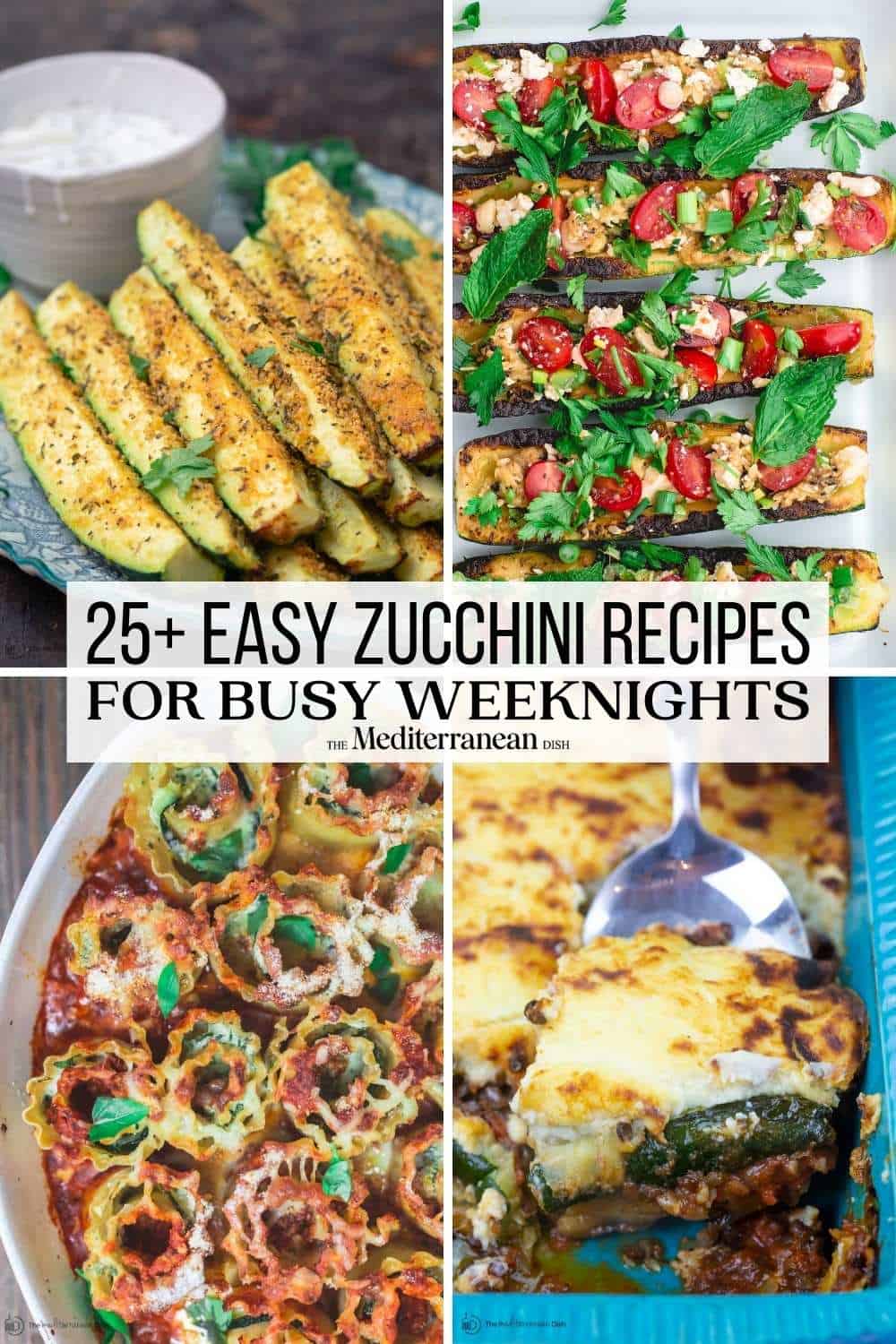 Our top 5 best zucchini recipes
These tasty zucchini recipes are fan favorites on the site, and also on my regular dinner rotation at home! They're delicious, wholesome, and simple to prepare. Check them out:
Baked Zucchini Recipe with Parmesan Cheese and Thyme
Crisp and tender baked zucchini fries with a golden crust of Parmesan, thyme and oregano. Serve these gluten-free Italian-style zucchini batons hot, with a dipping sauce like tzatziki.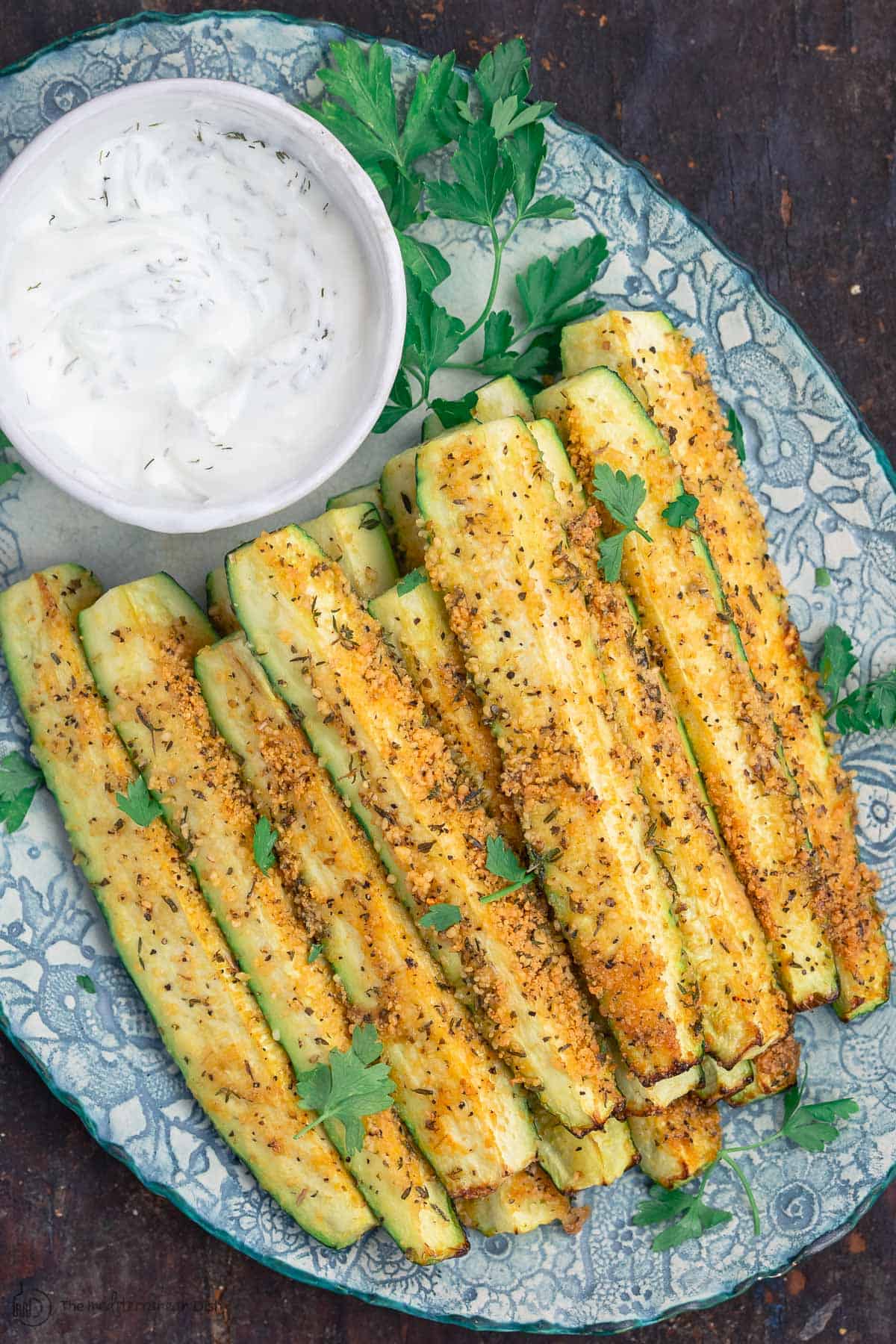 This roasted vegetable moussaka with eggplant, potatoes, and zucchini with a chunky tomato-lentil sauce is simply the best. Hearty, superbly delicious, and filled with nutrients. Even meat lovers won't miss the meat!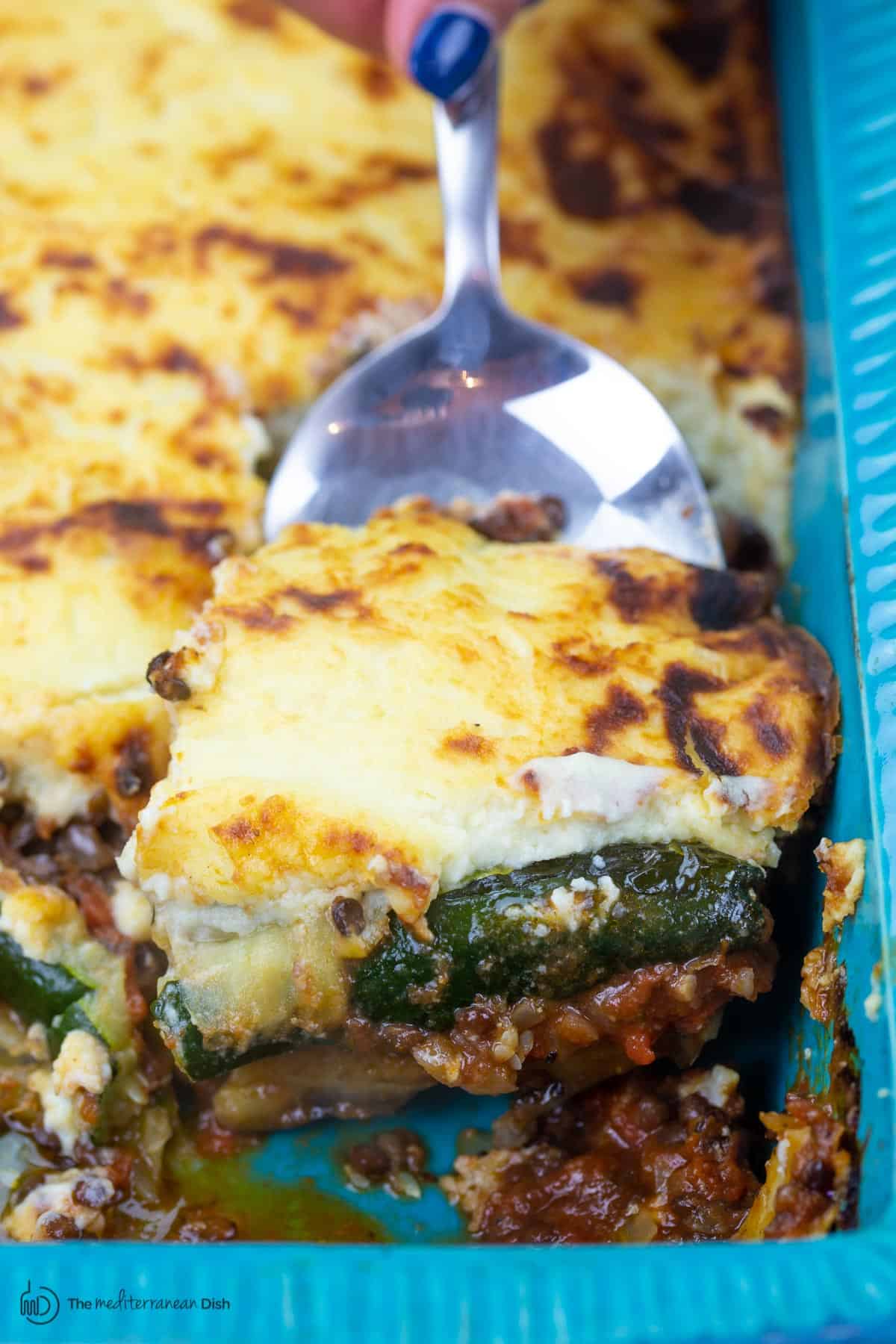 Looking for a 20-minute appetizer or side dish? Loaded zucchini boats are your ticket! You'll love the Mediterranean vibes from tomato, feta cheese, and plenty of fresh herbs.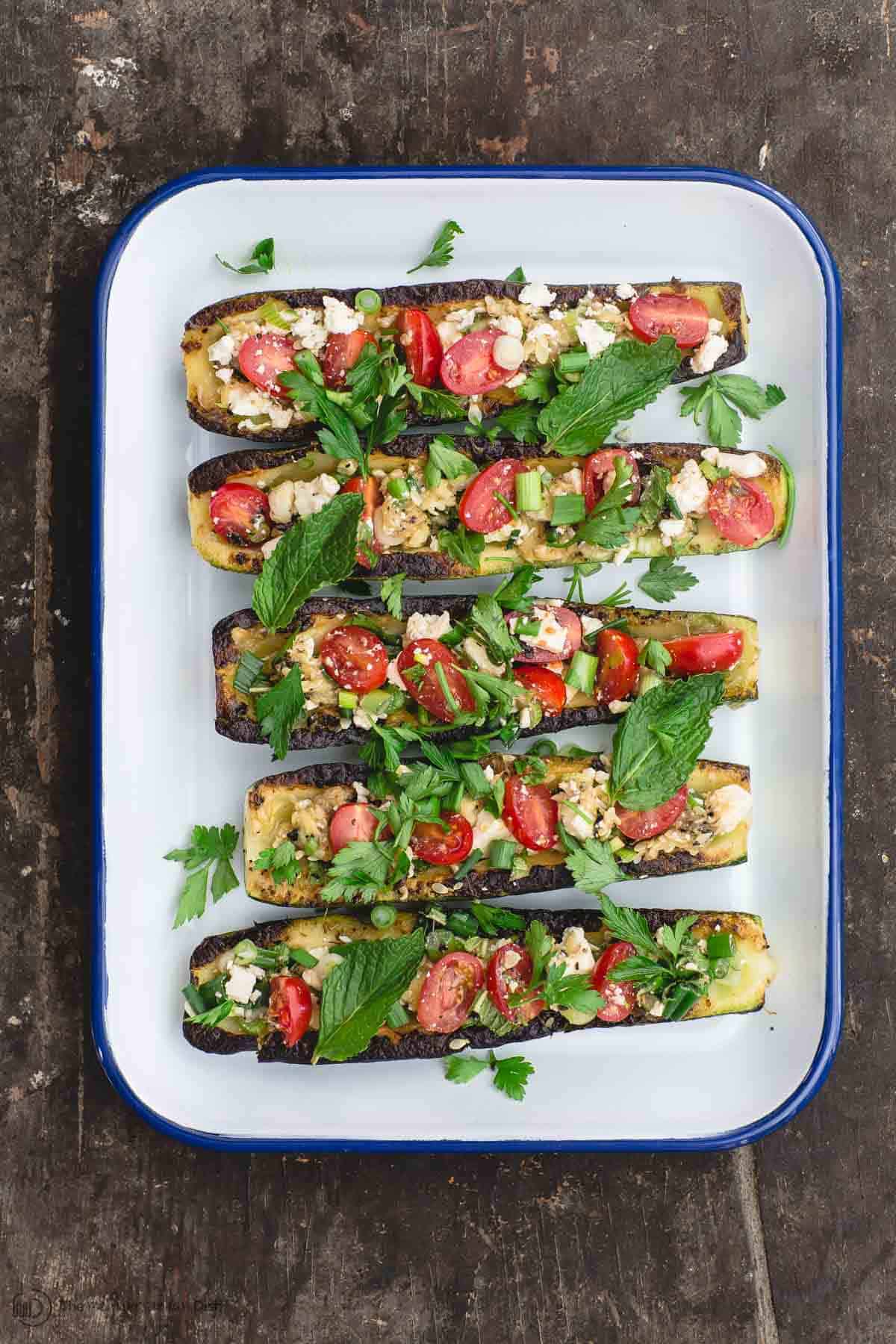 Skillet Zucchini Recipe with Balsamic Glaze
This incredibly easy side dish is perfect if you're short on time! And while I share instructions for how to make homemade balsamic glaze, you can save time by using store-bought instead. This zucchini recipe pairs well with steamed salmon, Greek keftedes, and grilled chicken.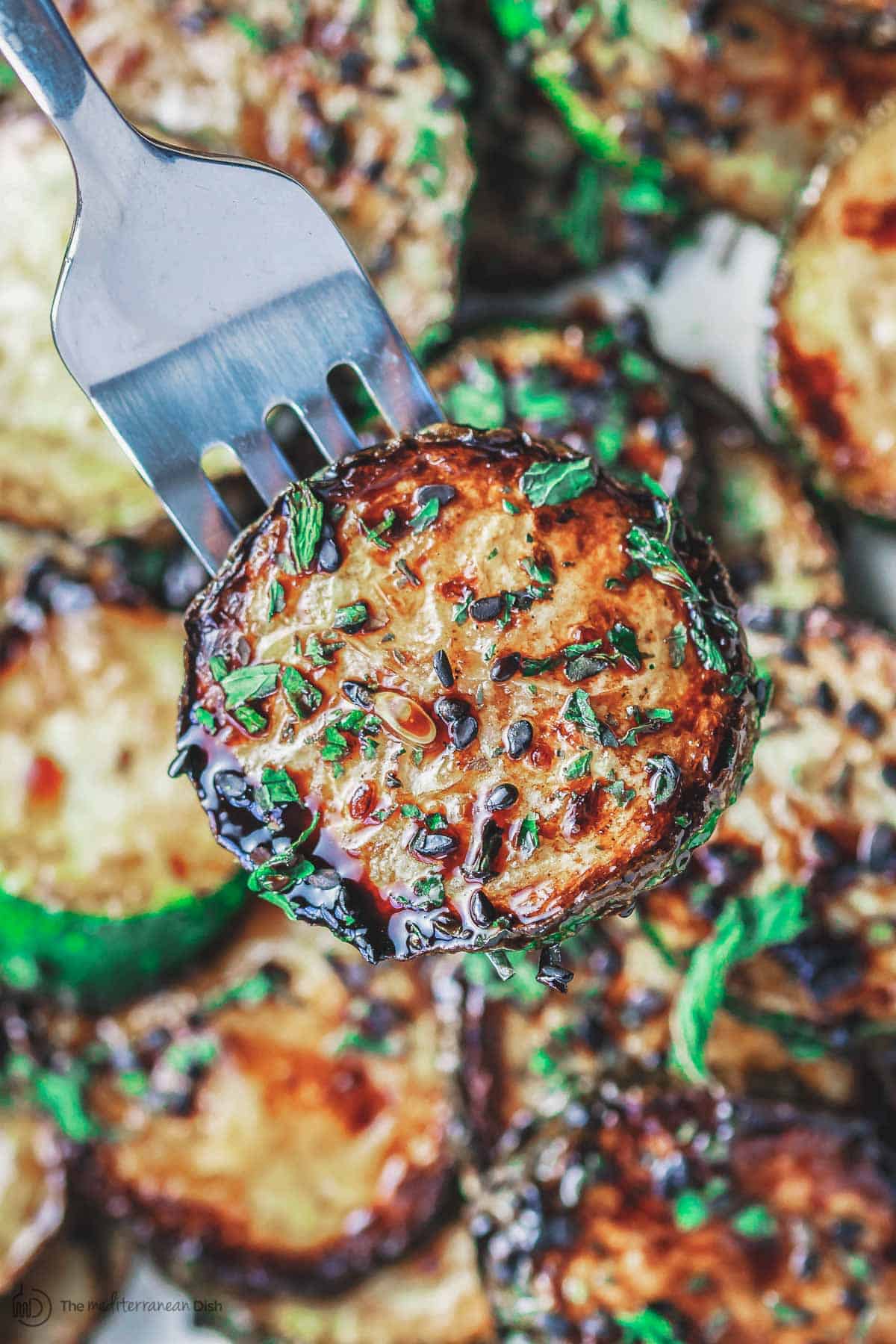 This twist on classic lasagna is delicious, satisfying, and super simple to make! If you'd like to work ahead, you can completely assemble the zucchini lasagna roll-ups and refrigerate (for up to one night), but don't bake them until you're ready.
Baked zucchini recipes
One of my favorite ways to cook zucchini is in the oven, because I can pretty much let the oven do the hard work while I prepare the other parts of my meal! Here are some baked zucchini recipes to try:
These crispy, addictive zucchini chips are sure to become your new favorite snack! Be sure to slice your zucchini thinly for best results. (I always use a mandolin so all my slices are uniform in thickness.)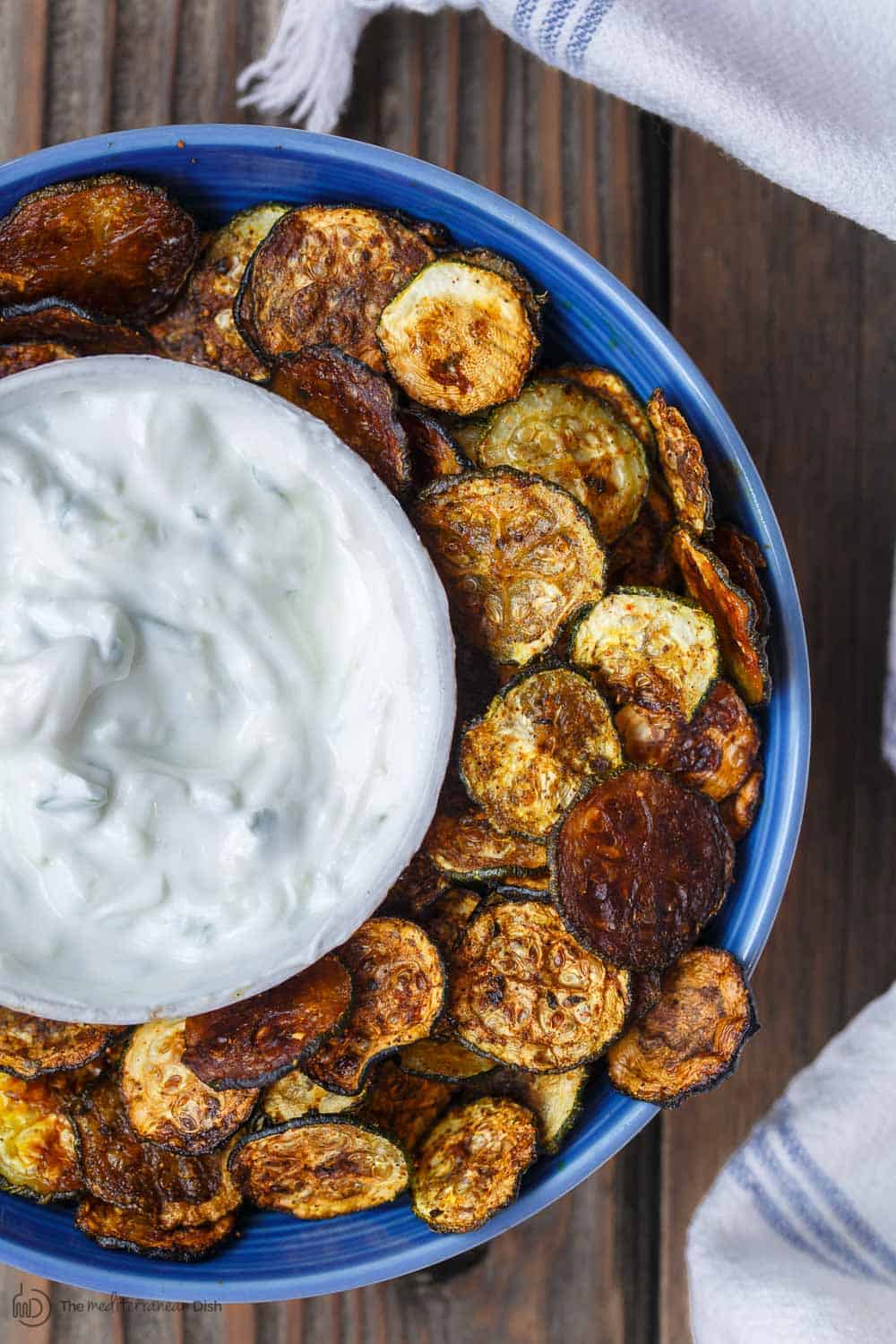 Sheet Pan Chicken and Vegetables
Simple, hands-off Italian-style baked chicken and vegetables (zucchini, red bell peppers, and broccoli) ready in 30 minutes or less! One of my favorite sheet pan dinners, this recipe is delicious over your favorite pasta or grain.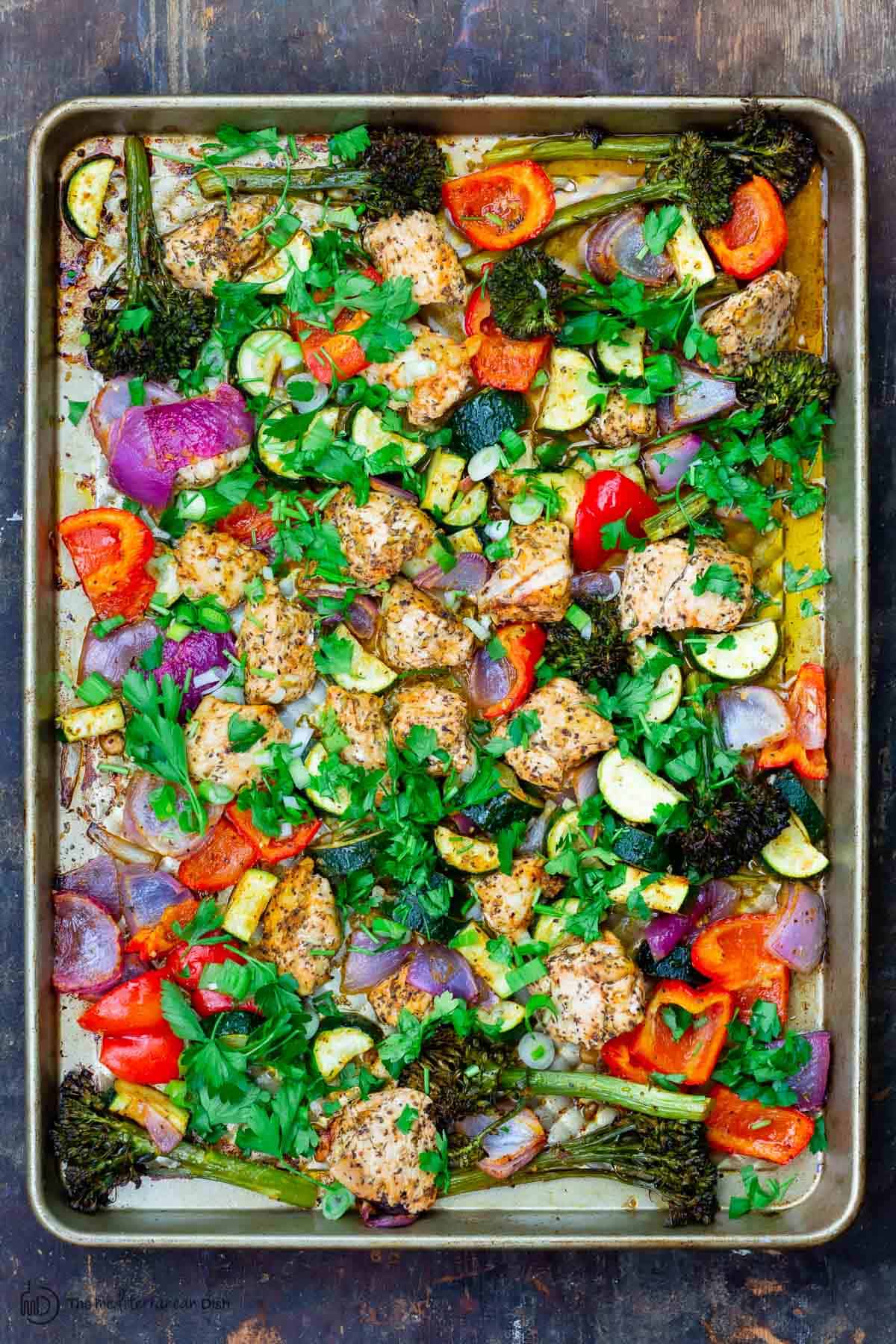 Zucchini side dishes
Zucchini is an unfussy, mild-flavored vegetable that complements a huge variety of main dishes. Whether by itself or paired with other vegetables, zucchini is a delicious, nutritious side! Try these side dishes with zucchini:
Greek Roasted Vegetables (Briam)
A beautiful vegan Greek dish chock-full of zucchini slices, potatoes, and red onions, and overflowing with flavor! I arrange my vegetables into round rows, but you can skip this and simply arrange them flat on your baking pan – they will taste delicious no matter how they're presented!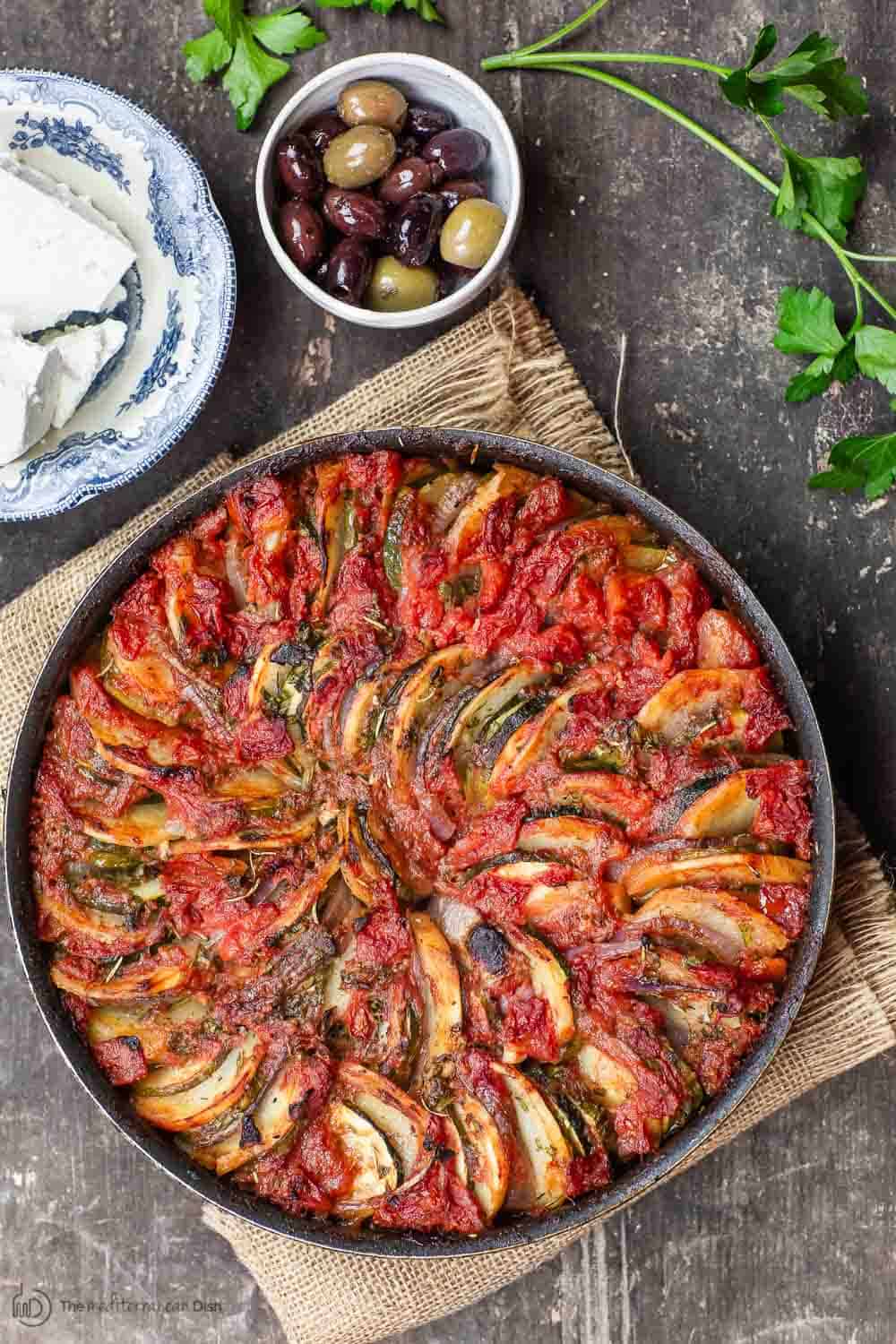 Italian Oven-Roasted Vegetables
These roasted vegetables with zucchini, potatoes, and more are so easy to throw together on busy weeknights! Serve them as a side alongside garlic Dijon chicken and boneless leg of lamb, or as a vegetarian main on a simple bed of lemon rice or quinoa.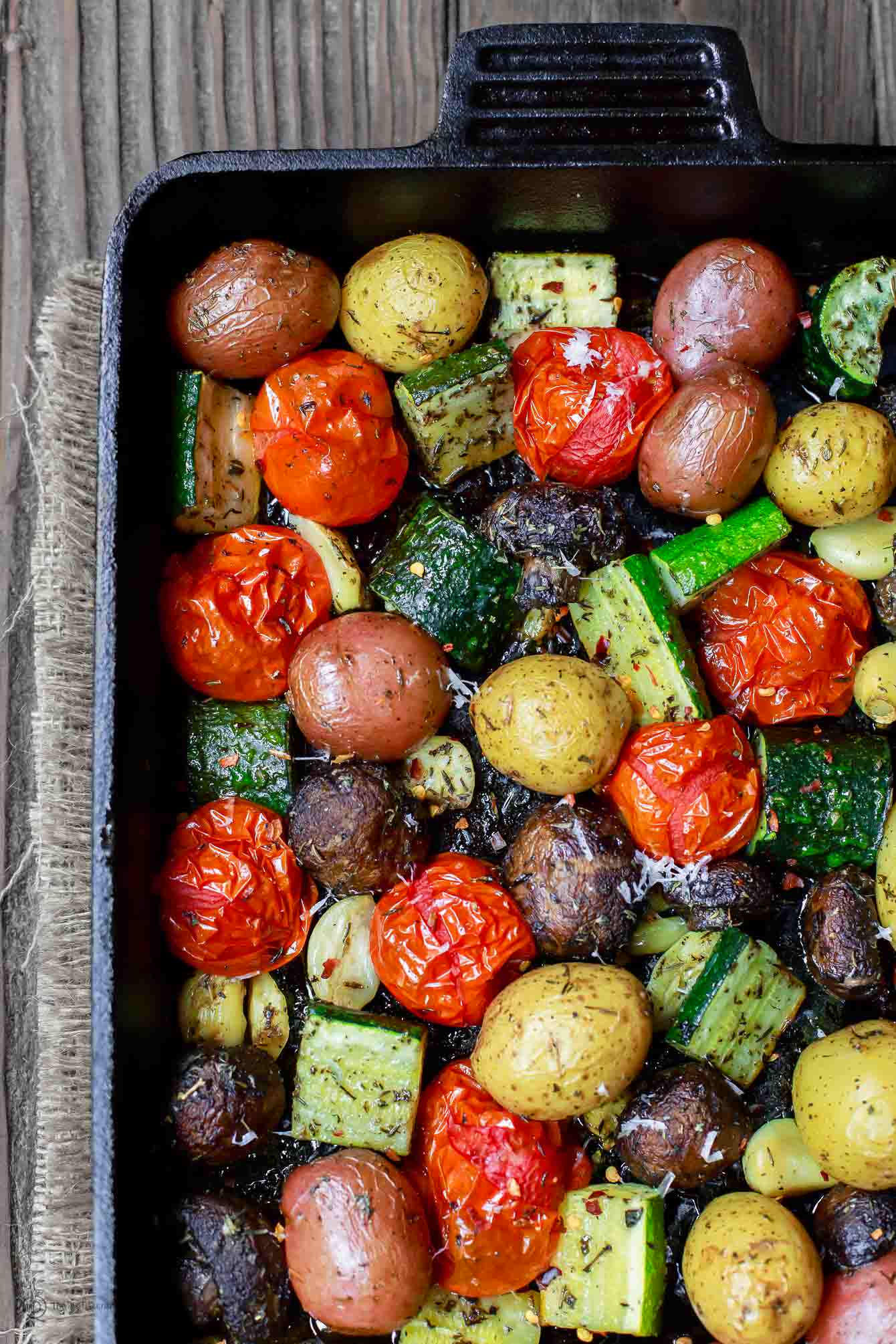 Grilled zucchini recipes
When temperatures rise and you just want to be outdoors, it's time to bring out the grill! And grilling zucchini to tender perfection is easier than you might think. Here are some grilled zucchini recipes, with tips, to try:
Mediterranean-Style Grilled Zucchini Salad
This grilled zucchini salad is so easy and delicious! All it takes is olive oil, cumin, lemon juice, garlic, and some fresh herbs to build show-stopping flavor with very little time and effort.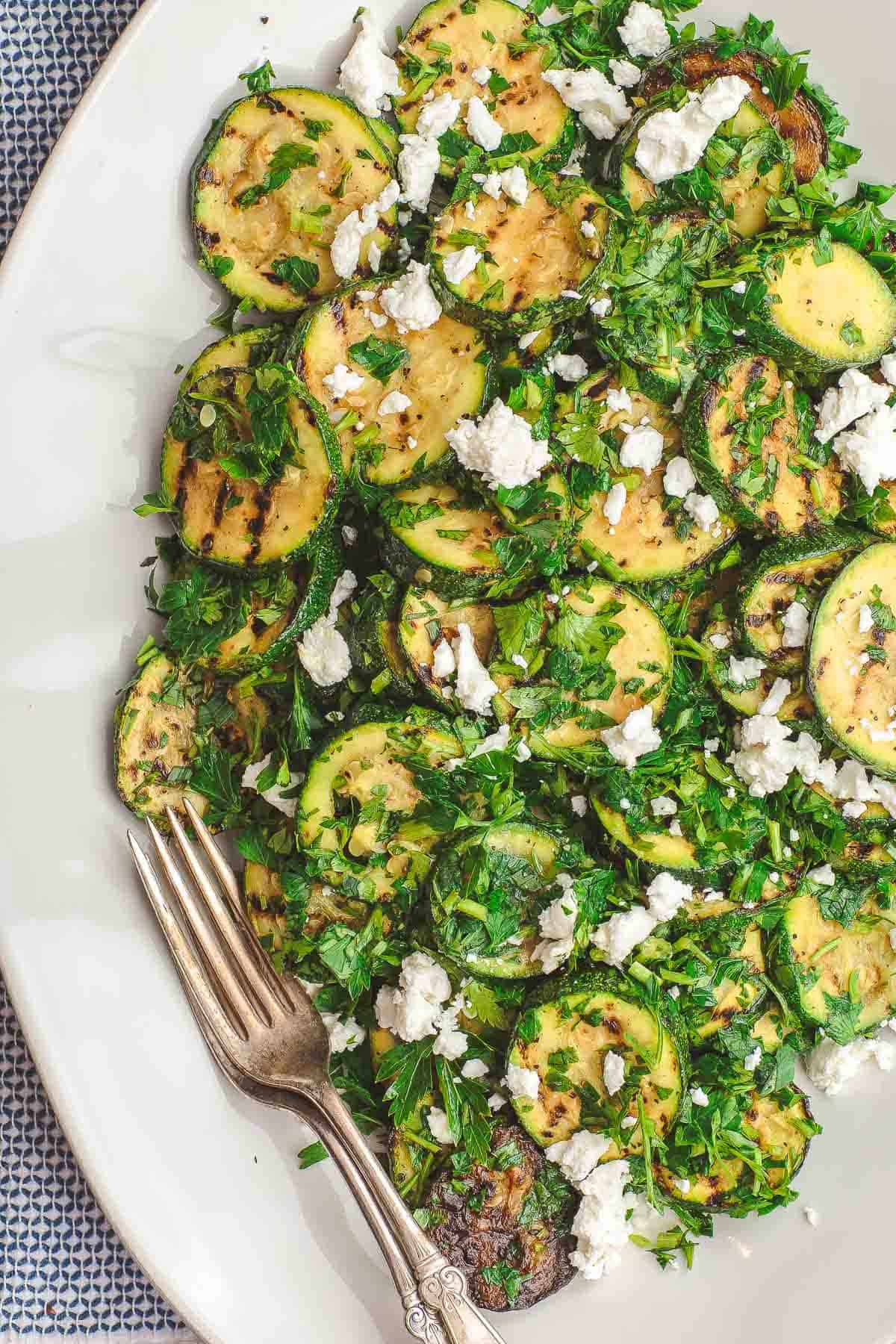 Zucchini, mushrooms, onions, grape tomatoes, and Brussels sprouts make the perfect veggie kabobs! Simply flavored with dried oregano, Aleppo-style pepper, and lemon juice, these vegetable skewers take just 10 minutes on the grill!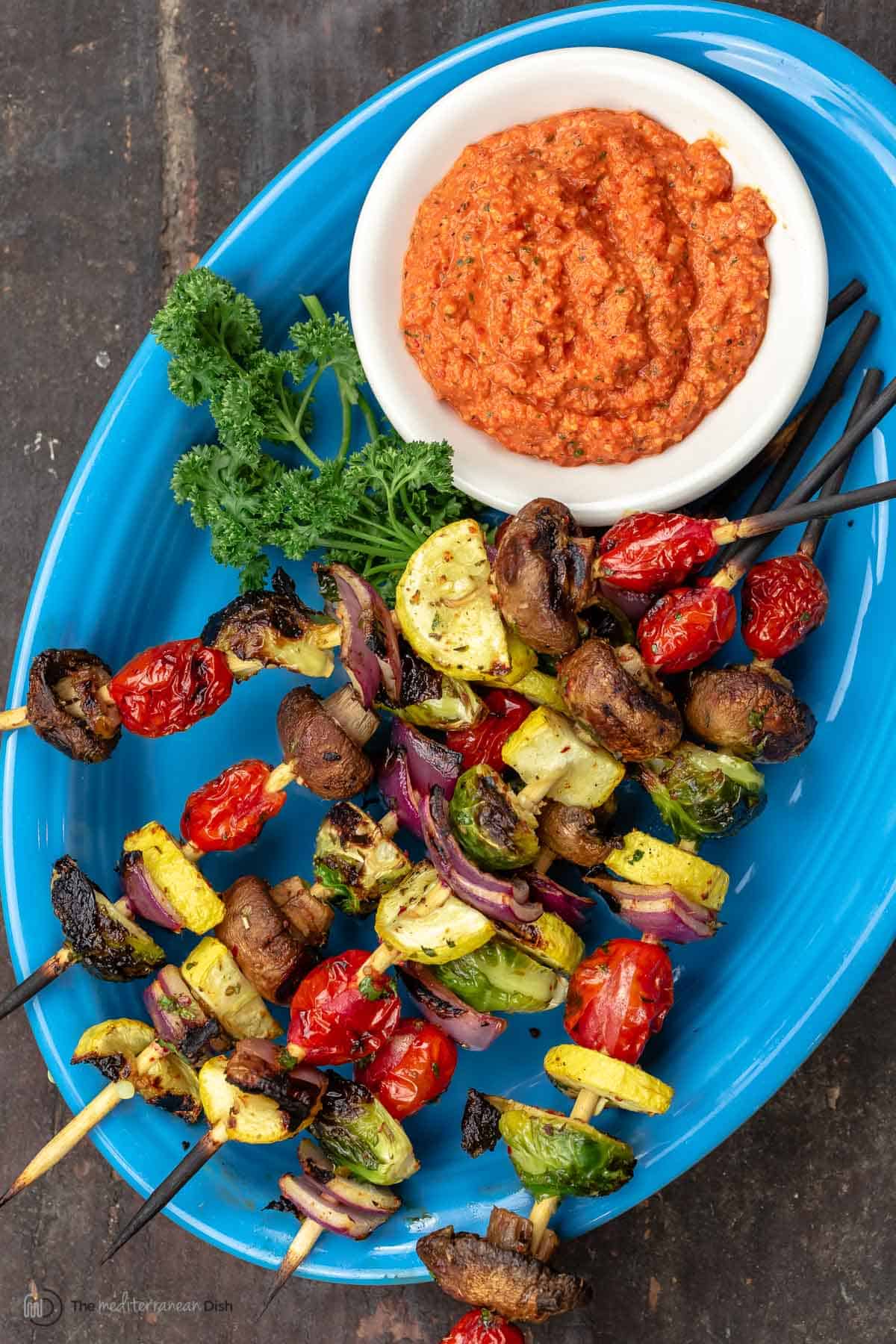 Quick, flavor-packed grilled zucchini is perfect for your next cookout or to use as a side with your favorite entree! Follow my tips for tender, but never soggy, grilled zucchini spears in about 10 minutes!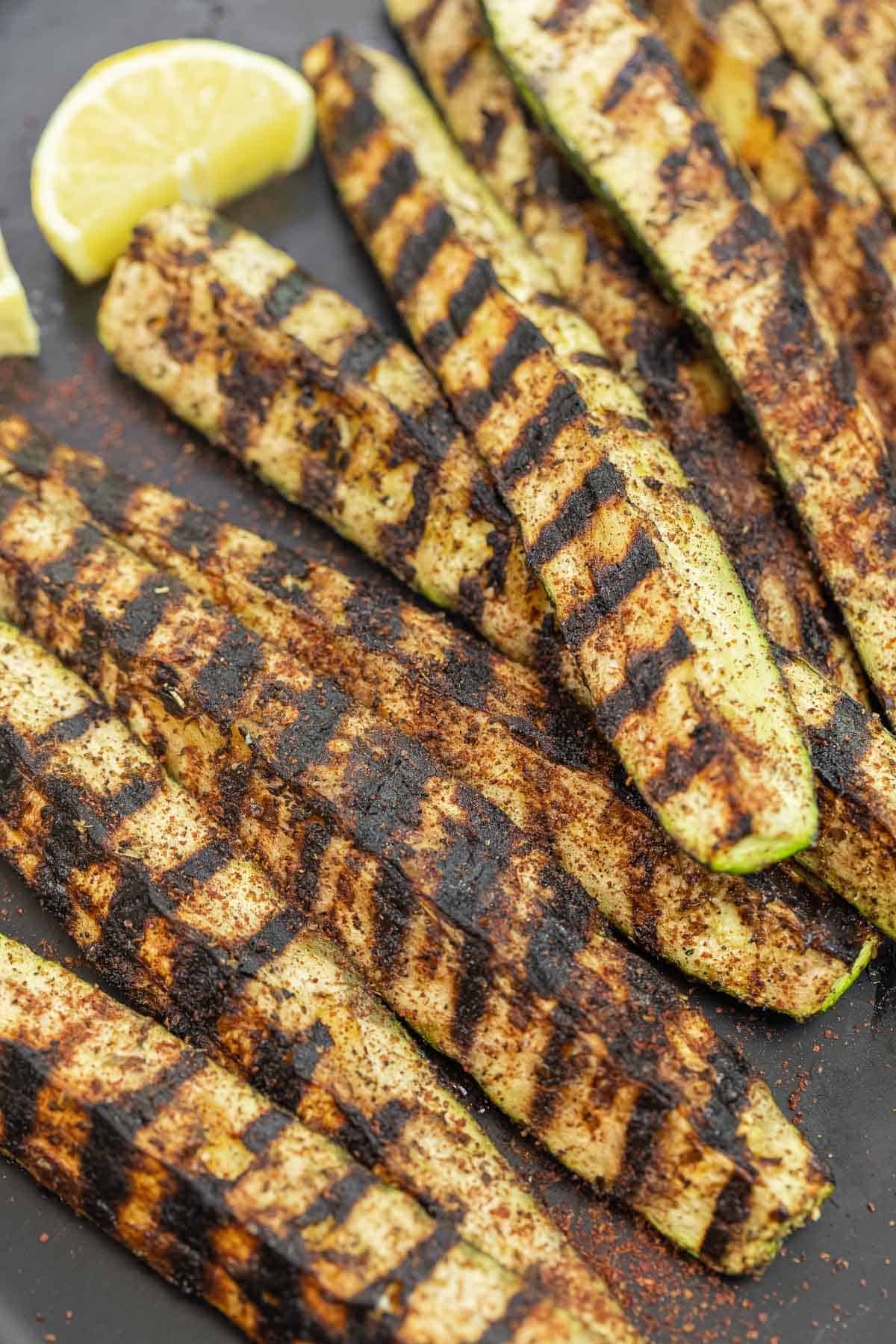 Zucchini casserole and pasta recipes
There's nothing like a casserole or hearty pasta dish when you're in the mood for comfort food. The veggie-heavy dishes below combine all the coziness you could ask for with nutrient-dense vegetables! Here are some recipes to try:
This Egyptian casserole made with zucchini, ground beef, mozzarella cheese, and bechamel sauce is so simple and yummy! Even though it's a hearty main dish on its own, I still sometimes add some tabouli alongside.
Mediterranean-Style Zucchini Casserole
In this casserole, layers of zucchini, carrots, and onions, are topped with a perfectly spiced meat sauce. Serve it with Lebanese rice. This recipe is great for batch cooking because it freezes well!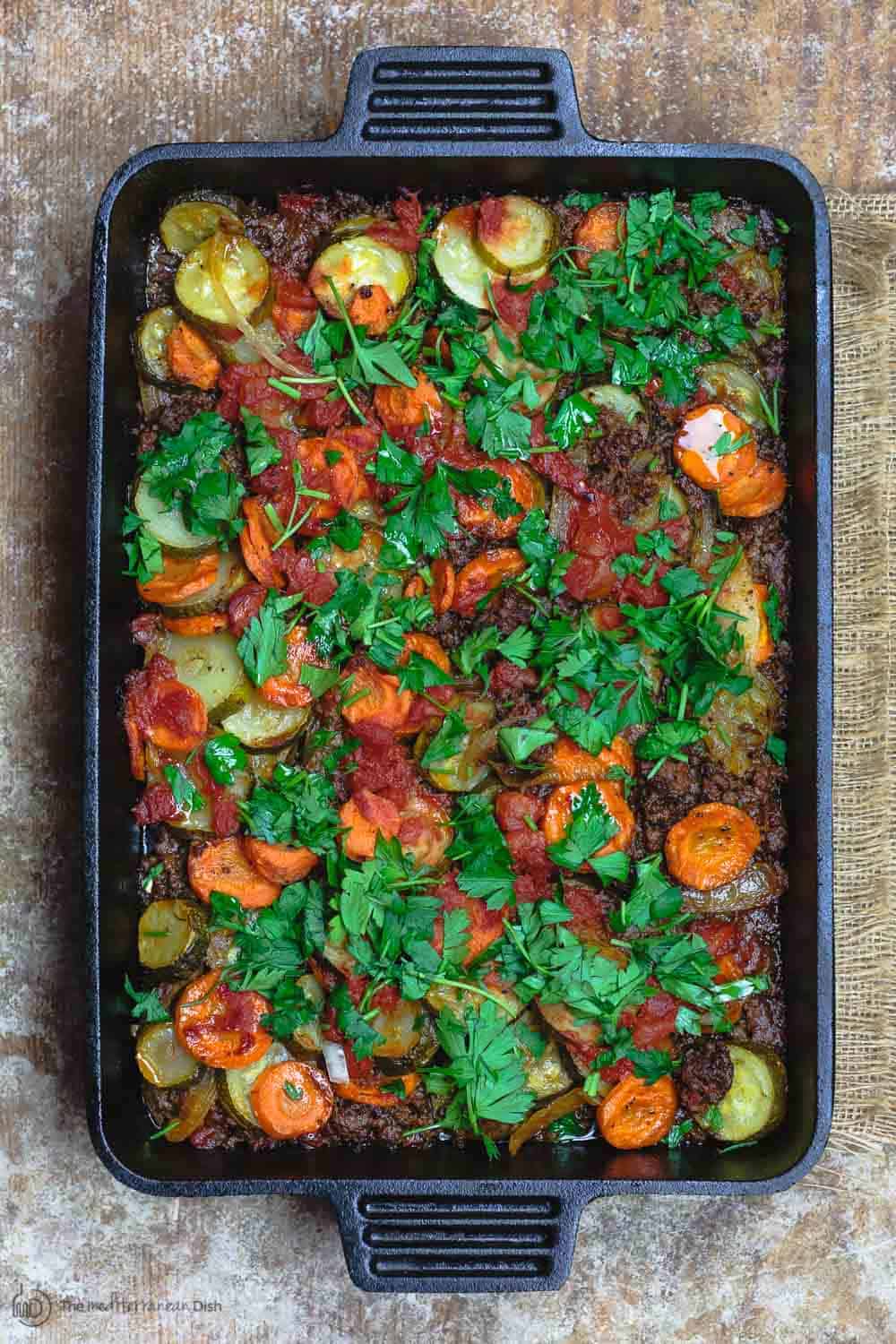 Think of ziti as lasagne's more relaxed cousin. Just as delicious, with much less effort! This is a great recipe option if you're looking for something hearty to cook without meat. If you can't find ziti pasta, penne works just fine! (It's actually what I use, because I don't come across ziti very often.)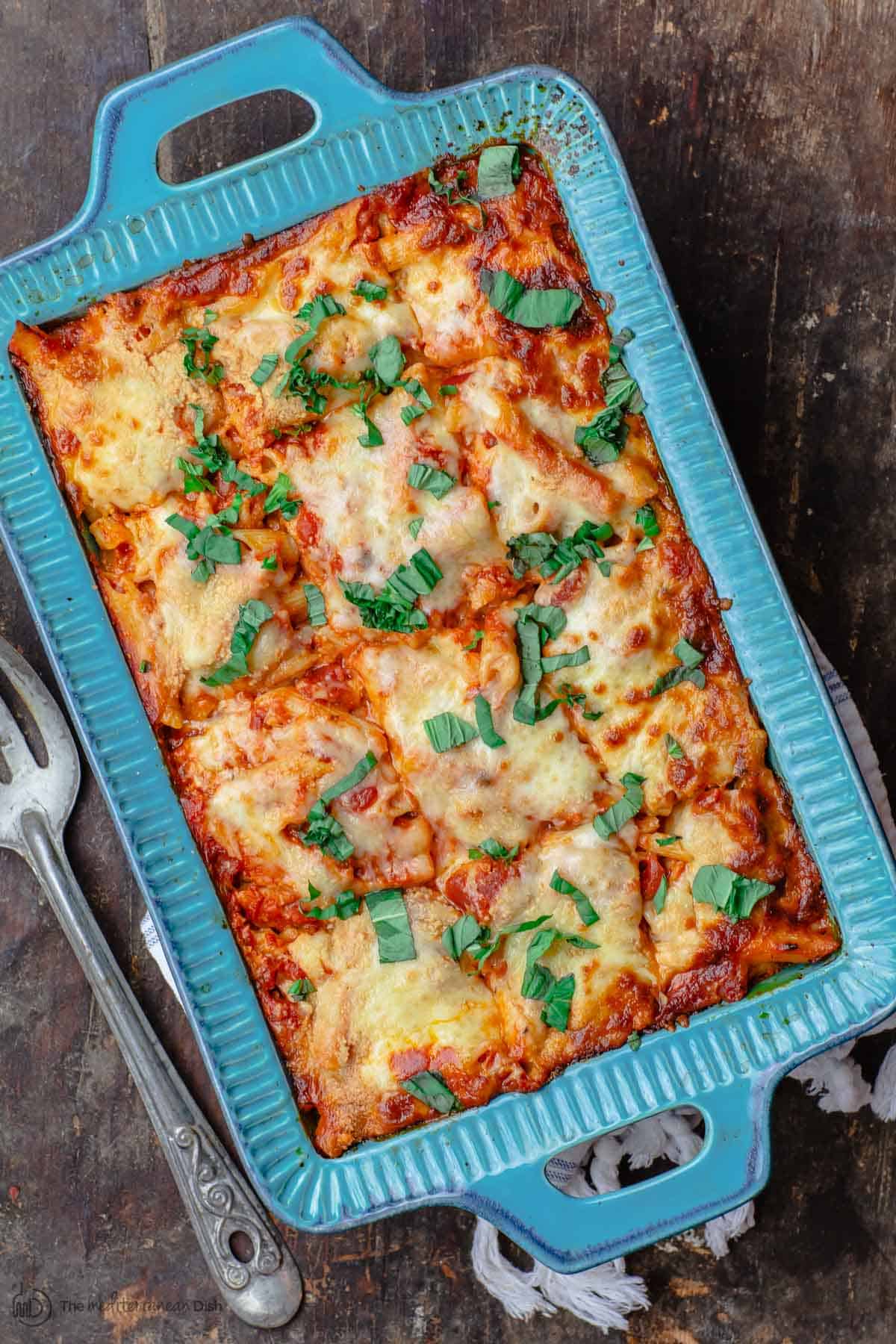 Al dente pasta, tender roasted veggies, and a lighter primavera sauce make this recipe something special. The best thing about this pasta primavera is that because I make it year-round with seasonal vegetables, it never turns out quite the same way twice!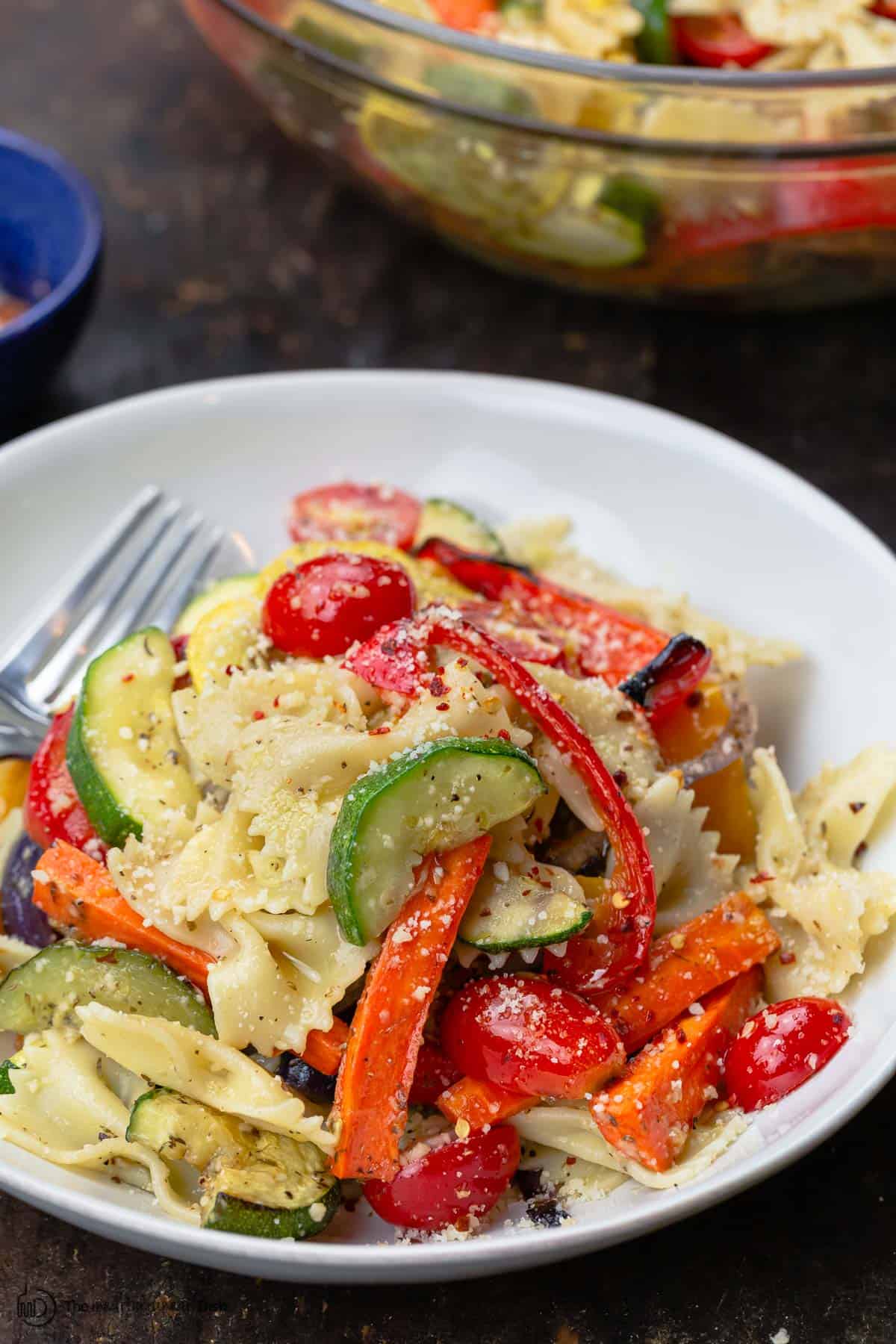 Zucchini soup
An easy way to incorporate more vegetables into your diet is to throw them into soups! And zucchini is delicious in brothy soups because it absorbs so much flavor. Here are some zucchini soup recipes to try:
My take on this classic French stew takes one pot and just 40 minutes to make! I typically make this easy recipe a day or two ahead of time because the flavors meld so beautifully if given a little extra time.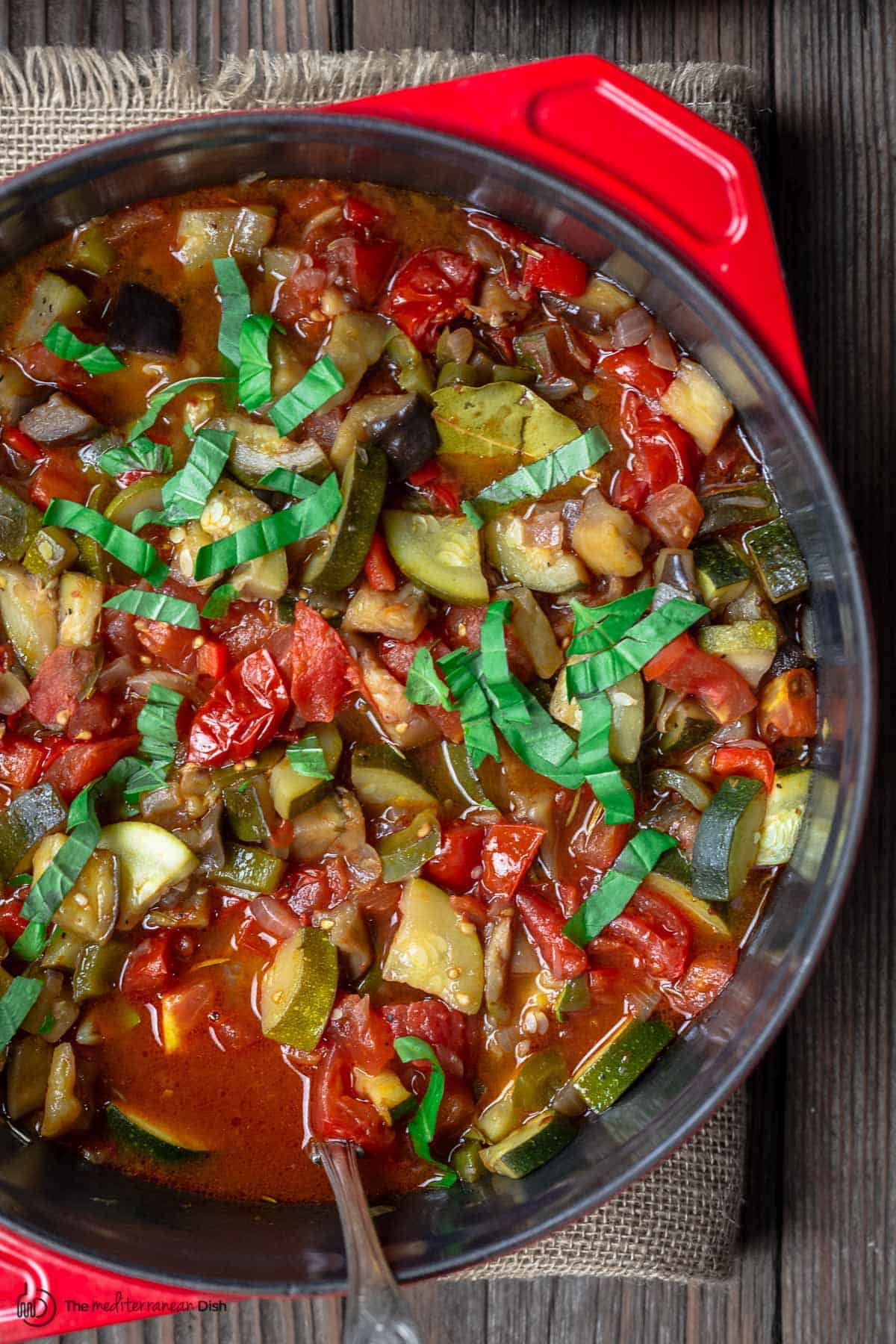 My quick Italian minestrone is brimming with vegetables (like green beans and zucchini), beans, and a bit of pasta. But the flavorful tomato broth steals the show!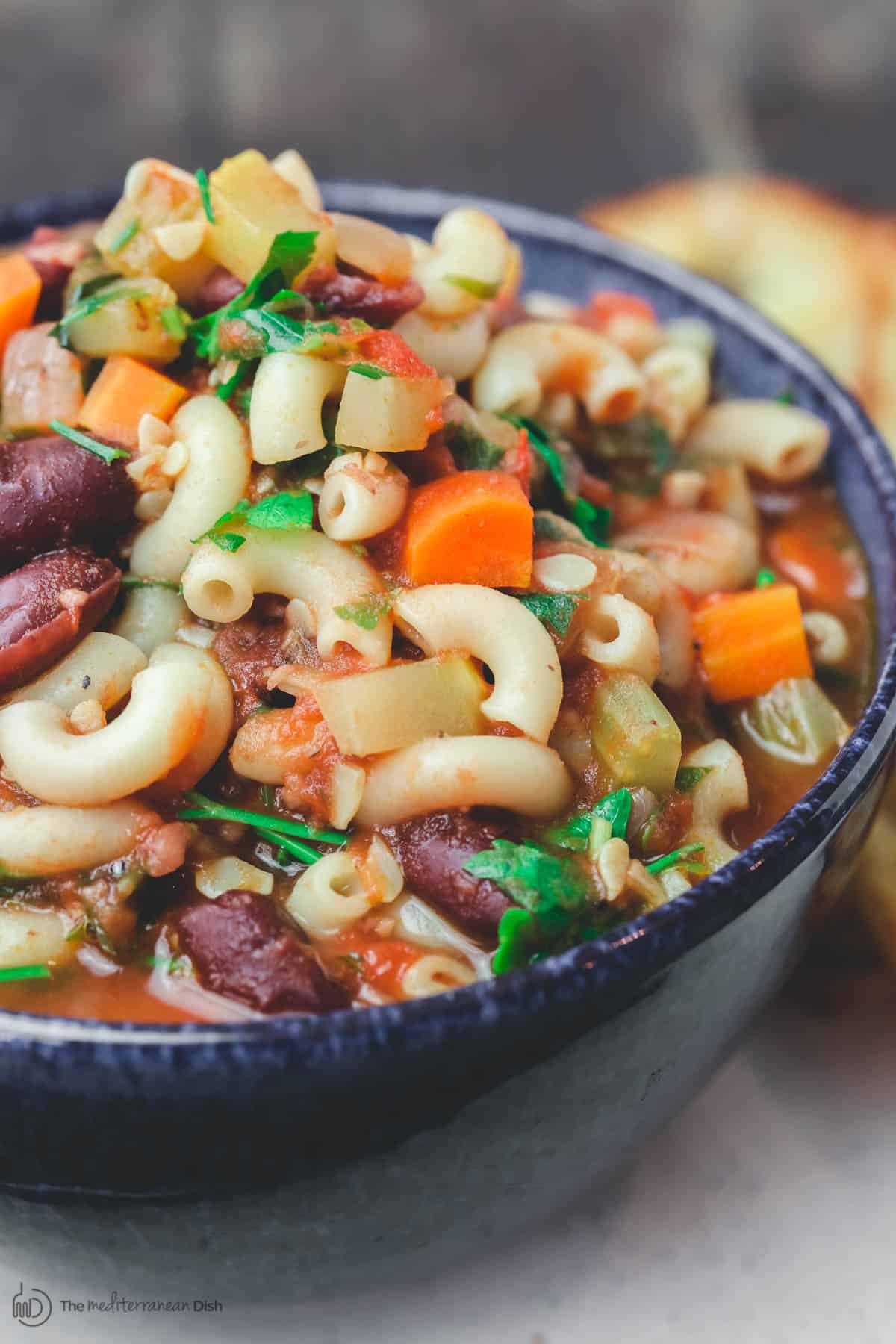 Mediterranean-style homemade vegetable soup with zucchini, carrots, mushrooms, fresh herbs, and chickpeas! It's so easy to make this veggie soup your own: Swap out the vegetables for what you have on hand, or replace the chickpeas with different beans!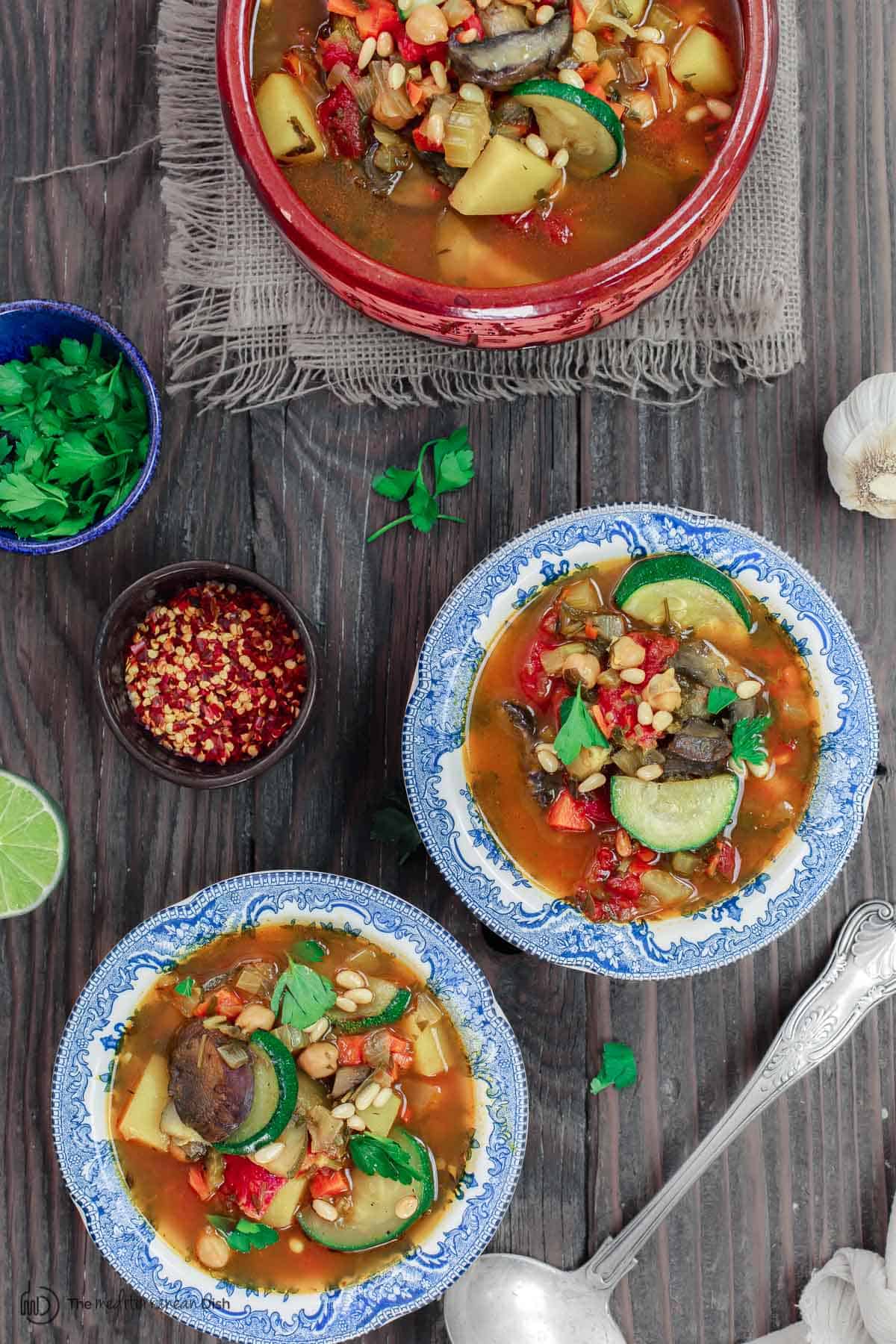 Zucchini for breakfast!
It can be difficult to incorporate vegetables into typical breakfast meals, but I love starting the day off with some veggies to fuel me for the day ahead! Here are some Mediterranean-style breakfast recipes with zucchini:
My egg casserole with fresh herbs, shallots, and tomatoes is lighter than a traditional quiche because it lacks a crust, and you can use milk instead of heavy cream.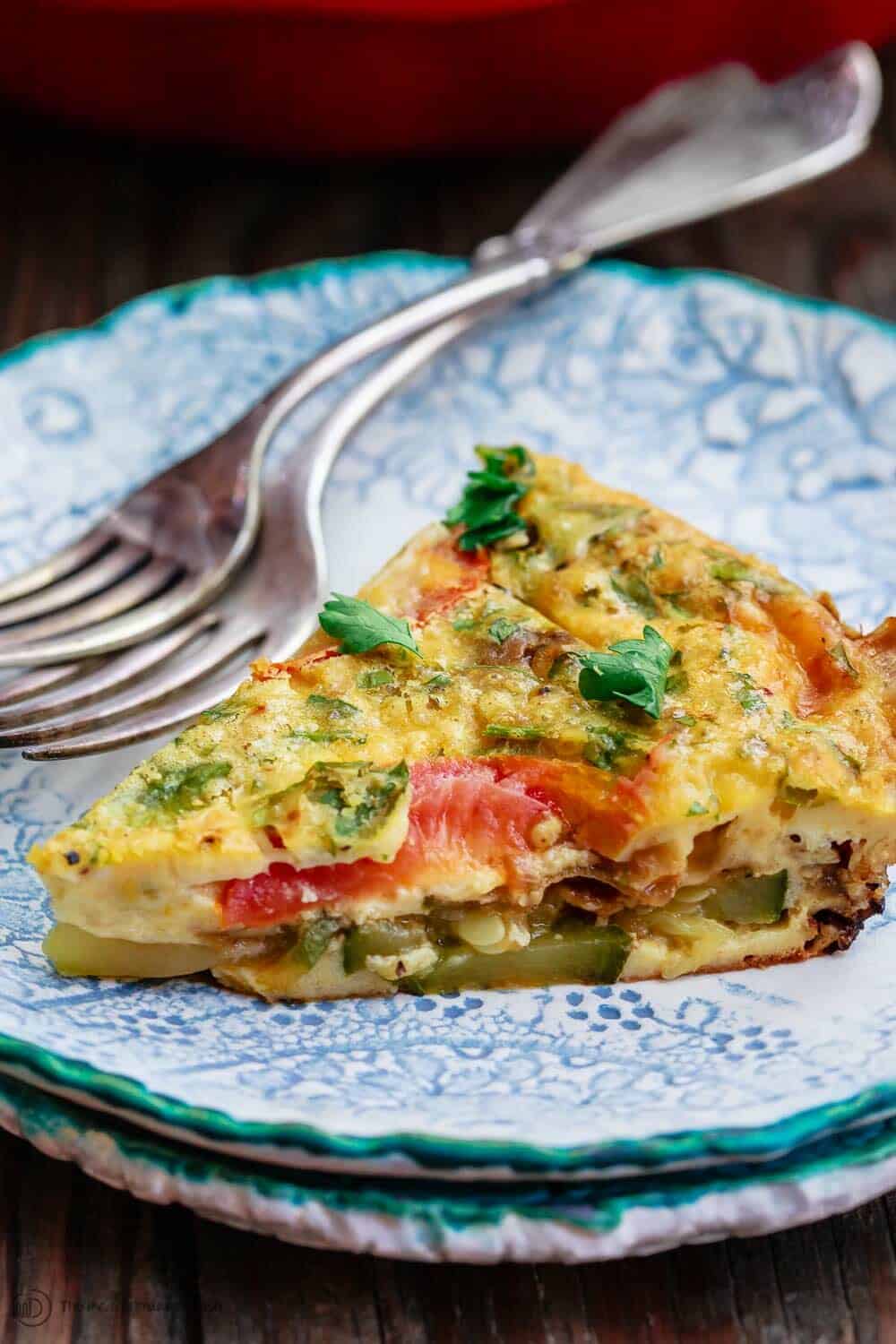 This Middle Eastern-style baked omelet comes together in just 30 minutes! Think of this as sort of like a more dense frittata. Serve it alongside fattoush salad for a delicious breakfast or brunch!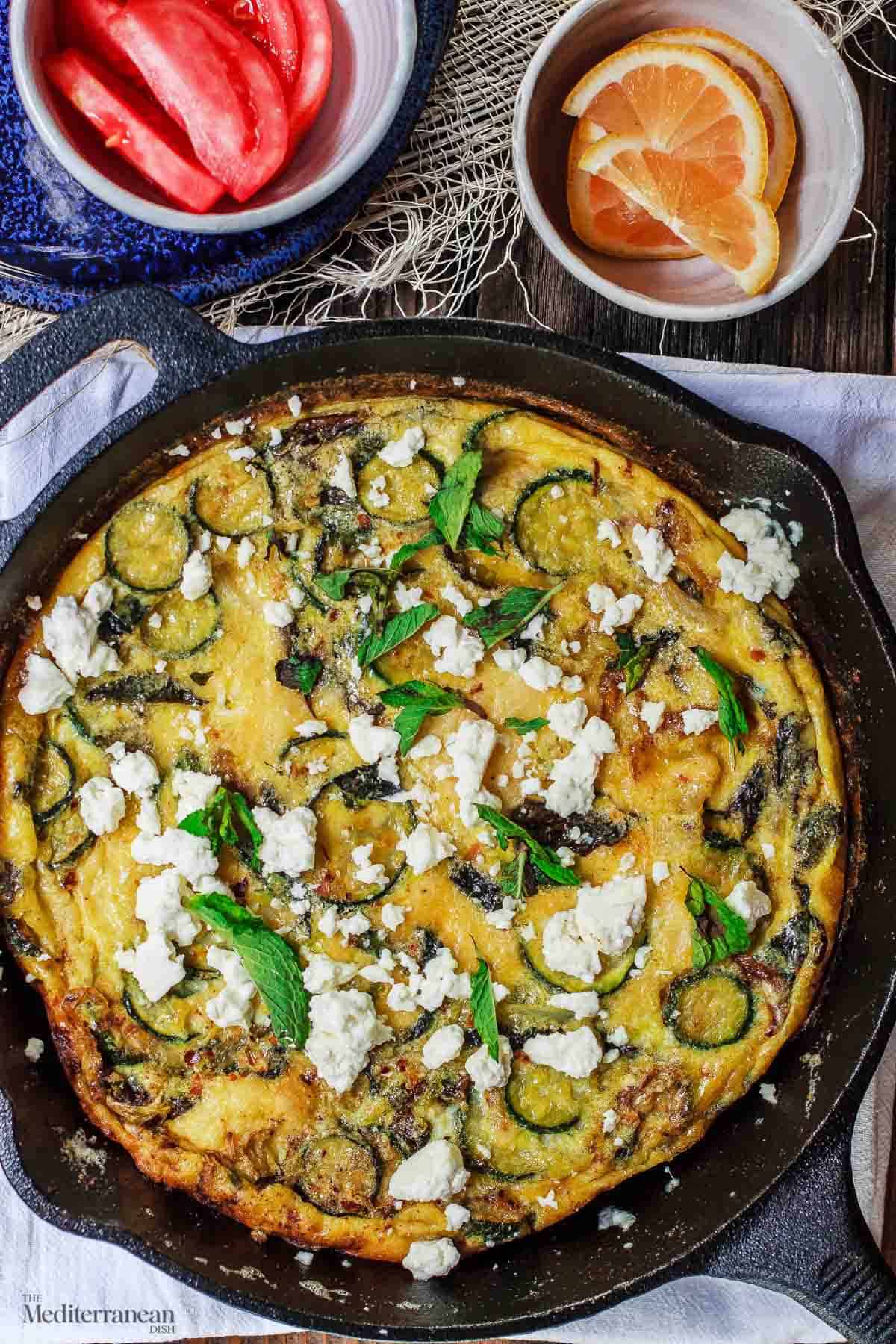 Roasted vegetables, rich extra virgin olive oil, and tangy feta cheese make this frittata simply sublime! Pro tip: A pinch of baking powder mixed into the egg batter will give you perfectly fluffy eggs.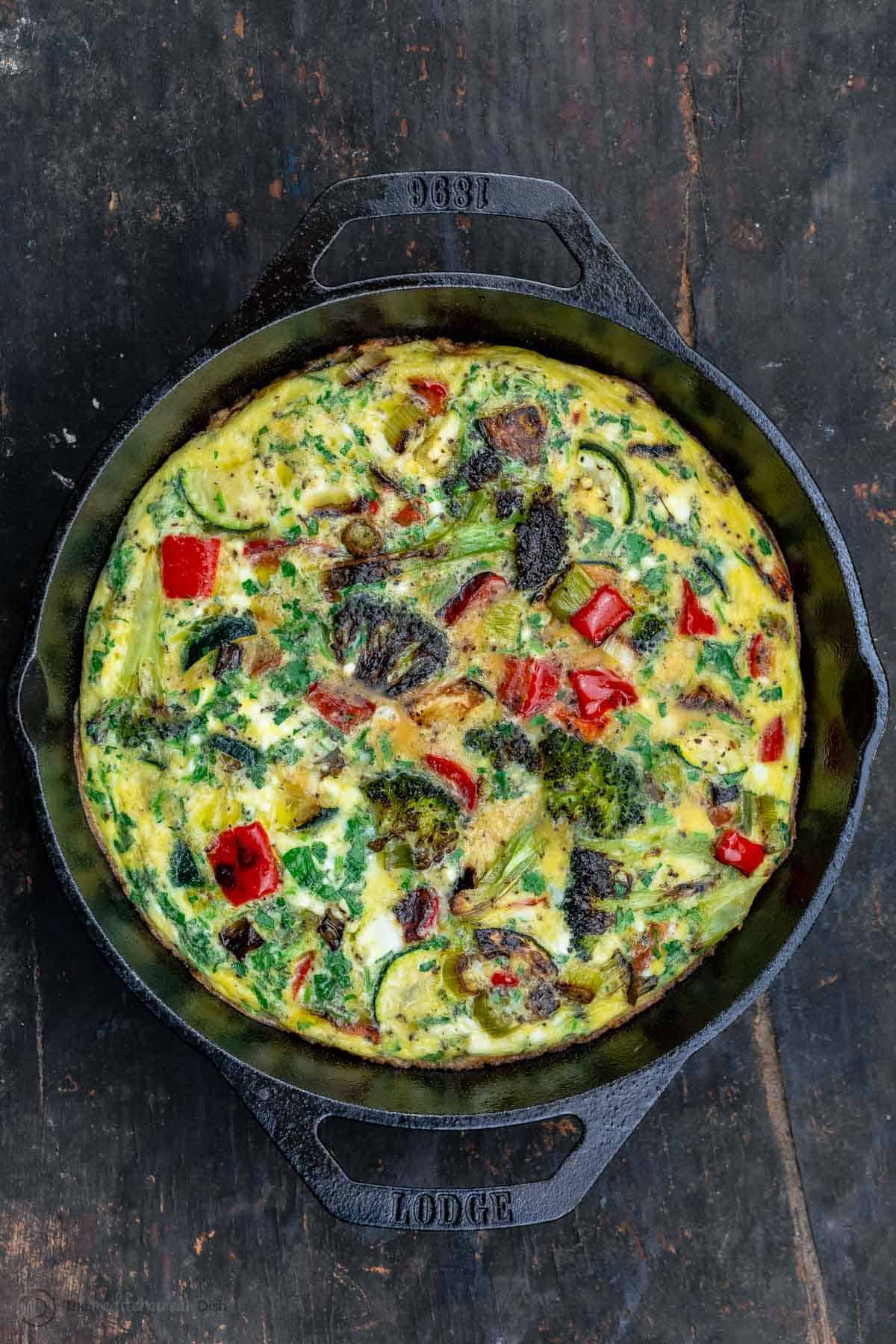 More easy zucchini recipes
When I said zucchini is versatile, I wasn't kidding! The recipes below all make the most of zucchini's delicate flavor and tender texture. Check them out:
In this Middle Eastern-style recipe, hollowed-out zucchini acts as a vessel for a spiced mixture of rice and ground beef. And don't worry, we don't waste any of the zucchini flesh! It gets cooked right along with the stuffed zucchini.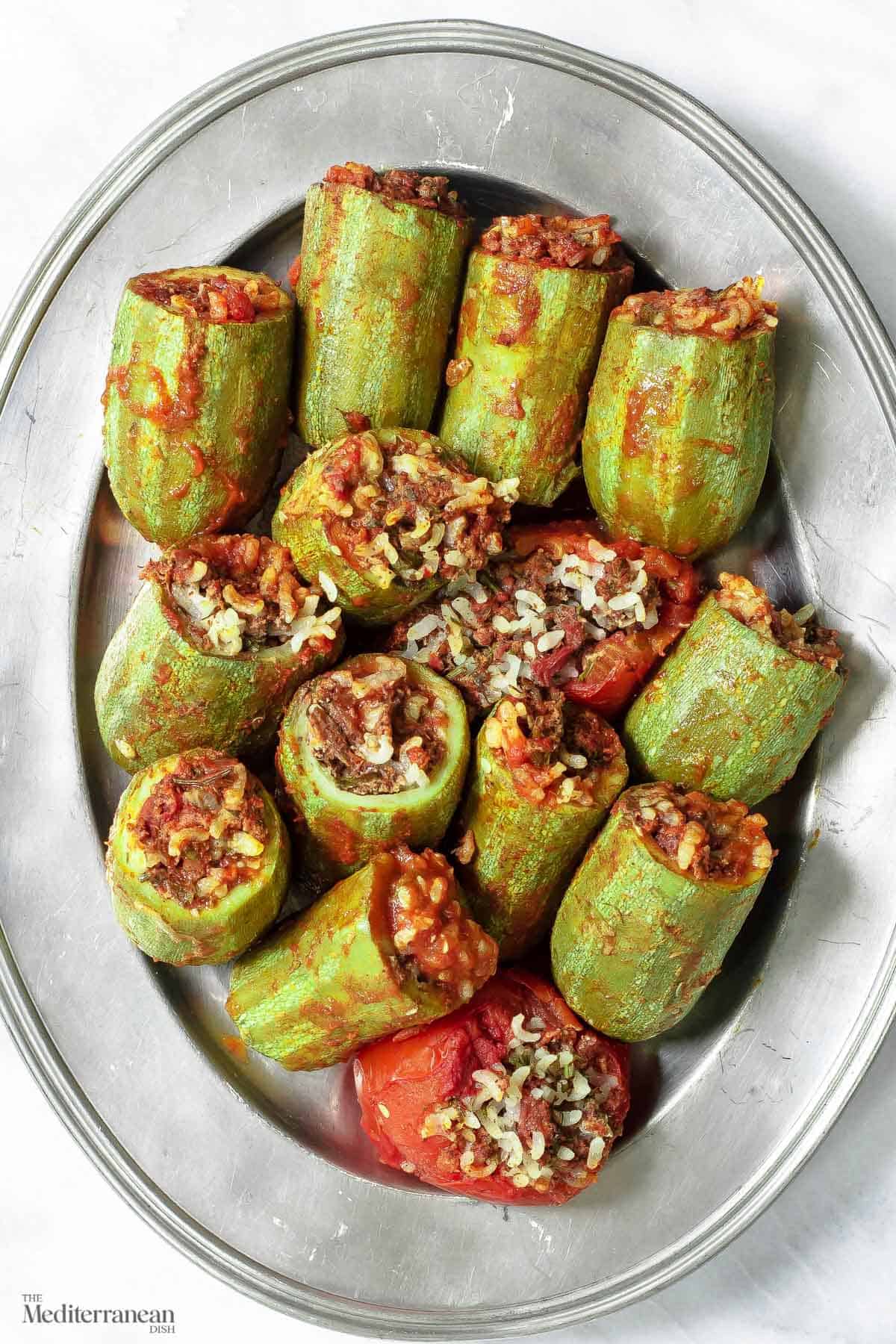 Orzo with Zucchini and Chickpeas
For a satisfying vegan main meal or hearty side dish, you have to try this orzo recipe with zucchini and chickpeas cooked in a chunky, garlicky tomato sauce.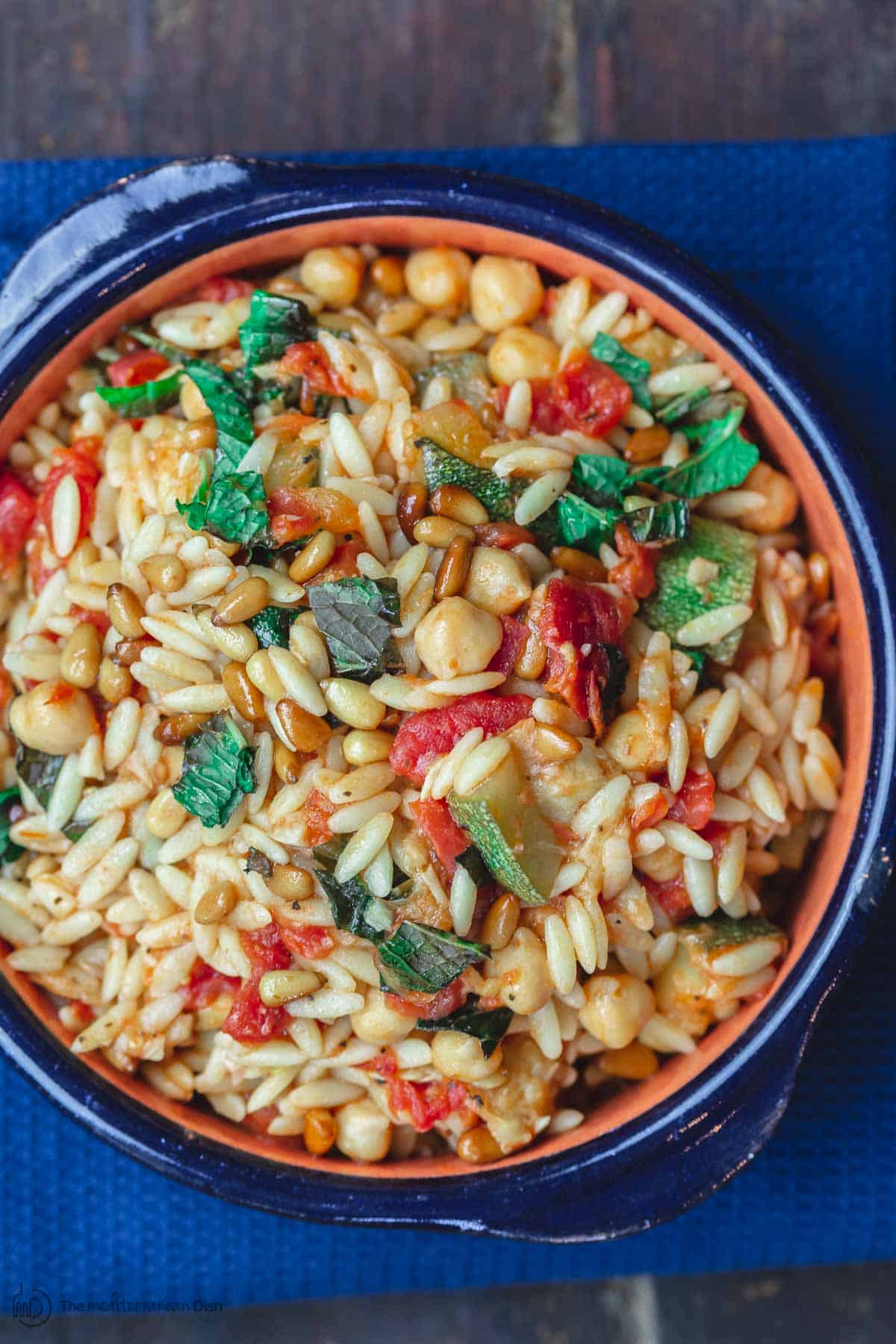 Dinner in 20 minutes! This one-pan pesto chicken and vegetables is an easy-as-can-be weeknight meal! Use homemade basil pesto if you have it, but store-bought works fine as well.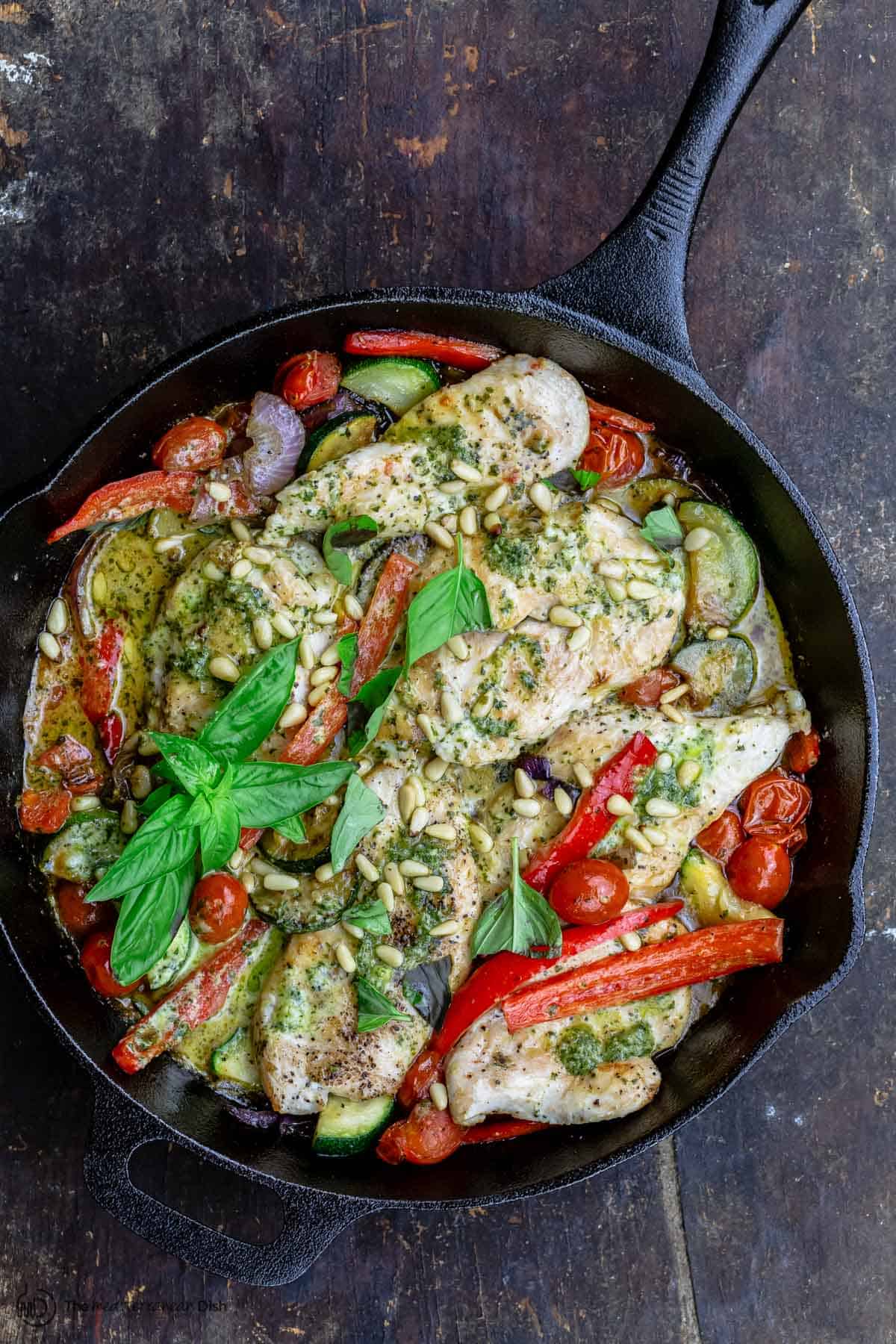 Grain Bowls with Lentils, Chickpeas, and Vegetables
Try a grain power bowl for a perfect nutrition boost. They're also an easy way to turn pantry staples into a satisfying meal! I used lentils, chickpeas, zucchini, tomatoes, and avocado, but I also share tips for creating your own grain bowls.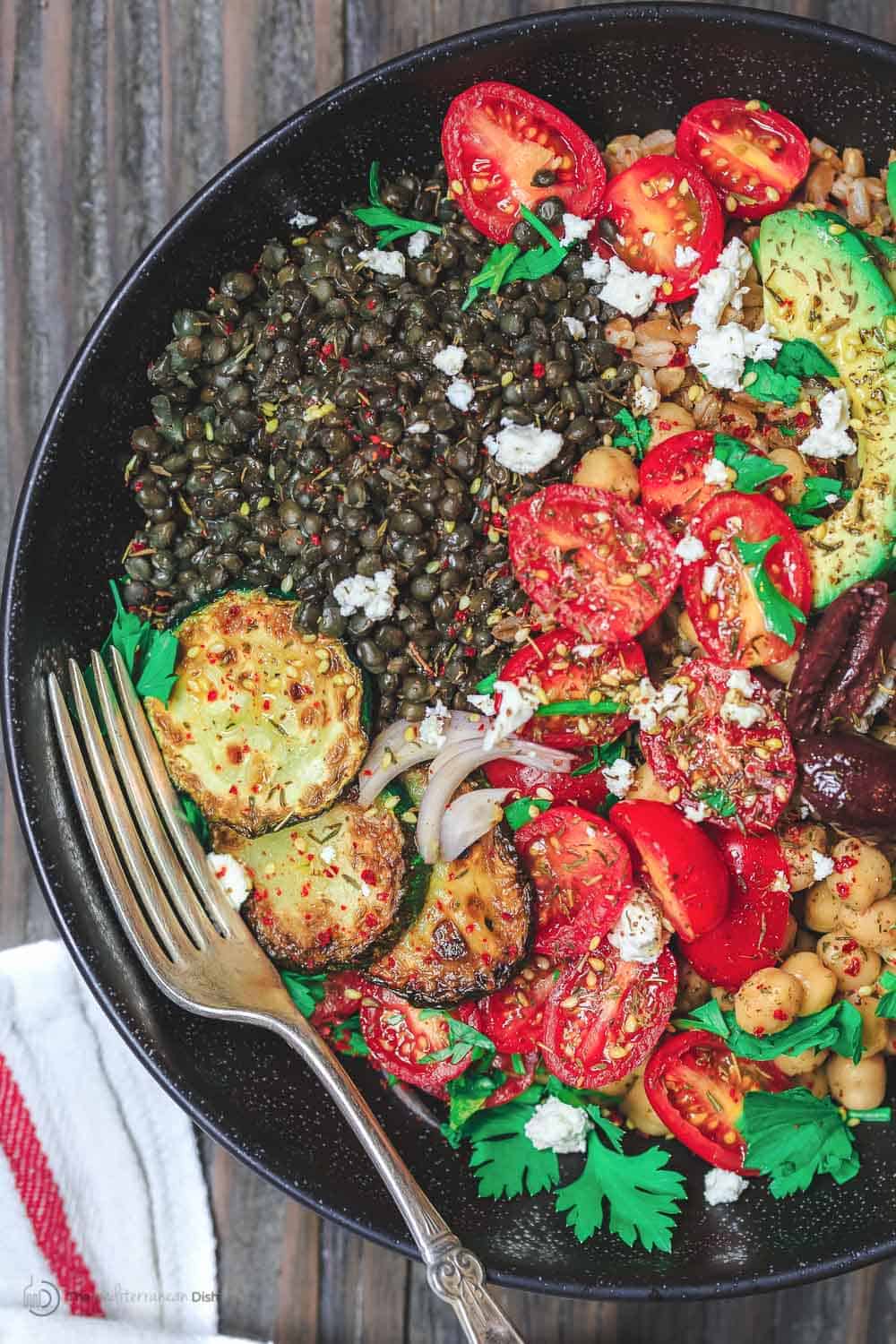 You may also enjoy
Browse all Mediterranean recipes

Visit Our Shop
25+ Best zucchini recipes: Baked Zucchini Recipe with Parmesan and Thyme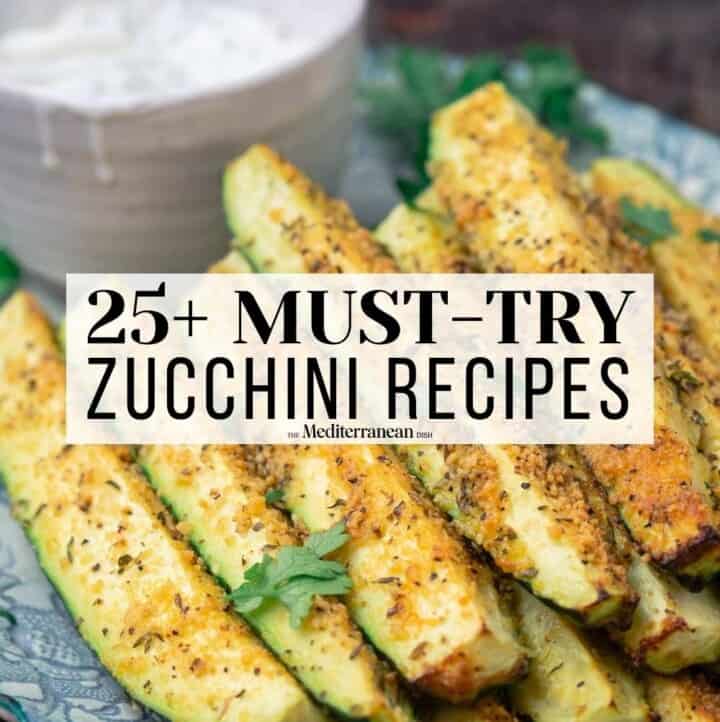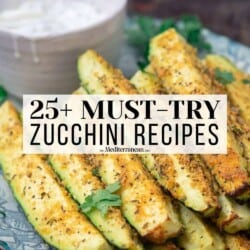 On my list of easy zucchini recipes above, you'll find sides, snacks, casseroles, and more! To get started, try this fan-favorite baked zucchini recipe with thyme and parmesan cheese! Serve these zucchini spears hot out of the oven, alongside some tzatziki for a tasty appetizer.
Ingredients
3 to 4

zucchini,

trimmed and cut length-wise into quarters (sticks)
For Parmesan-Thyme Topping:
½

cup

grated Parmesan cheese

2

teaspoon

fresh thyme leaves,

no stems

1

teaspoon

dried oregano

½

teaspoon

sweet paprika

½

teaspoon

black pepper

pinch

kosher salt
Instructions
Preheat your oven to 350 degrees F.

Mix together the grated Parmesan, thyme, and spices in a medium bowl.

Prepare a large baking sheet that's topped with a wire baking rack. Lightly brush the wire baking rack with extra virgin olive oil (or use a healthy cooking spray.) Place the zucchini spears, skin-side down, on the baking rack in a single layer. Brush each one with extra virgin olive oil.

Sprinkle the herb and cheese topping on each zucchini stick so they are all lightly coated.

Bake in the heated oven for 15 to 20 minutes, or until tender. For a crispy golden topping, broil for 2 to 3 minutes more. Watch it carefully so the zucchini does not burn.

Serve immediately as an appetizer with a dipping sauce, or as a side next to your protein of choice.
Notes
Tip for success: Be sure to cut the zucchini into thick spears or batons so they become crisp with a good bite when baked. And don't skip using a wire rack, if possible. The wire baking rack allows the hot air to circulate freely so that the zucchini sticks will not get soggy. If you use a wire rack, the zucchini sticks will be tender on the inside, and firm with a crisp topping on the outside.
Serving suggestions: Baked zucchini spears make a light appetizer next to your favorite dipping sauce. But they are also an easy side next to your favorite protein, like Garlic Dijon Chicken, Pan-Seared Trout, Salmon Kabobs, or Lamb Burgers.
Leftovers and storage: Store leftovers in an airtight container in the refrigerator for up to 3 days.
Visit Our Shop to browse quality Mediterranean ingredients including olive oils and all-natural and organic spices (like the sweet Spanish paprika used in this recipe).
Nutrition
Calories:
66
kcal
Carbohydrates:
4.8
g
Protein:
5.4
g
Fat:
3.3
g
Saturated Fat:
1.8
g
Potassium:
319.4
mg
Fiber:
1.6
g
Vitamin A:
458.2
IU
Vitamin C:
22.3
mg
Calcium:
139.3
mg
Iron:
0.9
mg