What to make with too much zucchini? This list of delicious zucchini recipes is all you need! Everything from zucchini dinner recipes, apps, sides and more!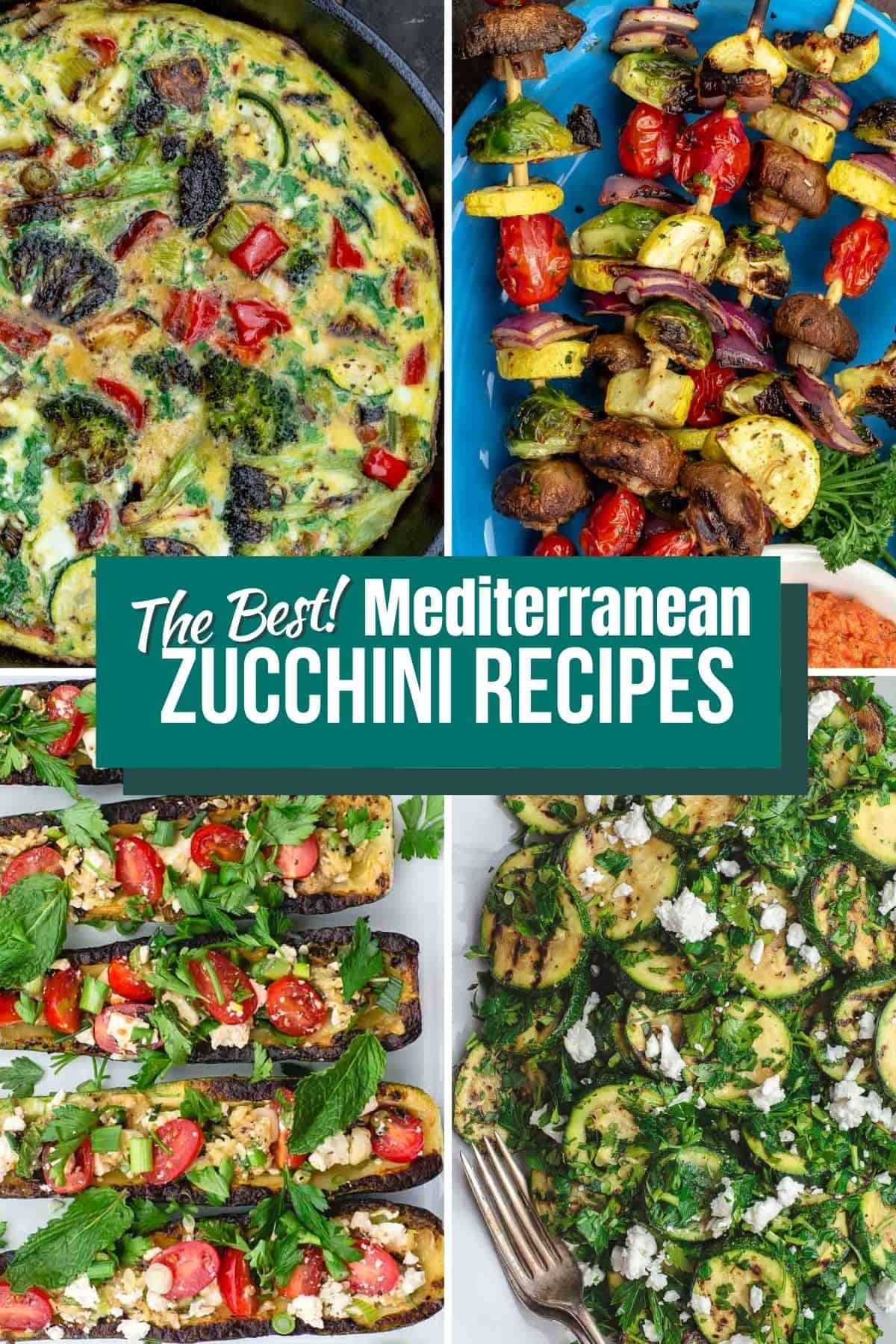 A staple Mediterranean diet ingredient, zucchini boast some great benefits. It is high in antioxidants, rich in nutrients and vitamins including vitamins A and C, and because of the high water and fiber content, it also promotes healthy digestion by reducing your risk of constipation and symptoms of various gut disease.
Right around mid July, the gardens and the markets are abundant with zucchini, and if you're one of the lucky ones who ended up with a few too many zucchinis, it's time to put them to good use!
What can I do with too much zucchini?
Zucchini is a versatile ingredient that you can eat raw in a salad or sliced and dipped in tzatziki sauce or hummus. You can cook zucchini many different ways: baked, grilled, sautéed in a pan with a bit of olive oil, roasted with other veggies, stuffed, or sliced and tossed in pasta, a pot of homemade vegetable soup, or any number of tasty meals. Here are 21 zucchini recipes that are delicious and easy to prepare any night of the week...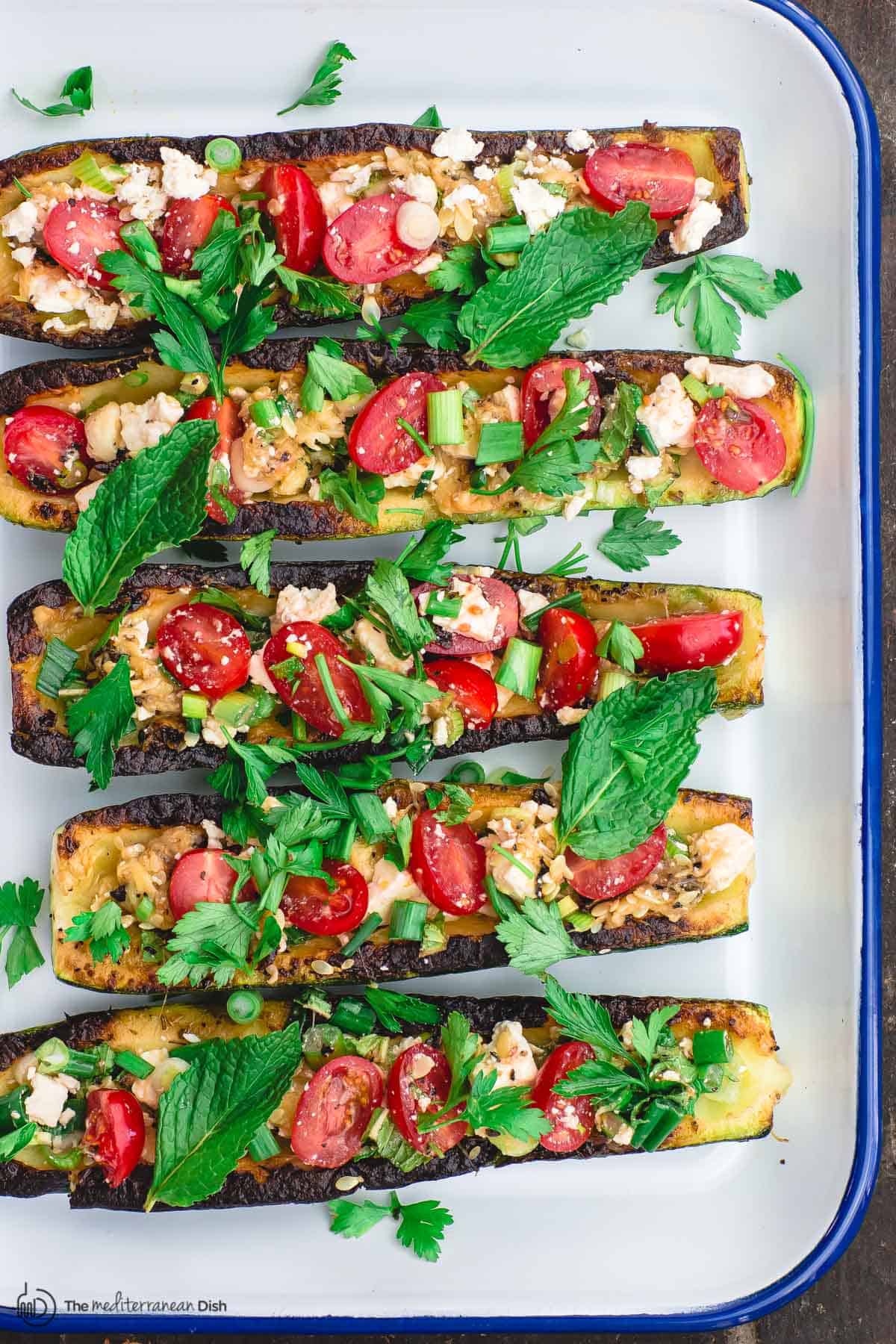 Zucchini boats and other sides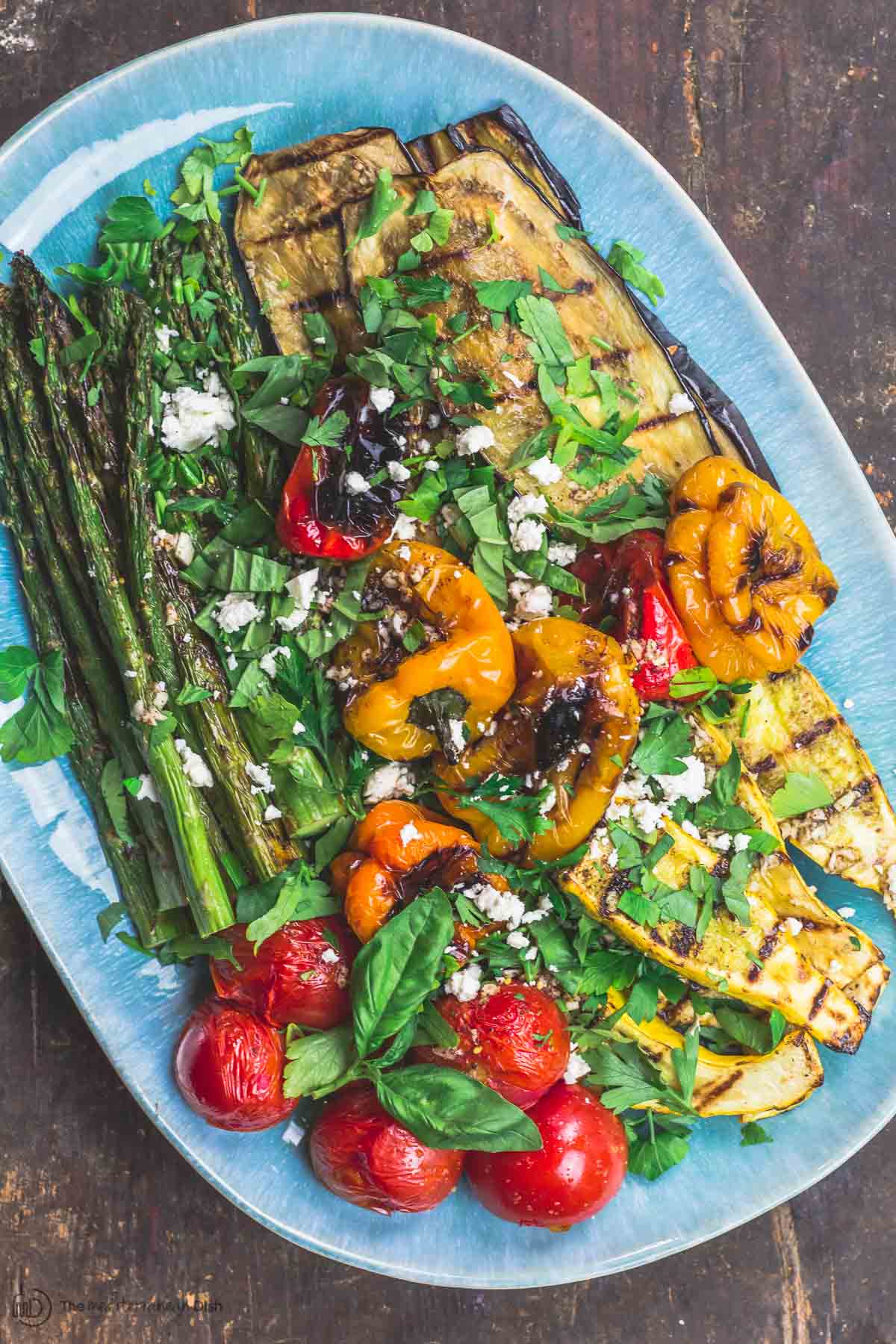 Grilled zucchini recipes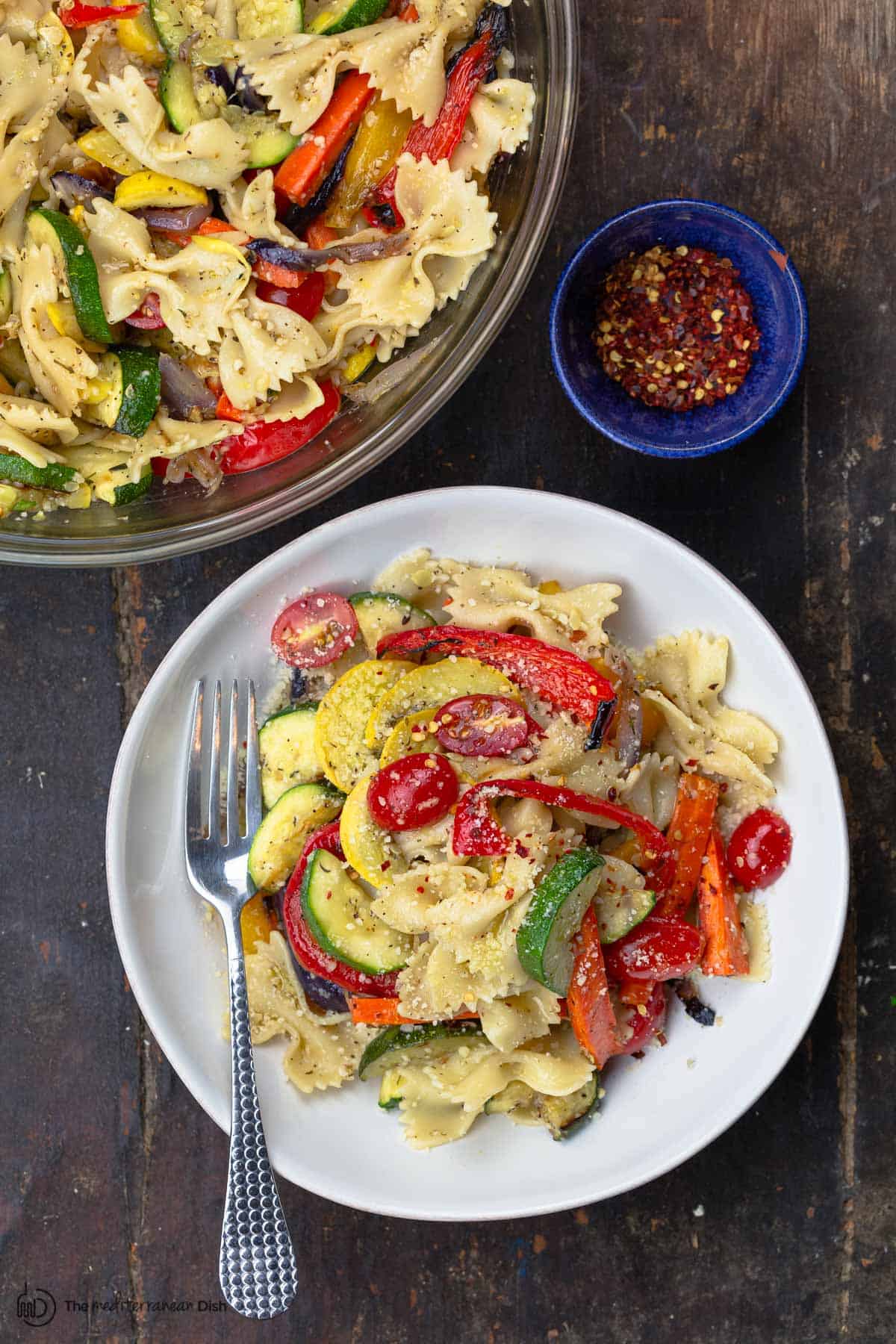 Vegetarian zucchini dinner recipes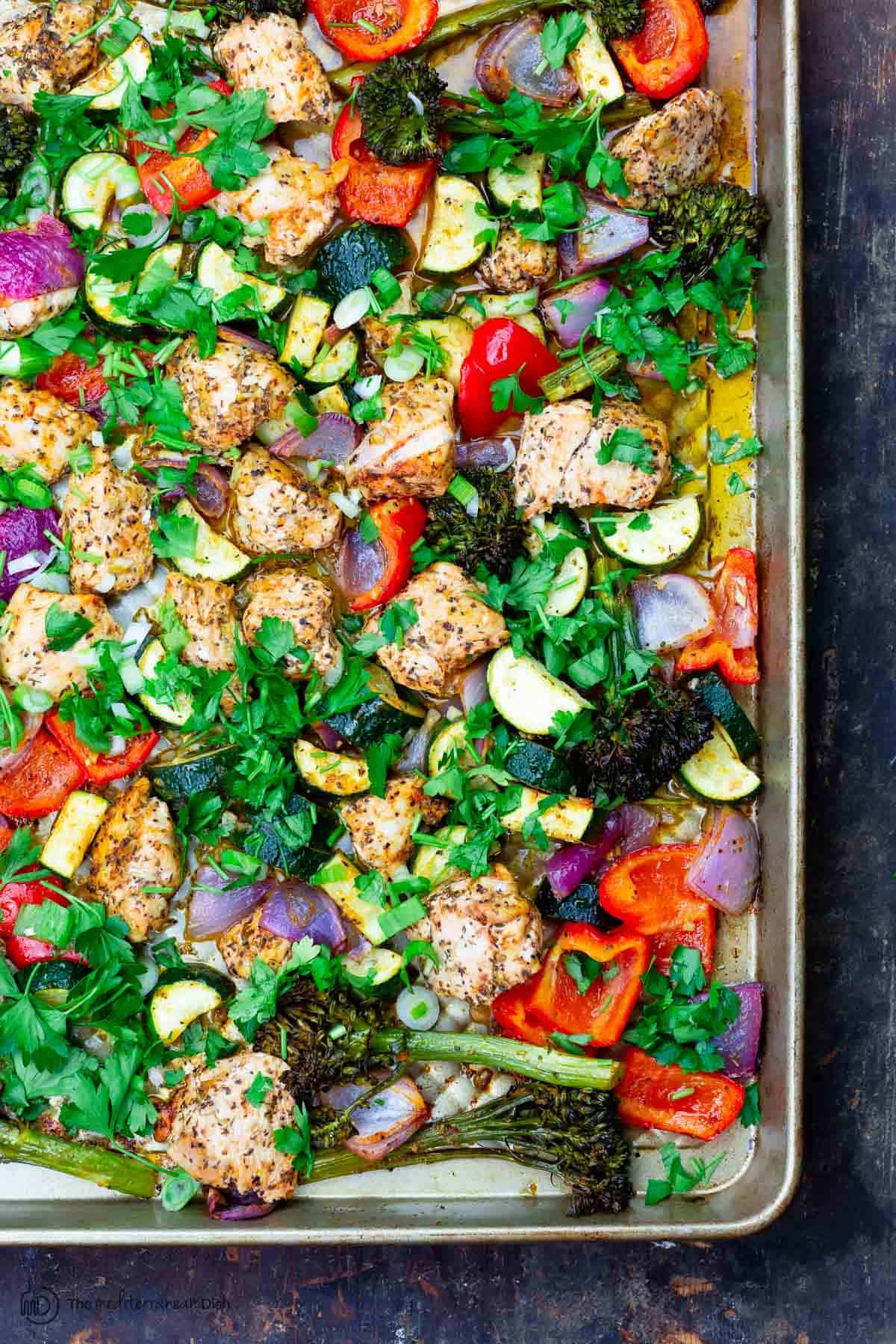 More dinner recipes with zucchini
Zucchini pairs with nearly any protein of your choice to make a quick and wholesome dinner. Here are a few ideas: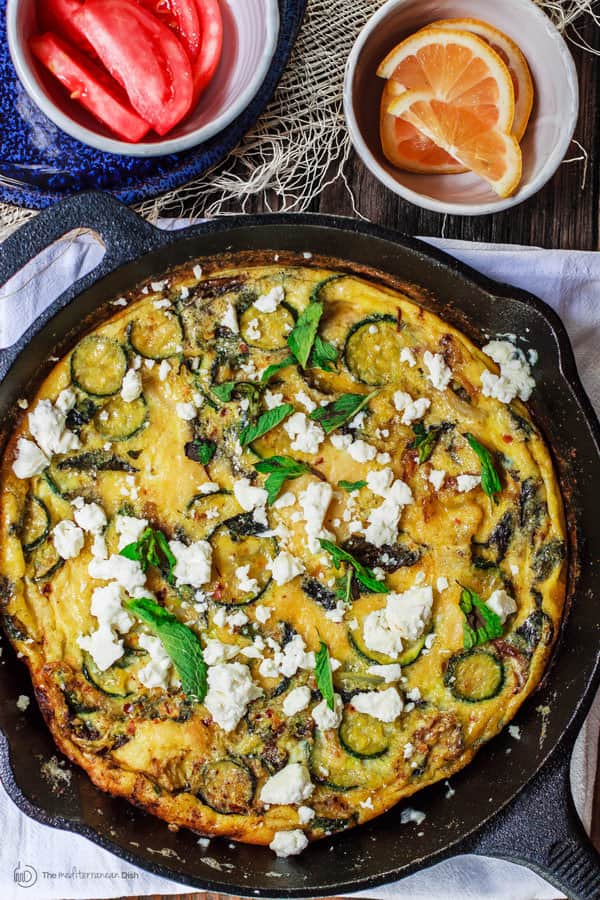 Zucchini for breakfast!
Add it to your eggs for a more wholesome and delicious breakfast! Here are some ideas:
Visit Our Shop to browse quality Mediterranean olive oils, spices, and more!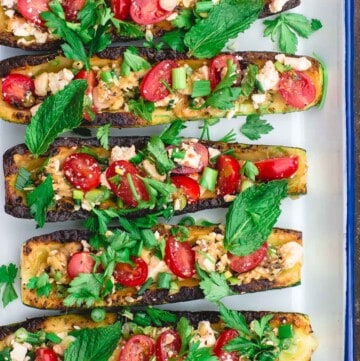 Mediterranean Zucchini Recipes: Stuffed Zucchini Boats with Tomato and Feta
As you see in my roundup of zucchini recipes, there are plenty of use to use your summer zucchini in Mediterranean cooking. This simple stuffed zucchini boats is a vegetarian zucchini recipe combining grilled zucchini with tomatoes and feta for a delicious appetizer or side. Ready in about 15 minutes!
Ingredients
3

zucchini,

trimmed and cut in half lengthwise

Kosher salt and pepper,

to your liking

Dried oregano,

large sprinkle to your liking

6

oz

cherry tomatoes,

sliced in halves

3

green onions,

both white and green parts, ends trimmed, chopped

½

cup

crumbled feta cheese,

more to your liking

6 to 10

fresh mint leaves,

chopped

Large handful fresh parsley,

chopped

Zest of 1 lemon

Splash lemon juice
Instructions
Heat a cast iron skillet or indoor griddle over medium heat. (OR, If cooking on gas grill, lightly oil the grate and preheat grill to medium-low).

Brush zucchini generously with extra virgin olive oil on both sides. Season zucchini (particularly flesh side) with salt, freshly ground pepper, and oregano.

Place zucchini, flesh-side down, on the preheated grill (or indoor griddle). Grill for 3 to 5 minutes until soft and nicely charred, then turn on back side and grill for another 3 to 5 minutes until this side is also tender and gains some color. (If using an indoor skillet or griddle, you may need to adjust heat to medium-high.)

Remove zucchini from heat and let cool enough to handle.

To create zucchini boats, use a small spoon to scoop out the flesh (do not discard). Squeeze all liquid out of zucchini flesh (you might use a linen kitchen towel or paper towel to do this.)

Make the filling for the zucchini boats. Put the zucchini flesh in a mixing bowl and add the cherry tomatoes, green onions, feta, mint, parsley, lemon zest. Add a small splash of lemon juice and sprinkle a little more oregano. Drizzle a little extra virgin olive oil and mix everything together.

Spoon the filling mixture into the prepared zucchini boats and arrange on a serving platter. Enjoy!
Notes
Cook's Tips: You can cut the zucchini halves crosswise to create smaller "boats" that can be easily picked up by hand. This is ideal if you're serving a larger crowd as an appetizer (yields 12 instead of 6).
Cook's Tip: Grill zucchini until tender and nicely charred - this brings out the delicious flavor!
Cook's Tip: A drizzle of Greek Tzatziki sauce really seals the deal on these zucchini boats. Find recipe for homemade Tzatziki here.
Make Ahead Option: You can grill the zucchini ahead of time, then when ready to serve, follow recipe from step #5.
Other Filling Options: You can change up the existing filling in this recipe by simply adding more vegetarian items like a handful baby spinach, olives, or marinated artichokes. Or turn this into Zucchini Boats Antipasti. Just give your filling a little Italian flare using baby mozzarella, fresh basil, and maybe a little cured meat like Prosciutto or salami.
Visit Our Shop to browse quality Mediterranean olive oils, spices, and more!
Nutrition
Calories:
51.2
kcal
Carbohydrates:
5.7
g
Protein:
4.3
g
Fat:
1.9
g
Saturated Fat:
1
g
Cholesterol:
6.7
mg
Potassium:
334.1
mg
Fiber:
1.4
g
Vitamin A:
436.9
IU
Vitamin C:
25.5
mg
Calcium:
25.5
mg
Iron:
0.7
mg