If you're looking to make crispy, tender, and super delicious roasted eggplant, this simple recipe is your ticket! Grab my few tips below, plus learn how I dress up my roasted eggplant spices with Mediterranean flavors (a couple spices, some tahini, and maybe a handful pomegranate seeds for somethin' fancy).
This is a versatile dish that you can prepare in advance. Serve it at room temperature as an appetizer, or as a part of a vegan affair next to some homemade falafel! Or as a simple side next to Mediterranean favorites like za'atar chicken; chicken shawarma; or grilled lamb chops.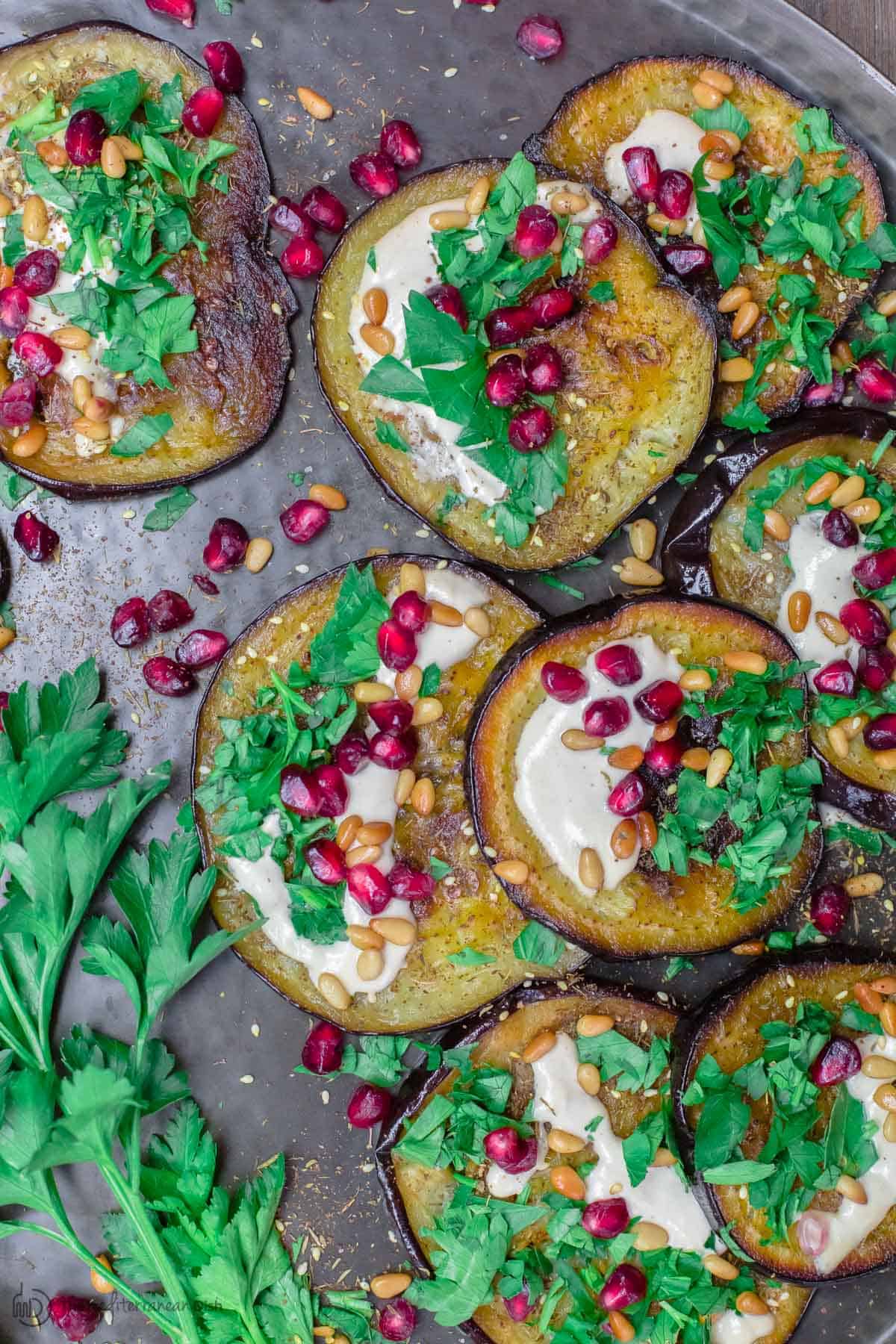 Some may claim eggplant is bitter or boring, while others consider it a fussy ingredient. But, if you give it a chance, eggplant can play as big a role as other staple ingredients, and it can actually be addictive!
In Mediterranean cooking, an eggplant can be transformed a bunch of delicious ways, from hearty eggplant casseroles like Greek Moussaka and Italian eggplant Parmesan, to one pot wonders like this braised eggplant dish, or luscious dips like baba ganoush. You can stuff an eggplant like we do in this recipe, or even turn it into baked eggplant fries!
But if you haven't worked with eggplant too often and want an easy recipe to start with, roasted eggplant is your ticket! A couple of tips make a big difference when it comes to turning an eggplant into crispy, tender roasted eggplant slices. Let's get to those before we move on to today's recipe.
How to Roast Eggplant: Important Tips
1. To start, select a good eggplant. There are many varieties of eggplant, but globe eggplant, which is what I use here, are available in stores almost year-round. The important thing is that you carefully select your eggplant--it should be heavy for its size, and the skin should be tight and unblemished. I like to give the eggplant a gentle squeeze to feel for any dents or soft spots.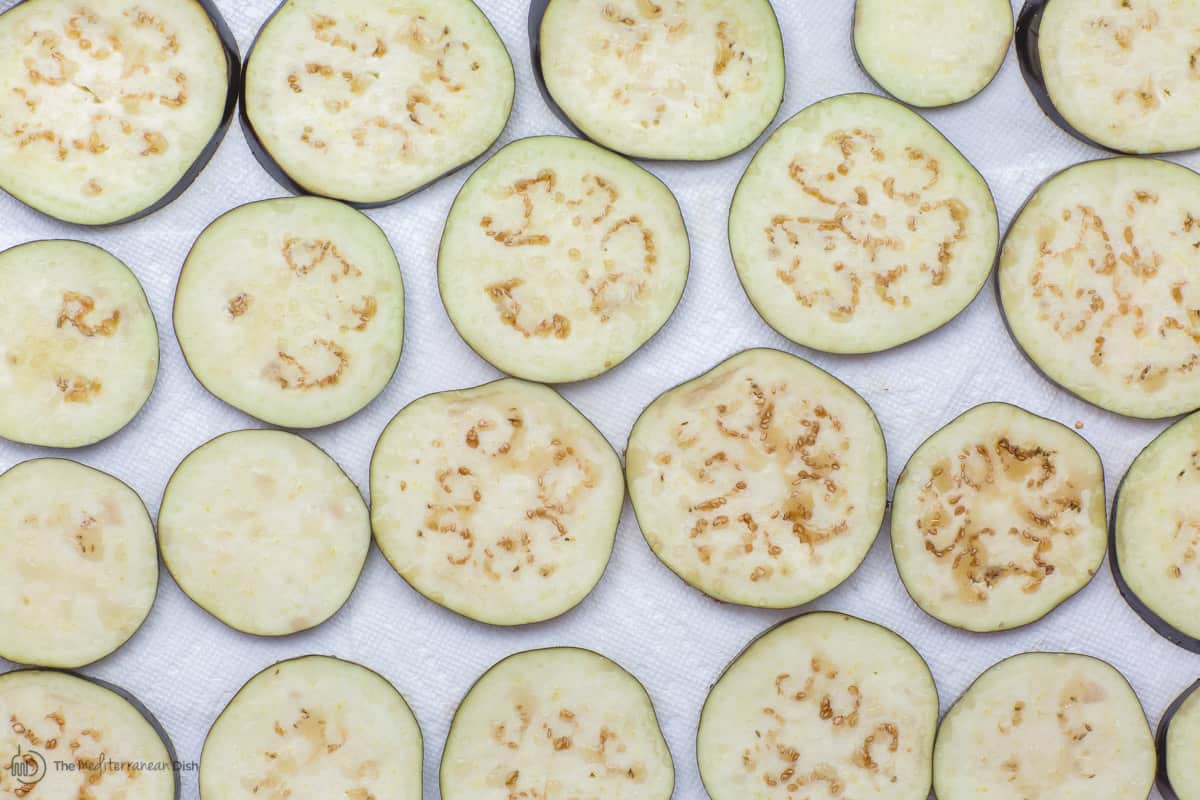 2. Salt the eggplant before roasting. There is a continued debate on whether the salting step is necessary. We discussed this earlier when I posted this eggplant Parmesan recipe, but it bears a brief repeat here. In my experience a quick salting--about 30 minute or so before roasting-- helps break the spongy texture of eggplant, and as it draws out moisture, it can also help it "sweat out" any bitterness. The eggplant also ends up absorbing less oil.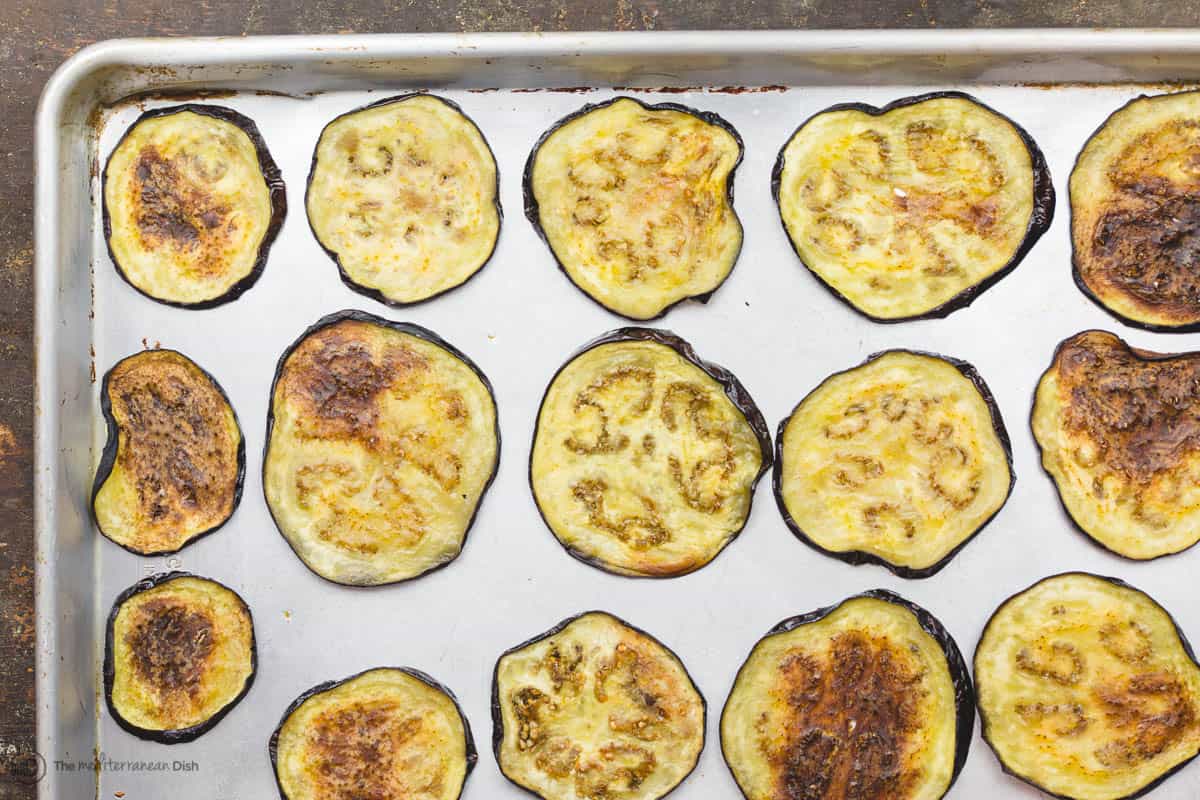 3. If you're looking for crispy roasted eggplant, rather than a steamed finish, do these 3 things: Slice the eggplant thinly (1-inch or even ¾-inch slices). Be sure to arrange them on your baking sheet in one single layer, spaced apart well. And, be sure to flip the eggplant slices over partway through roasting.
Mediterranean-Style Oven Roasted Eggplant Recipe
Today's roasted eggplant recipe has Eastern Mediterranean roots, and in particular, Jerusalem. Typically, the eggplant is fried until it turns a charred brown (almost blackened), then finished with some warm Middle Eastern seasonings, fresh herbs and a generous drizzle of tahini.
Instead of frying, I opted to roast the eggplant (applying the tips I shared above) and giving it a quick brush of extra virgin olive oil before roasting in a hot oven for about 35 minutes or until crispy and tender. For seasoning, I used a combination of za'atar (a wild thyme blend) and sumac. Then I added a good handful of fresh chopped parsley, toasted pine nuts and pomegranate seeds (ariles.) All that was left to complete this part is a little warm pita bread!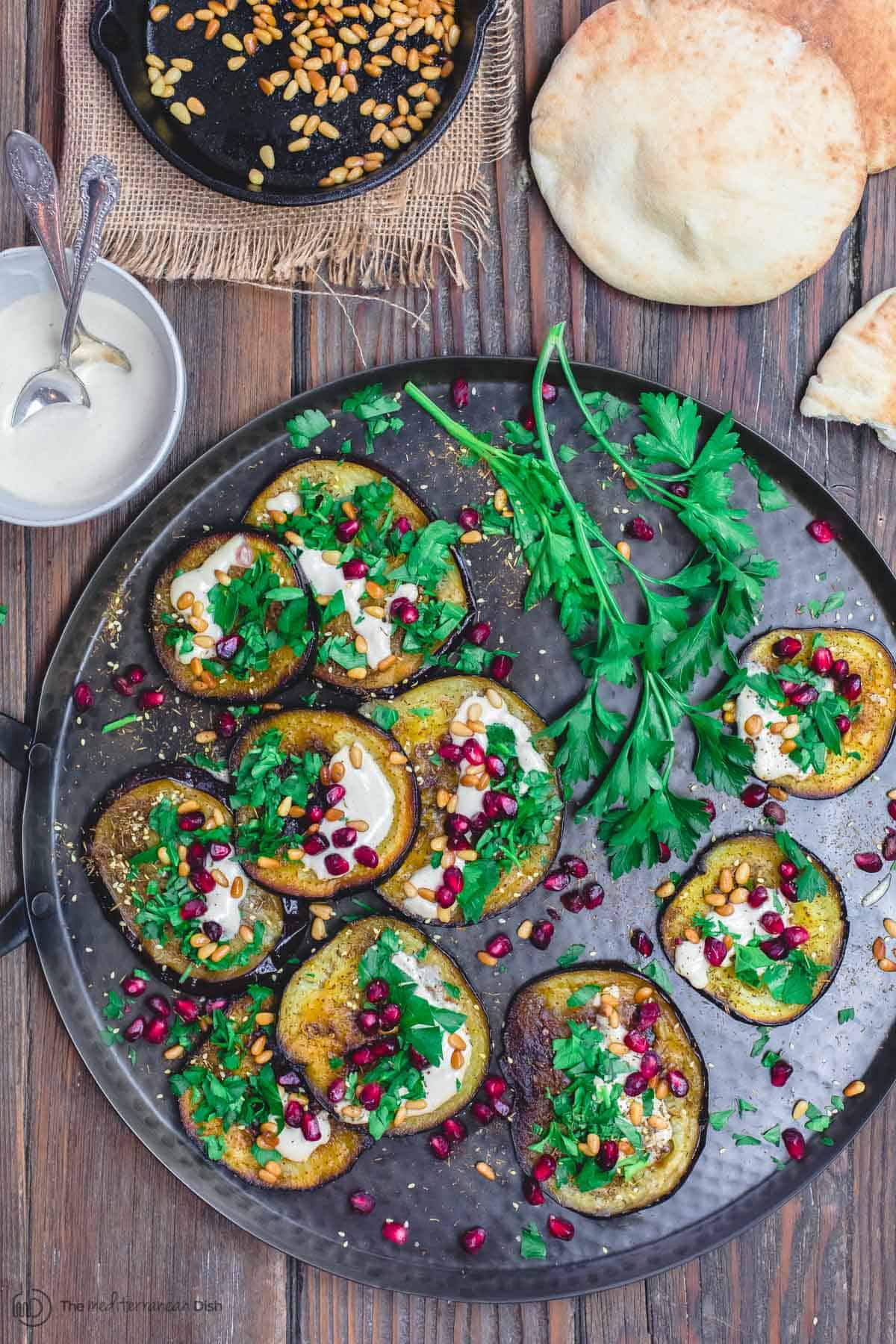 Variations
Really, once you have your roasted eggplant, you can dress it up any way you like. Change up the seasoning according to what you have on hand. Want to go with something even more exotic? Try a little Morrocan twist with seasonings like Harissa. Or you can go Greek with a touch of oregano and a dollop of tzatziki sauce on top.
How Long will Roasted Eggplant Keep?
If you follow the basic recipe for roasting eggplant and season it simply, keeping the tahini, parsley, and pomegranate aside, you can store the roasted eggplant in the fridge in an airtight container for 4 to 5 days.
Related Recipes
Greek Stuffed Tomatoes: Gemista
Roasted Tomatoes with Thyme and Feta
Best Roasted Cauliflower with Lemon and Cumin
Fried Eggplant with Tomatoes and Green Peppers
You may also enjoy 50+ Top Mediterranean diet recipes. For all recipes, visit us here. JOIN MY FREE E-MAIL LIST HERE.
Print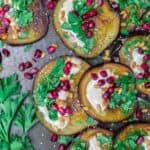 Mediterranean Roasted Eggplant Recipe with Pomegranates and Tahini
---
Description
This recipe is all you need to make crispy, tender roasted eggplant slices. Here we give the roasted eggplant a bit of a Mediterranean twist with warm seasonings like za'atar and sumac, a handful of fresh parsley, roasted pine nuts and pomegranate. Serve it with tahini sauce and warm pita! You can use the basic recipe and change up the seasonings to your liking. See notes.
---
1

large eggplant, sliced into

¾

-inch to 1-inch rounds
Kosher salt
Extra Virgin Olive Oil (I used Private Reserve Greek extra virgin olive oil)

½ cup

chopped fresh parsley

½ cup

pomegranate arils (seeds)
Toasted pine nuts, a handful
For Tahini Sauce
---
Notes
Cook's Tip: If you want the roasted eggplant slices to be crisper and deeper in color, opt for thinner ¾-inch slices and watch the roasting time. It's important to make sure eggplant is arranged on the baking sheet in one single layer and spaced apart, and don't forget to flip the eggplant over part-way through.
Leftover Storage: For be storage option, keep the tahini on the side as opposed to drizzling on top of the eggplant. Store roasted eggplant in the fridge in an air-tight container for up to 4 days.
Variations: You can use the basic recipe here to roast your eggplant and change up the seasonings to your liking. A little bit of oregano for more of a Greek flavor; or try harissa for an exotic Moroccan twist.
Visit our Online Shop to find our extra virgin olive oils and all-natural spices, including za'atar, sumac, harissa and more!
Prep Time:

10 mins

Cook Time:

30 mins

Category:

Side

Method:

Roasted

Cuisine:

Mediterranean
Keywords: Roasted Eggplant, How to Roast Eggplant, Roasted Eggplant Slices, Oven Roasted Eggplant
*This post first appeared on The Mediterranean Dish in 2016 and has recently been updated with new information and media for readers' benefit.