Not sure where to start with the Mediterranean diet? This expert Mediterranean diet food list is your answer! This list of 5 essential foods comes from Director of Nutrition at Oldways, Kelly Toups, MLA, RD, LDN. It's so simple to follow, and be sure to grab our shopping list and browse our growing list of Mediterranean diet recipes here.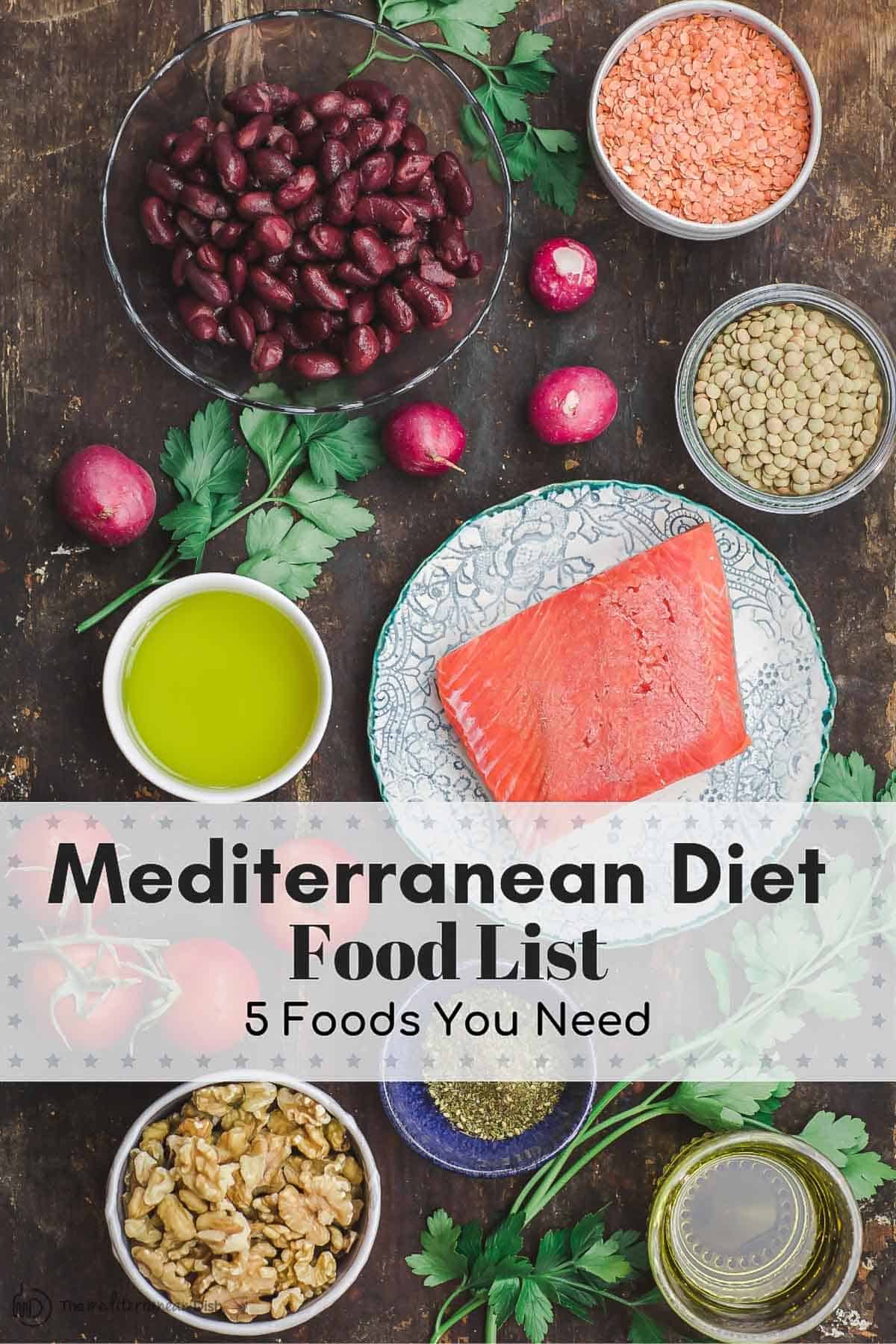 Aside from the fact that it's the easiest diet to follow, the main reason the Mediterranean diet is ranked the #1 overall healthy diet is because it is the most sensible, wholesome and nutritionally sound diet you'll find.
What Makes the Mediterranean Diet different from other diets?
Unlike other fads and silver-bullet diets out there (check out the bottom of this list, if you're curious), the Mediterranean diet does not require you to jump through impossible hoops or deprive yourself to the point of misery.
The Mediterranean diet is a balanced eating pattern that is rich in vegetables; fruit; whole grains; lean proteins, especially fish; and good fats from extra virgin olive oil. Red meats? Not too often. Sugars? Save those for special occasions.
What's really exciting about eating the Mediterranean way is the focus on big flavors and the pleasure of the table. It's all about good food; good company; and hey, you can even have a glass of wine! Who wouldn't love that?!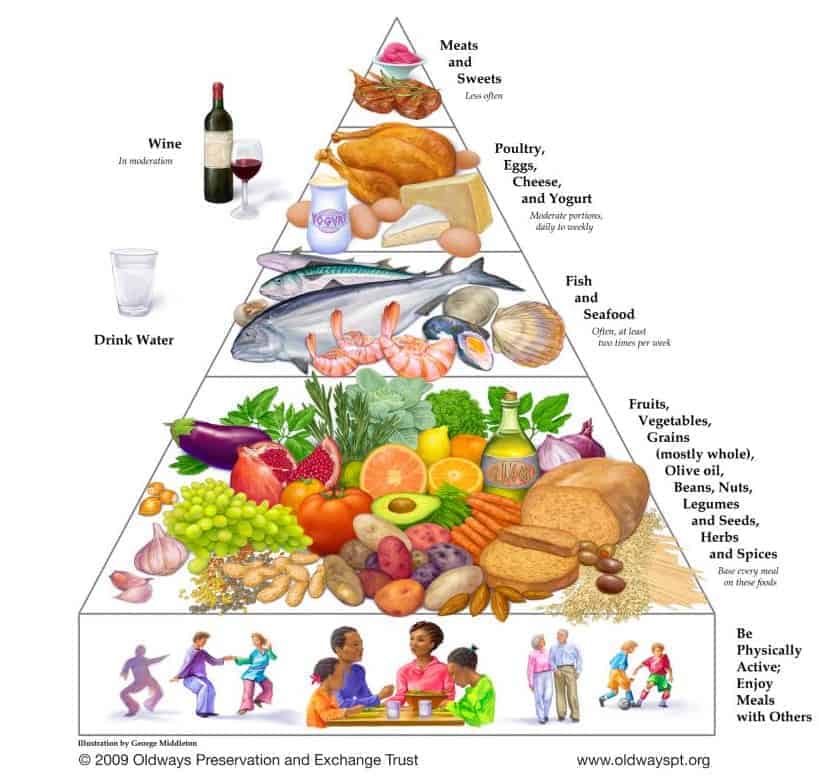 What Can You Eat on The Mediterranean Diet?
If you're wondering, "what should I eat on the Mediterranean diet?" Here's a quick summary:
- Eat MORE: fruits, veggies, whole grains, beans, nuts, and legumes.
- Eat MODERATELY: Lean proteins from fish and some poultry.
- Eat LESS: Red Meats and Sweets (sweets are often eliminated if you're following a stricter Mediterranean diet.)
- Use quality Extra virgin olive oil regularly. Our favorites are: Early Harvest extra virgin olive oil and Greek Private Reserve extra virgin olive oil
- For Flavor: Reduce salt and use more fresh herbs, garlic, citrus, and spices.
I recently chatted with Director of Nutrition at Oldways Kelly Toups, MLA, RD, LDN, and asked her my burning question: "If you were to list just 5 essential Mediterranean Diet foods, what would they be?"
Here they are...
Mediterranean Diet Food List: 5 Essential Foods You Need
Olive oil is the primary cooking fat in the Mediterranean diet. Traditional Mediterranean diets will use extra virgin olive oil in everything from salad dressings, to roasting or sauté vegetables, to tossing with pasta, to marinating seafood and meats, or simply adding to dips like hummus or baba ganoush, and more!
Olive oil has been well studied for its role in heart health, and recent research suggests that frequent olive oil consumption may be linked with making blood less likely to clot.
Tip: Find quality cold-pressed extra virgin olive oils from organically grown and processed olives, of low acidity levels and high polyphenols.
(If you live in the USA, visit our online store to learn about our Greek extra virgin olive oils Private Reserve and Early Harvest.)
2. Seafood
For centuries, the Mediterranean Sea has been a source of delicious and nutritious seafood for its coastal neighbors. Experts say, the Mediterranean diet includes at least two servings of seafood per week, which comes from a variety of sources, including small fish, like sardines. Eating fish regularly is linked with numerous benefits, including a 40% lower risk of heart disease, as well as a lower risk of depression.
A few seafood recipes to try: Greek Baked Cod with Lemon and Garlic; Easy Mediterranean Shrimp; Baked Fish with Tomato and Capers; Sicilian Fish Stew; Baked Salmon with Garlic Cilantro Sauce. More here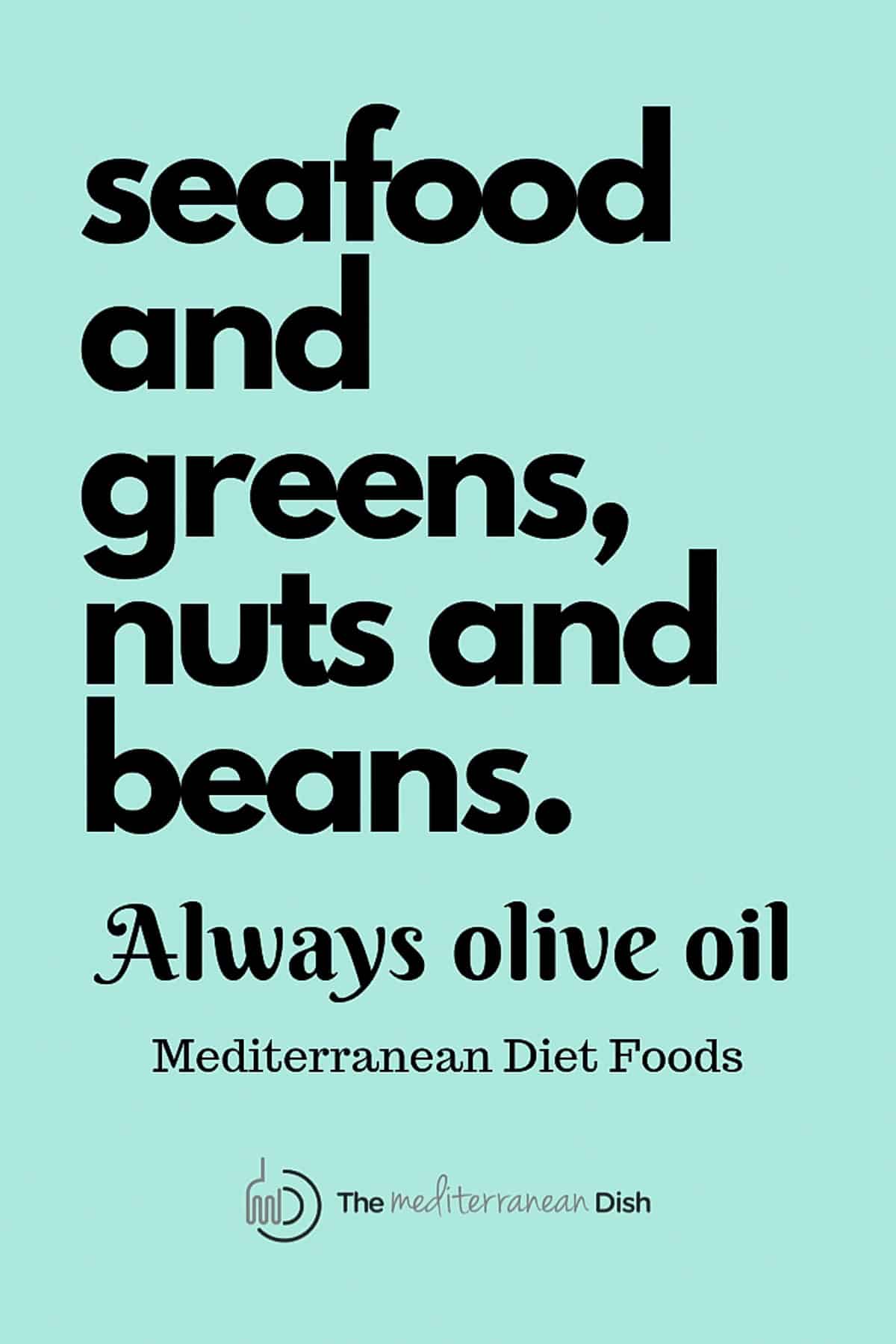 3. Legumes (like lentils or chickpeas)
Legumes--also known as pulses like lentils, peas, beans, chickpeas and the like-- are a reliable and affordable source of shelf stable protein in the traditional Mediterranean diet. This is important, given that meat was not eaten infrequently (both because of religious fasting and because of expense and availability).
Pulses and legumes are satisfying, nutrition-dense foods that are high in proteins and dietary fiber. They are linked with a lower risk of type 2 diabetes, and it can be just as filling as meat-based foods. Thankfully, in the Mediterranean diet, legumes are consumed nearly daily!
A few legume recipes to try: bean salads, lentil stews, hummus, mashed fava beans, fasolada, pasta fagiolio, chickpea stew, and this vegan stew with peas and carrots. And if you are as big on chickpeas as I am, check out this list of 17 chickpea recipes.

4. Nuts and Seeds
Nut trees are abundant throughout the Mediterranean, and as such, nuts have played an important role in shaping the cuisine!
Nuts are eaten daily or nearly daily in the Mediterranean diet, simply as snacks or incorporated into dips or pestos, sprinkled on salads and vegetable dishes, folded into pasta meals...etc.
Researchers find that protein from nuts and seeds is linked with less death from heart disease than protein from meat. Nuts' biggest claim to fame is their link with longevity, but they are also linked with lower risks of heart disease and cancer.
A few recipes with nuts to try: Muhammara (roasted red pepper dip with walnuts), healthy chicken salad, Moroccan Chicken, Roasted Garlic Hummus, Chunky Citrus Avocado Dip, Olive Oil Banana Bread
5. Leafy Greens
The Mediterranean diet focuses heavily on vegetables, but one important element is leafy vegetables. Green leafy vegetables are basically any vegetable that has leaves you can eat like kale, collard, spinach, and arugula. But they also encompass the entire lettuce family and a variety of herbs, like parsley and cilantro! (By the way, if you're wondering how I keep my many bunches of herbs fresh for longer, check out my quick tutorial!)
Leafy greens are good for our bodies and our brains. In fact, one study found that people who ate just one to two servings of leafy greens per day had the cognitive ability of a person 11 years younger than those who ate none.
Not only are they a great source of nutrition for our bodies, but leafy greens are a great way to add color, texture and flavor to your meals. And thankfully, they are easy to use
A few recipes with Leafy Greens and Herbs to Try: Chicken Arugula Salad, Vegan Potato Leek Soup, Spicy Cilantro Pesto, Cilantro Lime Chicken, Tabouli, Spanakopita
Looking for More Mediterranean Diet Recipes?
Once you start eating the Mediterranean way, you will find so many ways to incorporate bold Mediterranean flavors into your meals.
Be sure to check out the BEST and LARGEST selection of Mediterranean diet recipes here. This is a growing list of nearly 200 recipes, and more will be added on a regular basis.
Here's the Quick Summary. Remember Two Things:
Olive oil always...or most of the time.
Eat more, seafood and greens, nuts and beans.
You may also like to read:
*Special thanks to Kelly Toups, MLA, RD, LDN, Director of Nutrition at Oldways. Oldways is a nonprofit dedicated to improving public health by inspiring individuals and organizations to embrace the healthy, sustainable joys of the "old ways" of eating—heritage-based diets high in taste, nourishment, sustainability, and joy. Kelly holds a BS in nutrition from the University of Texas, where she completed her dietetic internship, and also holds a master's degree in Gastronomy from Boston University, with a concentration in food policy. She has been with Oldways since 2014.
*This post originally appeared on The Mediterranean Dish in 2019 and has been updated with more information for readers' benefit. Readers assume full responsibility for consulting a qualified health professional regarding health conditions or concerns before starting a health program, new way of eating, or diet.