Ready to give your meals a bold Mediterranean twist? This roundup of Best Mediterranean Recipes of the year will give you all the inspiration you need. Whether you are looking to follow the Mediterranean diet or you simply love the bright flavors of Mediterranean food, there is something for everyone on this list of Mediterranean recipes—from delicious Mediterranean dinners to satisfying breakfasts, soups and salads, and even a little dessert! (Also be sure to check out our collection of top Mediterranean Diet Recipes).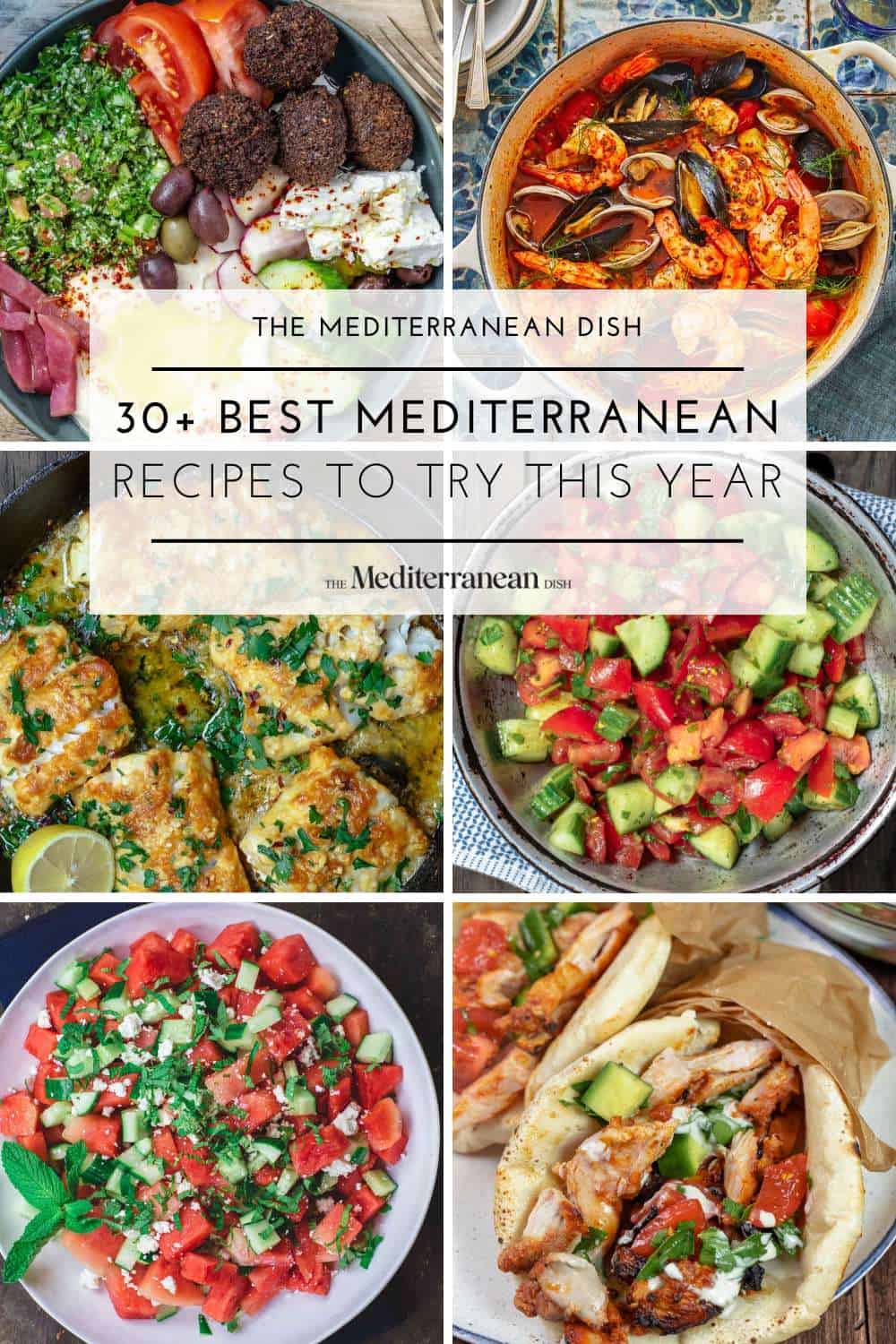 Mediterranean Food
Mediterranean food is a delicious and exciting way to eat, spanning flavors from many cultures and countries from South of Europe to North Africa and the Middle East. There is so much to love about eating Mediterranean, and thankfully it is a balanced and healthy way to eat.

If you've been a reader of our site for any amount of time, you know that we have a large collection of modern Mediterranean recipes that celebrate the many flavors of the sunny region.

And one of the fun rituals I look forward to every December is updating my list with the BEST Mediterranean recipes of this year! I love looking back to see which recipes everyone cooked and enjoyed most this particular year. There are always the Mediterranean food classics like shawarma, falafel, and the all-essential Greek salad, but there are also many brand new recipes with exciting modern twists that have quickly become fan favorites.

Whether you've stumbled here looking to follow the the Mediterranean diet or just looking for healthier dinners with big, bright flavors, there is something for you on this list of top 30 + Mediterranean recipes to try this year.
Table of Contents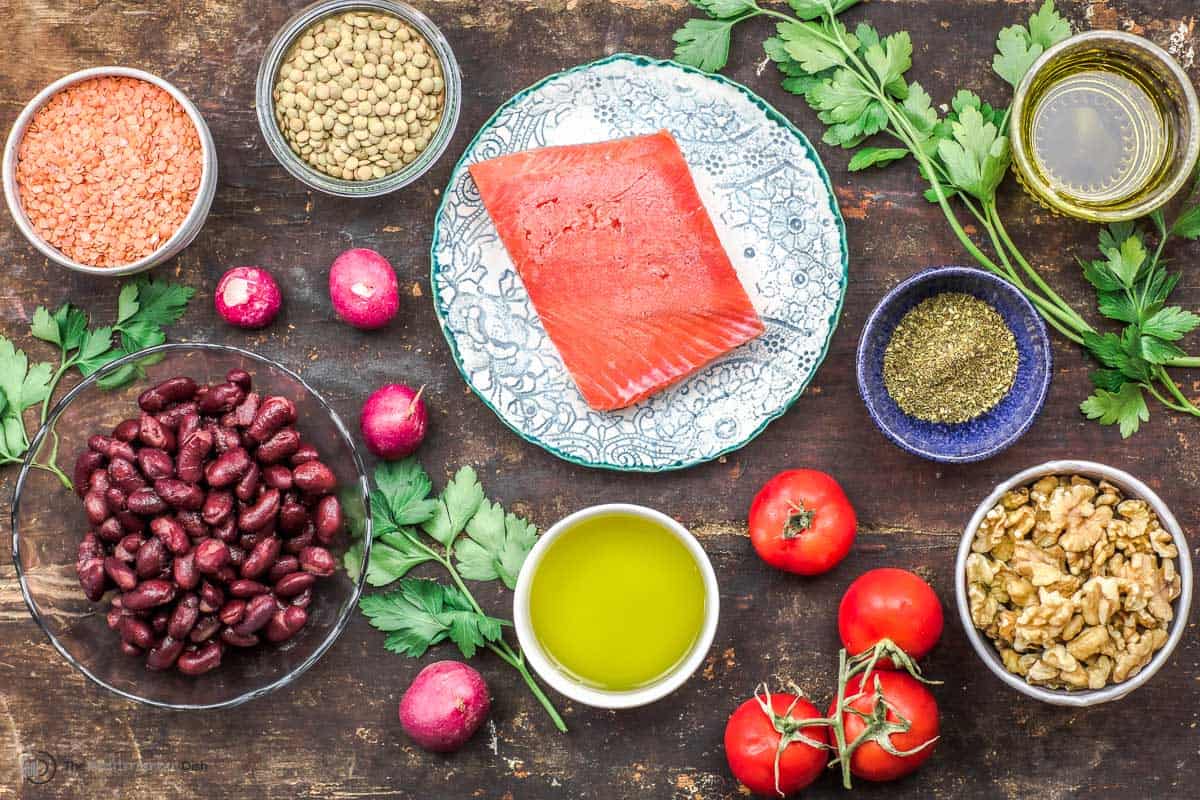 A Word About the Mediterranean Diet
Eating the Mediterranean diet is about emphasizing quality extra virgin olive oil, vegetables and fruits, legumes and grains, and lean proteins including fish and poultry.
You won't find a list of dos and don'ts when eating the Mediterranean way, and yes, you can absolutely have a little dessert and a glass of sangria on occasion. To understand this way of eating better you can read more about what is the Mediterranean diet and how to follow it.
But, the majority of the recipes in this roundup follow the Mediterranean way of eating and are a great place to start! (And here is a handy shopping list to stock your pantry for Mediterranean cooking).
Now let's get to the best Mediterranean food recipes of the year!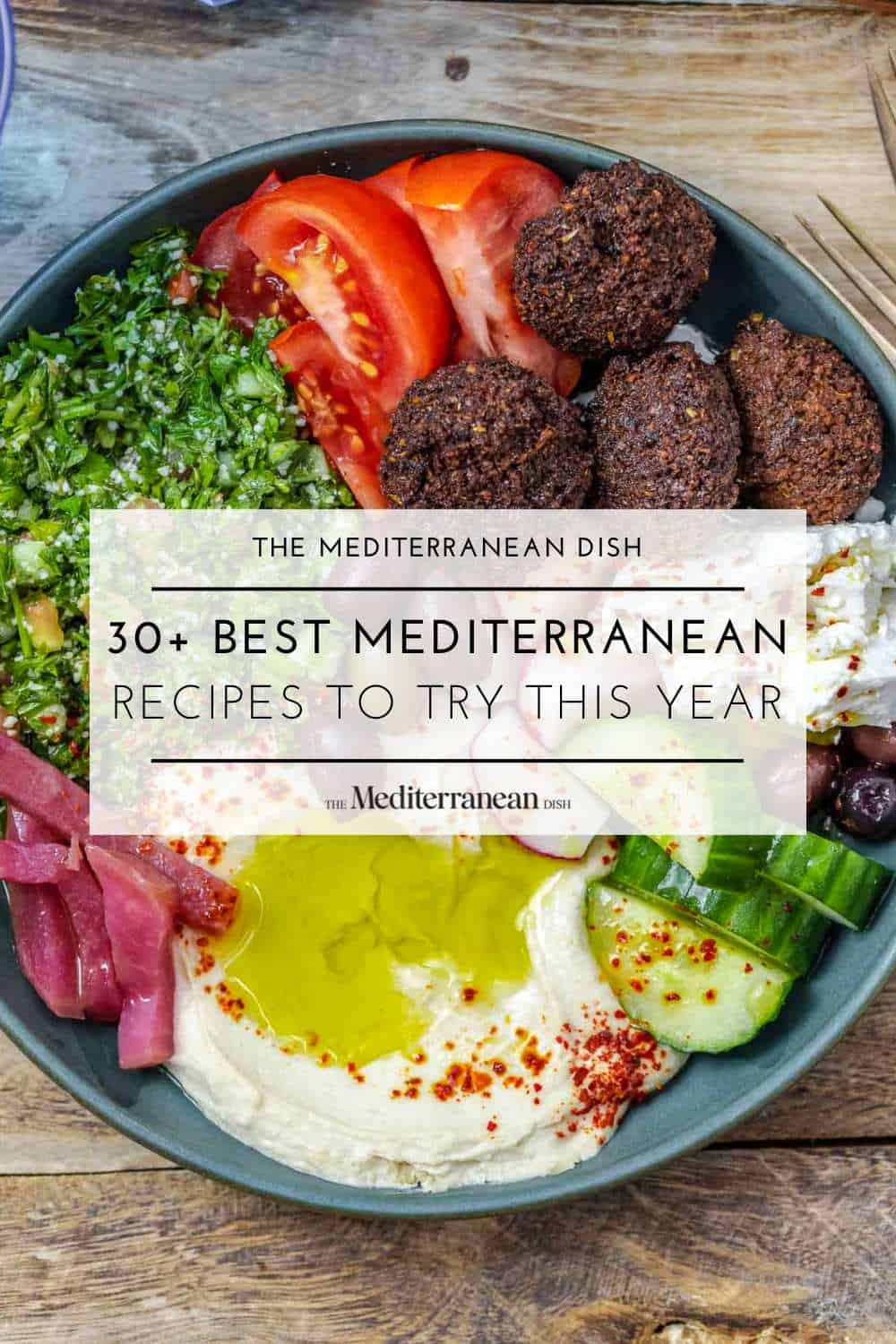 Best Mediterranean Recipes to Try in 202

3
Drum roll for the best Mediterranean recipes of the year! To see each recipe, simply click on the recipe name.
Mediterranean Breakfast Recipes
Here are a handful of satisfying Mediterranean breakfast recipes, but you can also see more breakfast ideas here.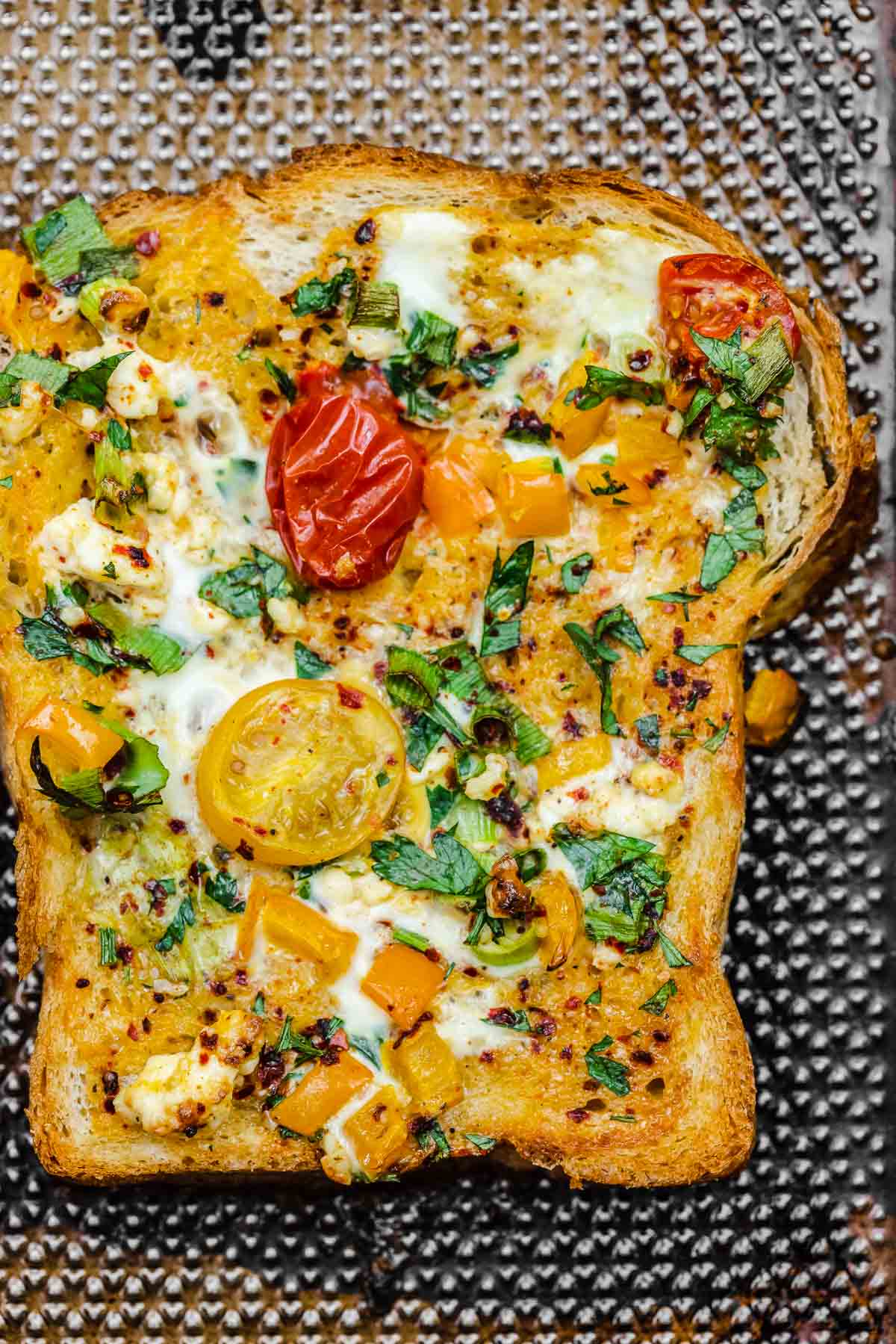 This baked omelet toast is a satisfying and healthy breakfast recipe that takes only 5 minutes of active work. Make it for your family or double (or even triple) the recipe to serve company.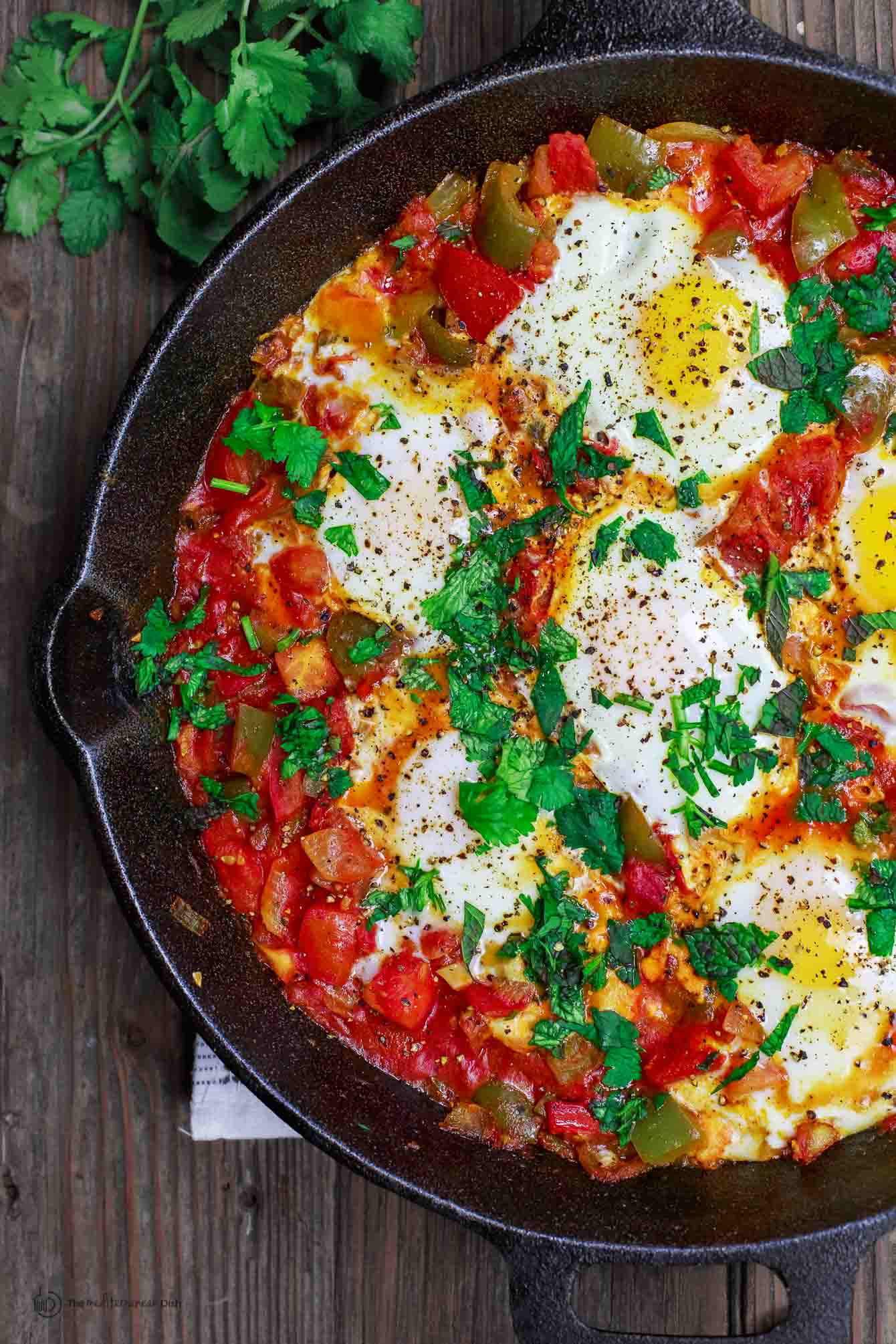 A classic North African dish hailing from Tunisia, shakshuka is simple sunny side up eggs braised in a chunky tomato sauce with bell peppers and onions. Use fresh tomatoes when they are in season, but feel free to make it with canned chopped tomatoes during the winter months.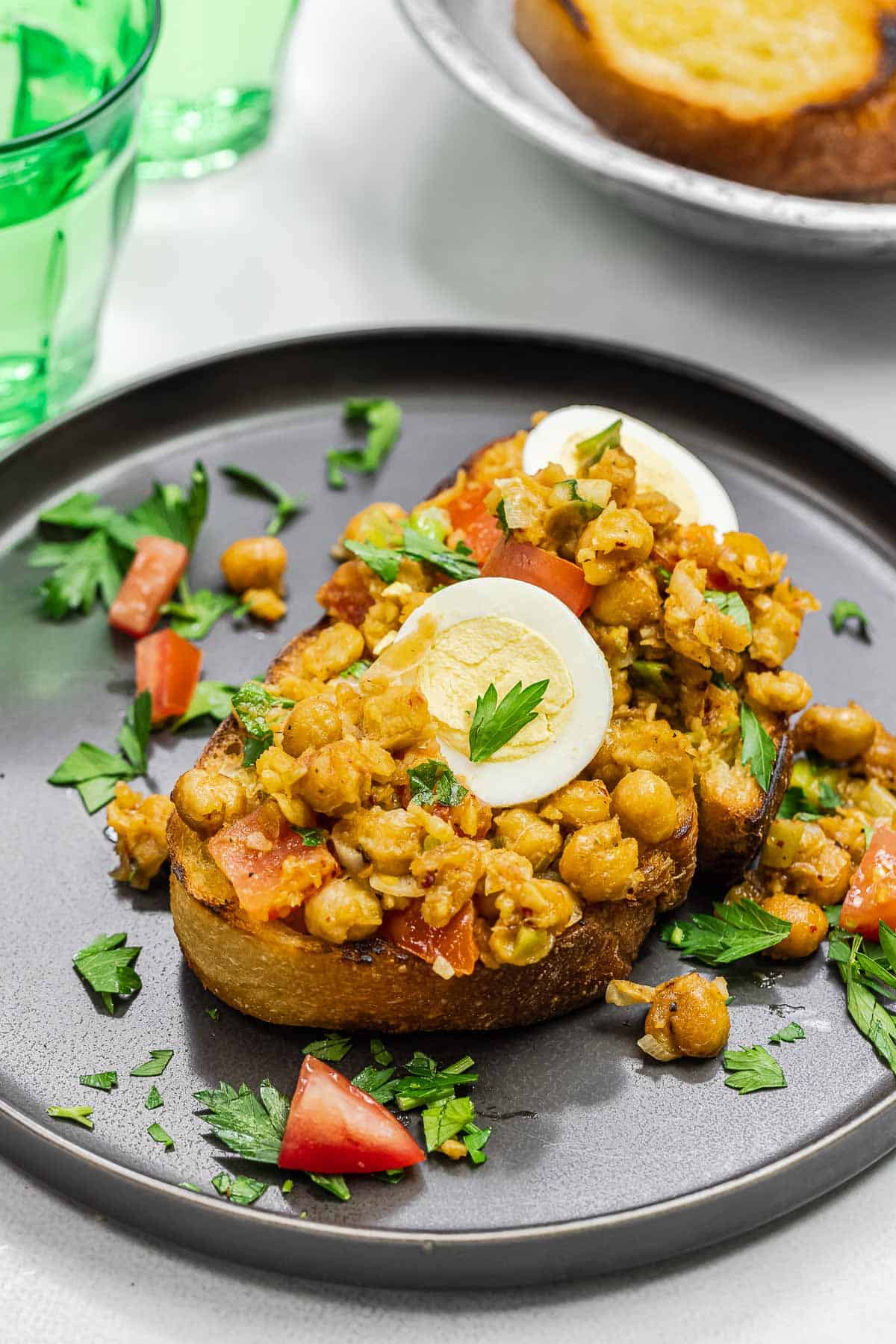 This is really a meal you can make any time of the day, and because chickpeas are rich in protein and fiber, this toast will keep you satisfied for a while!
Mediterranean Dinner Recipes
What's for dinner? I have you covered with a handful of easy and delicious ideas—some traditional and some modern, but all with bold Mediterranean flavors!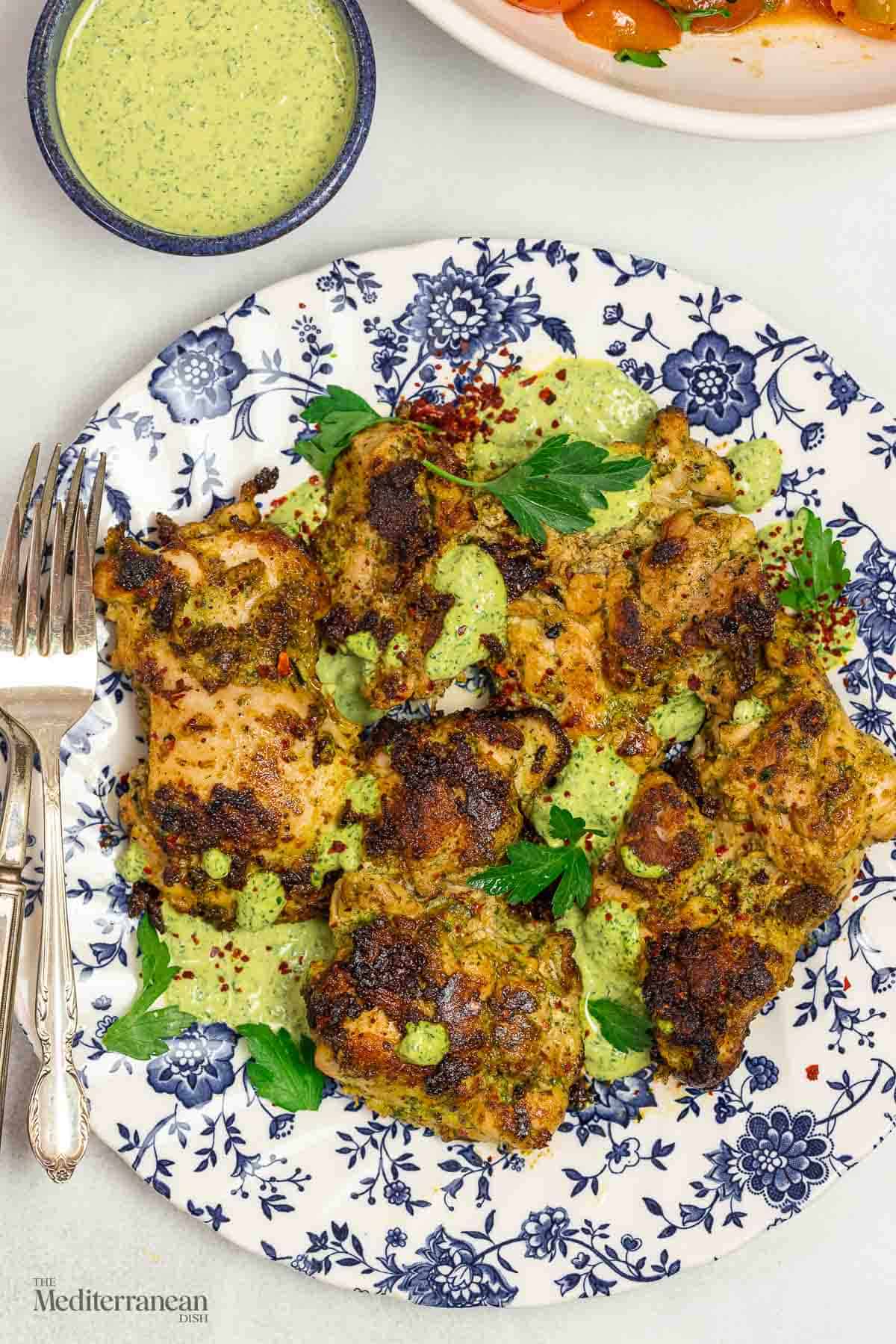 This quick chicken recipe is easy to make in a skillet or baked in the oven, the secret is in the 5-minute Green goddess dressing, which I actually make with tahini (but you can use yogurt instead). Loads of flavor!
Velvety and extra creamy vegan red lentil soup is finished the a drizzle of good olive oil and red pepper flakes.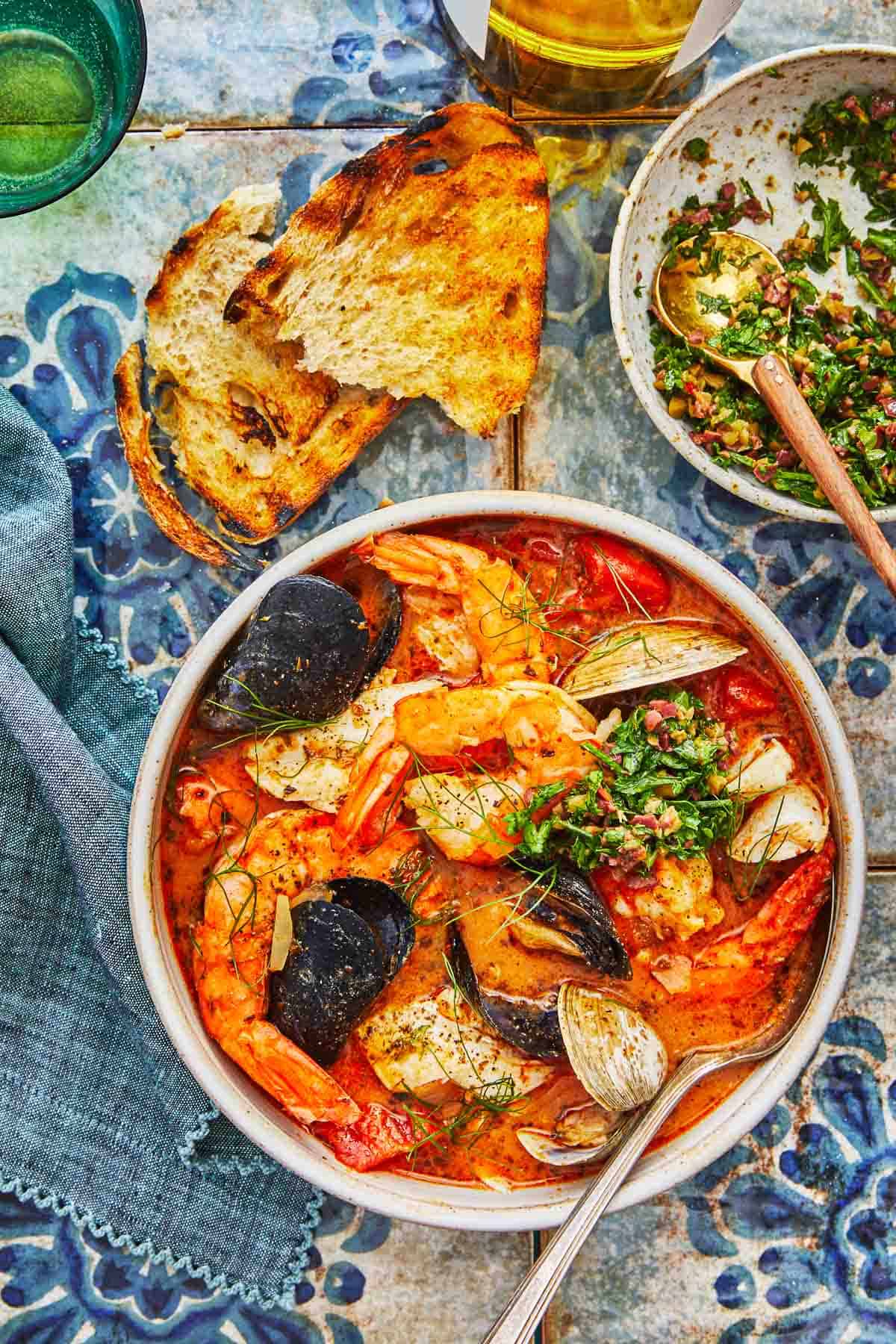 Cioppino Recipe (Seafood Stew)
Cioppino, pronounced chuh-pee-no, is intensely satisfying seafood stew containing a wonderful jumble of texture and flavor including clams, mussels, white fish and shrimp, cooked in a bold tomato-fennel broth. This Italian-American fish stew is a great example of the many ways Mediterranean food has been adapted over the years.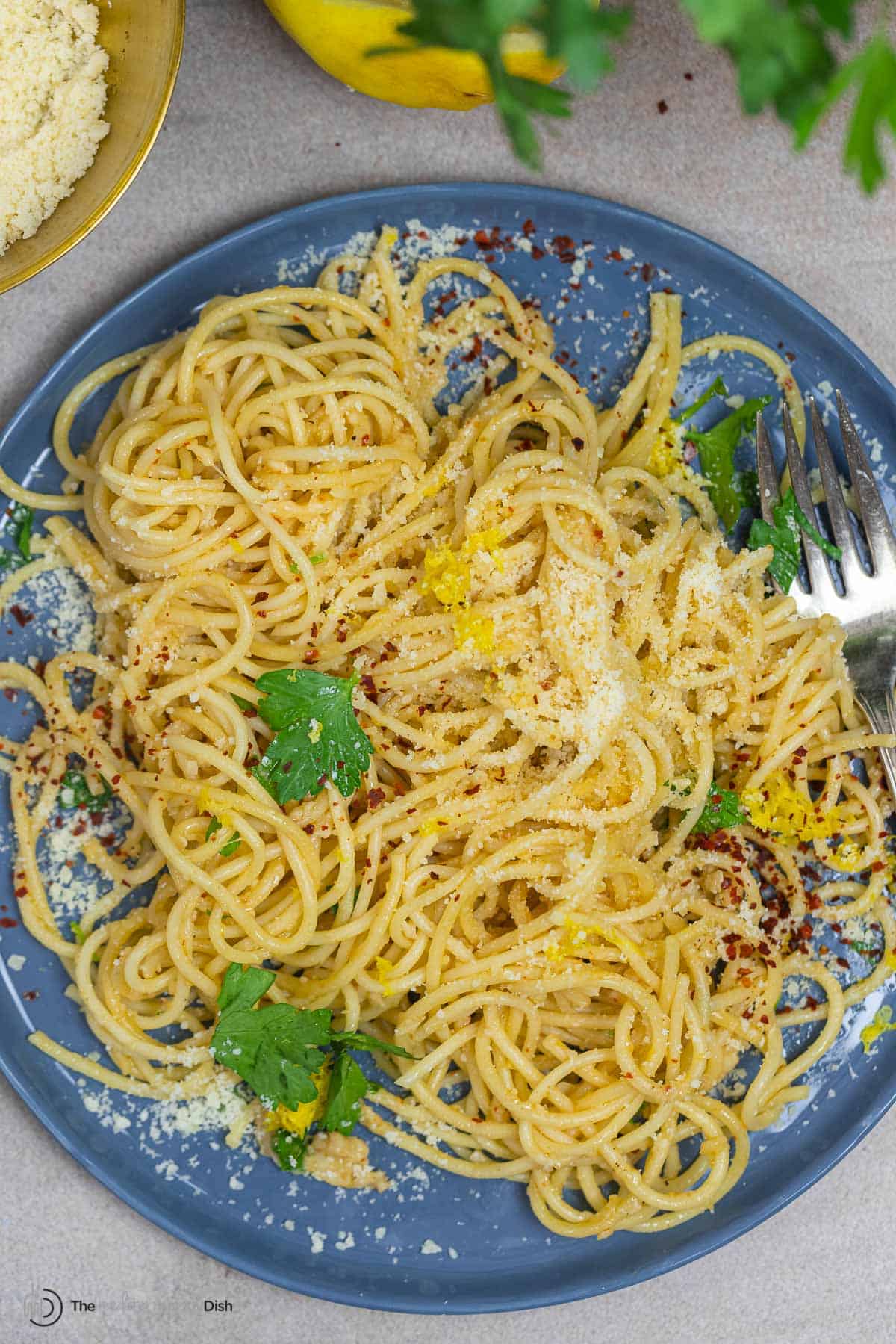 Yay for pasta lovers! This simple lemon pasta with garlic and Parmesan won many hearts. It comes together in about 15 minutes, and it's tangy and light in the best way.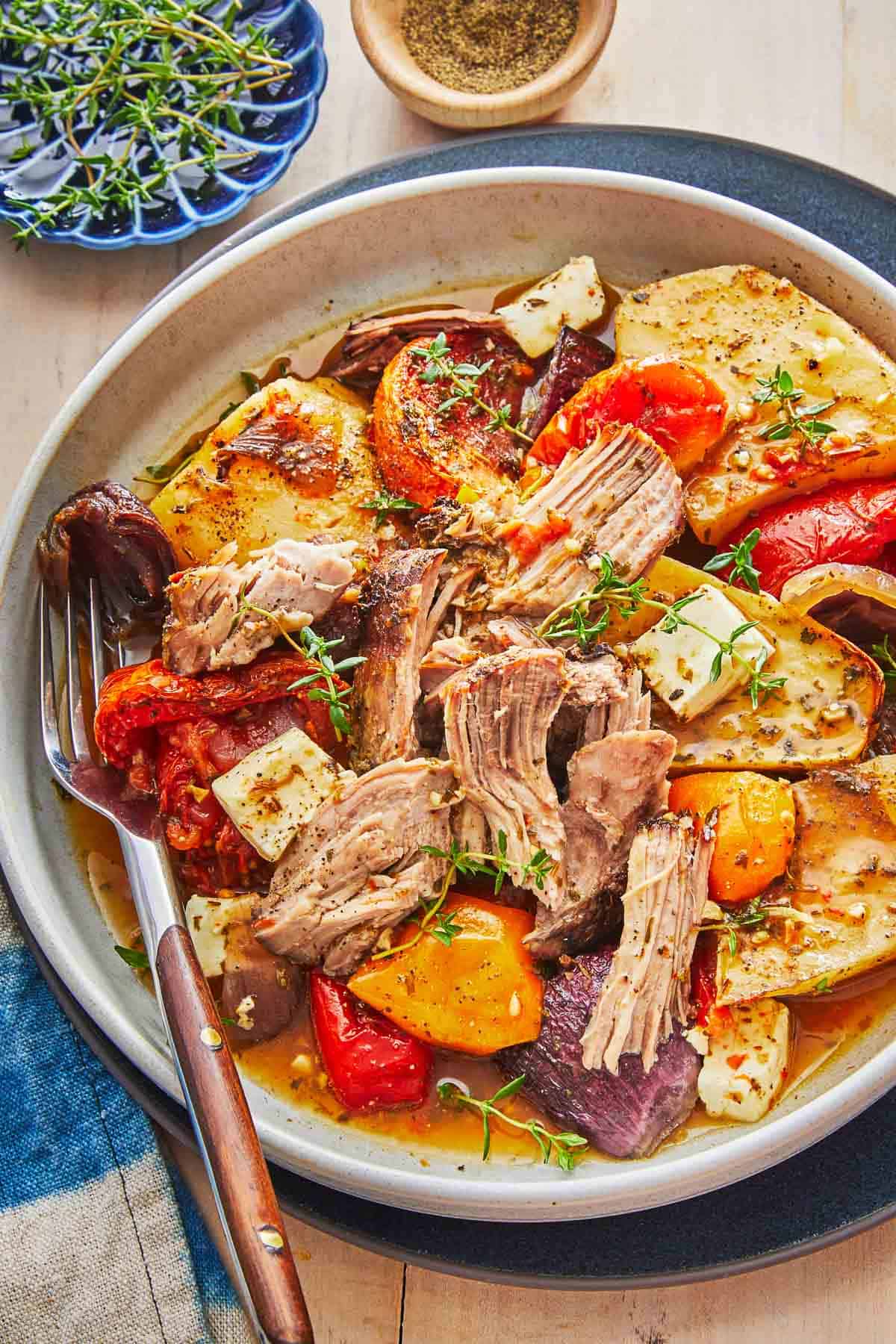 This easy recipe shows you how to make fall-apart-tender Greek lamb roast to feed a crowd. The key to it is in cooking the lamb with the vegetables in parchment paper, which traps the heat and allows the lamb to cook perfectly so it is succulent and extra tender.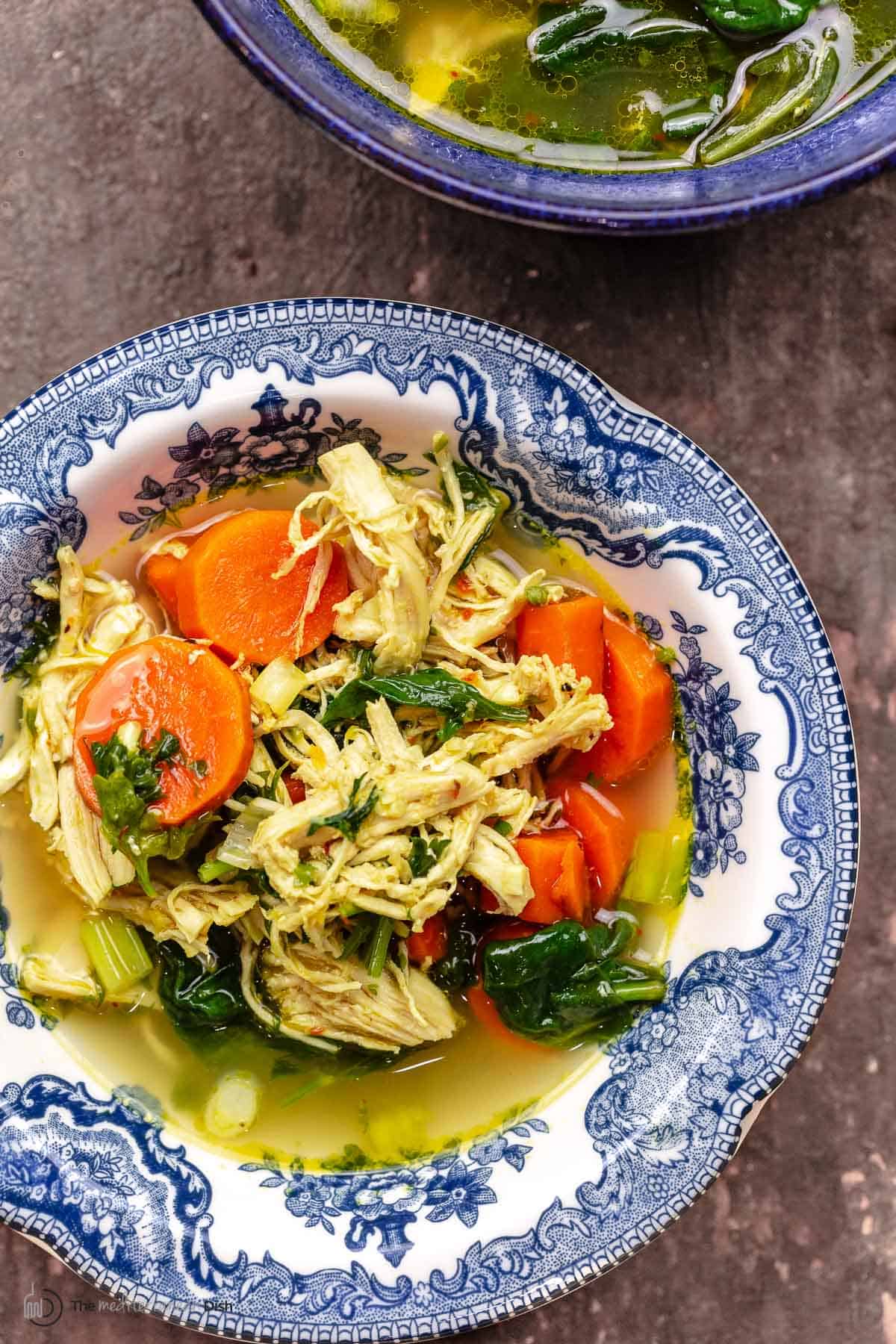 Loaded with fresh lemon juice, and amped up with veggies, herbs, and warm spices, this Mediterranean-style turmeric lemon chicken soup is delicious, nutritious and comforting in the best way possible.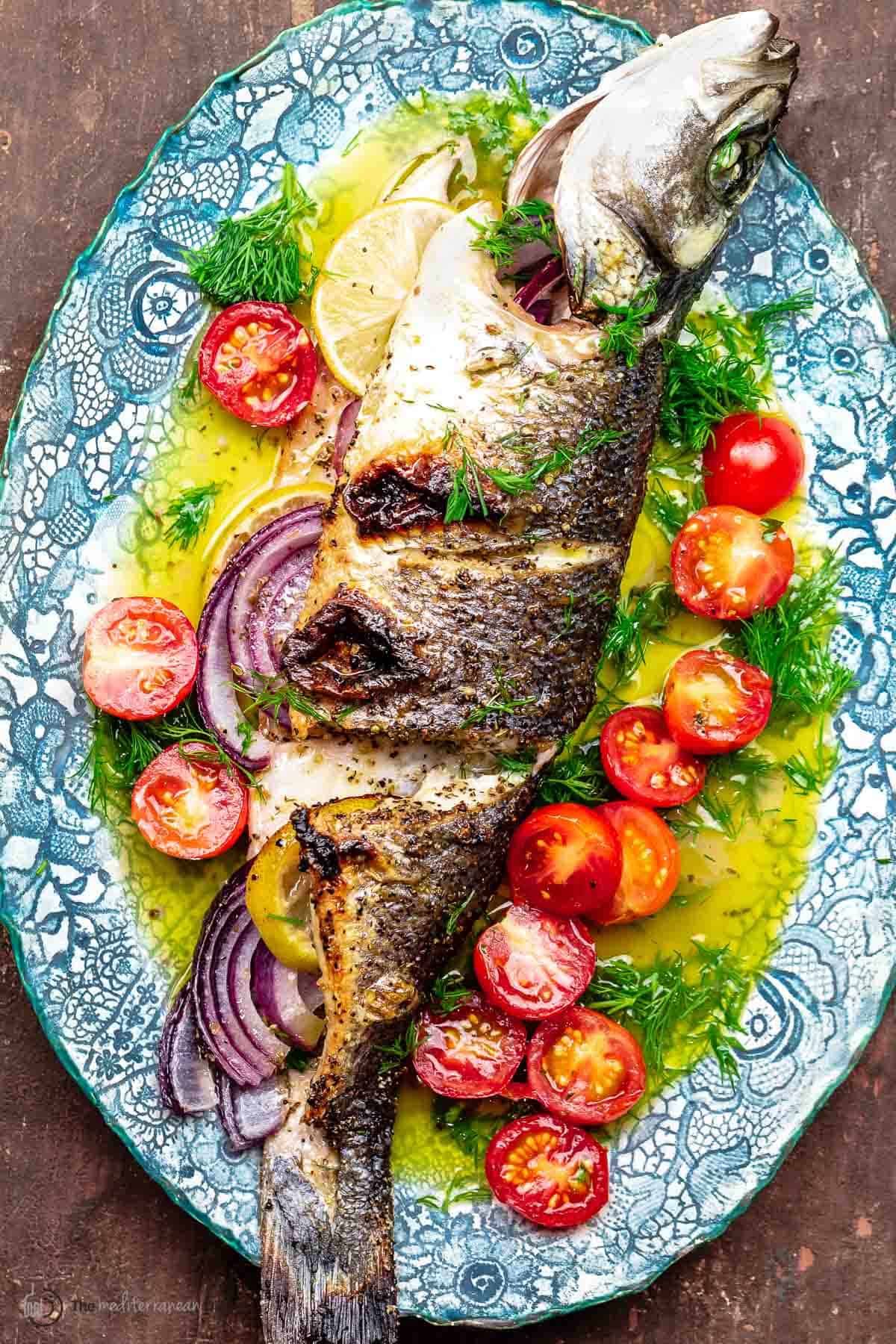 Perfect whole roasted fish you can make in just 20 minutes! It's even better finished Greek-style with my lemony, garlicky ladolemono sauce.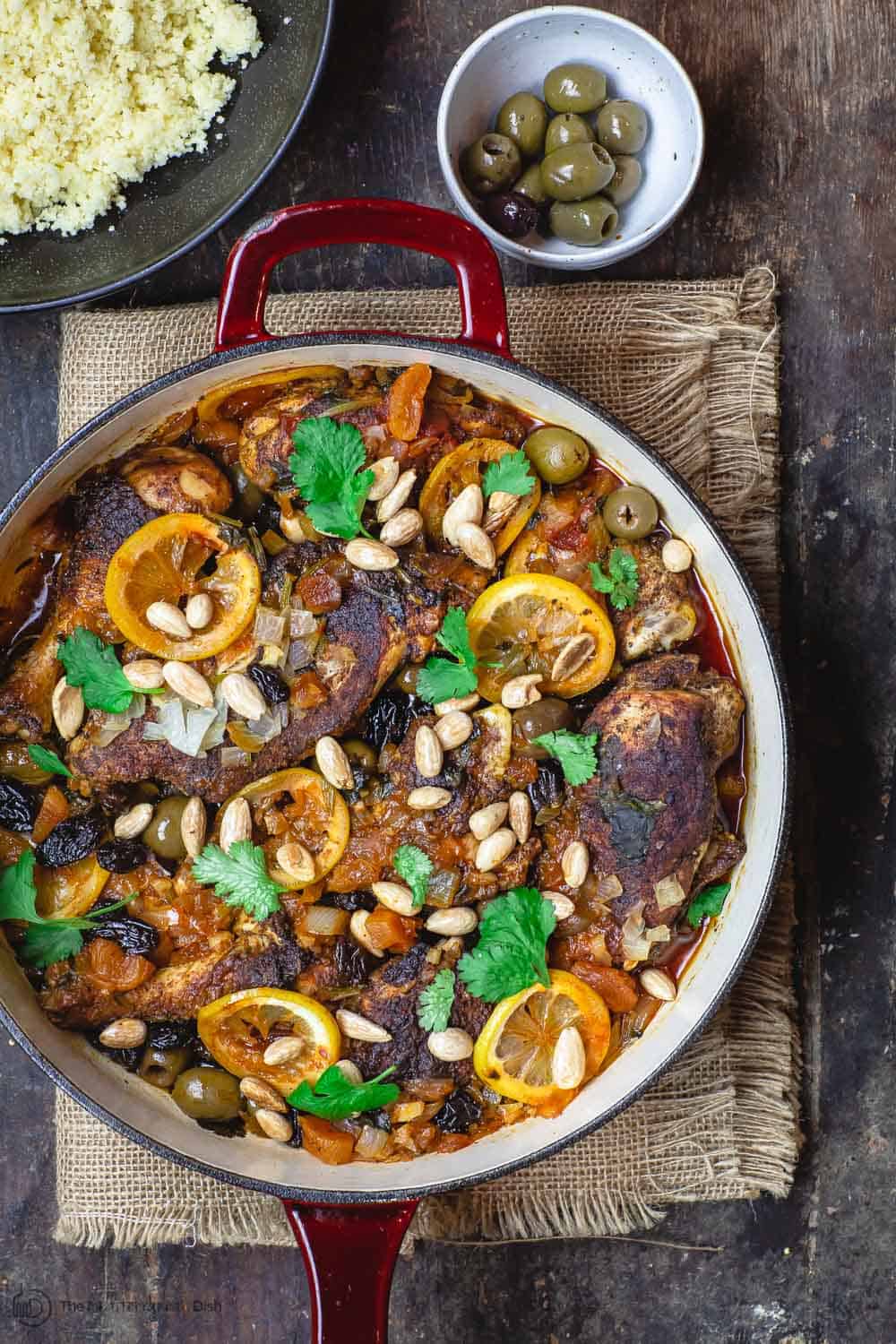 A hearty one-pan chicken dinner with warm Moroccan spices (including Ras El Hanout), olives, and sliced lemons. If you've made some preserved lemons, that's even better!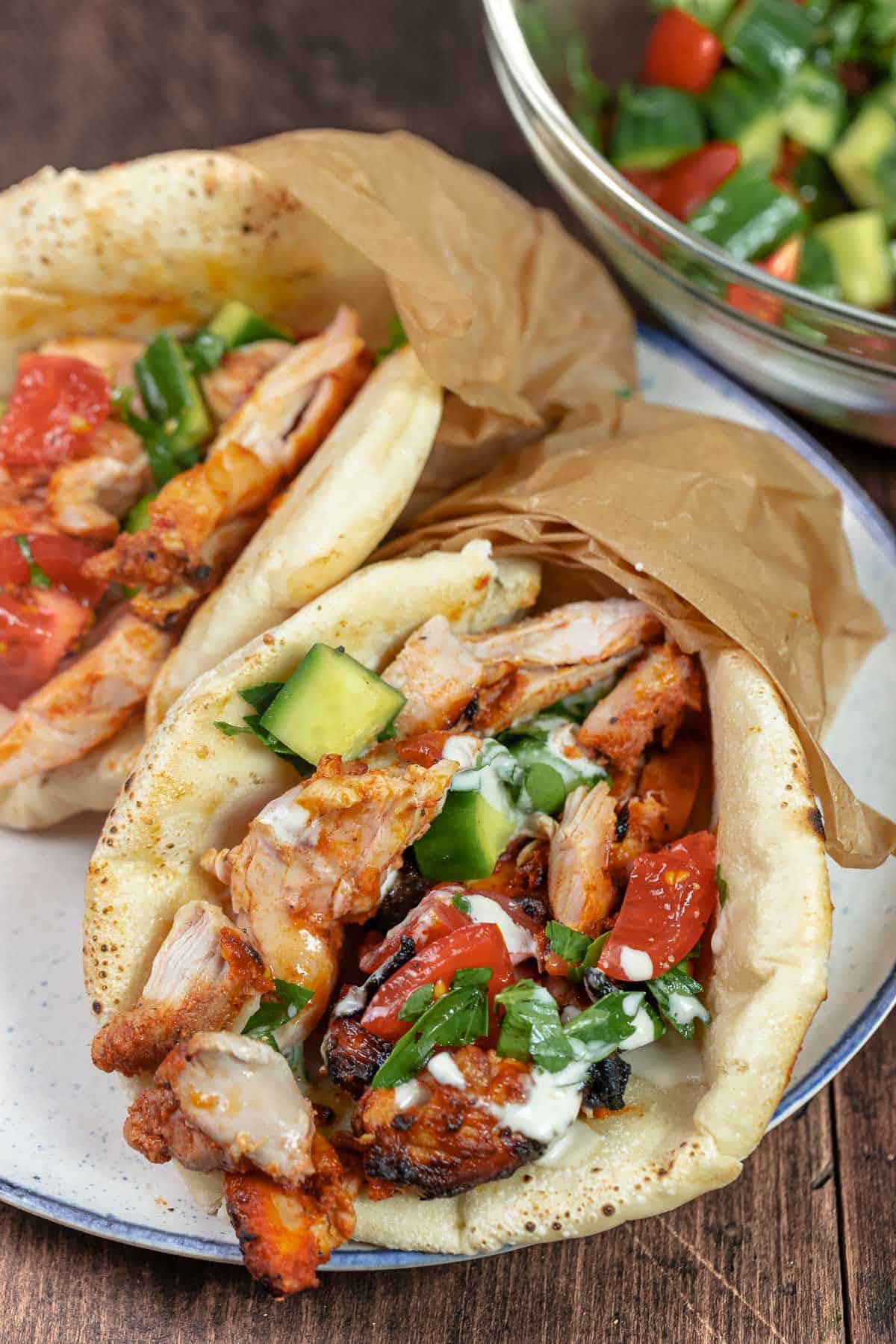 I ate a lot of this when I visited Istanbul some years ago! The key to making this Turkish kebob/street food successfully at home is marinating the chicken in a bold yogurt sauce with lots of garlic, spices, a little citrus, and some tomato paste to give it umami and color. The recipe calls for using a grill, but you can easily marinate the chicken and bake it in the oven.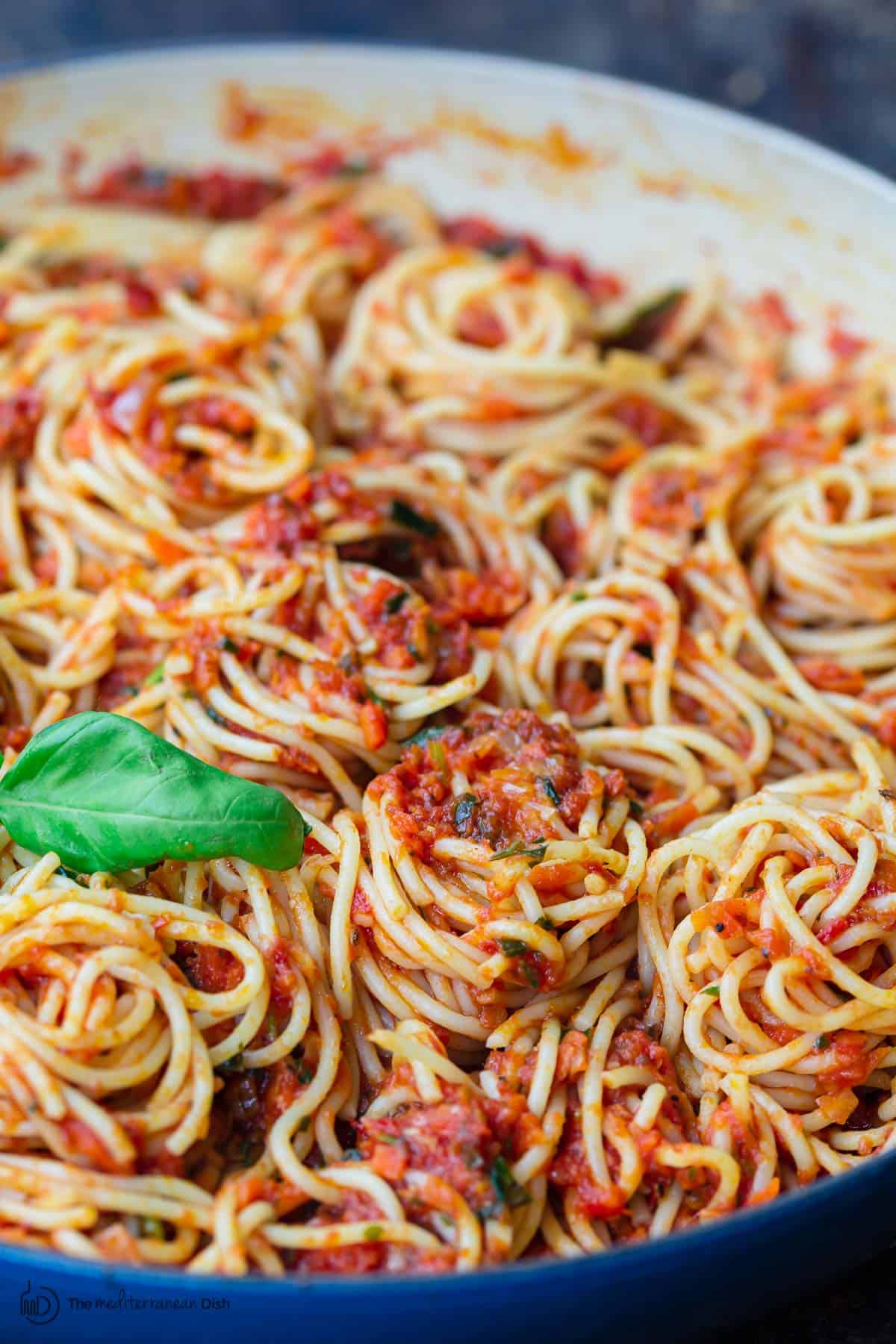 Pasta with Homemade Spaghetti Sauce
This easy recipe for homemade spaghetti sauce uses a few pantry staples, but the result is perfect every time! It freezes well and you can use it for pasta or other delicious saucy items including eggplant parmesan.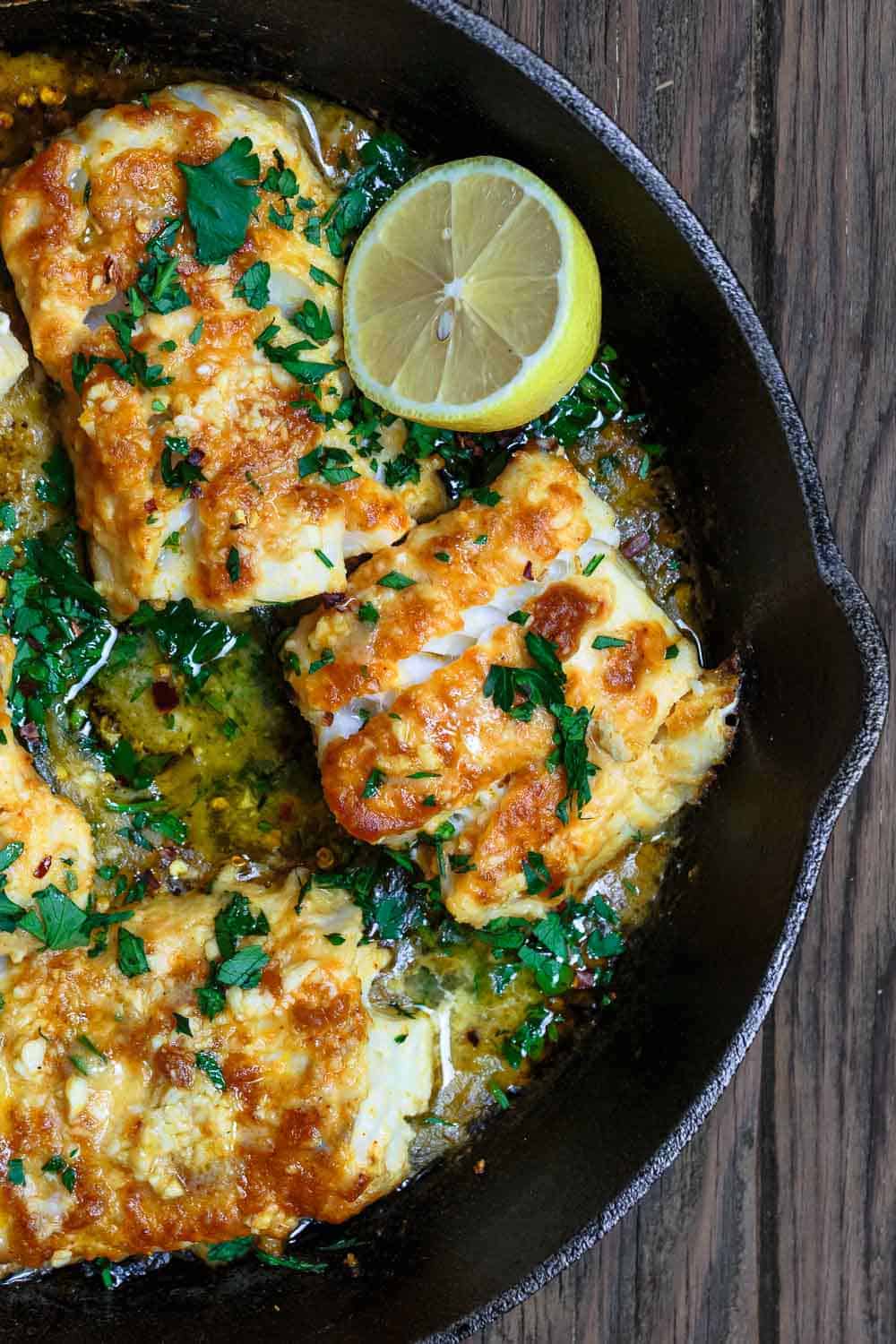 Baked Cod with Lemon and Garlic
This baked fish recipe has been a fan favorite for a long time! It's ready in just over 15 minutes and it's all about the garlic and lemon sauce. And you can use any white fish fillet you like.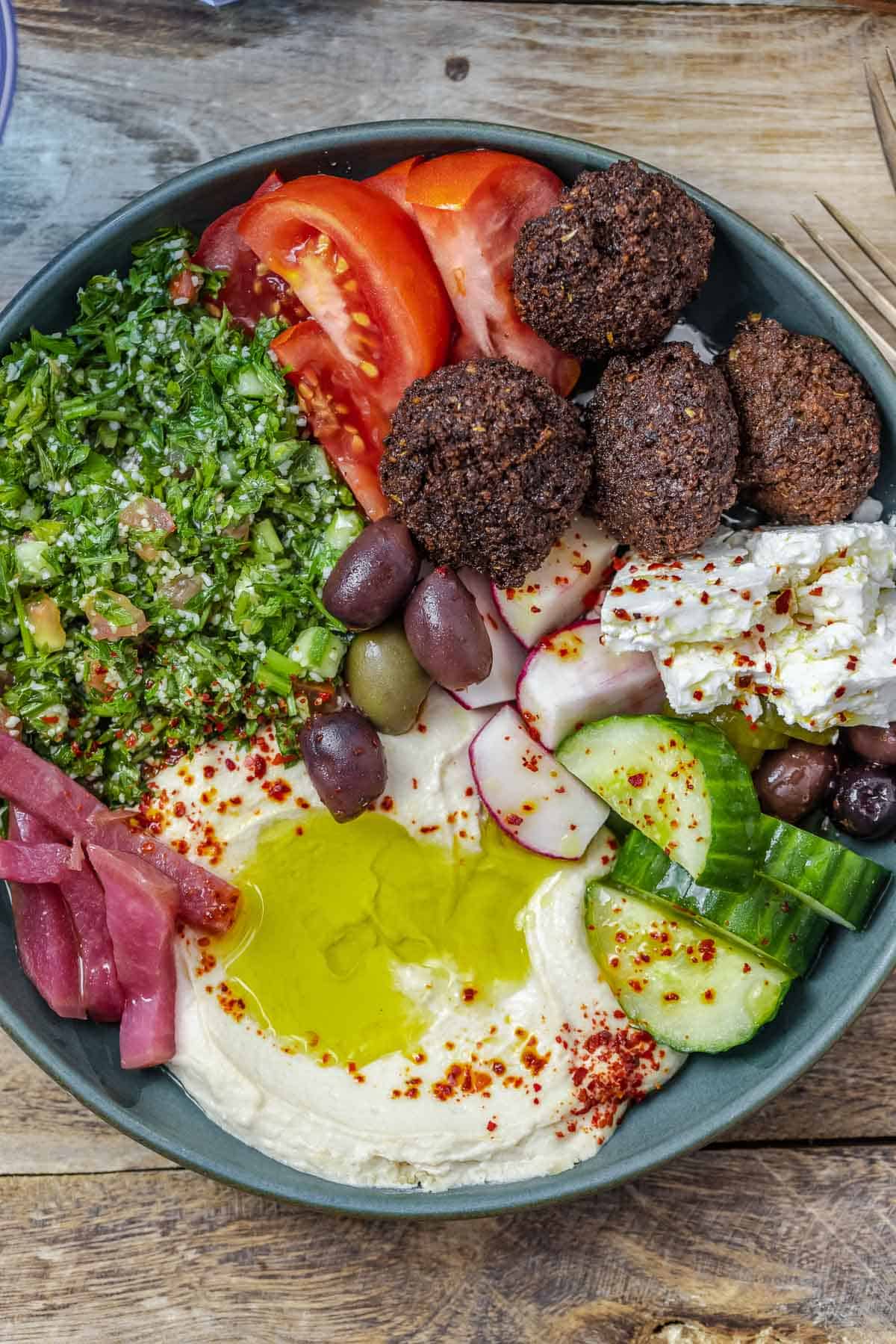 Loaded Mediterranean Falafel Bowls
Dinner bowls can be given the perfect Mediterranean twist. You can make falafel the traditional way or in the air fryer and add them to a bowl with your favorite dip (I like hummus) and a salad. And to jazz it up even more, raid your fridge for some pickles and olives too!
Mediterranean Salads and Sides
Probably one of the biggest things about eating the Mediterranean way that I love are the inclusion of big salads and vegetable sides in every meal! Here are just a handful of favorites in this category...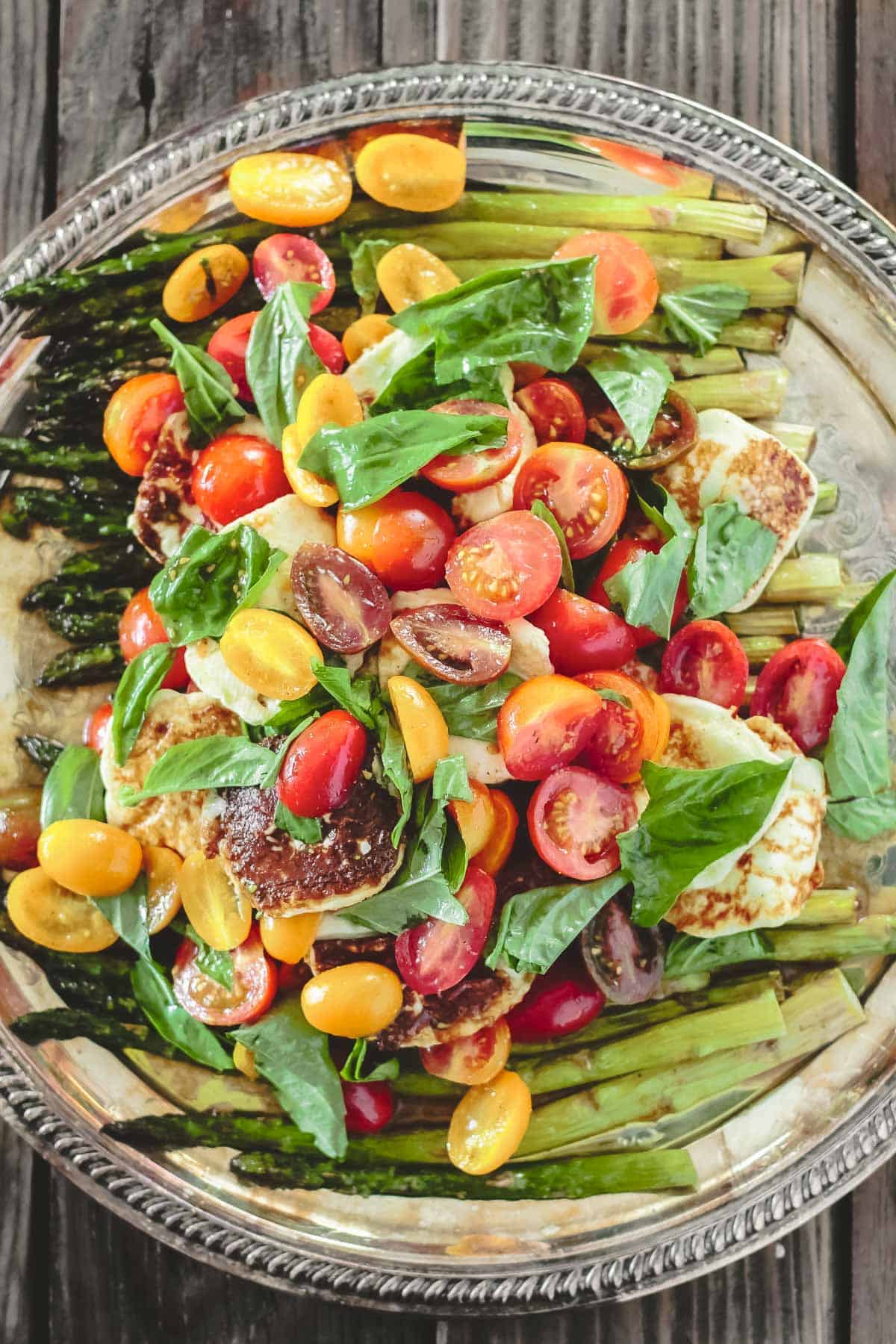 Roasted Asparagus Salad with Tomato and Basil

Roasted asparagus makes a beautiful bed for a delicious fresh tomato and basil mixture with a light vinaigrette to bring it all together. When I feel like indulging a little, I will add some fried halloumi, but you can try Parmesan shavings or feta instead.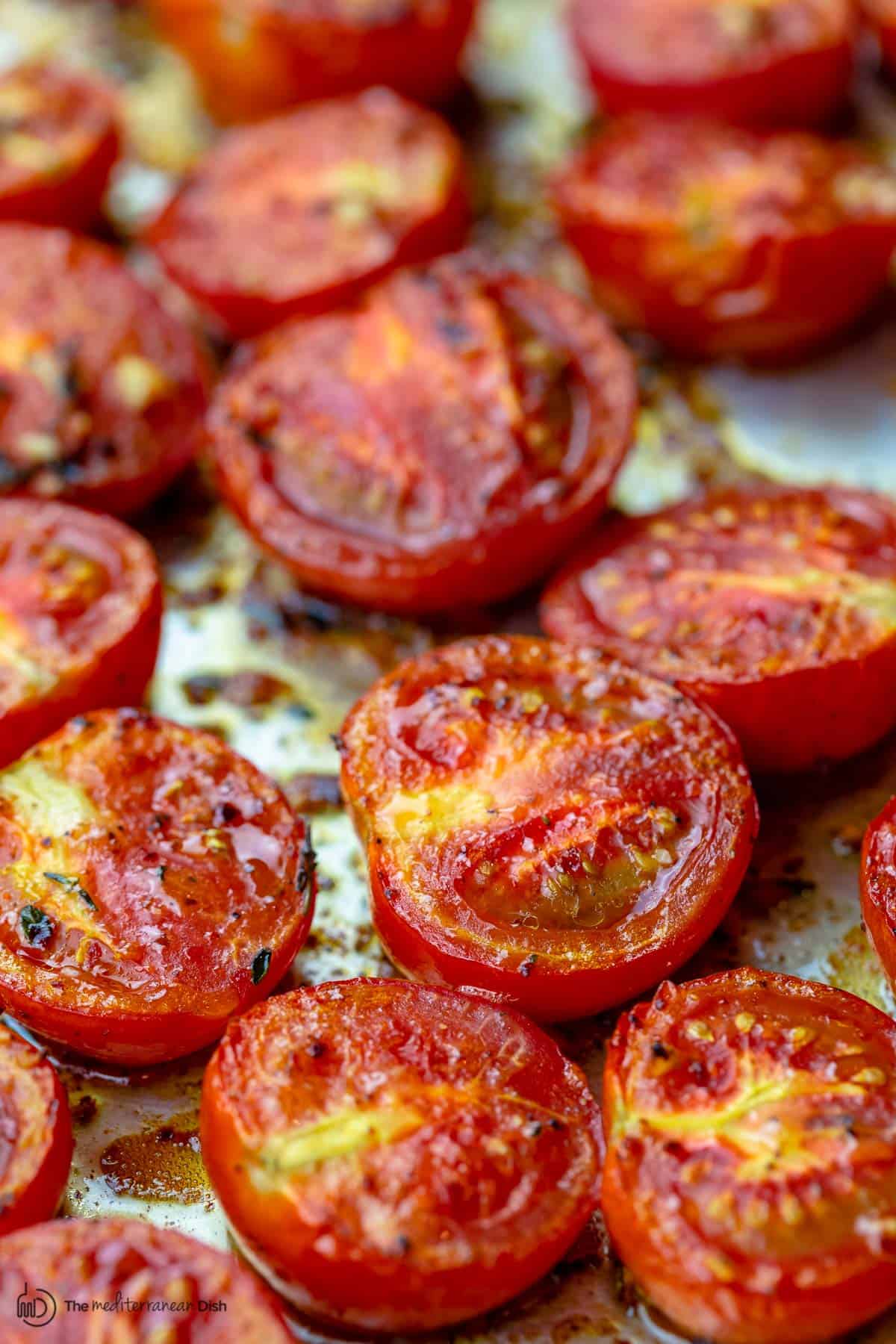 Quick roasted tomatoes with thyme and a good drizzle of olive oil. That's all there is to this simple recipe that makes a perfect side dish.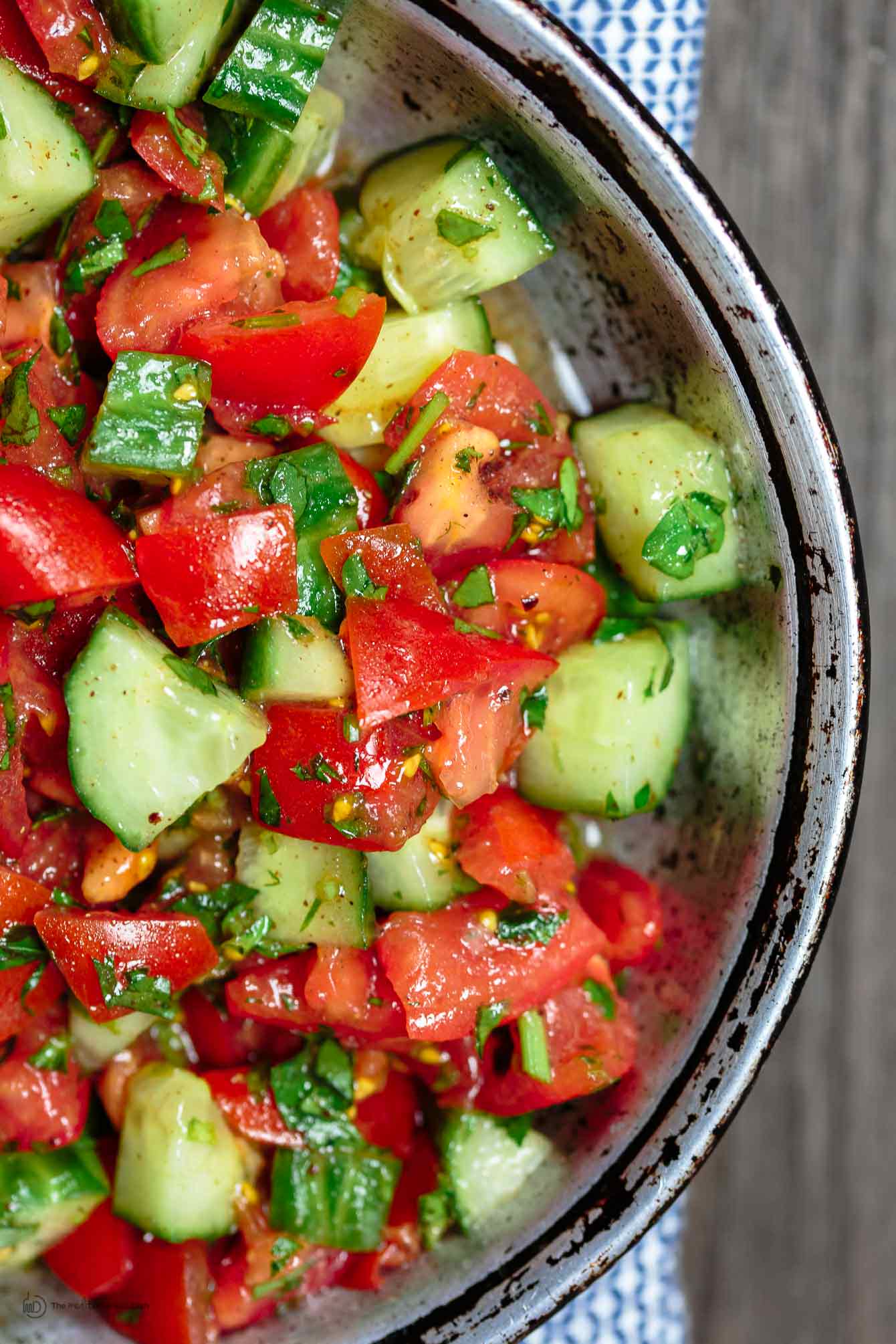 Mediterranean Cucumber and Tomato Salad
We call this 3-ingredient Mediterranean salad. It is literally tomatoes, cucumbers, and parsley. To dress the salad, you only need some good extra virgin olive oil (I often use our Greek Early Harvest EVOO), lemon juice and a dash of salt, pepper, and sumac!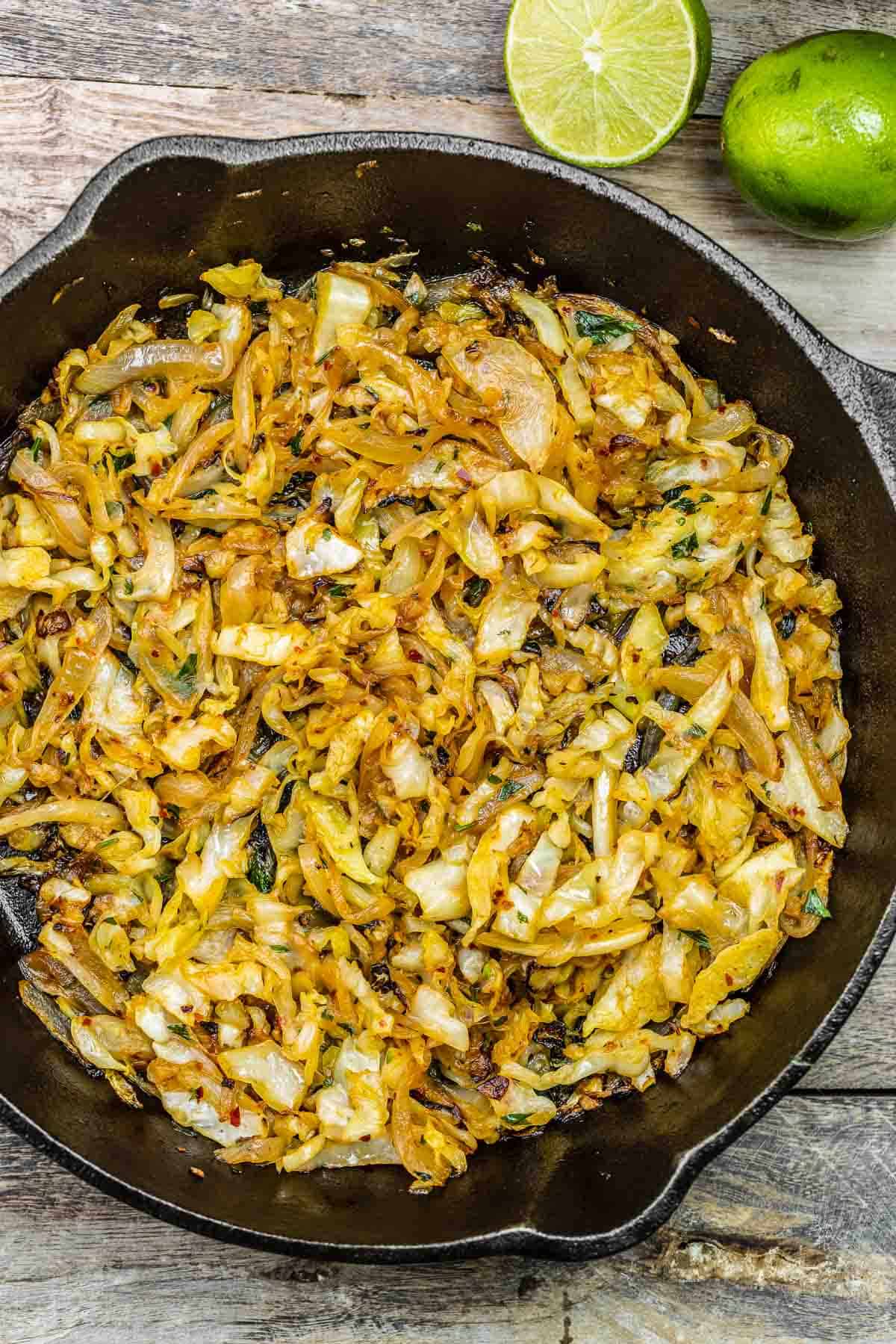 Sautéed Cabbage with Garlic and Lime
Here's an easy low-carb side that everyone is loving! Quick caramelized cabbage with garlic and onion, finished with a light splash of lime and a drizzle of feta dressing.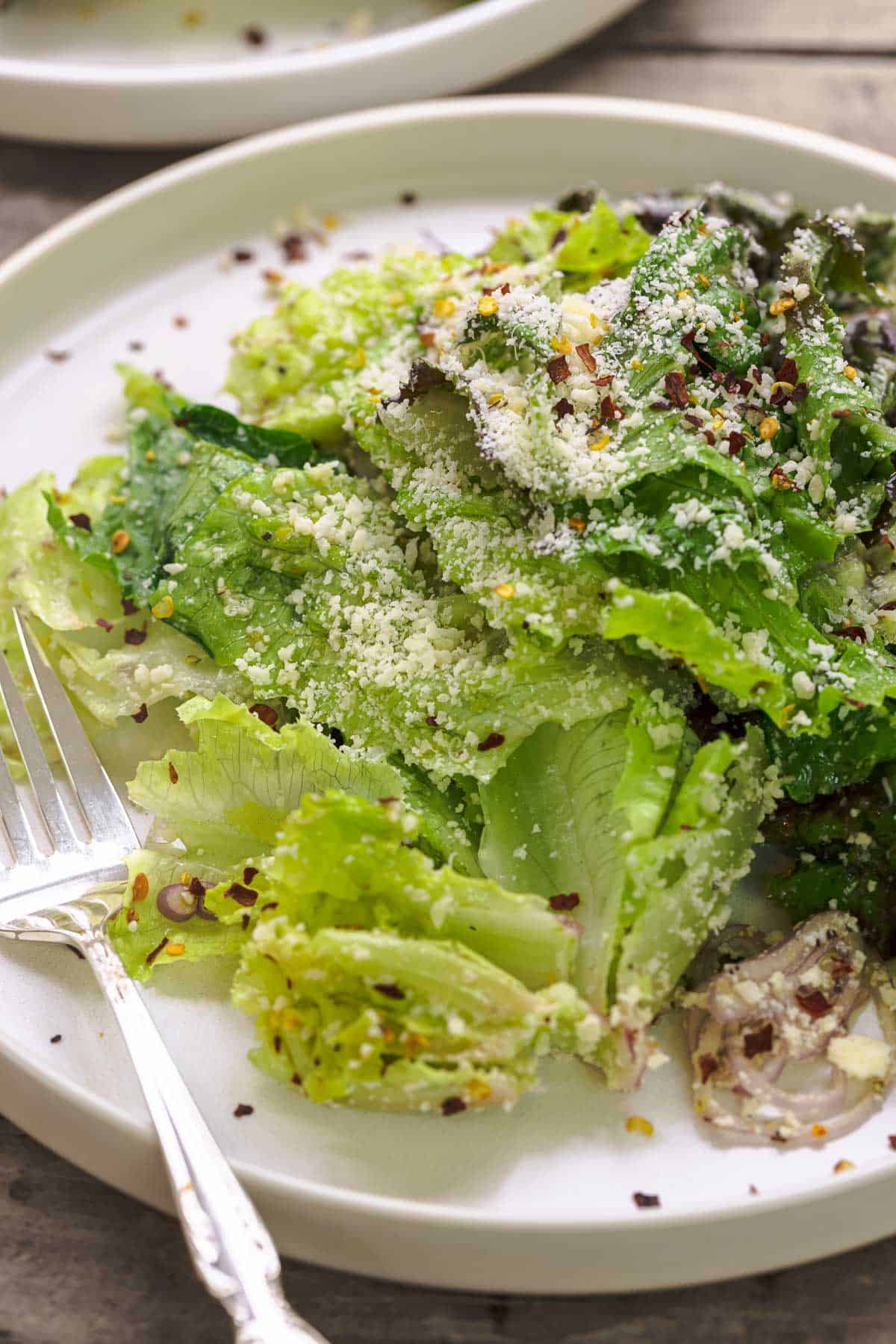 Crisp romaine lettuce is the star of this simple lettuce salad recipe with the easiest lemon dressing and a good sprinkle of Parmesan cheese. You'll be making this easy salad recipe over and over! It comes together in just 5 minutes.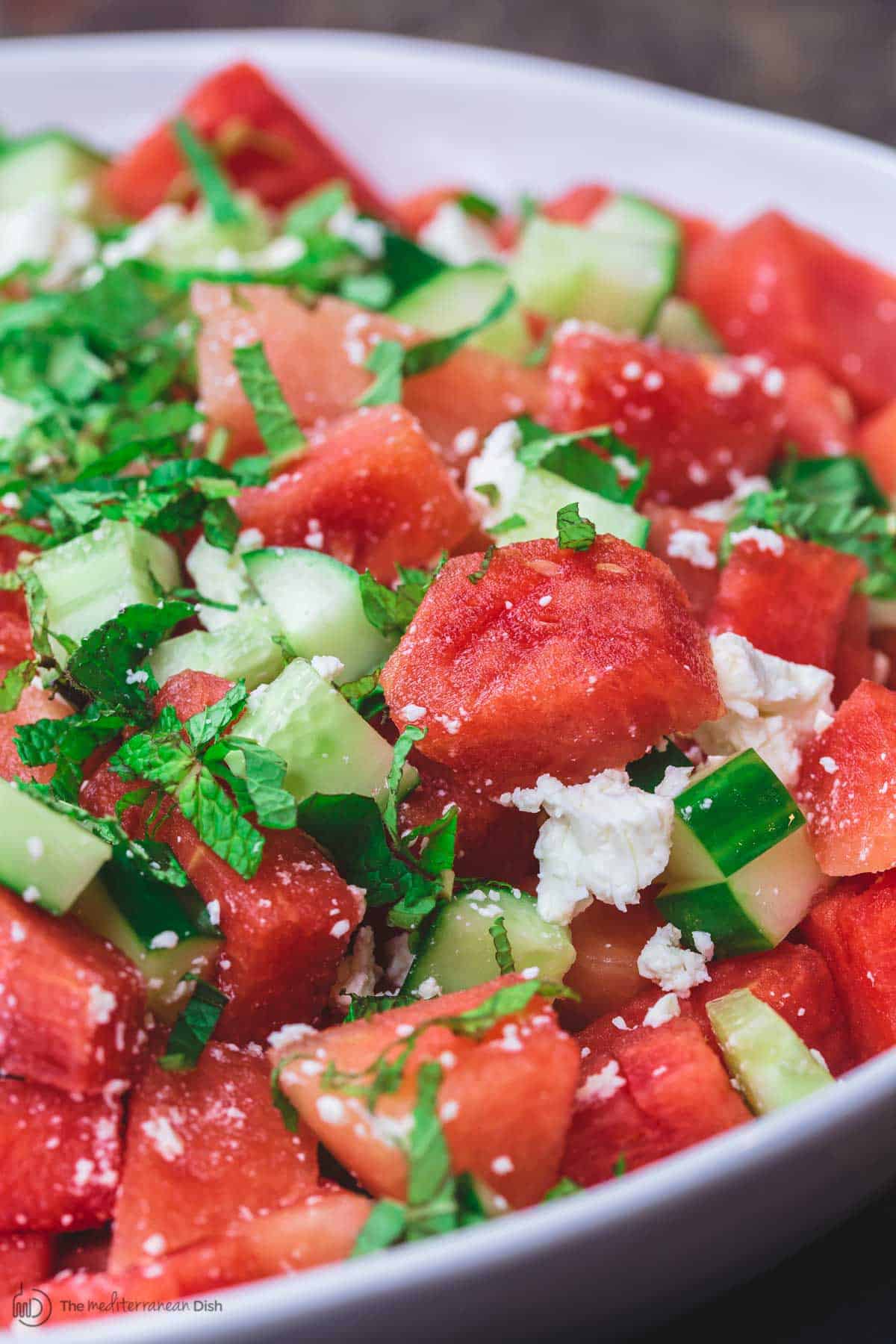 Another classic salad with bright Mediterranean flavors. Cubes of watermelon and cucumber, tossed in a simple honey and citrus dressing and finished with fresh herbs and feta. Save this for your mid-summer cooking! Everyone will love it.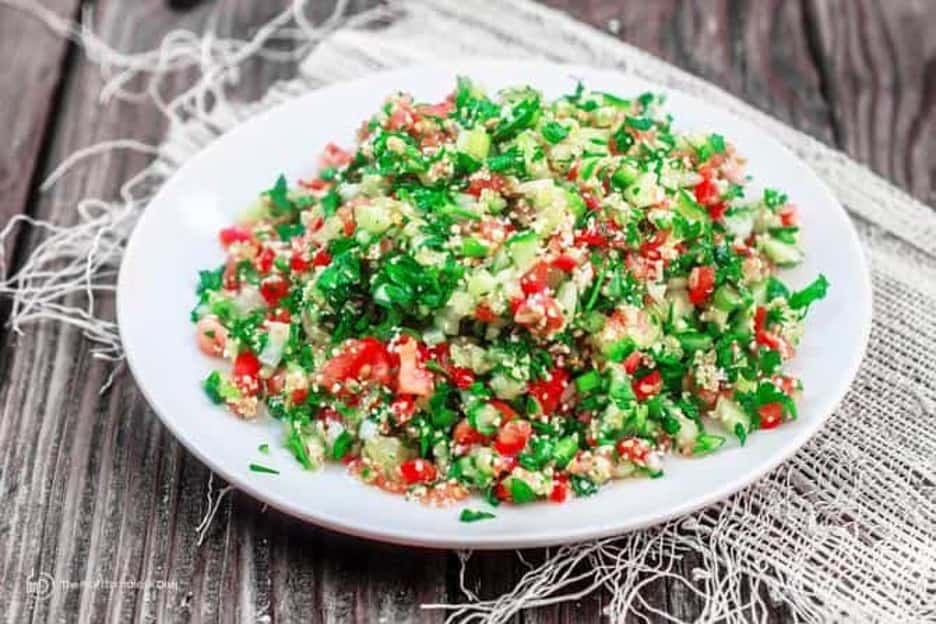 The quintessential Middle Eastern salad starring parsley, bulgur, and tomatoes. Personally, I like adding cucumbers for some crunch. You'll need fine bulgur wheat for this recipe, but if you are looking for a gluten-free option, try quinoa or make a cauliflower tabouli.
Mediterranean Appetizers and Mezze
Shareable sides and small plates are commonly enjoyed in many Mediterranean countries to round out, start or complete a meal and they include some of my favorite recipes.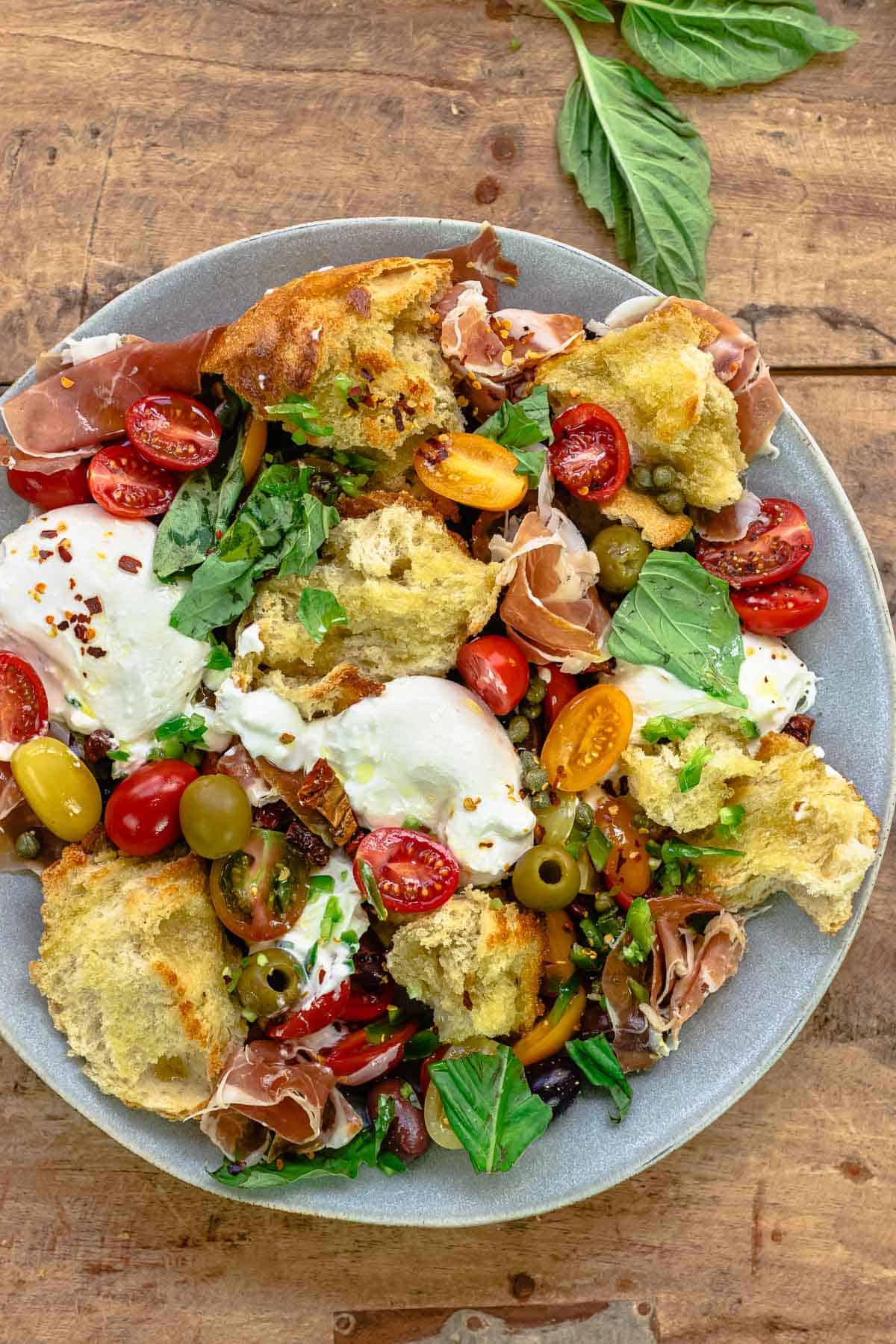 Burrata with Tomato, Basil and Prosciutto
Next time you host a little party, you can make this burrata platter in about 10 minutes! Toast some good Italian bread in the oven, then add it with the burrata, tomatoes, olives, and a few slices of bruschetta, then finish it with a little dressing. Yes, it works as a salad too. (Omit the meat, if you like).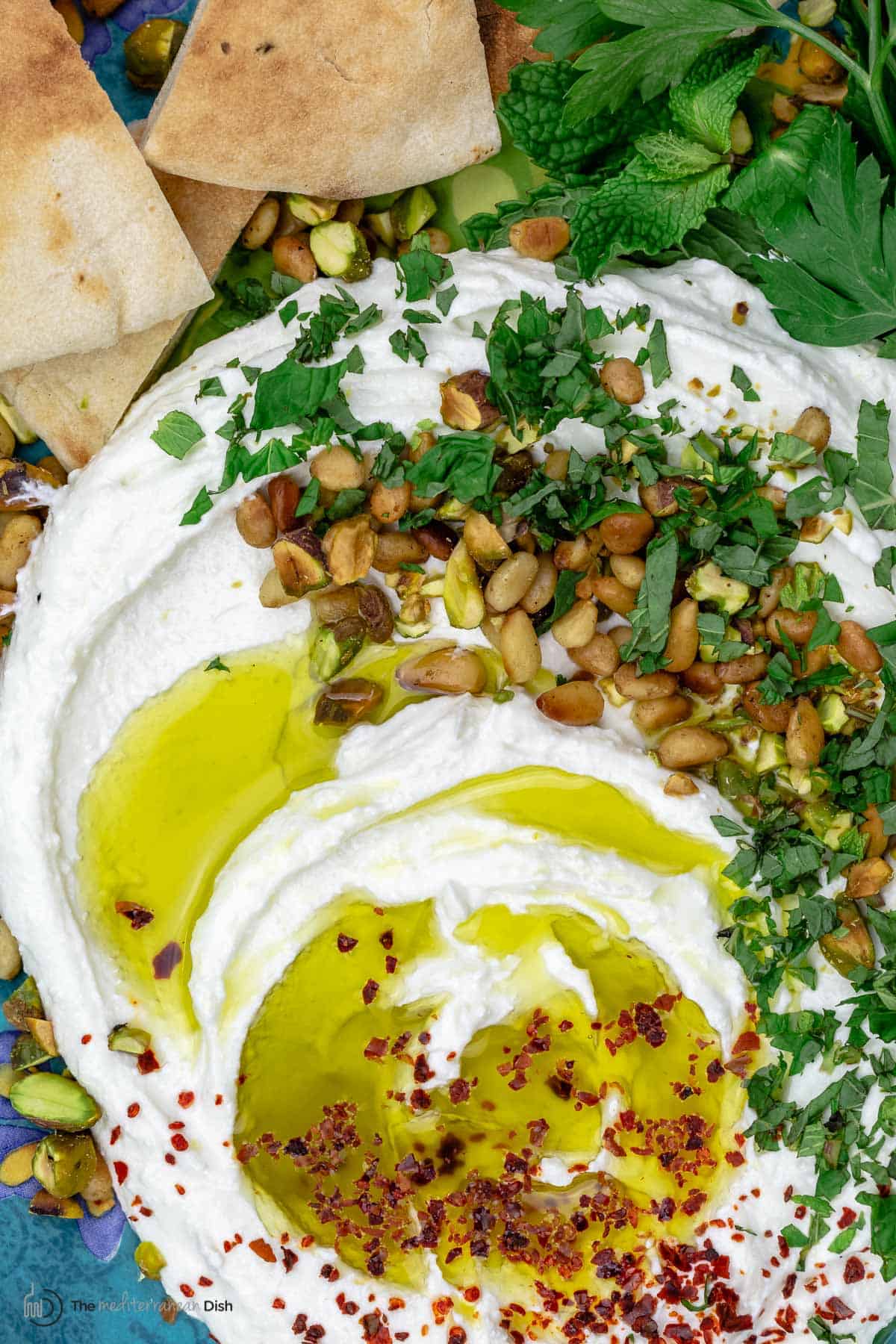 There are many ways to use some good feta cheese, but if nothing else, you must try this fluffy whipped feta dip! It takes only 5 minutes in a food processor or blender. Finish it with your favorite herbs or crushed nuts.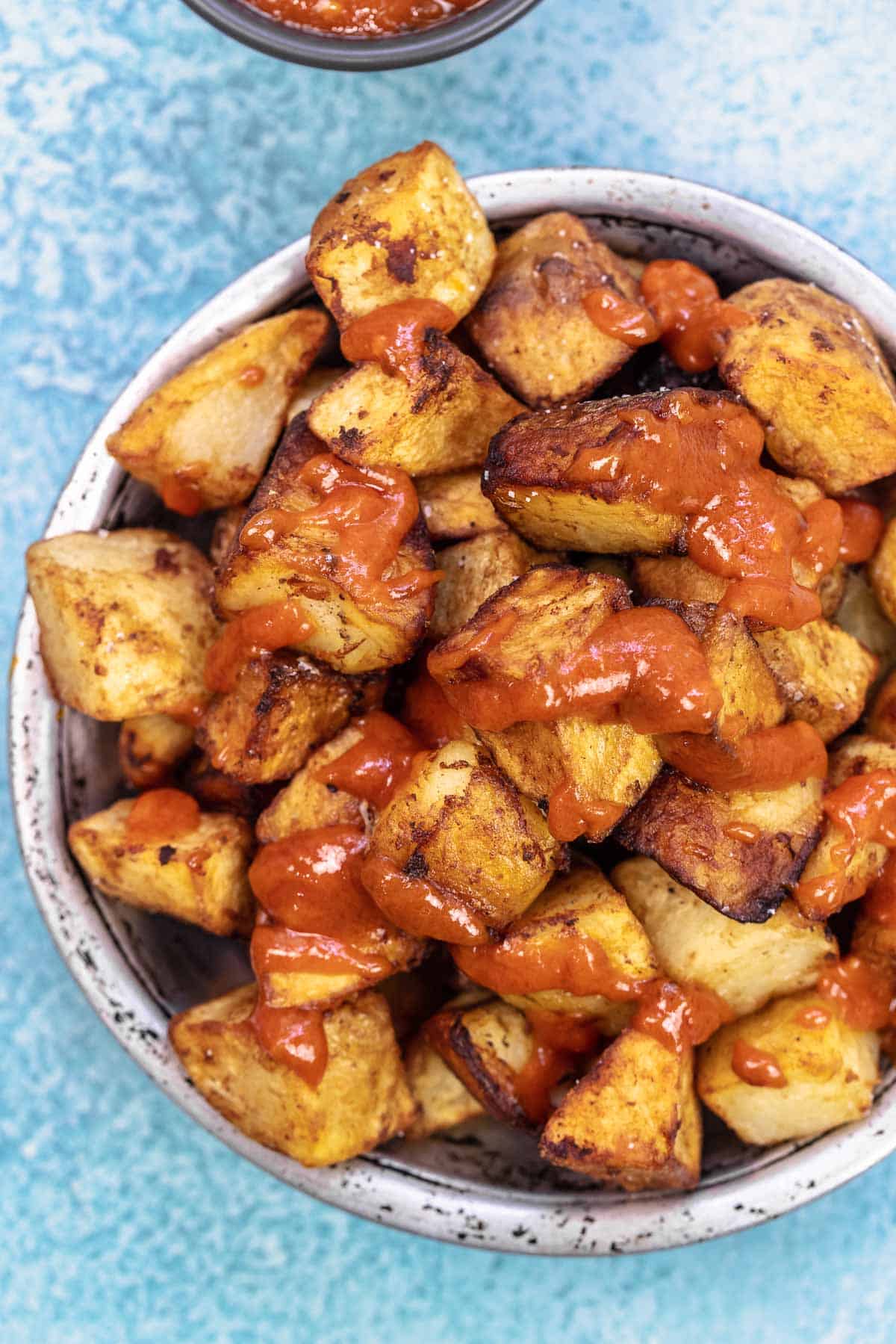 Spain's most famed tapa is the perfect potato to add as a snack or a side, if you like. One little trick will give you the crispiest patatas bravas without frying them twice!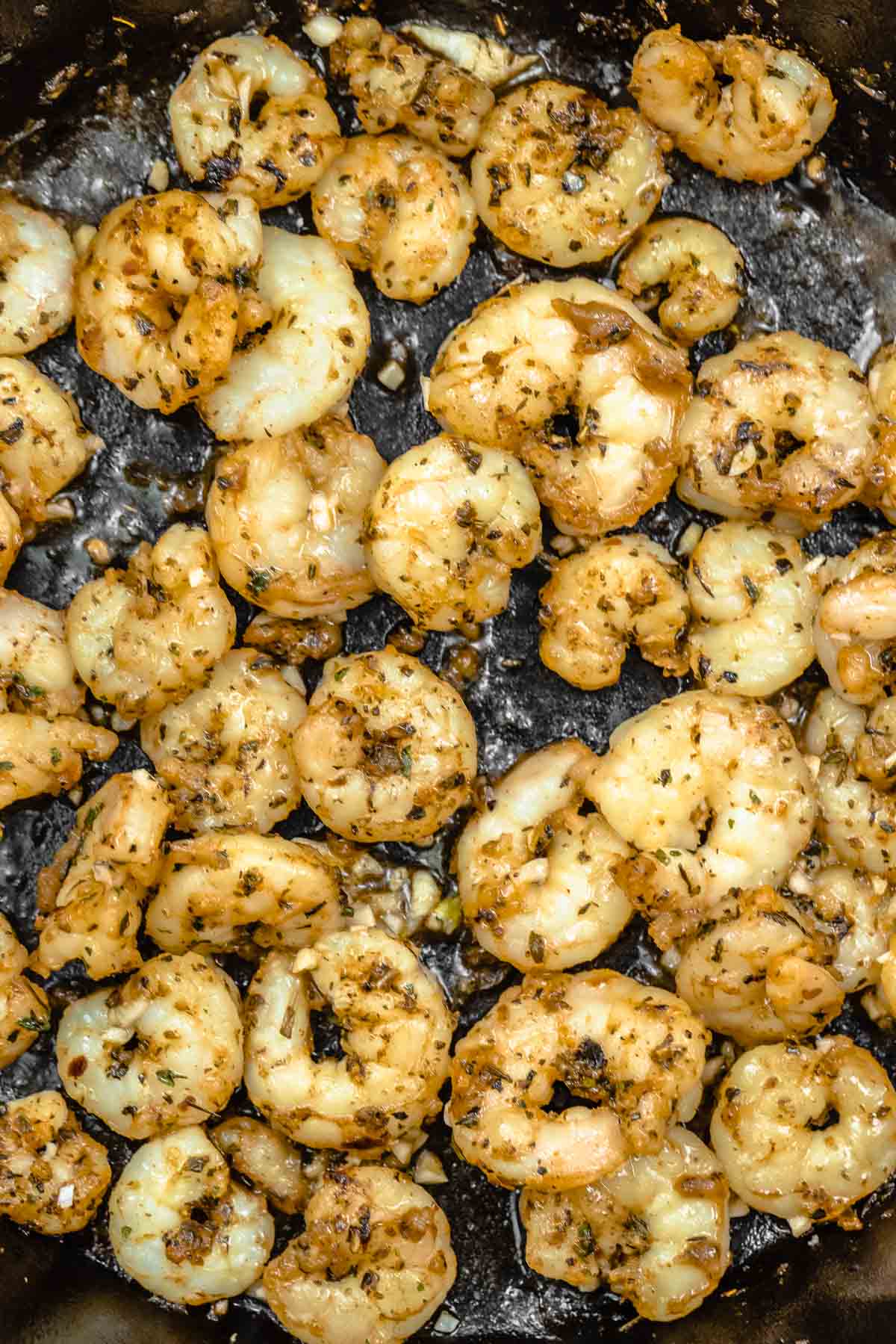 All you need is 5 minutes for this easy recipe! Toss your shrimp with a little Italian seasoning (or other seasoning of your choice) and quickly sauté in a little olive oil, watching carefully for the shrimp to turn pink. You can serve this as an appetizer over crostini or garlic bread or use it as your dinner protein.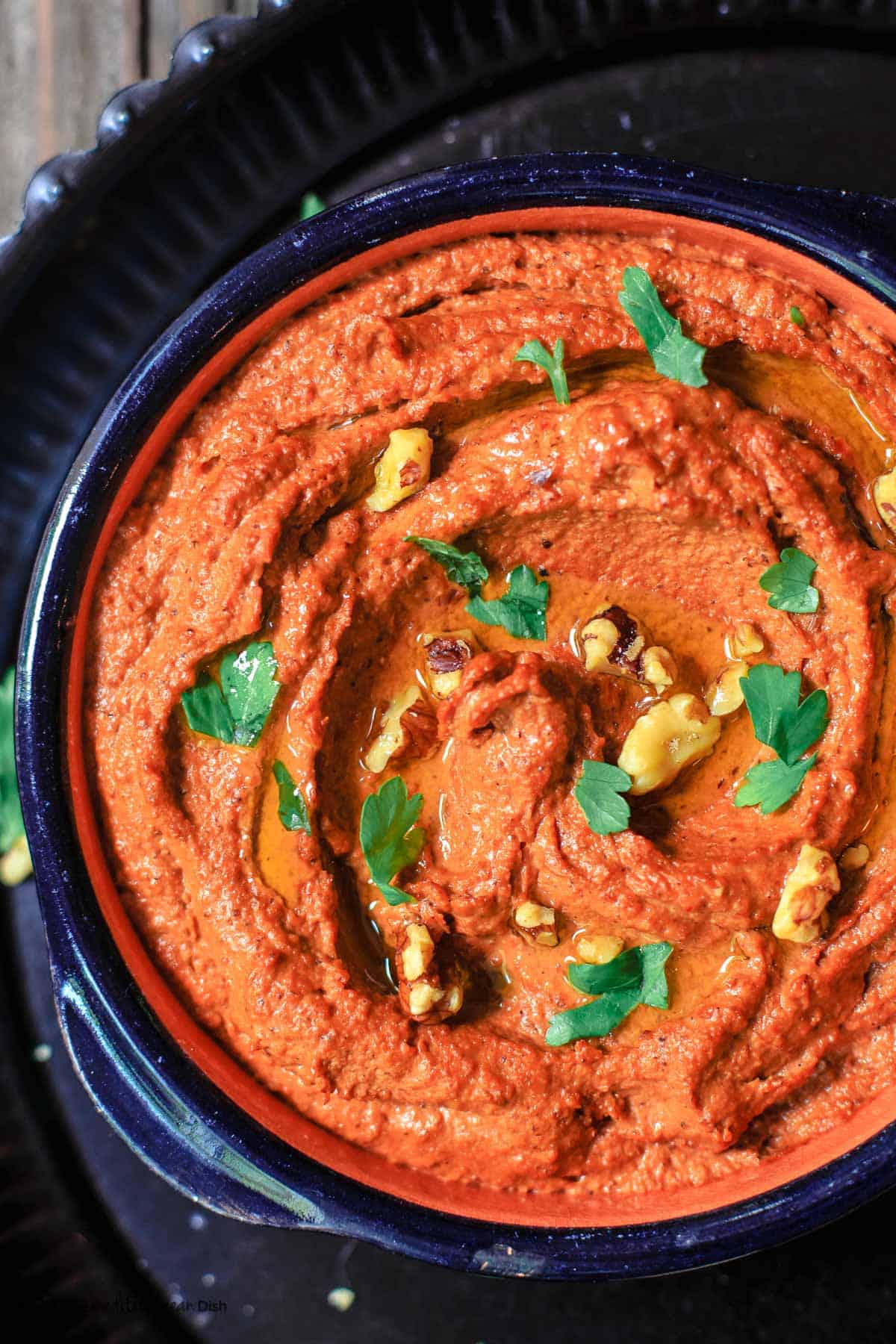 Smooth and delicious roasted red pepper and walnut dip from Syria. This a must in my house, and I love to serve with some pita chips.
Mediterranean Desserts and Breads
Everyone enjoys a treat from time time and they are a welcome part a balanced lifestyle. We lean toward desserts made with olive oil and less sugar, but all of the flavor, color and beauty you can handle!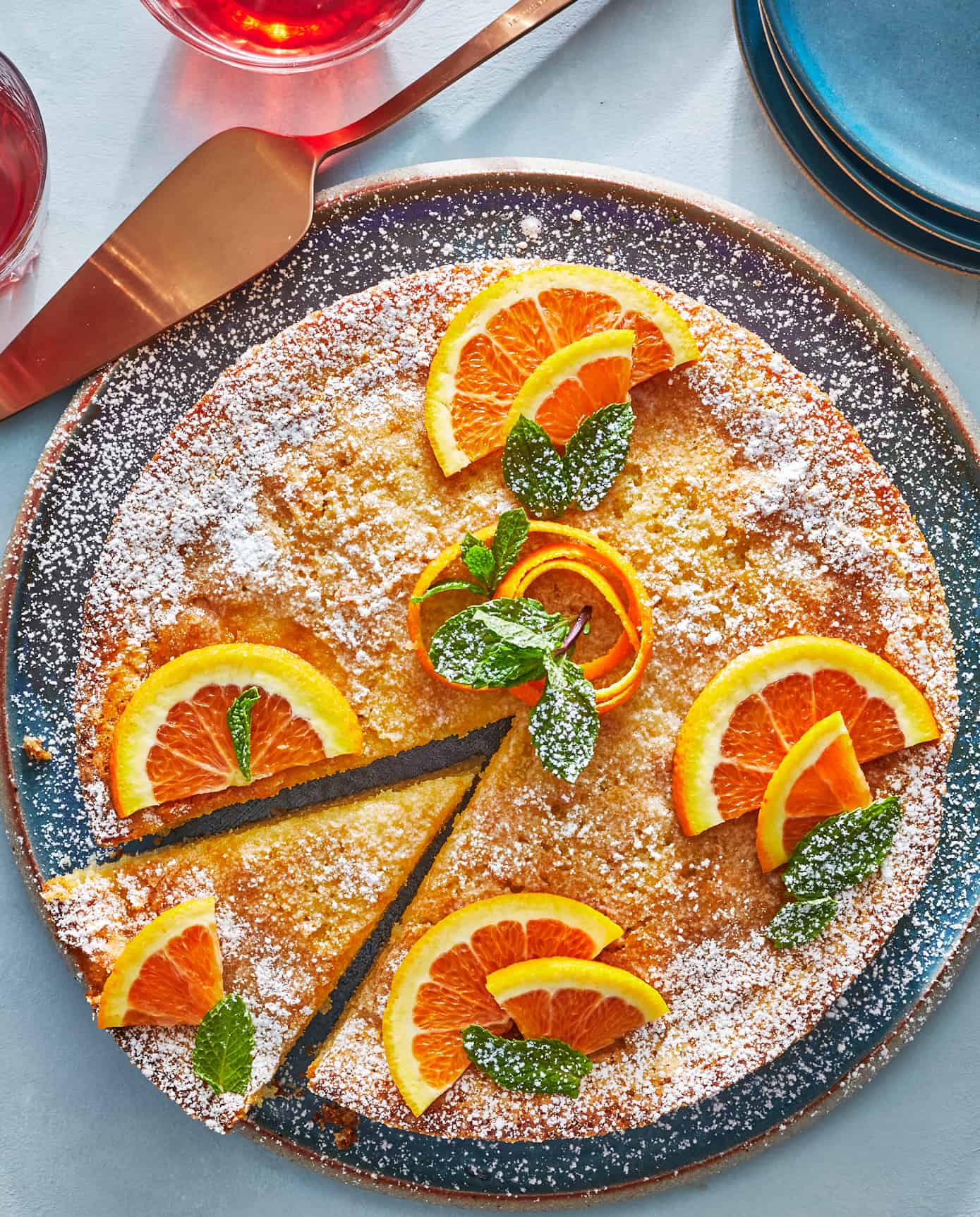 Orange Cardamom Olive Oil Cake
Originally published in The Mediterranean Dish Cookbook, this one is the top dessert of the year! There is no cake as moist as an olive oil cake, in my humble opinion. But that's not all...this cake is laced with a little cardamom and a good bit of orange! Serve it with tea or your favorite hot drink.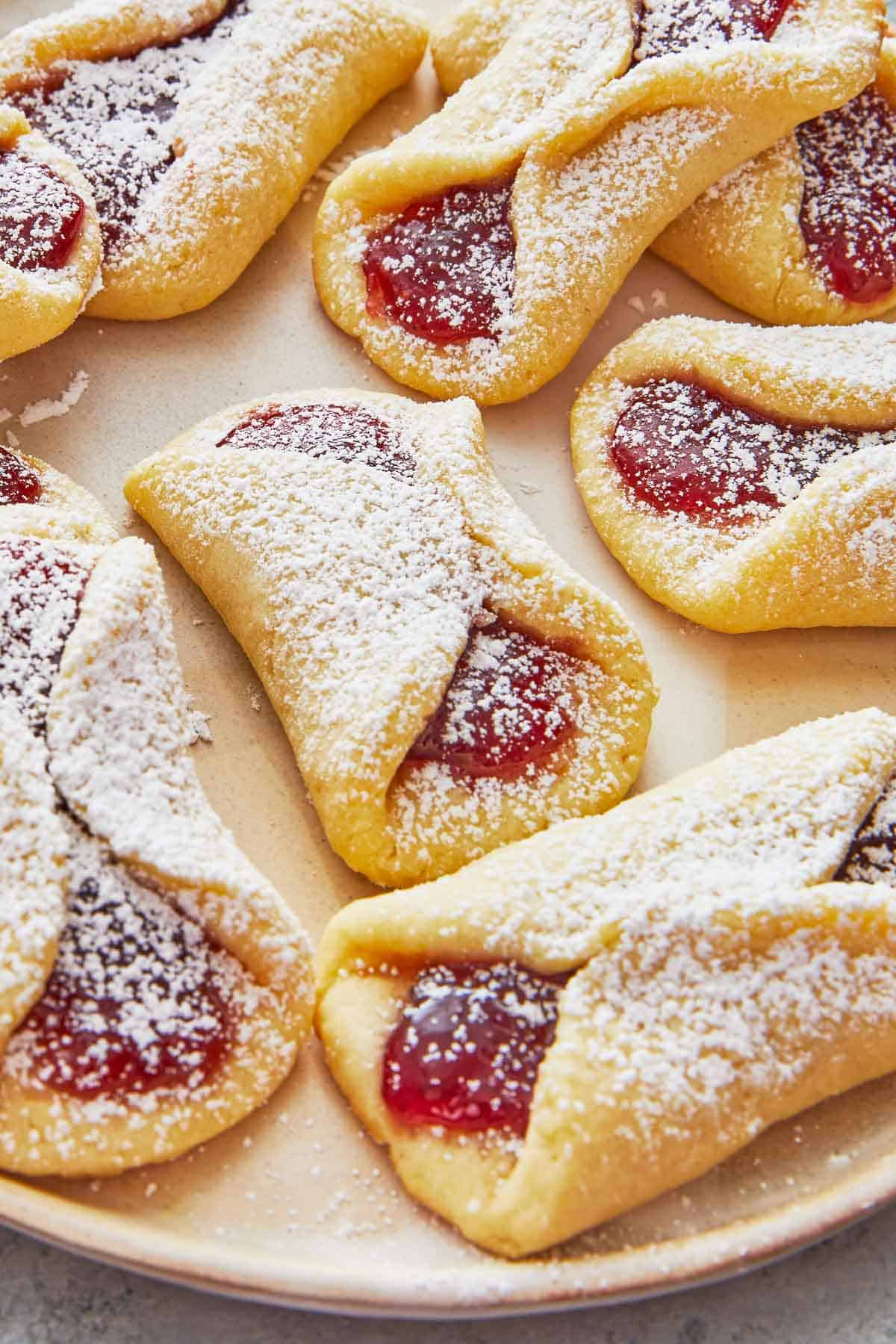 I love these simple and delicate shortbread pinch cookies for the holidays! Strawberry jam is our go-to filling here, but you can try a different jam or even chocolate (or nutella).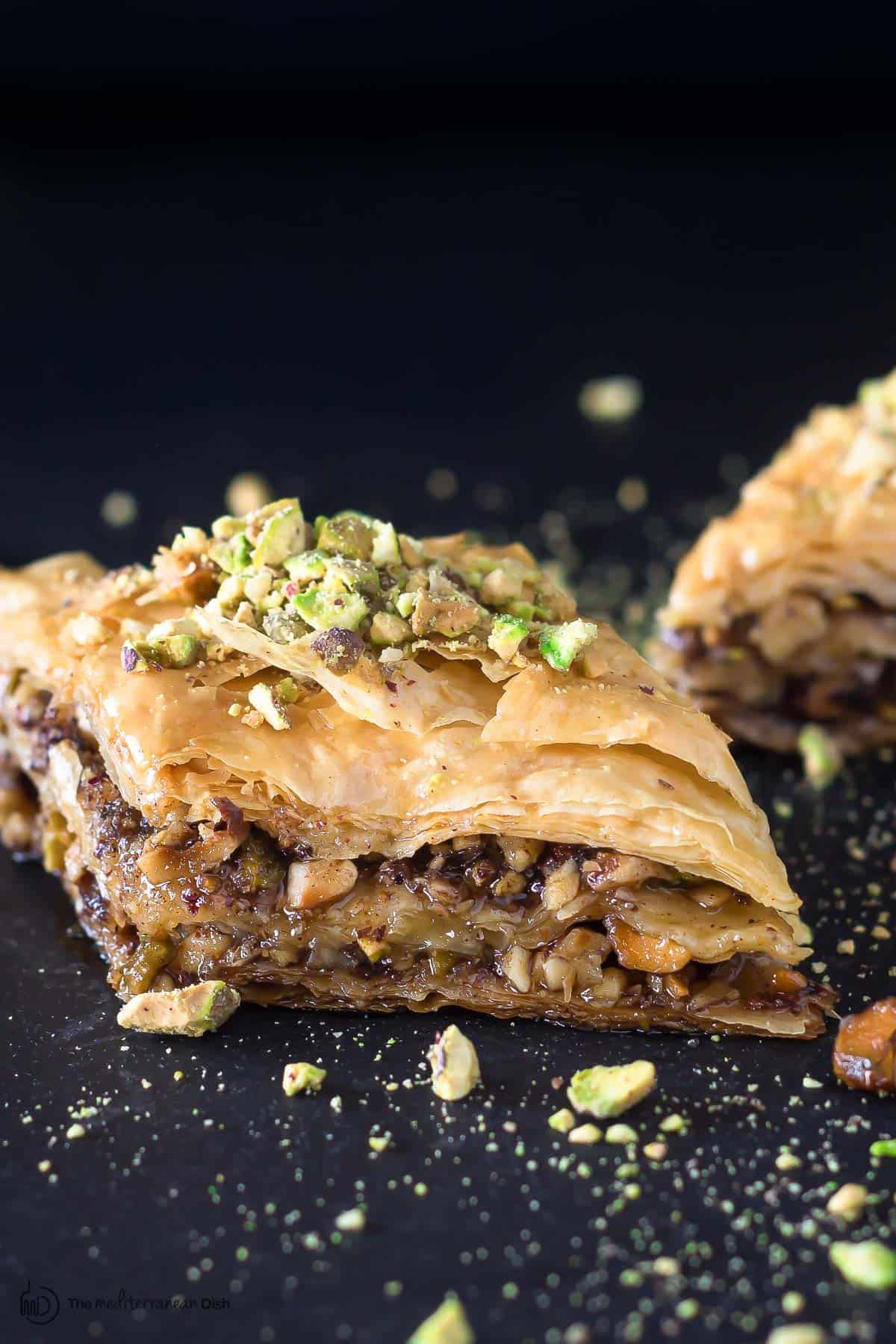 I am forever and always a baklava fan, but it turns out, many of our readers are too! Without fail every year, thousands of people will make this nutty baklava recipe with perfectly honeyed layers of phyllo. Best part, baklava is a great make-ahead dessert because it's even better the next day. And if you're looking for a fun, modern take on it, try cheesecake baklava!
Once you master this crispy on the outside, chewy on the inside Italian bread you'll make it on repeat! This recipe comes with all the tips and tricks you need, plus, you'll love the big flavors from rosemary and roasted garlic!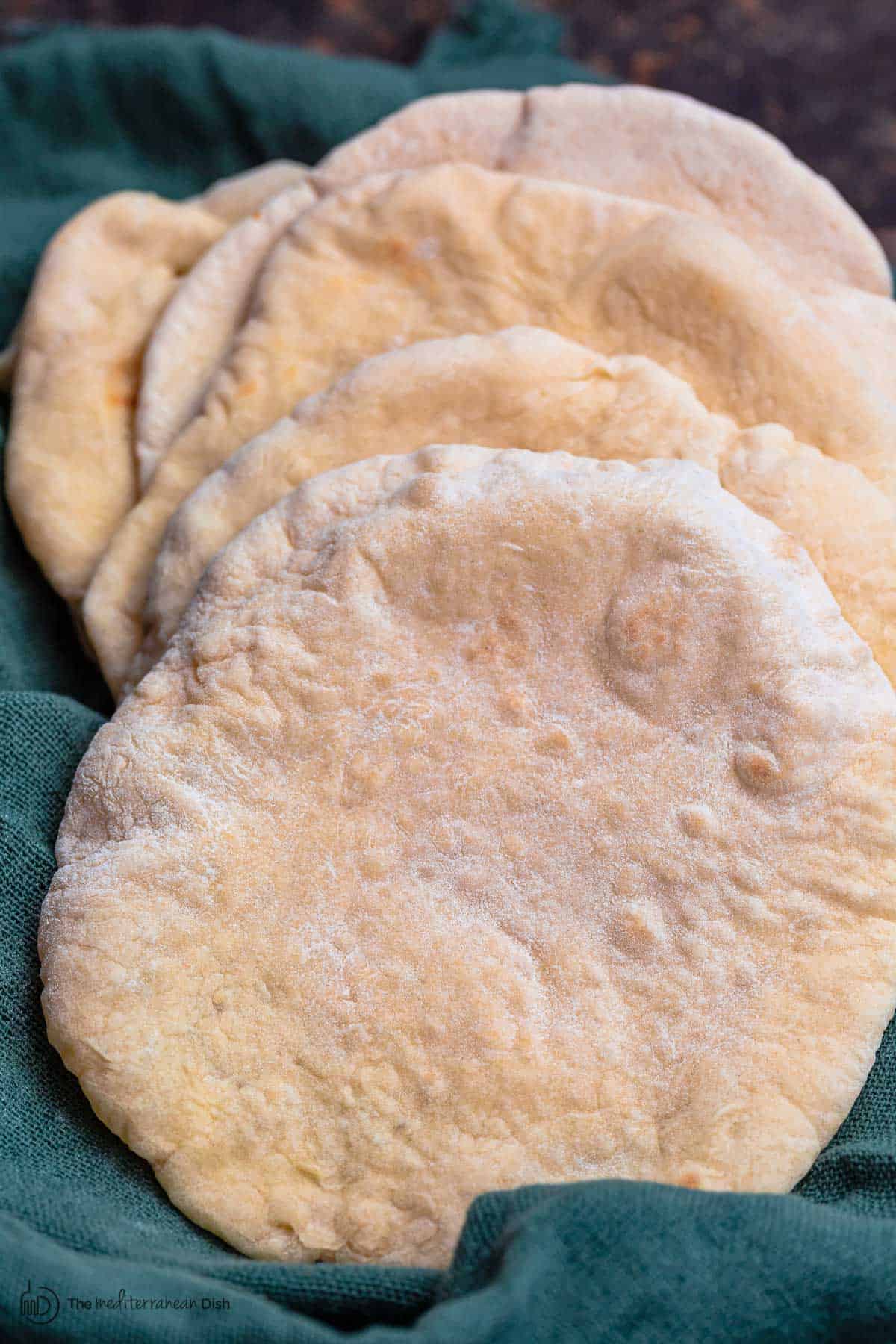 If you don't have a Middle Eastern bakery near you, then you should for sure try making your own perfect, pillowy pita bread! This is an easy recipe that takes a few ingredients you probably already have. And you can make pita bread in the oven or in a skillet. Pita freezes well, so you can make a big batch, if you like!
*This post is updated every year to reflect readers' choices and top Mediterranean recipes for the given year. Browse all Mediterranean recipes here.
Top Mediterranean Recipes to Try: Mediterranean Falafel Bowls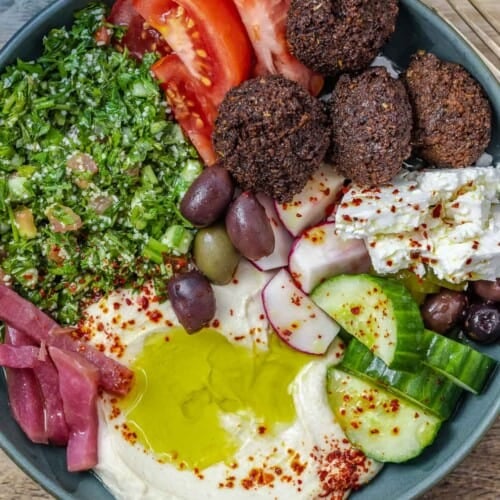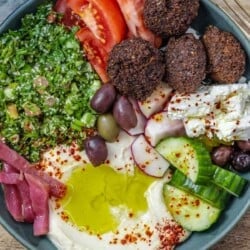 The list of Best Mediterranean Recipes of the year has plenty of delicious ideas for you, but here is one recipe to start with, if you're not sure: falafel bowls! Healthy dinner bowls are loaded with delicious falafel and other Mediterranean favorites like hummus, tabouli salad, feta, and fresh vegetables. With a little bit of prep ahead of time, this falafel bowl dinner is to assemble any night of the week.
Ingredients
Hummus,

homemade or store bought (other dip options in the notes)

Tabouli or Salad of Choice,

use this homemade tabouli salad recipe (other salad options in the notes)

16

Falafels,

prepared ahead from this authentic falafel recipe or air-fryer falafel recipe, or store-bought from your favorite Middle Eastern restaurant

2

Medium Vine-Ripe Tomatoes,

halved and sliced

1

English Cucumber,

halved and sliced

6

Radishes,

halved and sliced

½

Medium Red Onion,

thinly sliced

4

ounces

Feta Cheese,

sliced

Extra virgin olive oil, for drizzling, try our rich and peppery Early Harvest or Spanish Hojiblanca EVOO
Sumac,

optional for seasoning
Instructions
Using shallow dinner bowls, start by spreading about 3 to 4 tablespoons of hummus on one side. Next, add the salad, then add 3 to 4 falafel patties.

Fill the empty spots in your bowls with the fresh vegetables, olive and pickles, and sliced feta cheese.

Finish each bowl with a generous drizzle of extra virgin olive oil and a dash of sumac to season (optional).
Notes
Prepare ahead tips: You can make the falafel mixture and form into patties according to this recipe ahead of time and refrigerate or freeze until you are ready to cook them. You can cook falafel from frozen. You can also prepare the salad of your choice and hummus and keep them refrigerated in separate containers for 2 to 3 days.
Variations: Omit the feta cheese to keep these dinner bowls vegan. You can use other fresh vegetables in your fridge such as carrots, celery, bell peppers, or cauliflower. Swap the hummus for another Mediterranean dip. Add rice or grain of your choice, or substitute the salad for some leftover cooked vegetables like sautéed zucchini or roasted cauliflower. Review the full post for more ideas!
Visit Our Shop to browse quality olive oils, spices, and other ingredients for Mediterranean cooking!
Hungry for More? Join my e-mail list for FREE to receive new recipes and my weekly dinner plan!
Browse all Mediterranean recipes.

Visit Our Shop.