If you're looking for easy and delicious soup ideas, this big list of best soup recipes is for you! From easy chicken soup recipes to vegetable soup, creamy soups, and hearty stews, and more! Plus, each bowl of cozy soup is brimming nutrition and bold Mediterranean flavors that will have you coming back for more!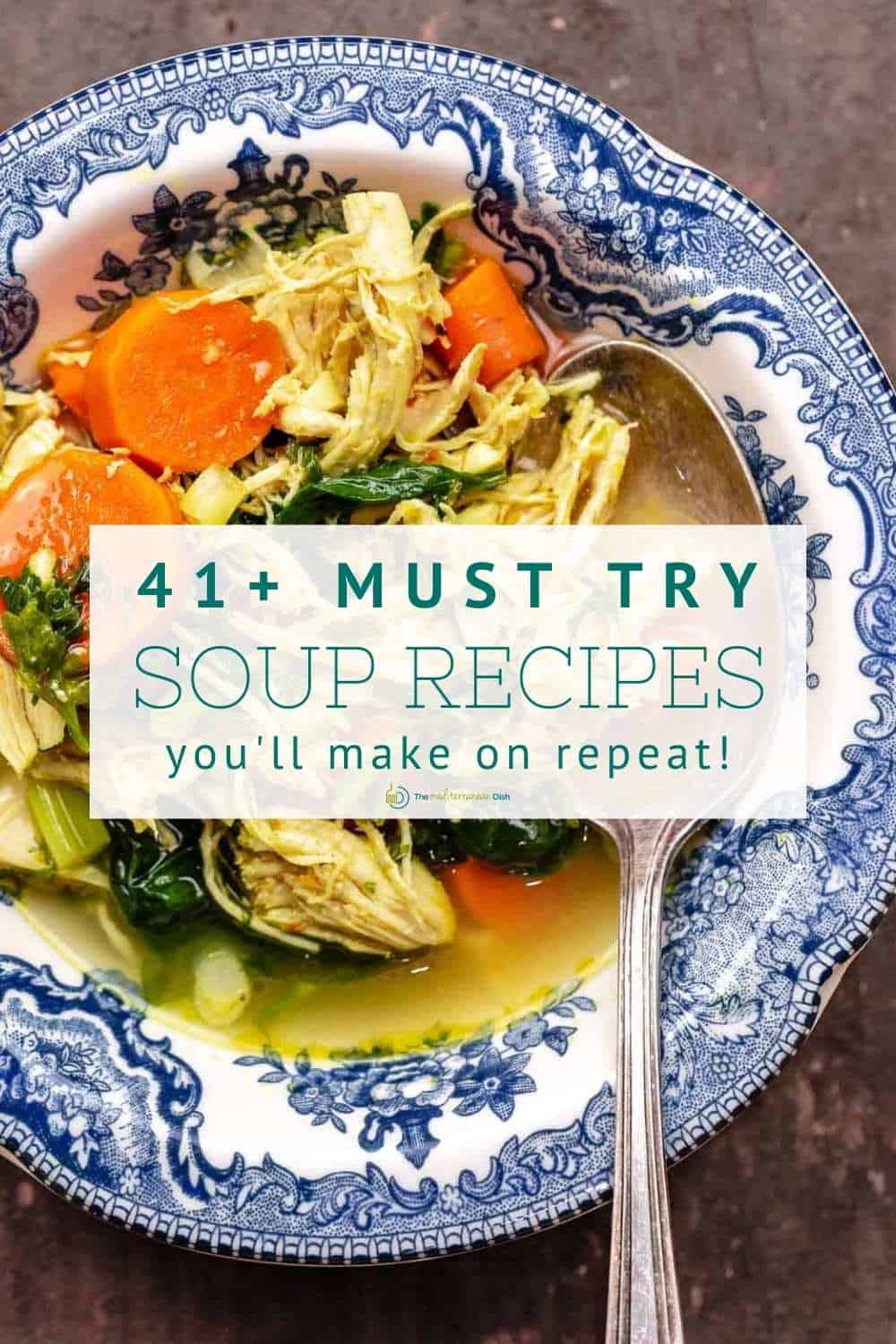 I am a self-proclaimed "souper," defined as: someone who eat soup on the regular, no matter the season. Not only is soup all the comfort, but it is truly a great way to use up what vegetables or proteins you have to create a nourishing meal on the fly.
I've put together a big list of my best soup ideas that has something for everyone. If you're a chicken soup lover, I've got you covered! And if you're looking for healthy vegetable soup recipes, or new ways to use up your lentils, beans, or grains you're in for a treat. I've also included some fish soup recipes and meaty stews, amped up with bold spices, for those days that require something extra comforting.
To serve any of these soups, nothing more is needed than your favorite crusty bread (or pita) and a big bowl of salad to start. Sometimes, I'll make quick couscous to serve as a bed to some of the stews.

To serve any of these soup recipes, you can add your favorite crusty bread and maybe a big bowl of salad to start.

Here you go...(just tap the linked recipe names so you can see the full recipe for your soup or stew of choice).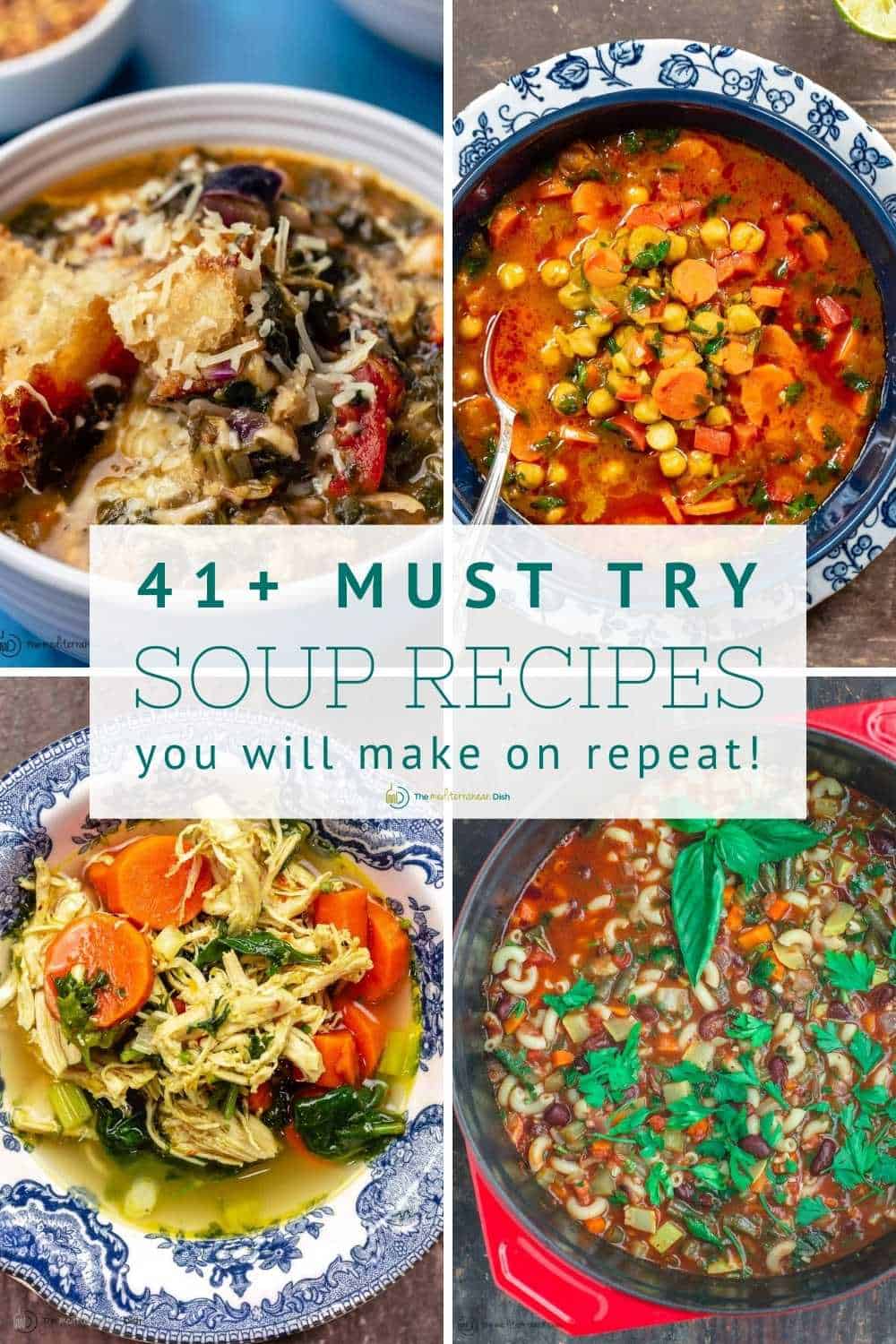 Our top 5 soups right now!
These 5 healthy soups are big fan favorites and are on my regular rotation these days. They are all the comfort!
Avgolemono (Greek Lemon Chicken Soup)
Chicken and rice soup, prepared Greek-style with lemon-egg sauce (called avgolemono) that makes this soup rich and silky. No need to cook chicken from scratch: This super easy weeknight avgolemono soup uses store-bought rotisserie chicken.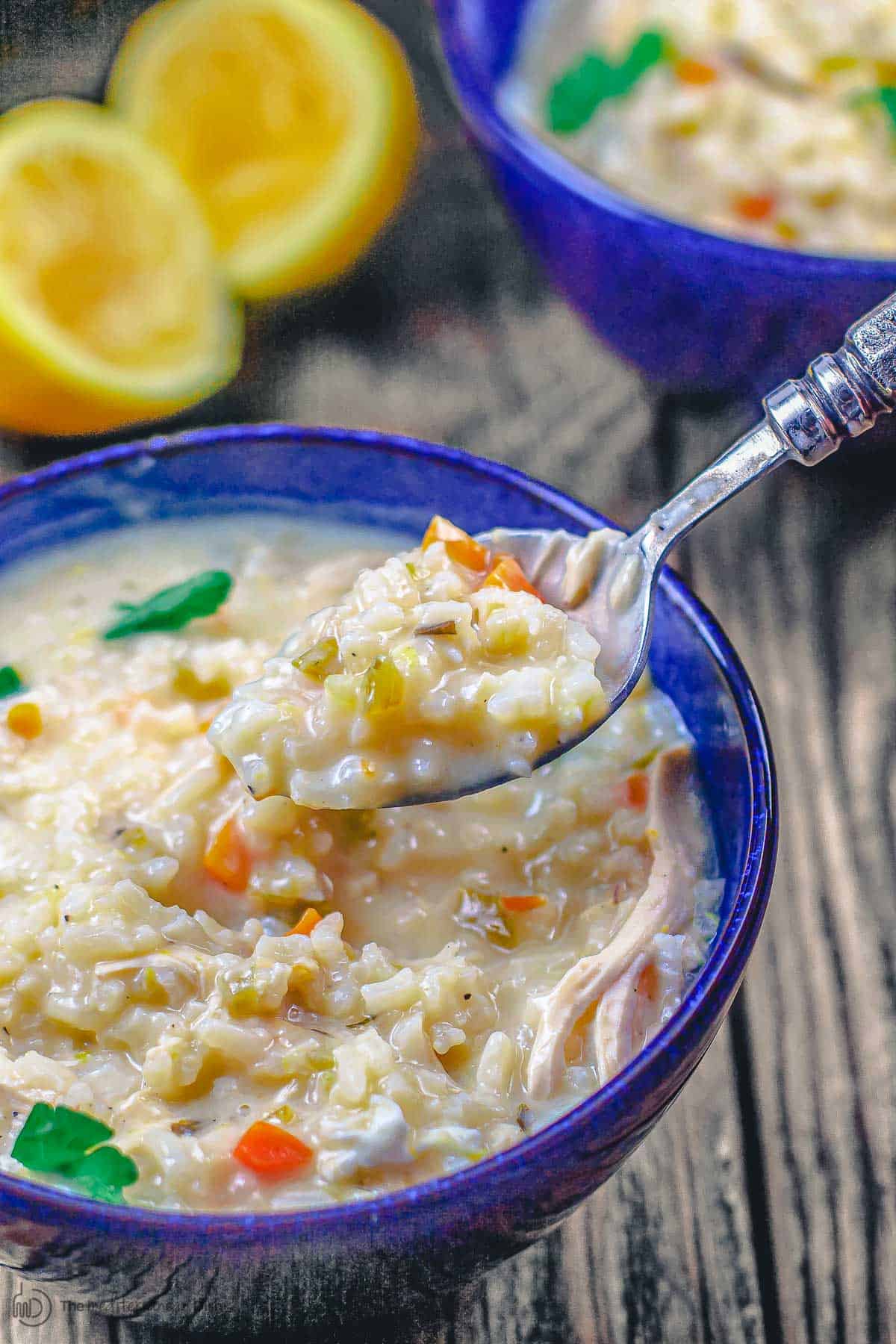 A new fan favorite! This chicken soup is loaded with fresh lemon juice, and amped up with vegetables, herbs, and warm spices including turmeric. If you like, add some noodles or canned chickpeas (drained and rinsed) for a bit more heft, and feel free to swap out the vegetables to use what you have on hand!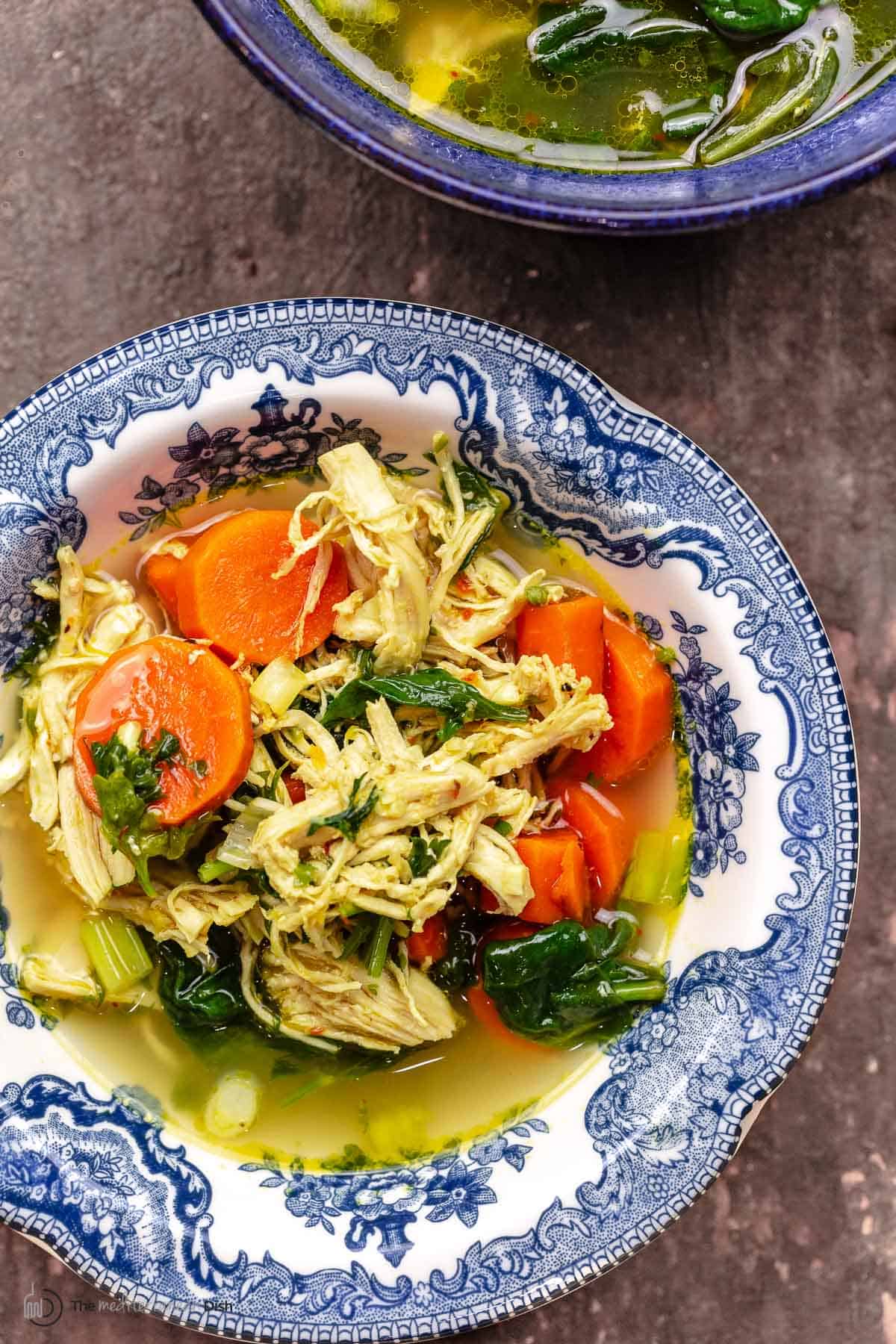 Easy Mediterranean Chickpea Soup
Filled with chunks of sweet potatoes and hearty veggies, and laced with bold flavors like cumin and fresh ginger, this recipe for chickpea soup is vegan and gluten-free! I use canned chickpeas, but you can also cook the chickpeas from scratch (I share instructions in the post).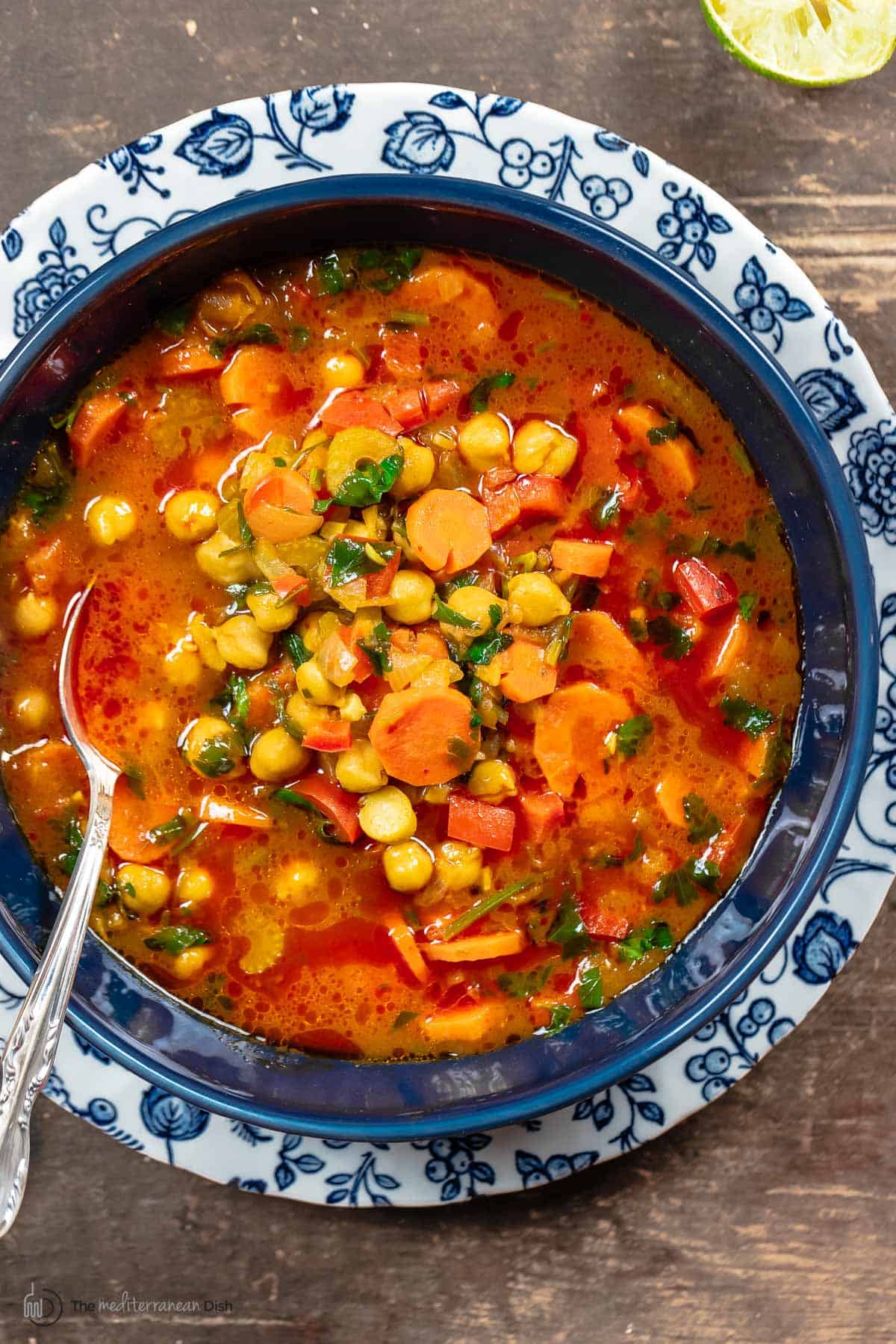 This Italian-style minestrone soup is brimming with vegetables, beans, and a little pasta. The draw here is in the flavorful tomato broth with lots of fresh herbs. Minestrone is meant to be adapted, so feel free to make this recipe your own by using what vegetables you have on hand. Adding a handful of spinach or diced potatoes, if you like.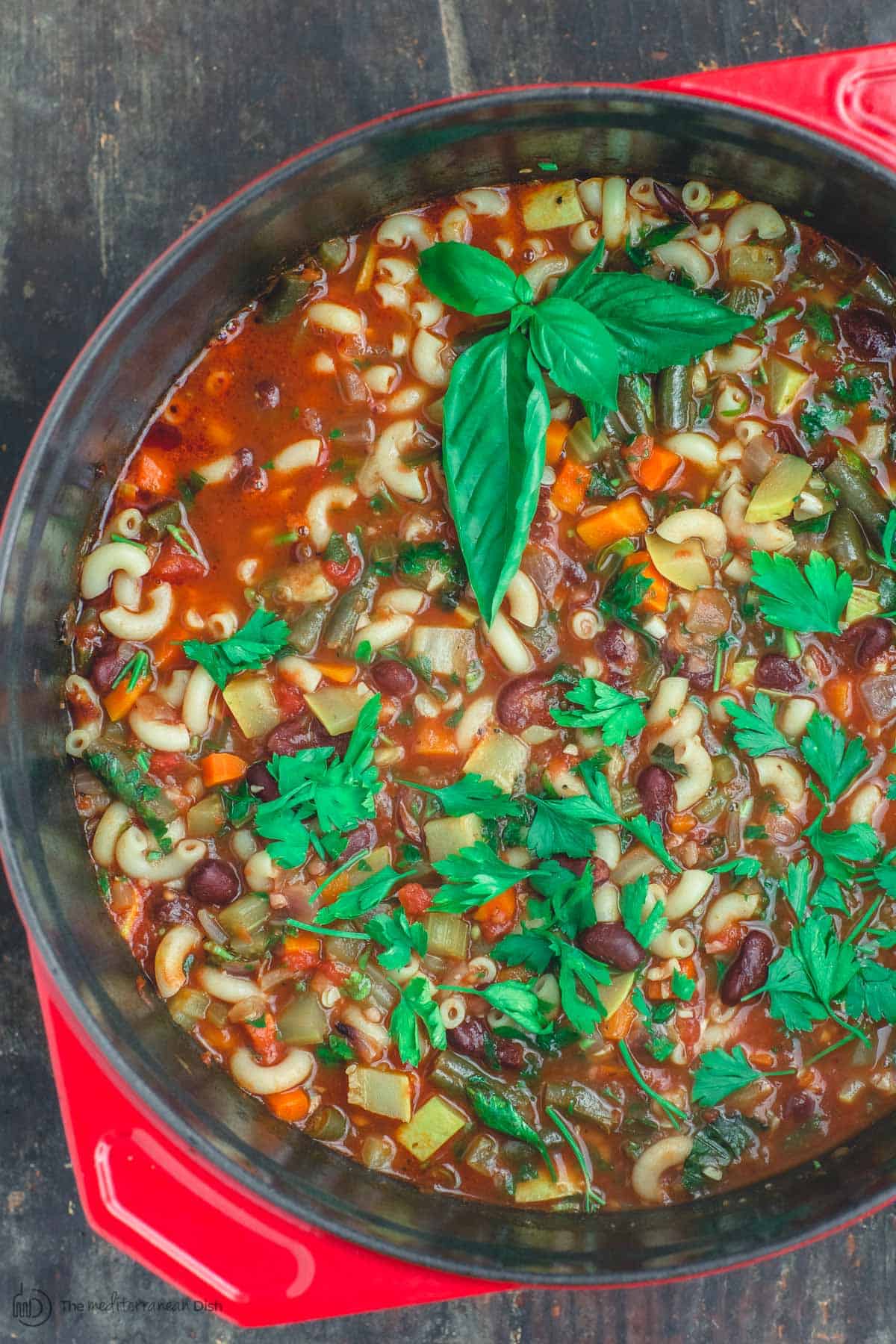 Spicy Lentil Soup with Spinach
The combination of spinach and lentils makes this a powerhouse meal. You can use green, brown or black lentils to make this easy soup, as they will cook to tender perfection while holding their shape.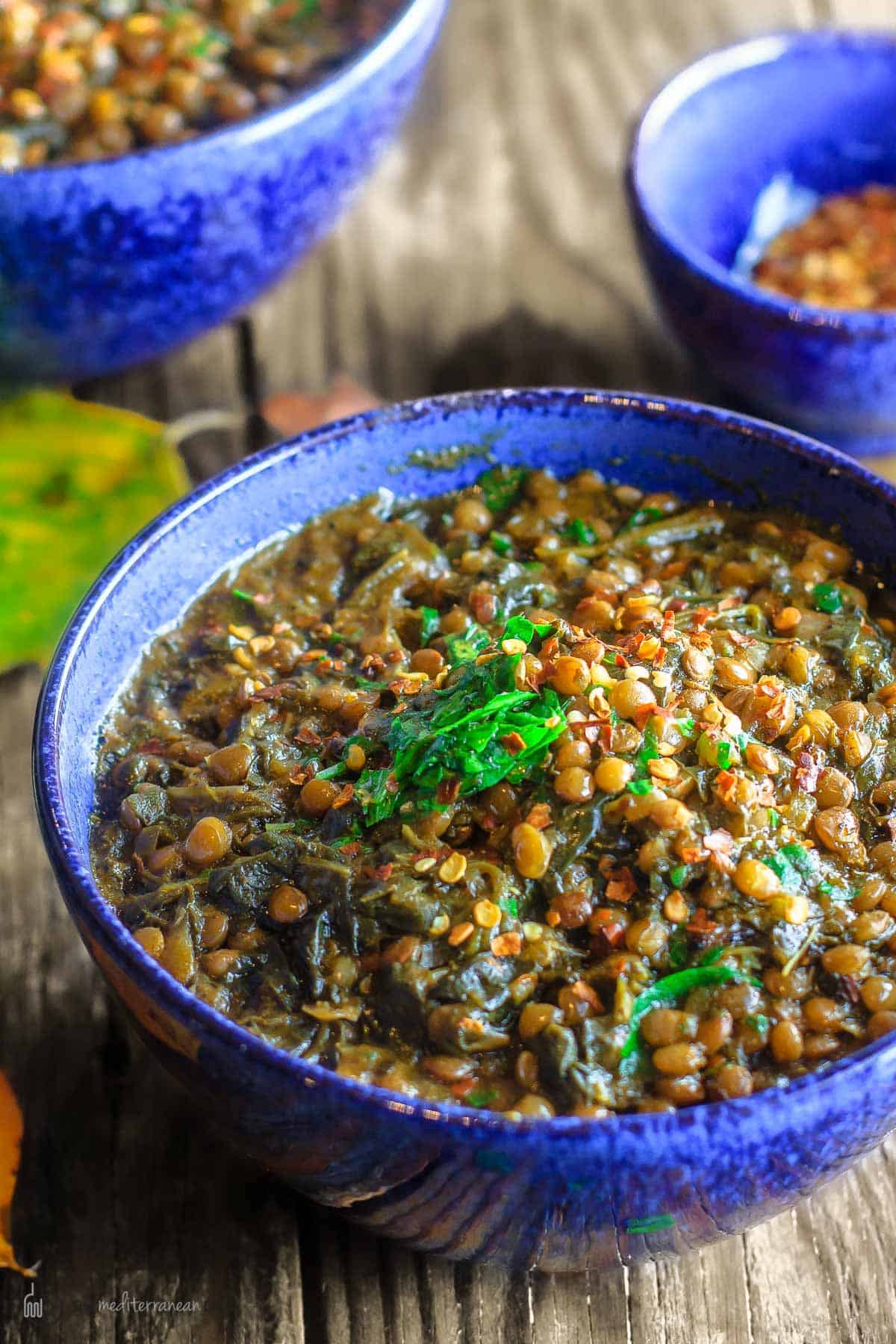 Creamy soup recipes
There's nothing more luxurious than a rich, velvety soup with lots of cozy flavors. Here are some of my favorite Mediterranean-style vegetable-forward creamy soups:
Roasted Butternut Squash Soup Recipe
Vegan and gluten-free, this creamy butternut squash soup is subtly sweet and nutty with some warm spices and a generous stir of quality tahini! Surprising on many levels.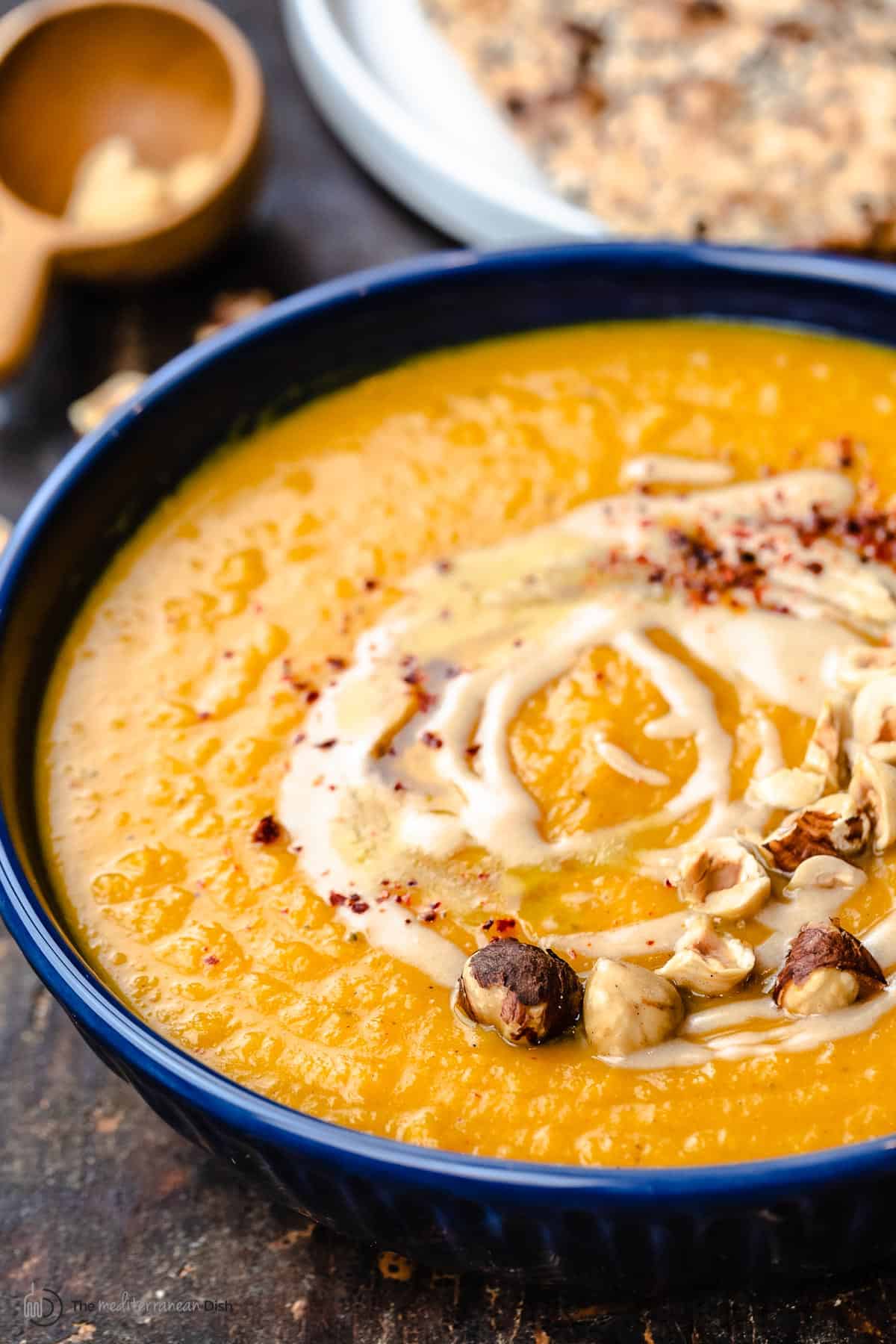 This vegan roasted tomato soup recipe is creamy as ever without the use of heavy cream. I like using roasted carrots here, which give this soup a subtle sweetness and heft. Whenever possible, I like to use fresh basil and thyme for flavor.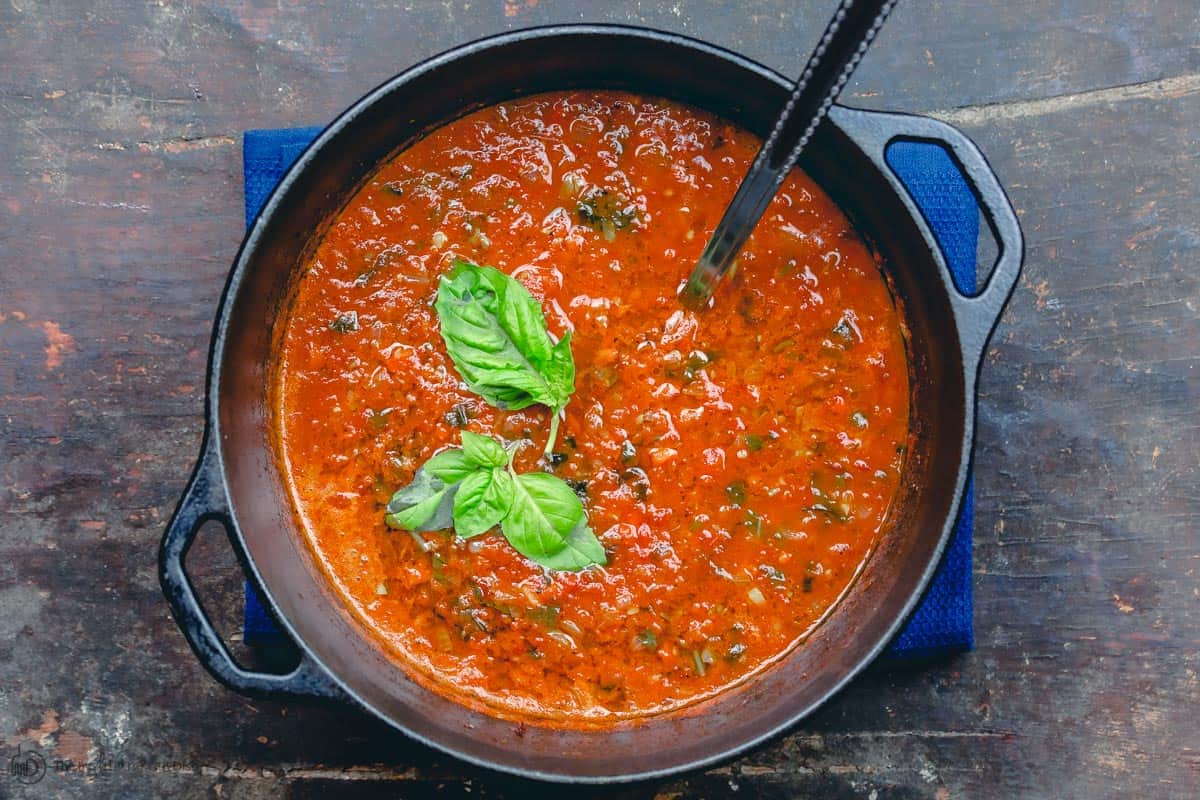 Roasted Carrot Soup with Ginger
Like other creamy soups, this carrot ginger soup is a good one to make ahead as it is even better the next day. Aside from the fresh ginger, I love using garlic and a pinch of allspice, which enhance the sweet, roasted carrots.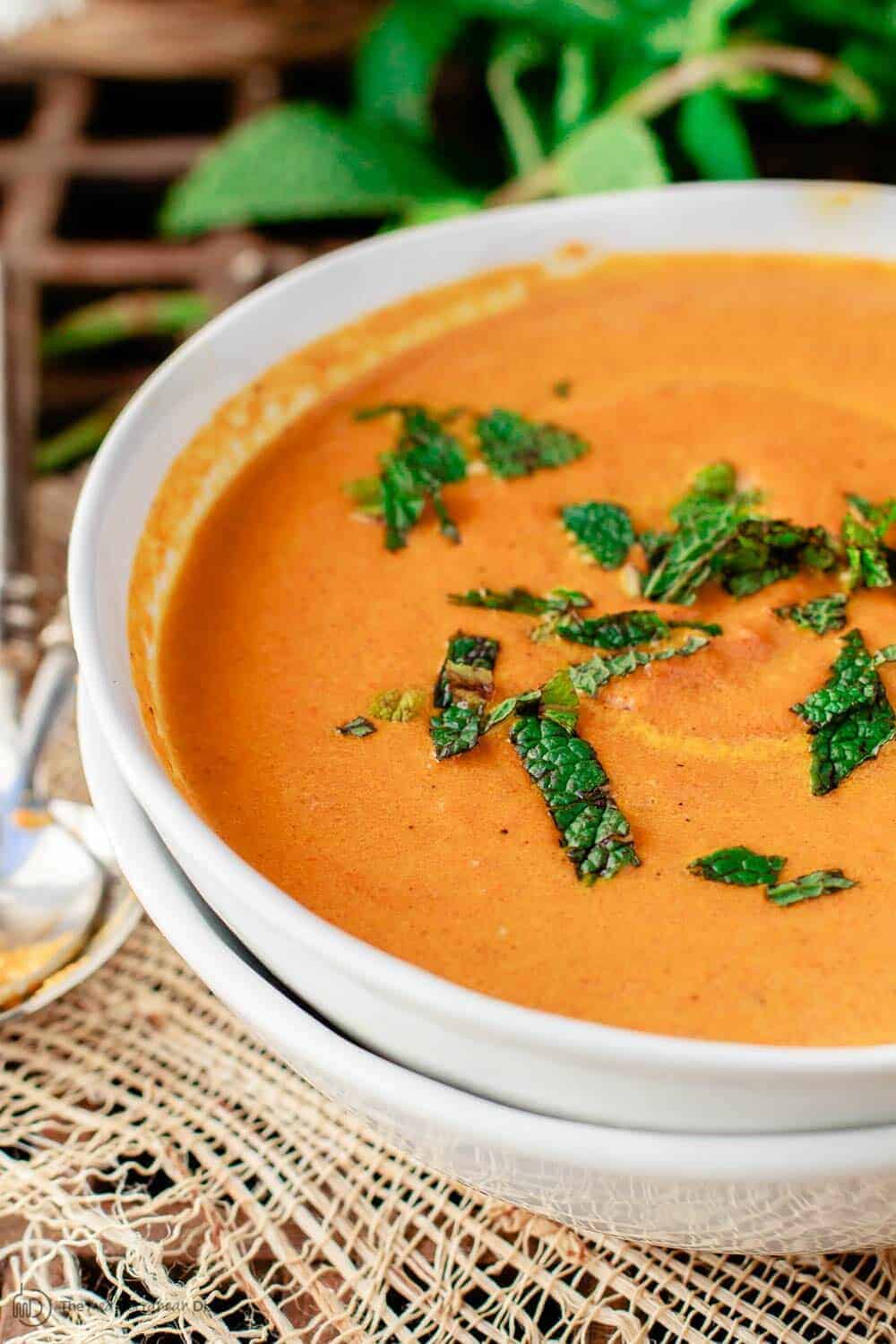 Vegan Pumpkin Soup with Lentils
Now this is a pumpkin soup with a bit of a Mediterranean twist. Red lentils are the perfect addition here because, once cooked, they collapse into creamy goodness, giving this soup more nutrition and heft. I like spooning a little zhoug (spicy cilantro pesto) on top for a bit of a kick.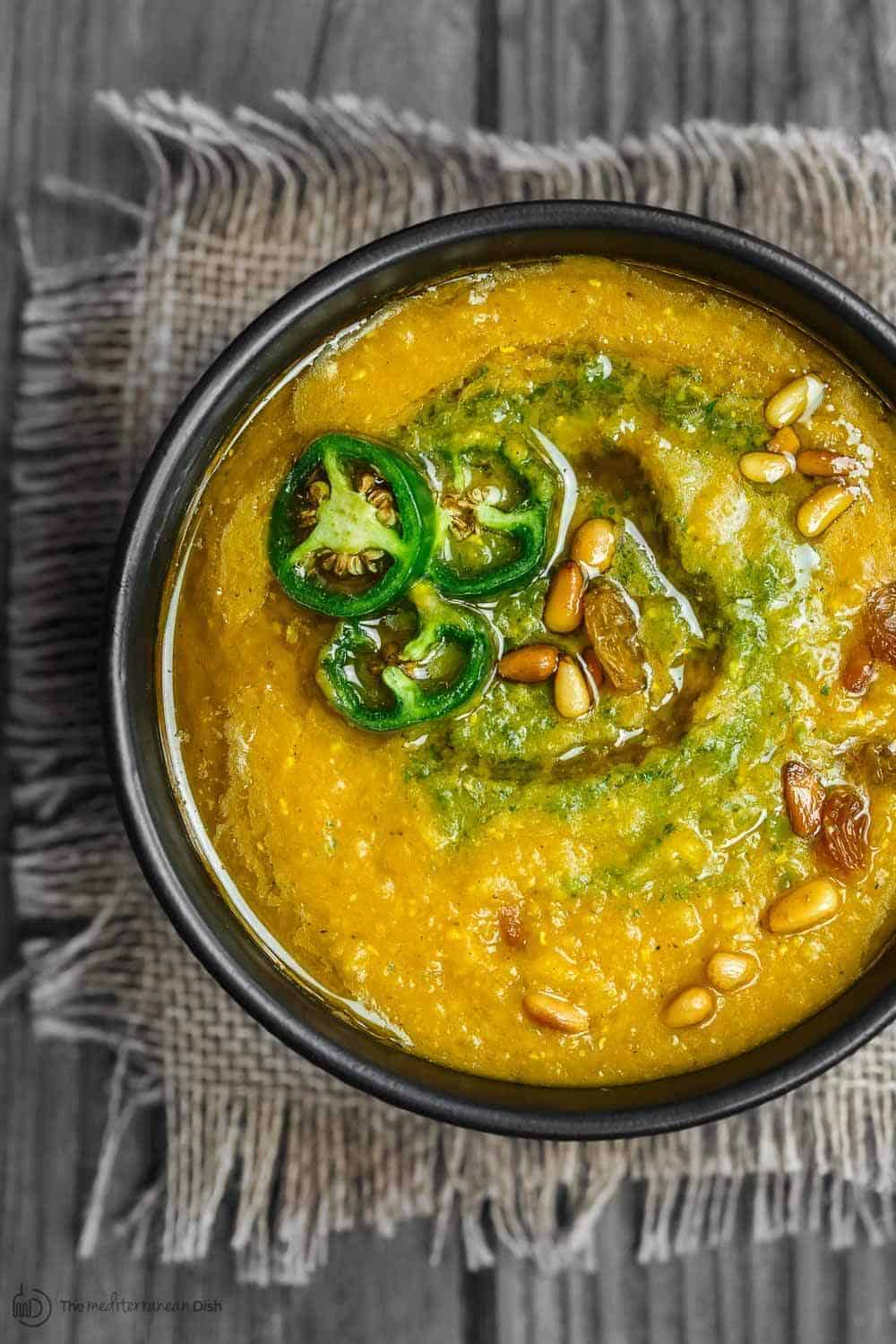 Cream of Roasted Cauliflower Soup
This rustic, rich cauliflower soup recipe is so creamy, you won't even notice there's no cheese. This soup does better with a bit of heavy cream, but if you like, you can try oat cream instead (although it is a bit on the sweeter side). A foursome of earthy Mediterranean spices--turmeric, cumin, sumac, and paprika--take the flavor of this easy soup to new heights!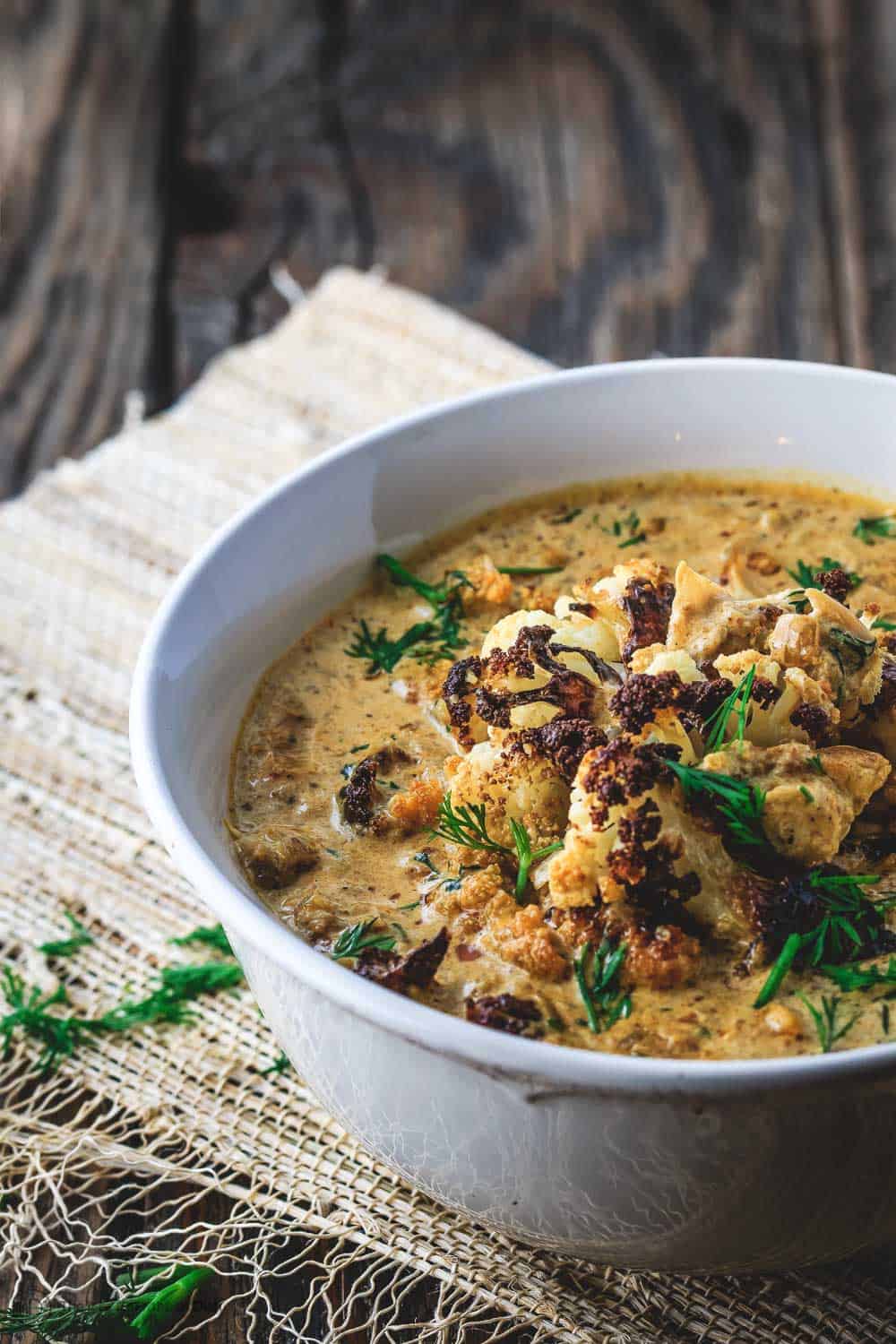 Easy vegetable soup recipes
If you ever need a way to push your body's reset button, vegetable soup can be a delicious and comforting way to do that without going on a harsh detox diet. Plus, what better way to use up those veggies and herbs in the bottom drawer of your fridge? Here are some vegetable and vegan soup recipes I love (and there are more in the sections below as well):
This homemade vegetable soup recipe is layered with colorful veggies, aromatics, fresh herbs, and a big splash of lime juice for the brightest finish. To make it even more hearty, add chickpeas for some plant-based protein.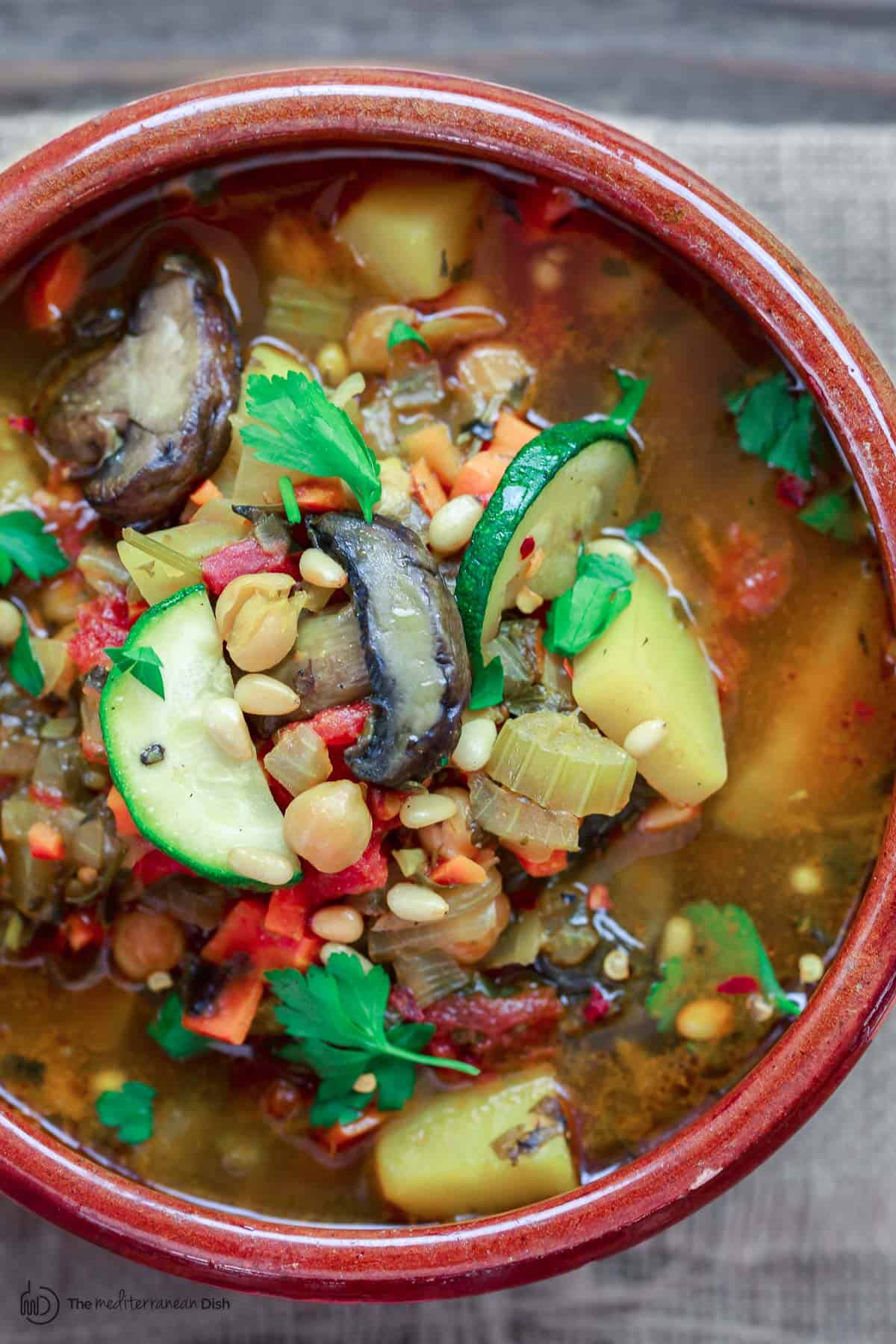 Hearty mushrooms, chopped vegetables, and tender pearl barley make up this simple and satisfying mushroom barley soup. As comforting as your favorite deli's barley soup, but with even more flavor and a subtle smoky finish! This soup will definitely be added to your list of easy soup recipes!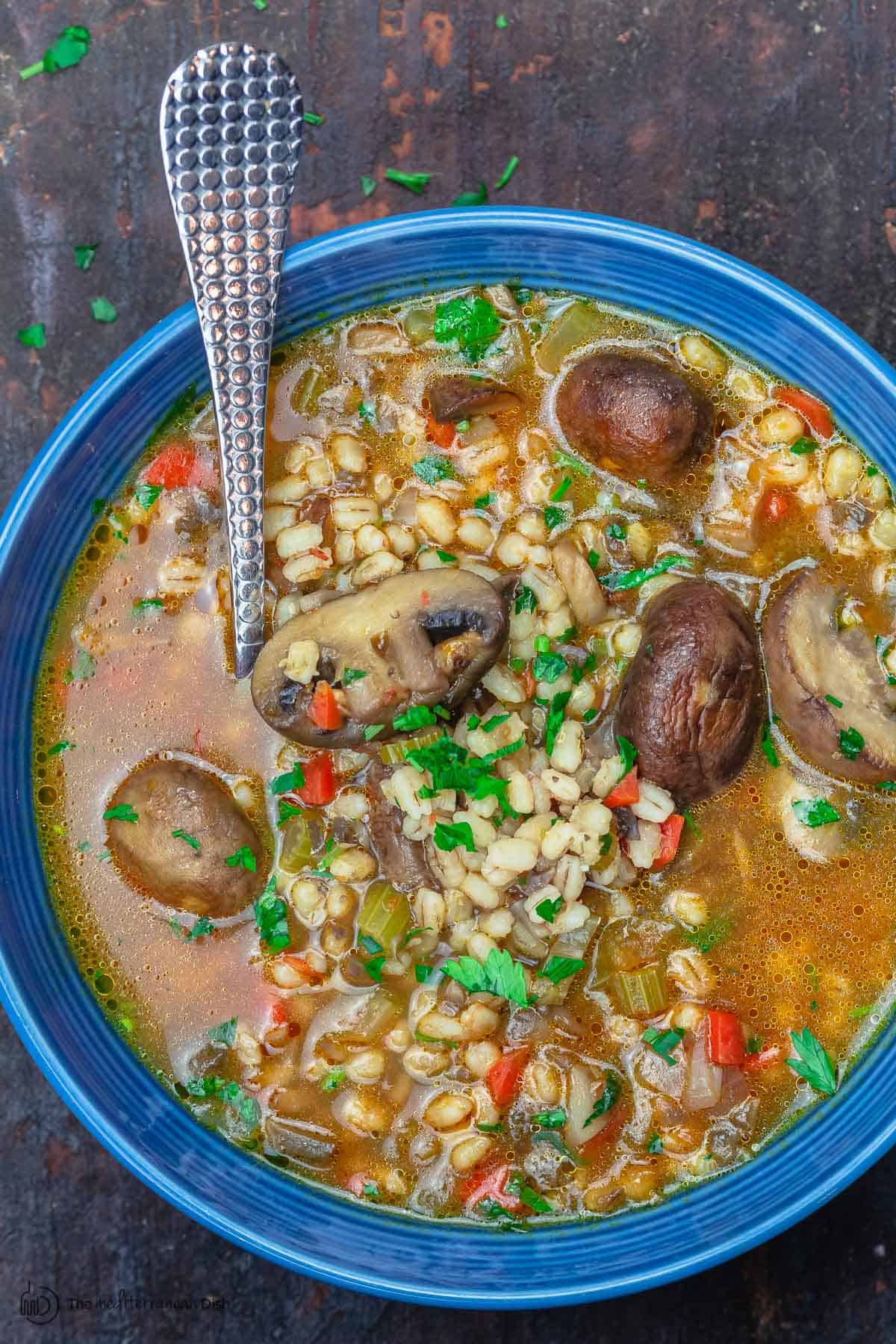 Chunks of melt-in-your mouth sweet potatoes, tender carrots, tomatoes, and wilted baby spinach, come together in one pot. To me, the perfect flavor makers here are warm seasonings like cumin and turmeric that compliment the sweetness of the tender vegetables.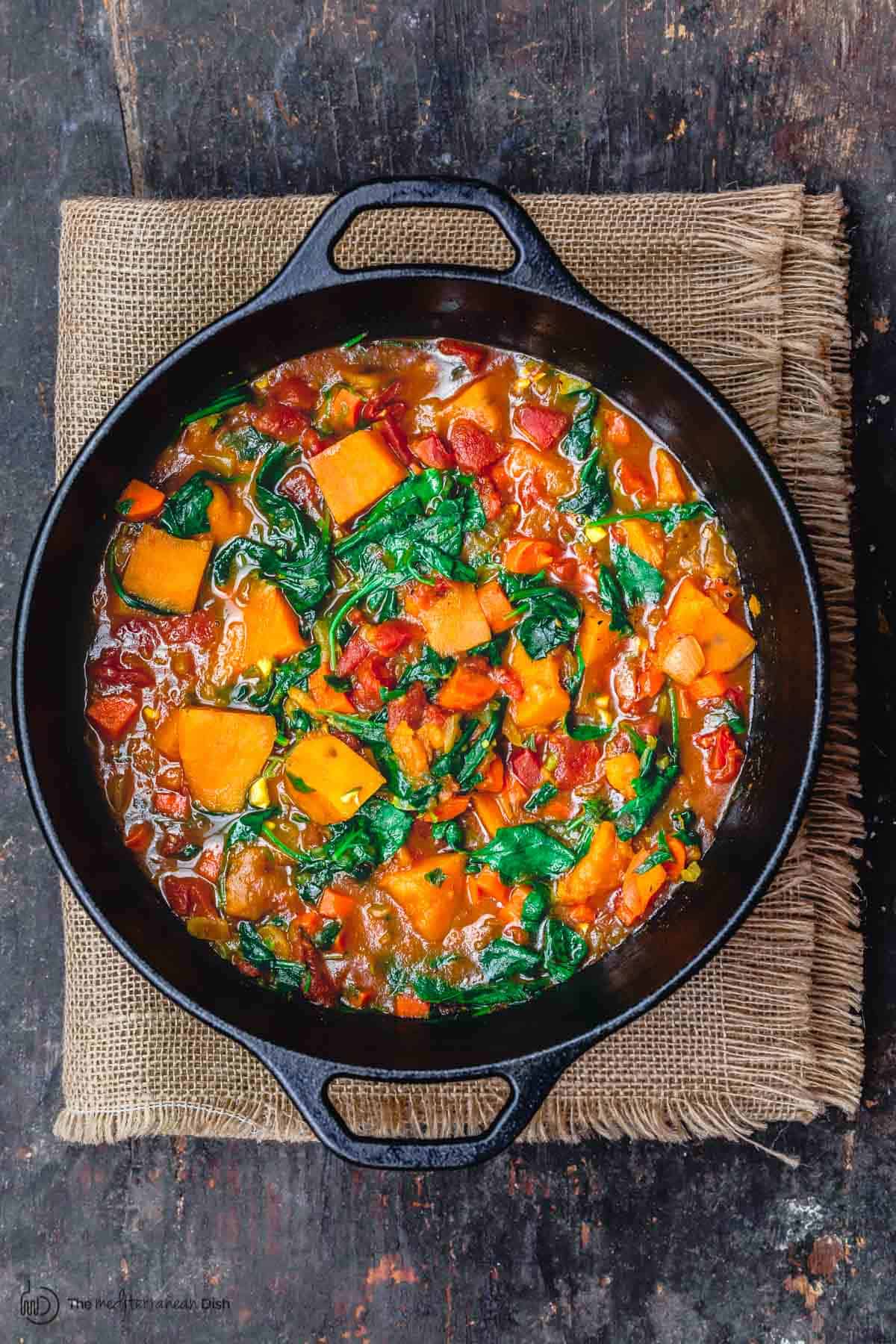 This is not your common potato leek soup here, it is one that packs a little extra punch from garlic and cilantro. Finish it with a drizzle of good extra virgin olive oil and a splash of fresh lemon juice to elevate its earthy flavors.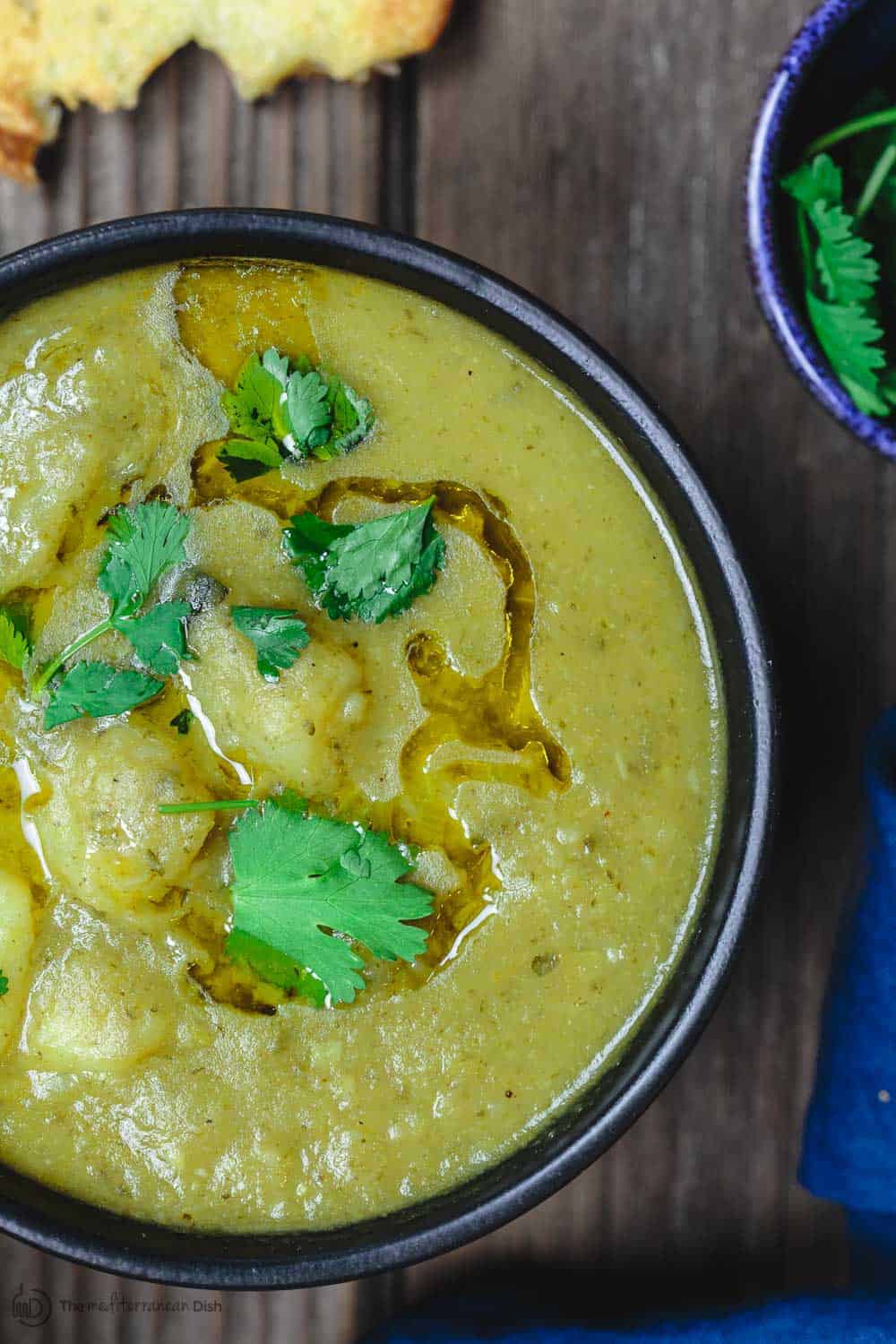 More chicken soup recipes
Chicken soup is one of those nostalgic dishes known as a home remedy to comfort the sick. It's also one of those universal foods every culture, and every household, has some version of. In addition to Avgolemono and my Turmeric Lemon Chicken Soup, which are on the list of popular soups above, here are a couple more comforting chicken stews:
Yes, we take it a step further with this heartier chicken stew recipe, brimming with chopped vegetables and bold, bright flavors. Serve it with a loaf of your favorite crusty bread or over a bed of farro grains.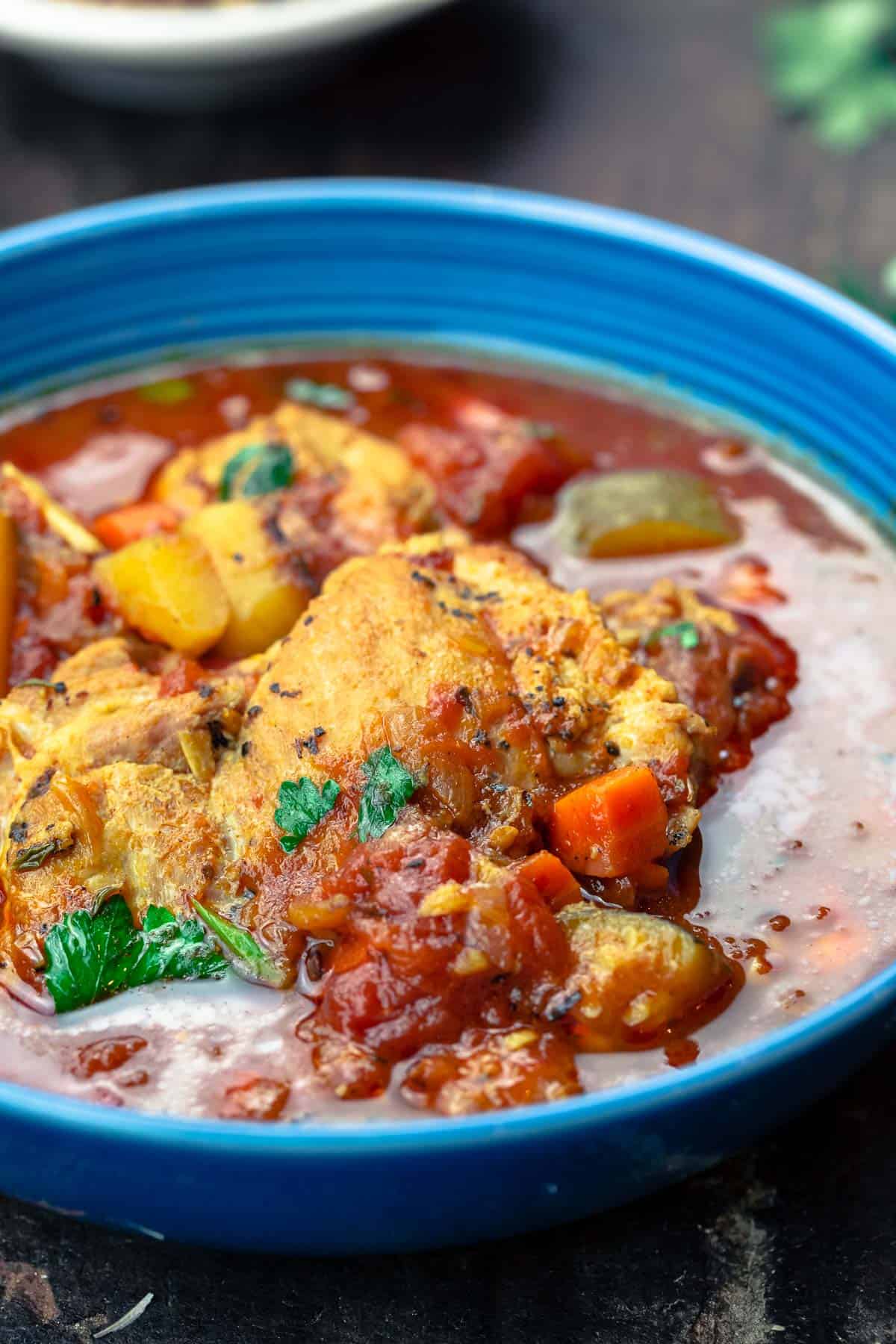 White Bean and Kale Soup with Chicken
This is a hearty pot that is layered with protein thanks to beans and chicken--very satisfying. I use a couple cans of white beans here to save time, but you can use dry beans, just soak them overnight and then cook them in water for about 1 to 2 hours (this guide for how to cook chickpeas will work in this case).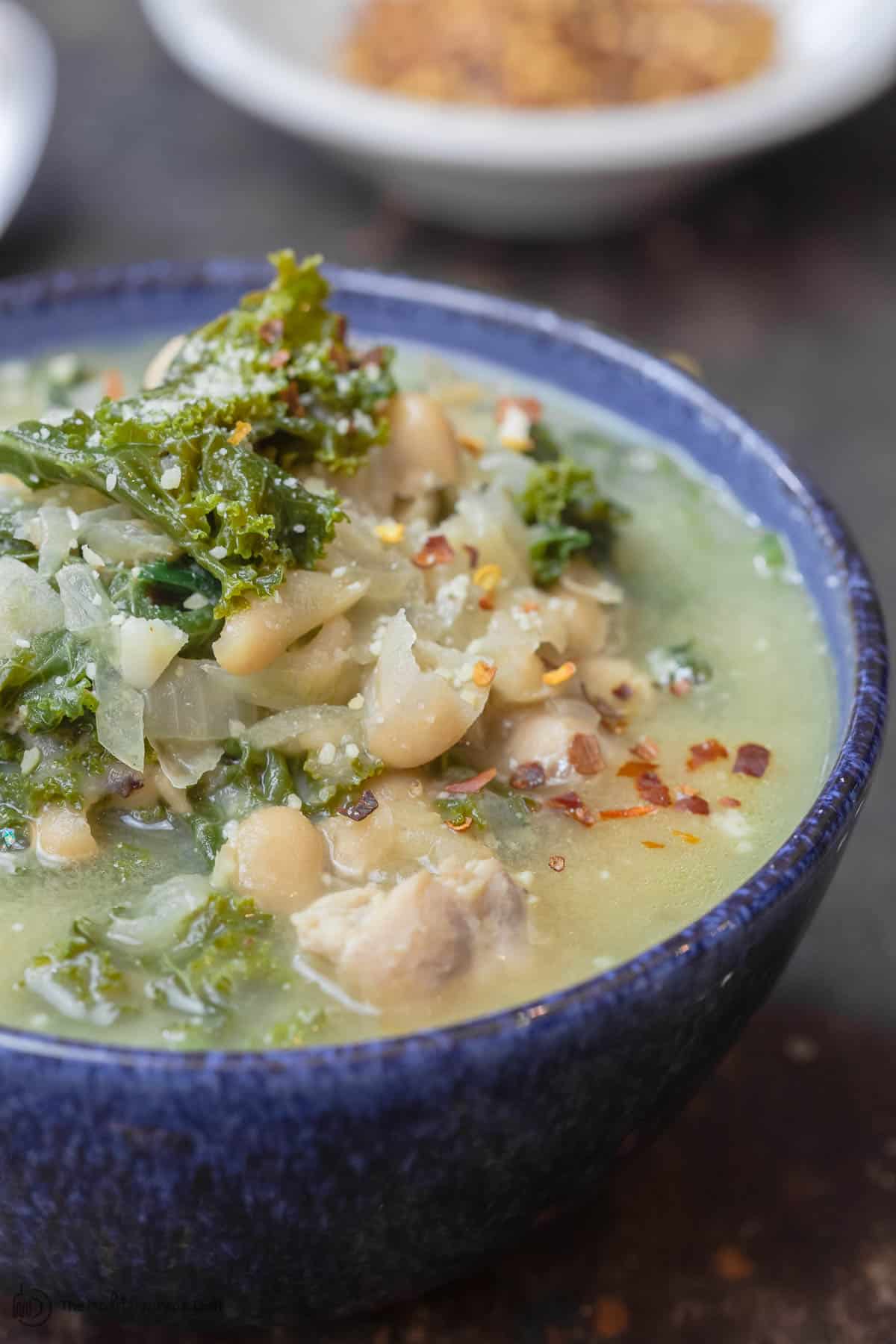 Bean and lentil soup recipes
Beans and lentils are a staple of the Mediterranean pantry. They are affordable and can make a satisfying meal that is high in plant-based protein, fiber, and more. My minestrone and spinach lentil soups listed earlier are two popular ones, but here are a few more bean soup recipes to try:
Tuscan bean and vegetable soup that is thickened with day-old bread. Ribollita is hearty and especially flavorful, thanks to the use of one secret ingredient: Parmesan rind. I like to use kale in this soup, but you can do spinach or another leafy green.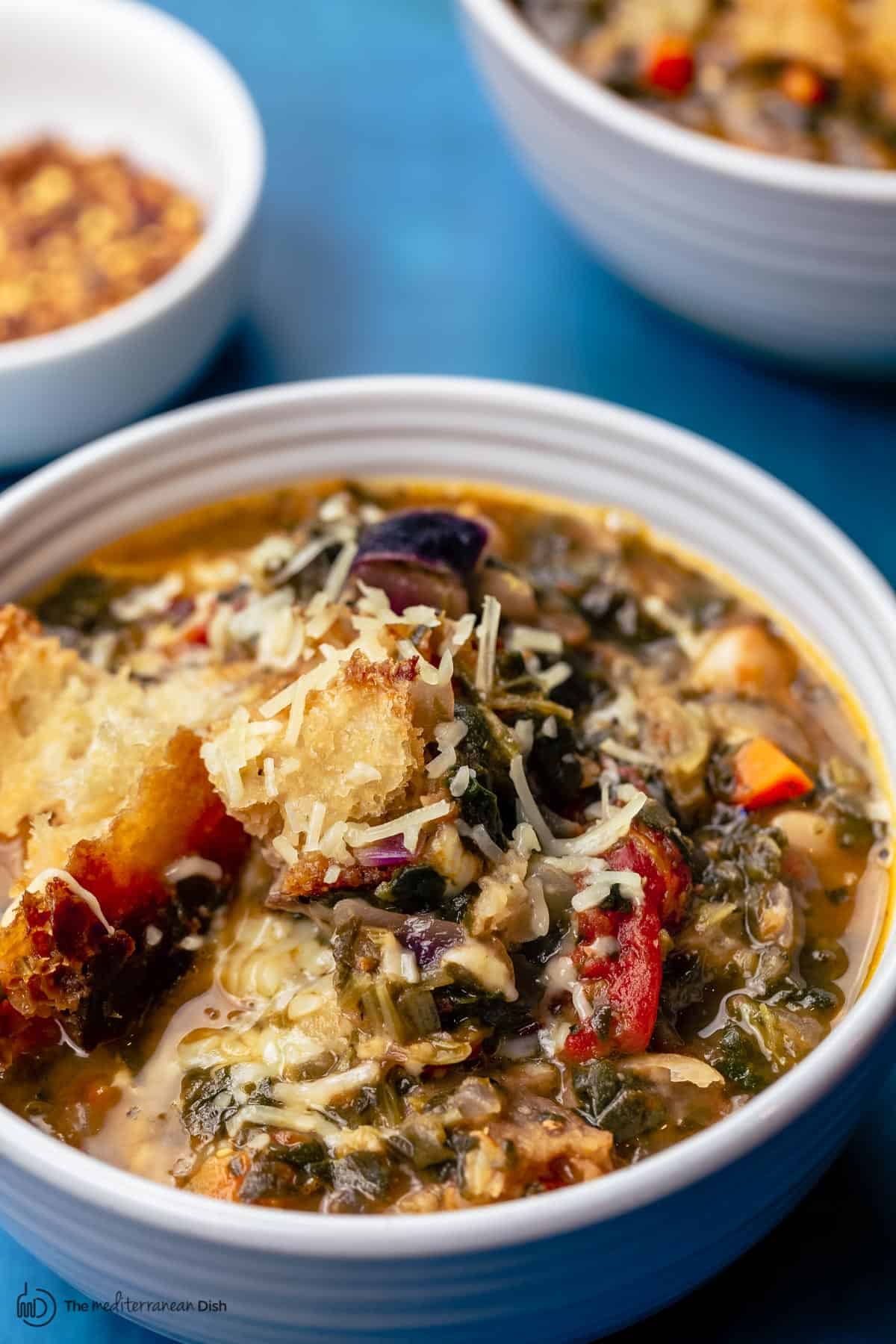 This vegetarian Pasta Fagioli recipe is more than the sum of its humble parts of beans and pasta, and it comes together in 30 minutes or less.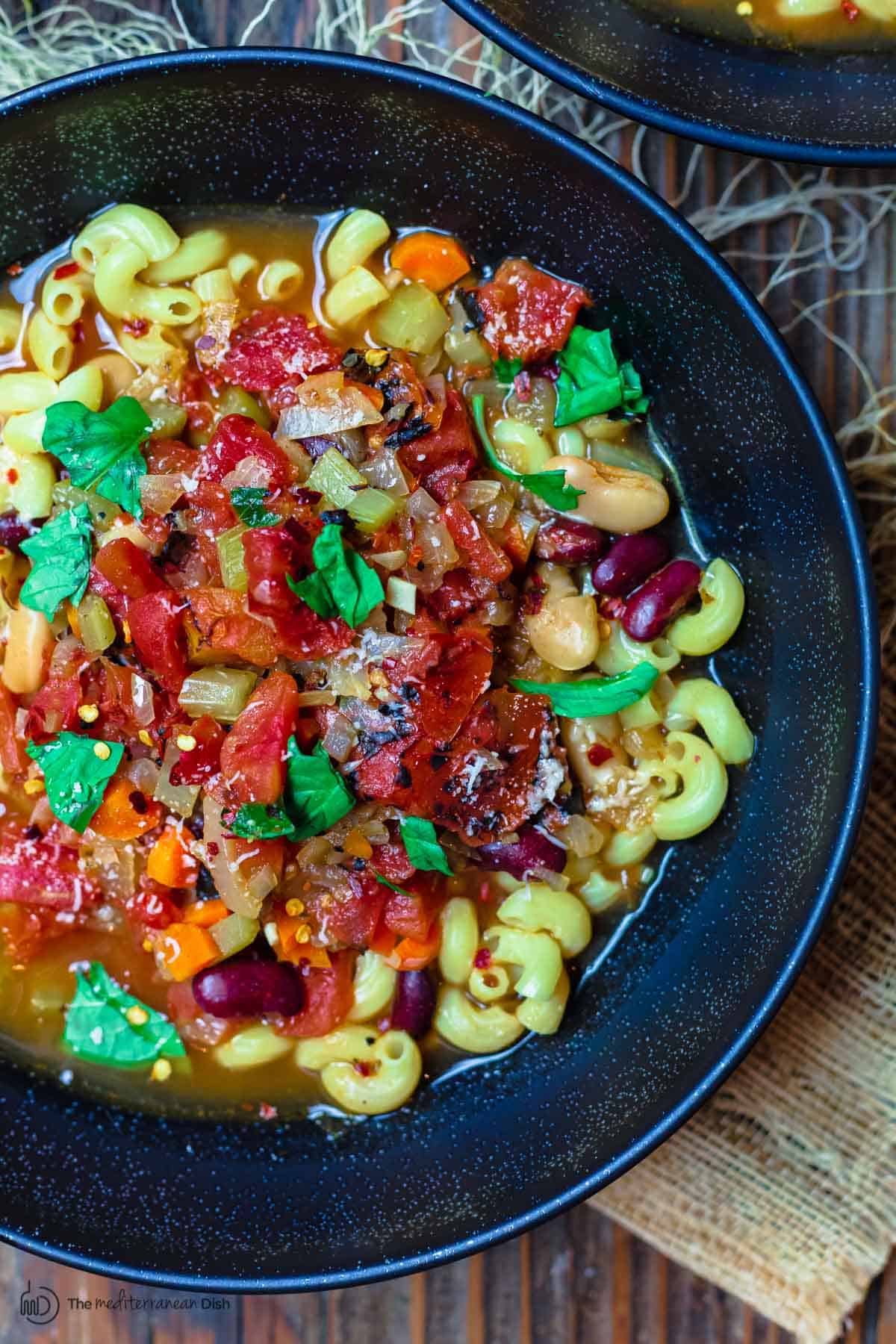 Red lentils combined with onions, garlic, and sweet carrots in a tomato-based broth. It's infused with oregano and rosemary and finished with lemon juice and fresh herbs. Keep it vegan, or add a sprinkle of creamy feta!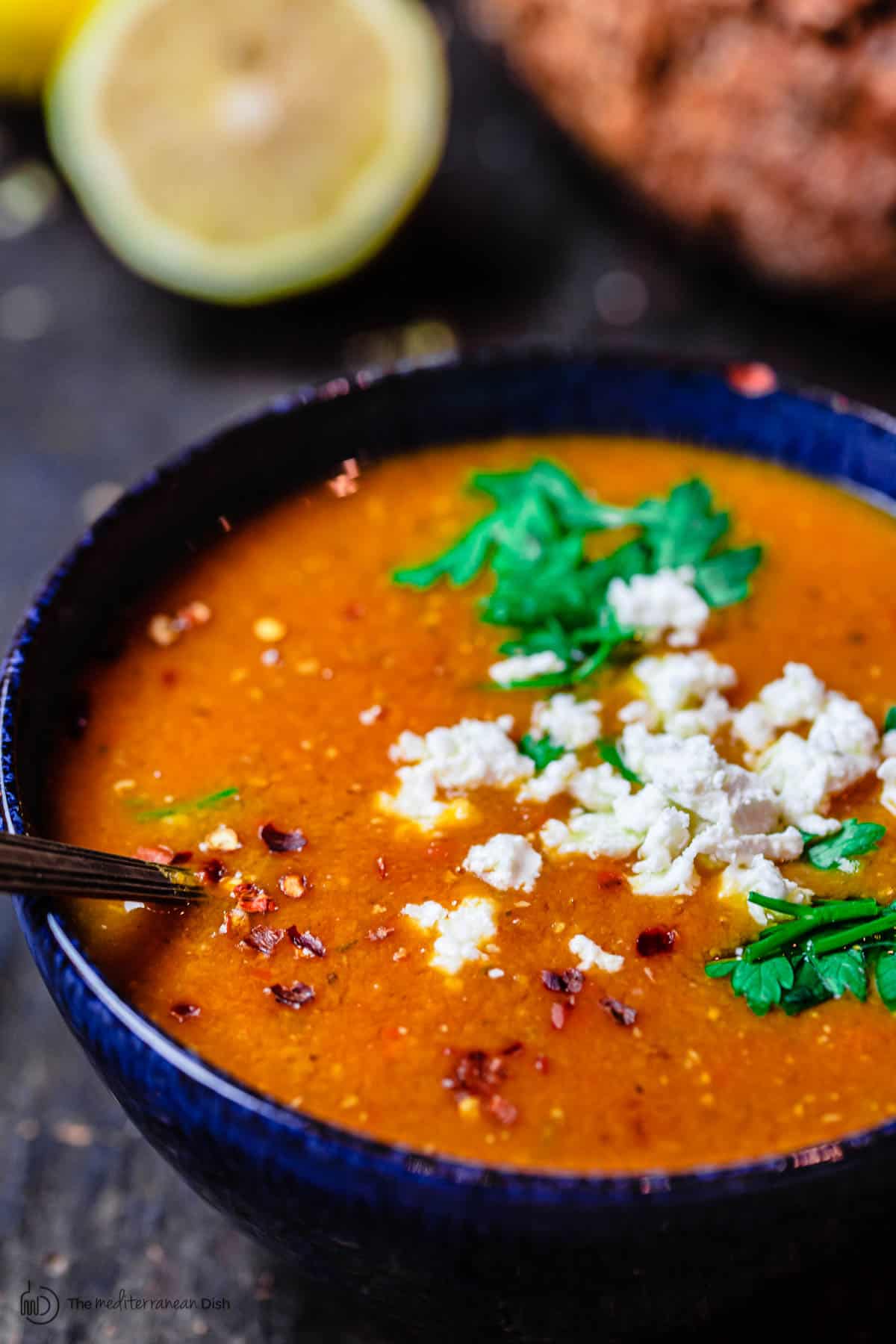 Tomato-based Moroccan soup, made with lentils and chickpeas, fresh herbs, and North African flavors including turmeric, cumin, and cinnamon. It is typically thickened with broken vermicelli pasta or rice.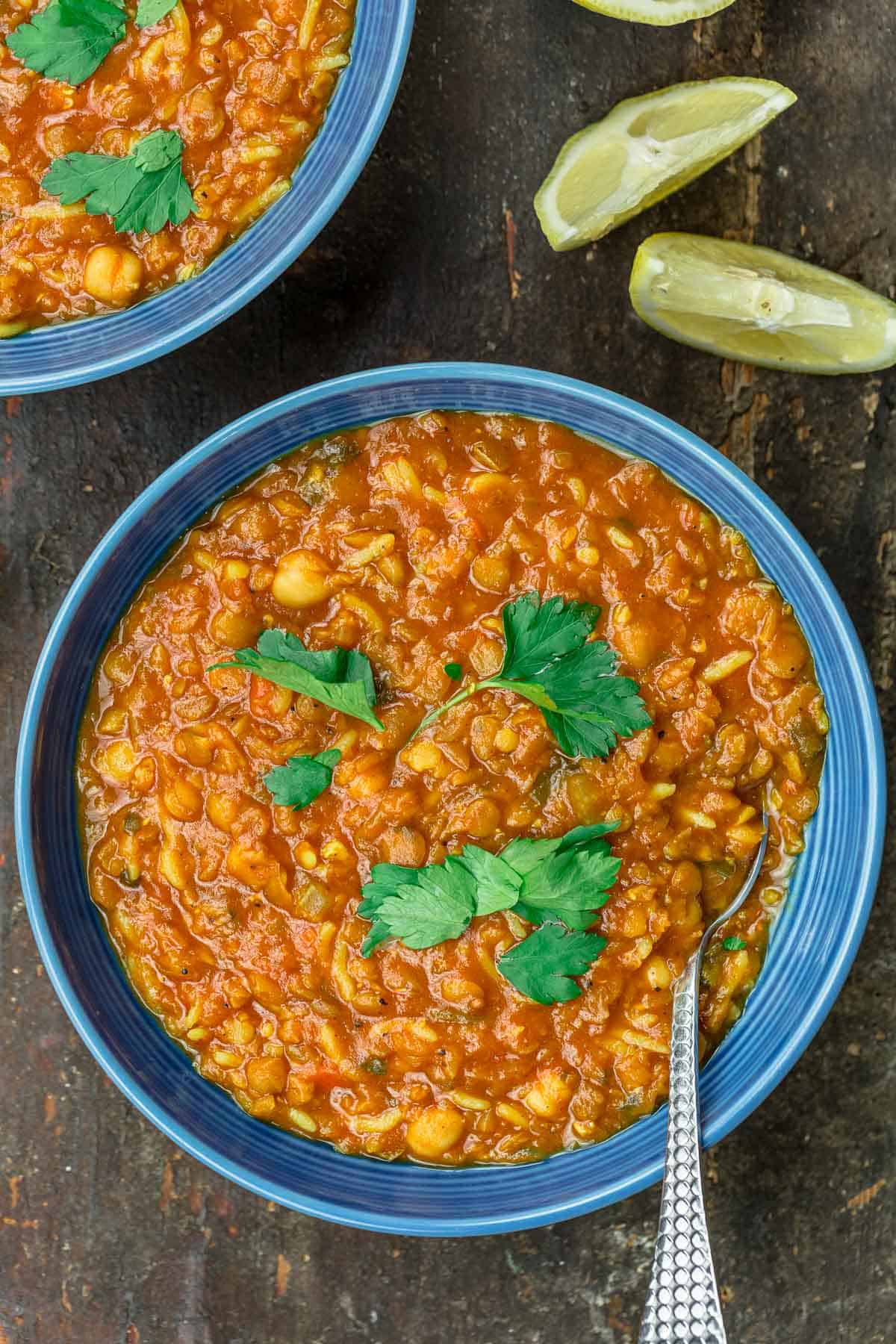 I like using green lentils in this recipe with any number of vegetables I have on hand, like zucchini, potatoes, celery, and carrots.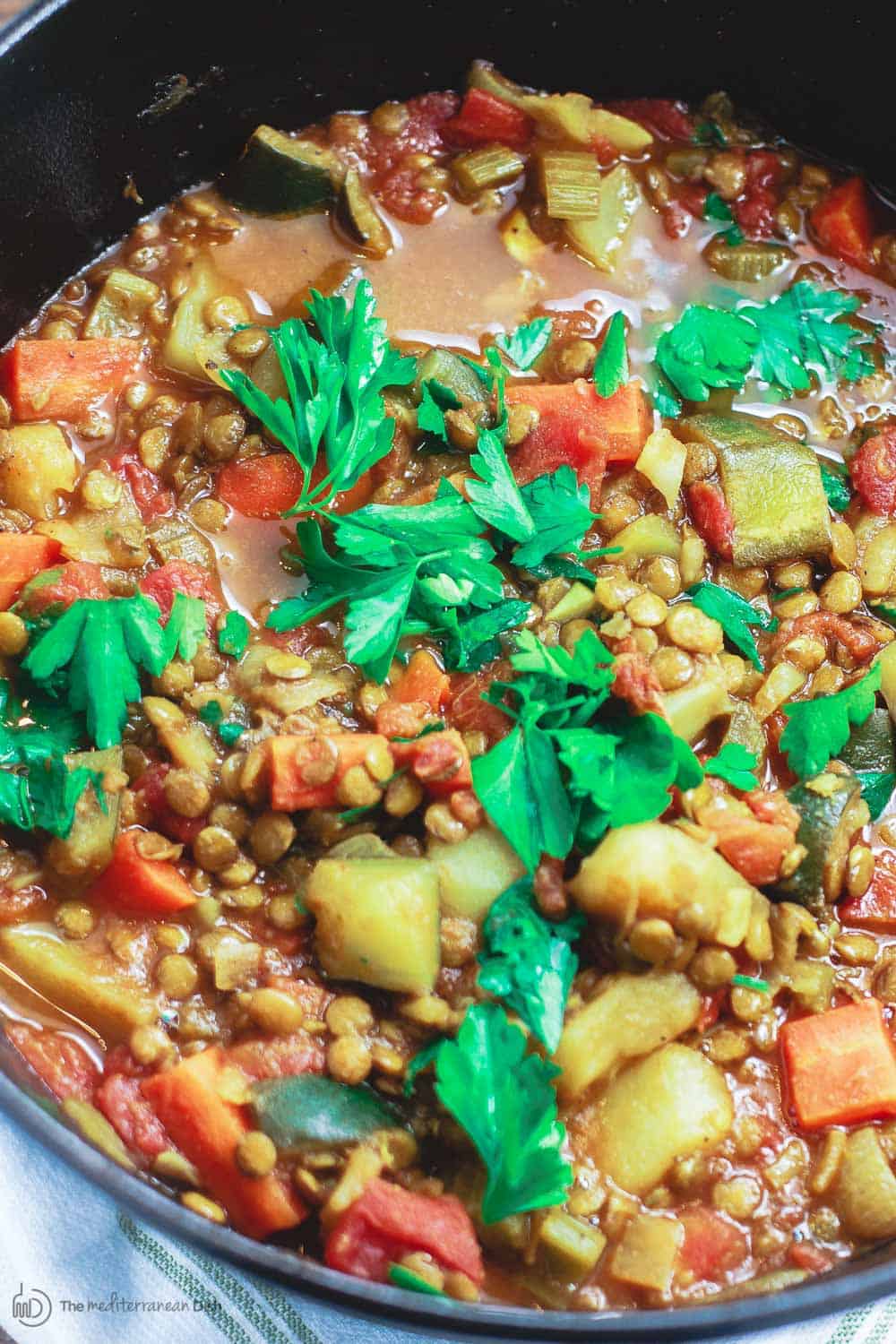 Three Bean Soup Recipe with Tomato Pesto
I used canned kidney beans, cannellini beans, and chickpeas, but you can change the beans up according to what you have on hand. What takes the flavor in this soup a few notches is the tomato pesto stirred at the very end (do not skip it!)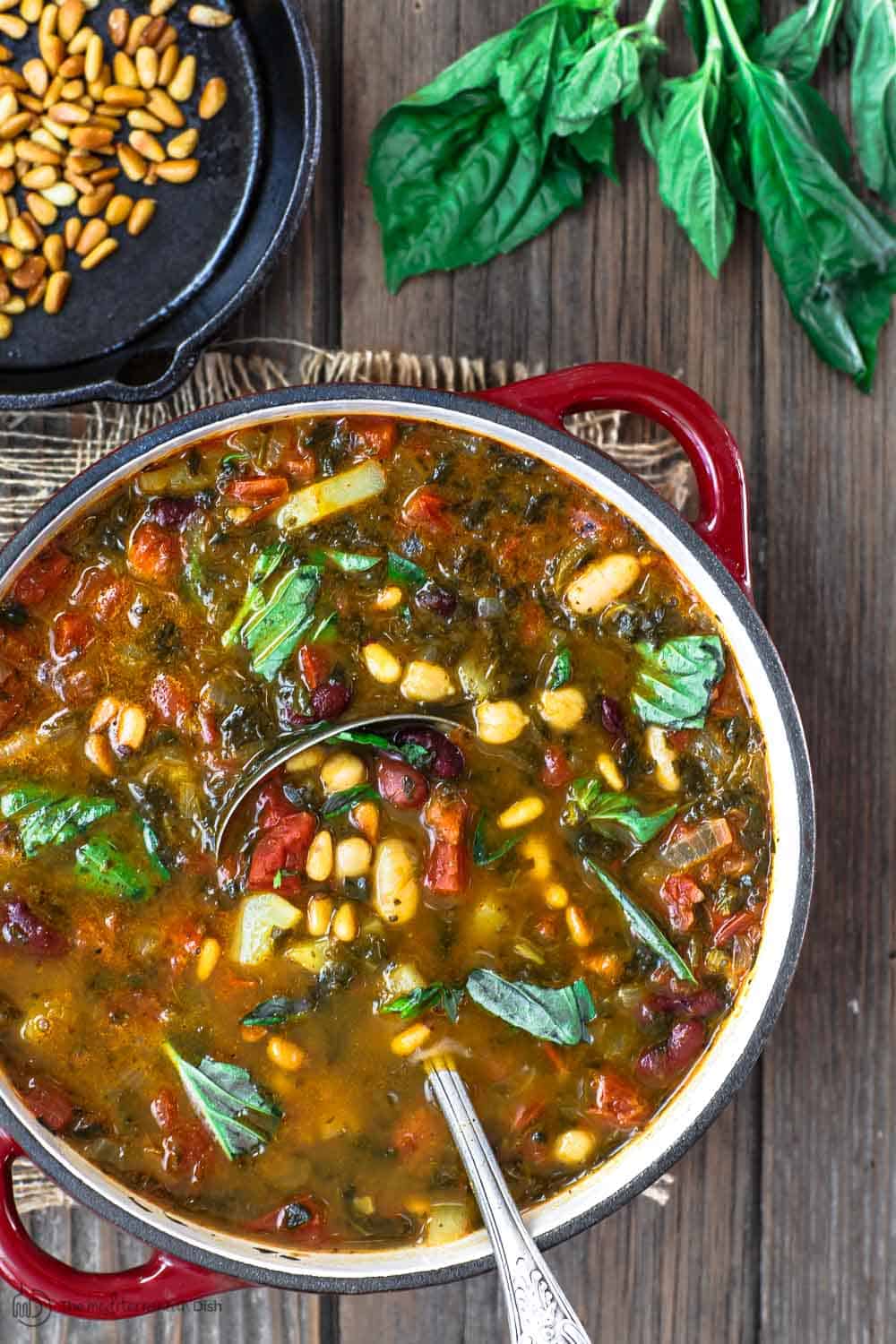 Fasolada: Greek White Bean Soup
There are several versions of fasolada, this one is simple with white beans, garlic, onions, and celery. Don't forget a big drizzle of extra virgin olive oil at the end.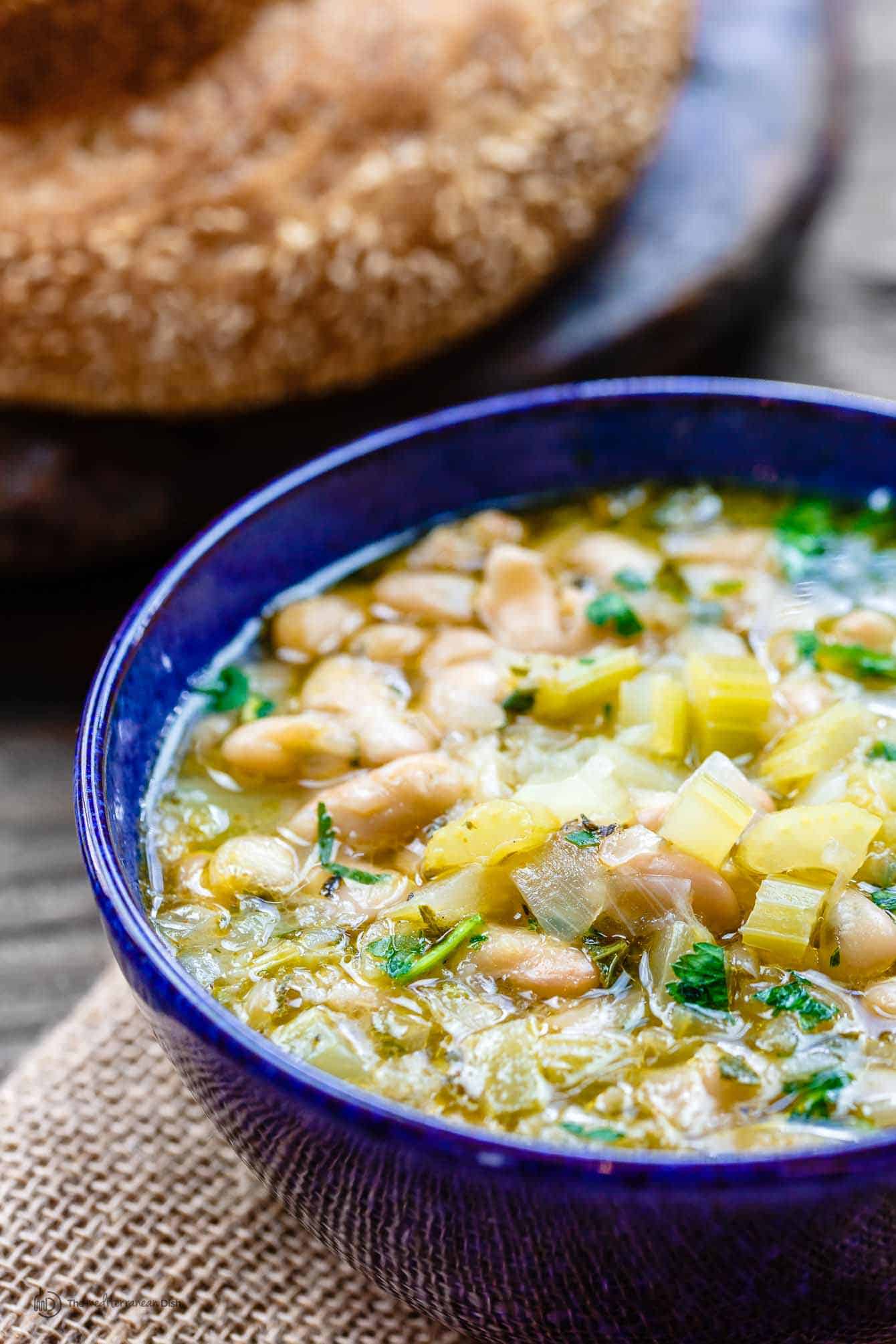 Seafood Soup Recipes
Fish and seafood are a big part of eating the Mediterranean way, and fish soup is one easy way to increase your fish intake. Here are a few recipes that are popular with my family:
Fish fillet pieces, cooked in a white wine and tomato broth with garlic, capers, raisins, and more! Don't worry, the raisins do not make it sweet, but they are a good addition to balance the acidity in this dish.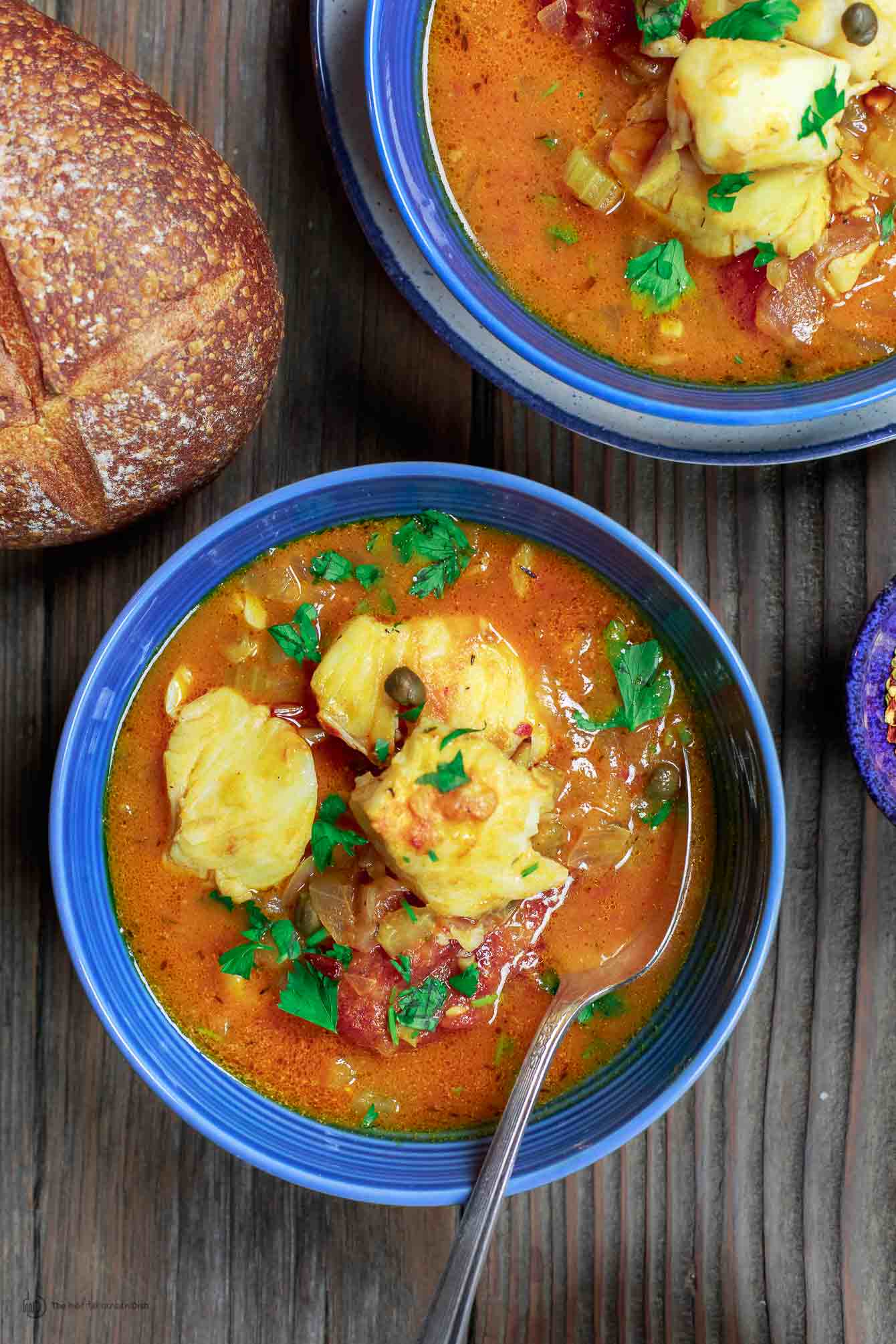 Now, this fish soup leans toward warm Eastern Mediterranean flavors, it is decidedly savory with deep flavors. I like finishing it with fresh herbs and lemon juice. Do not skip the lemon juice at the end; it makes all the difference in adding a bit of zing and balance.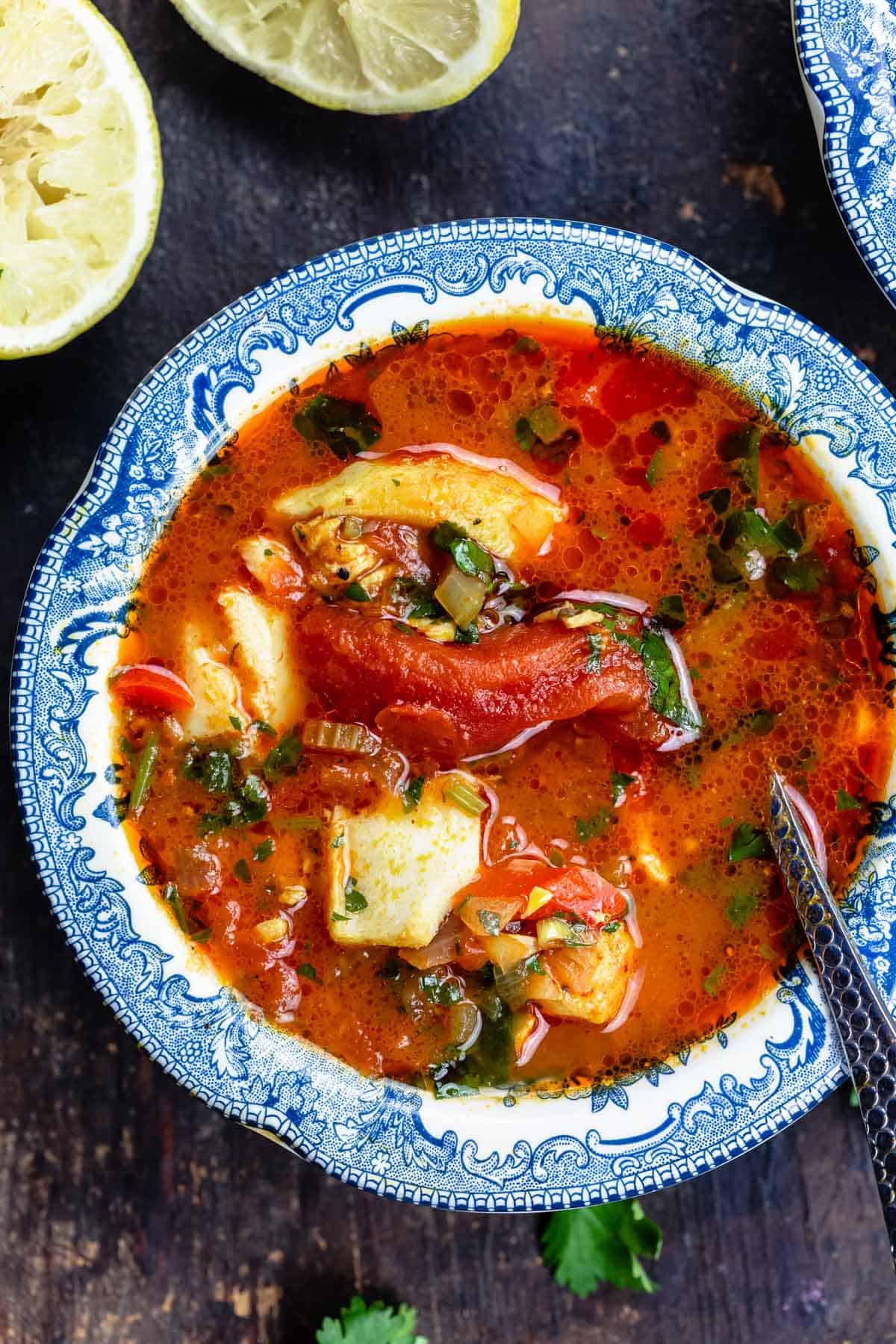 Shrimp soup in a tomato-based broth with orzo, vegetables, baby spinach, and loads of fresh herbs. You can omit the orzo, if you don't want the carbs. Or use another pasta like pearl couscous or a cooked grain like farro or barley (the grains take longer to cook, so it is best to make them ahead of time and add them to the soup toward the end of the cooking process).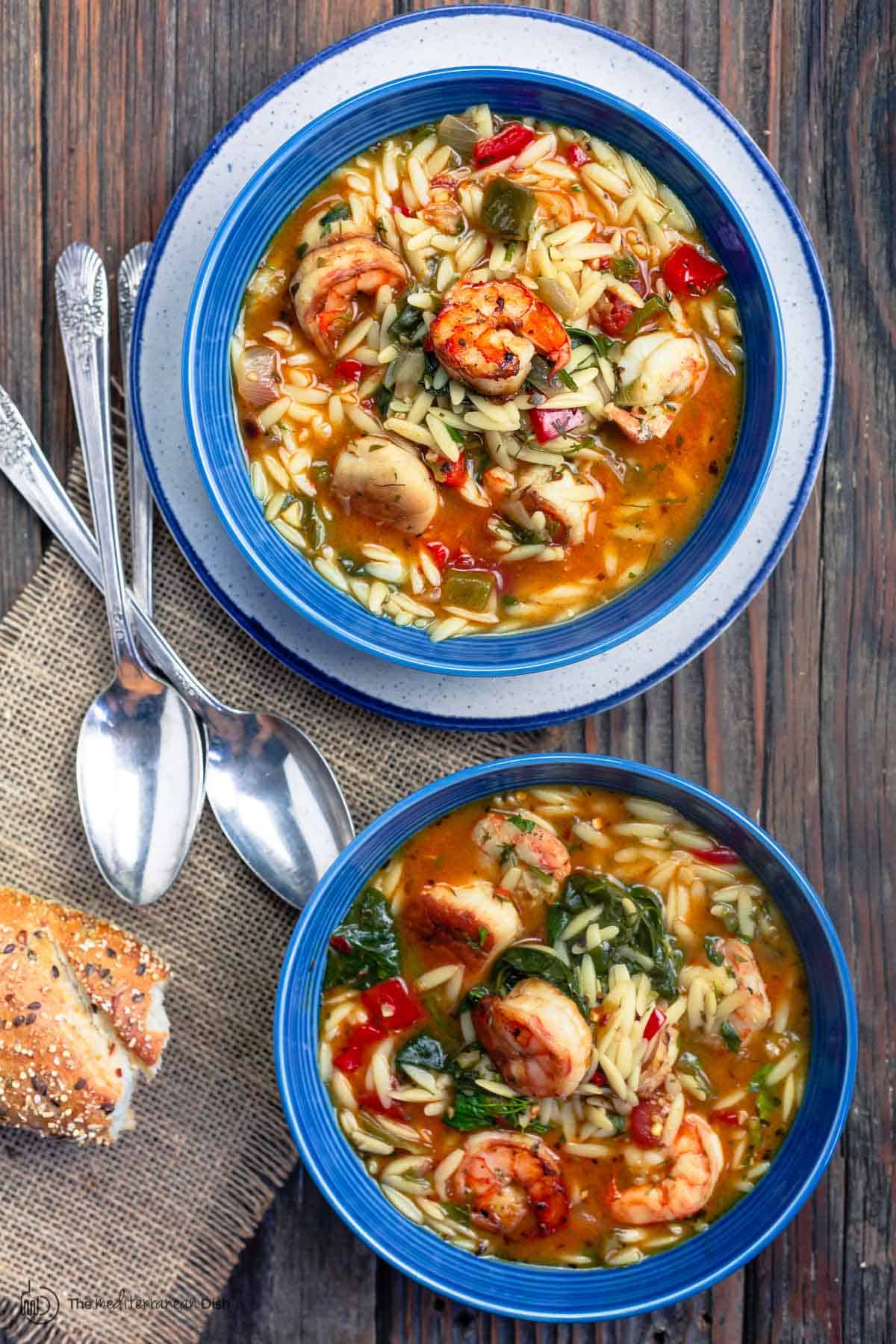 Delicate chunks of salmon are tucked in a flavor-packed broth with potatoes, carrots, and fresh dill. Ready in just 20 minutes, but tastes like you worked so hard to make it!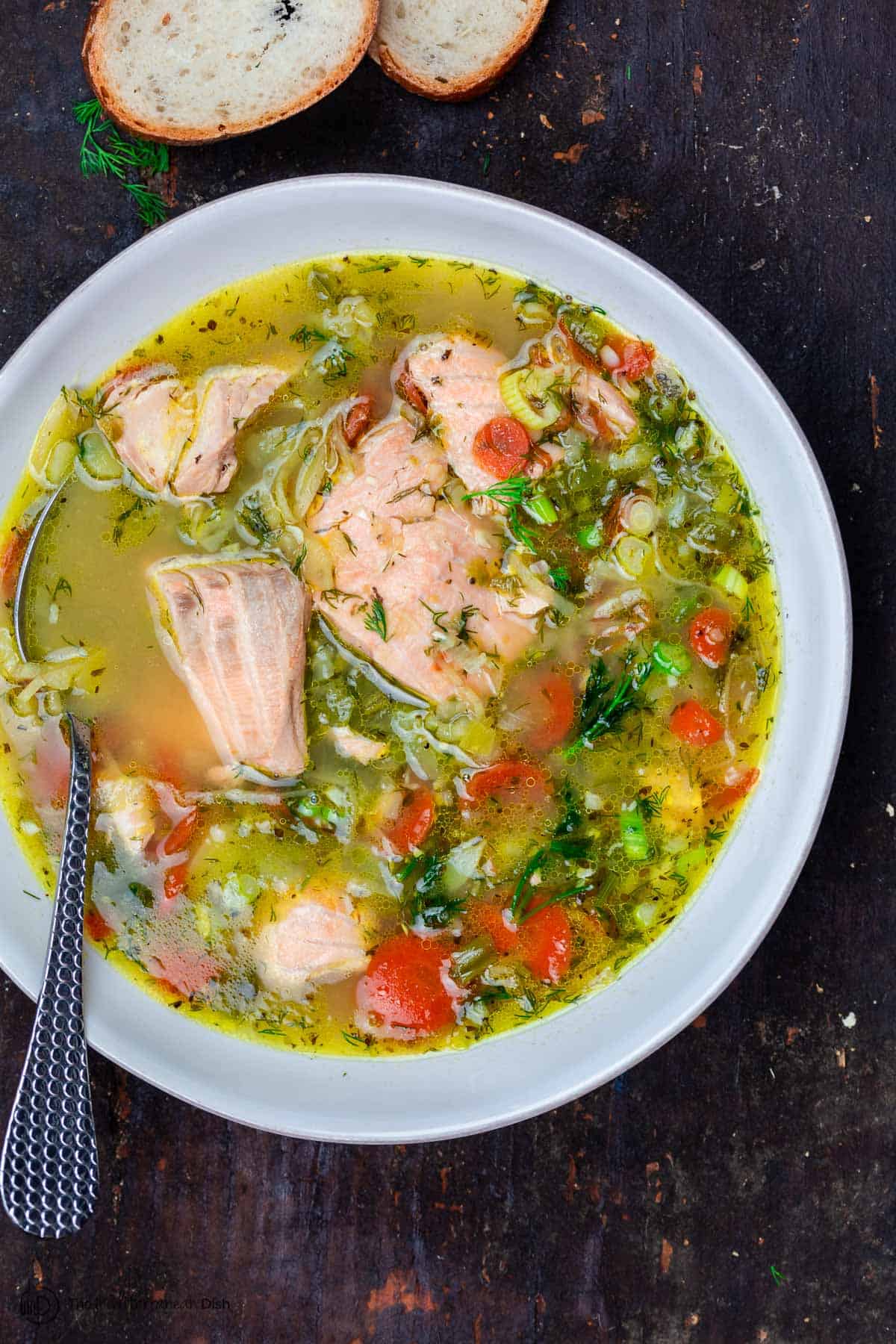 Steamed Clams in White Wine Broth
Clams, prepared the Mediterranean way in a white wine broth with onions, garlic, bell peppers, and fresh herbs. My daughter calls it clam soup and loves to dunk some chunky Italian bread in the broth.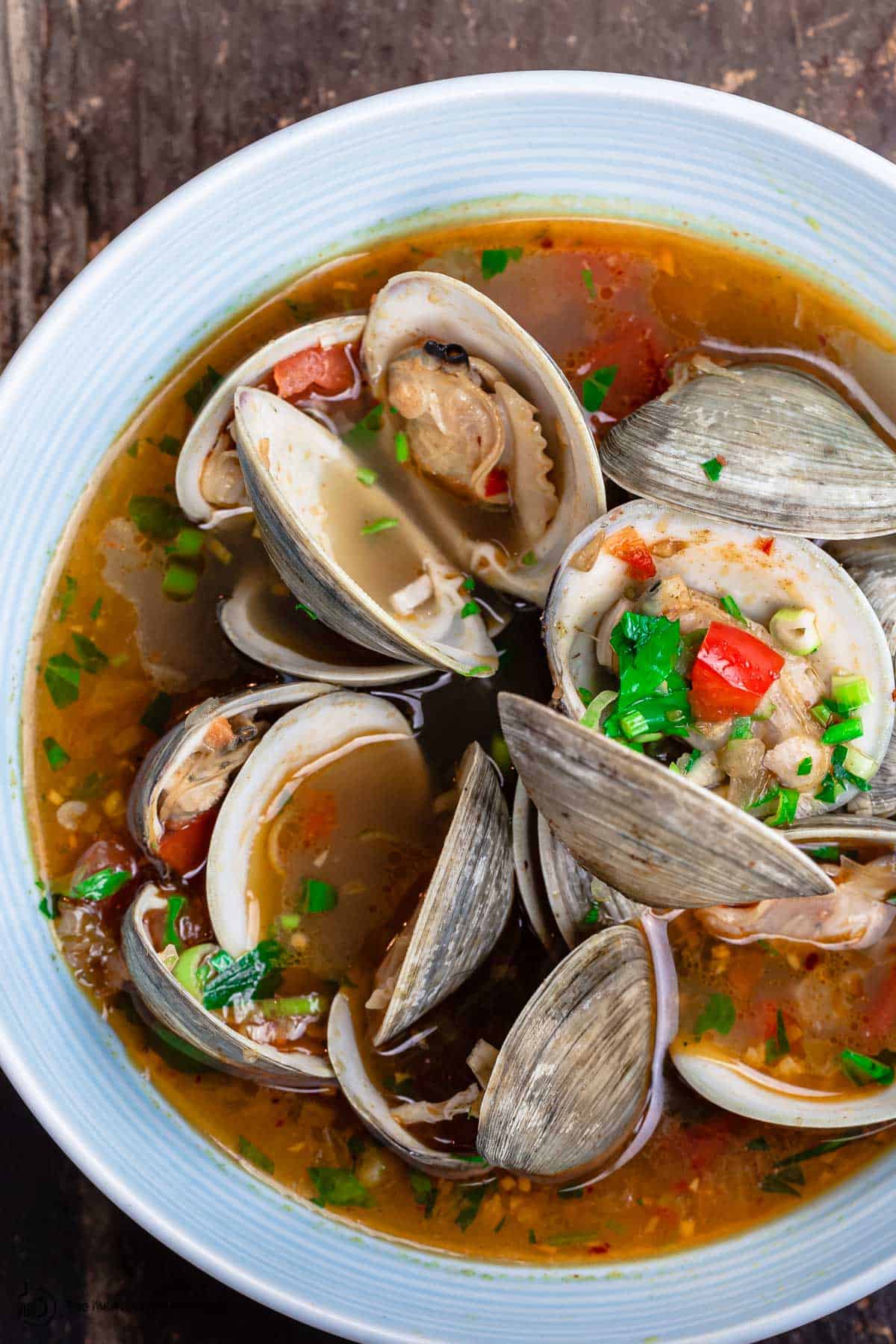 Crockpot and Instant Pot Soup Recipes
I mostly use a Dutch oven to make soups and stews, but if you are looking to use your instant pot for a quick preparation, or need a set-it-and-forget-it crock pot stew, here are a few ideas:
This vegan chickpea soup is full of vegetables, plant-based protein, fiber, and more! You can also prepare it in your slow cooker or on the stove! I share all 3 methods.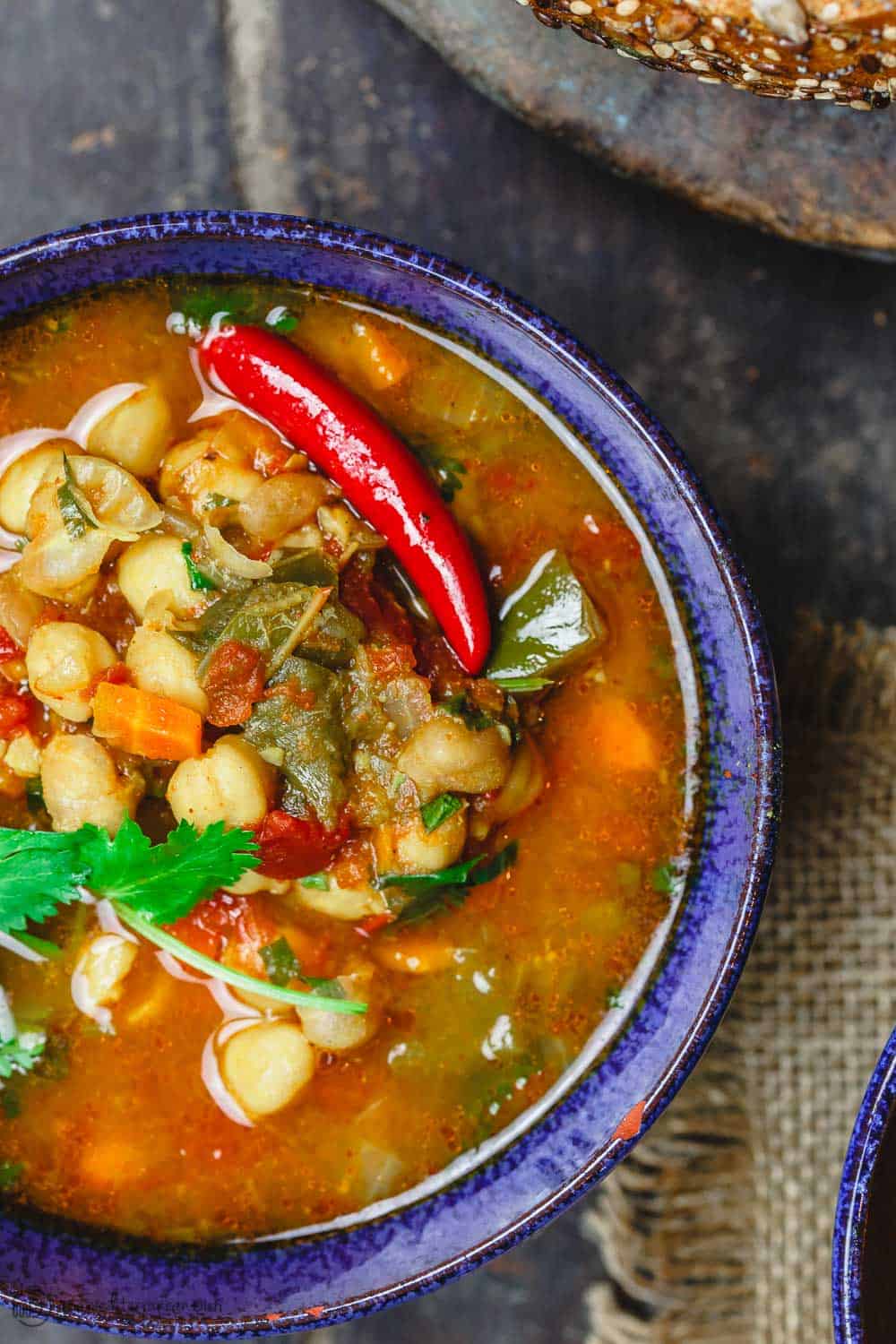 Cabbage Soup (3 ways)
I like to use the slow cooker for this cabbage soup because I think the cabbage benefits from lingering in the broth until it is tender and infused with flavor from the spices and aromatics. You can use the instant pot or make it on the stovetop, if you like. No matter the method, a splash of lemon juice and some fresh herbs, stirred at the very end, are necessary to finish this vegetable and cabbage soup.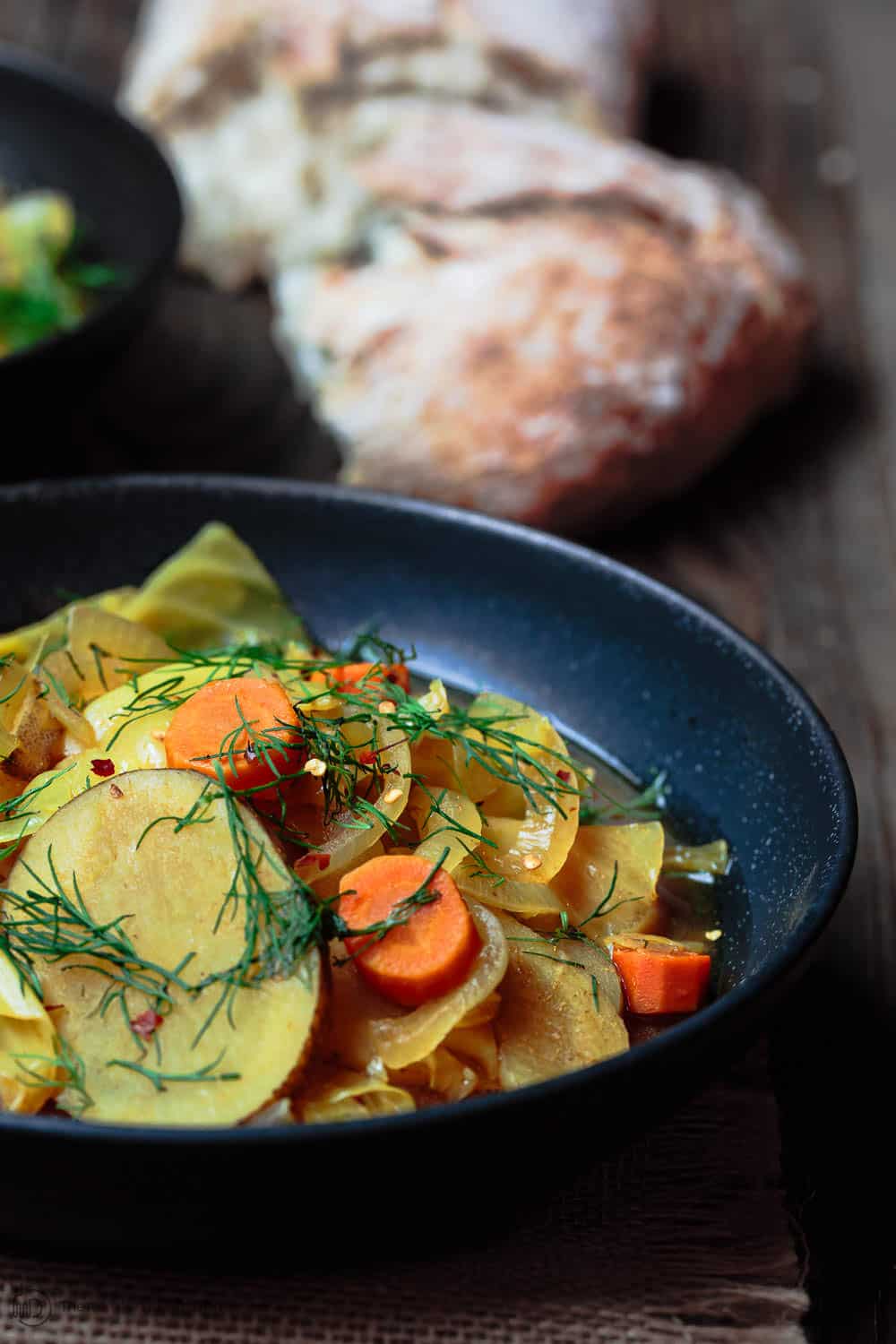 Slow Cooker Tomato and Chickpea Chili
Hearty and warm, this chickpea chili makes a hands-off dinner any night of the week! I love the layers of vegetables (onions, peppers, scallions, and jalapeño) in this unconventional chili recipe.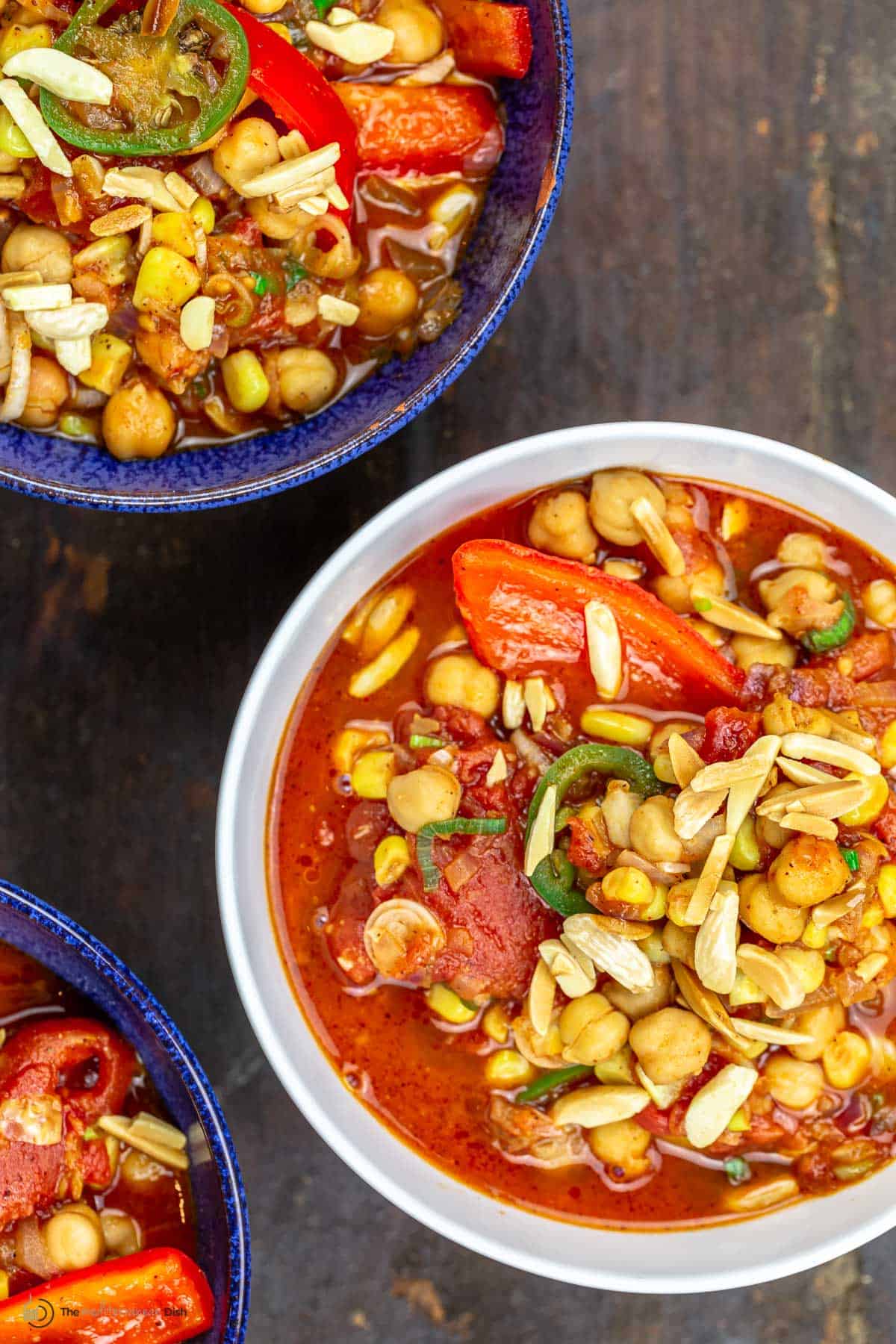 Arguably one of the coziest crockpot soup recipes on the site! Two cans of beans, some crunchy veggies, and a big splash of lime juice are all you need to make this delicious quinoa chili. And it tastes even better the next day!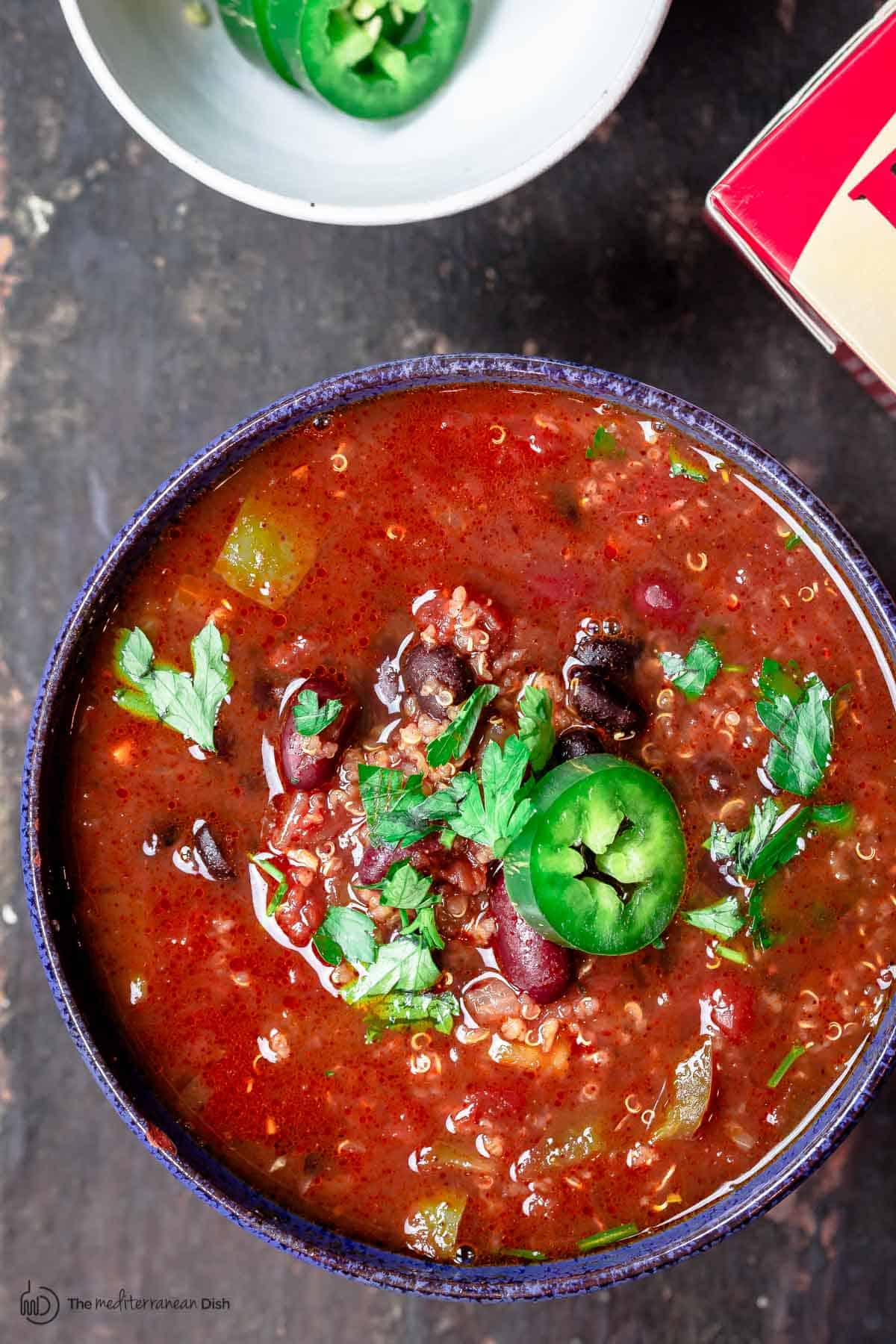 More chickpea stew recipes
I am a huge fan of chickpeas in soup, and because I have many cozy recipes that incorporate chickpeas, I wanted to mention two more even though we covered other bean soups:
This stew recipe turns frozen spinach into a meal with simple but powerful flavors and ingredients. With chickpeas, spinach, tomatoes, and vermicelli, this vegan spinach chickpea stew is delicious and satisfying! You can skip the vermicelli to keep this stew gluten-free.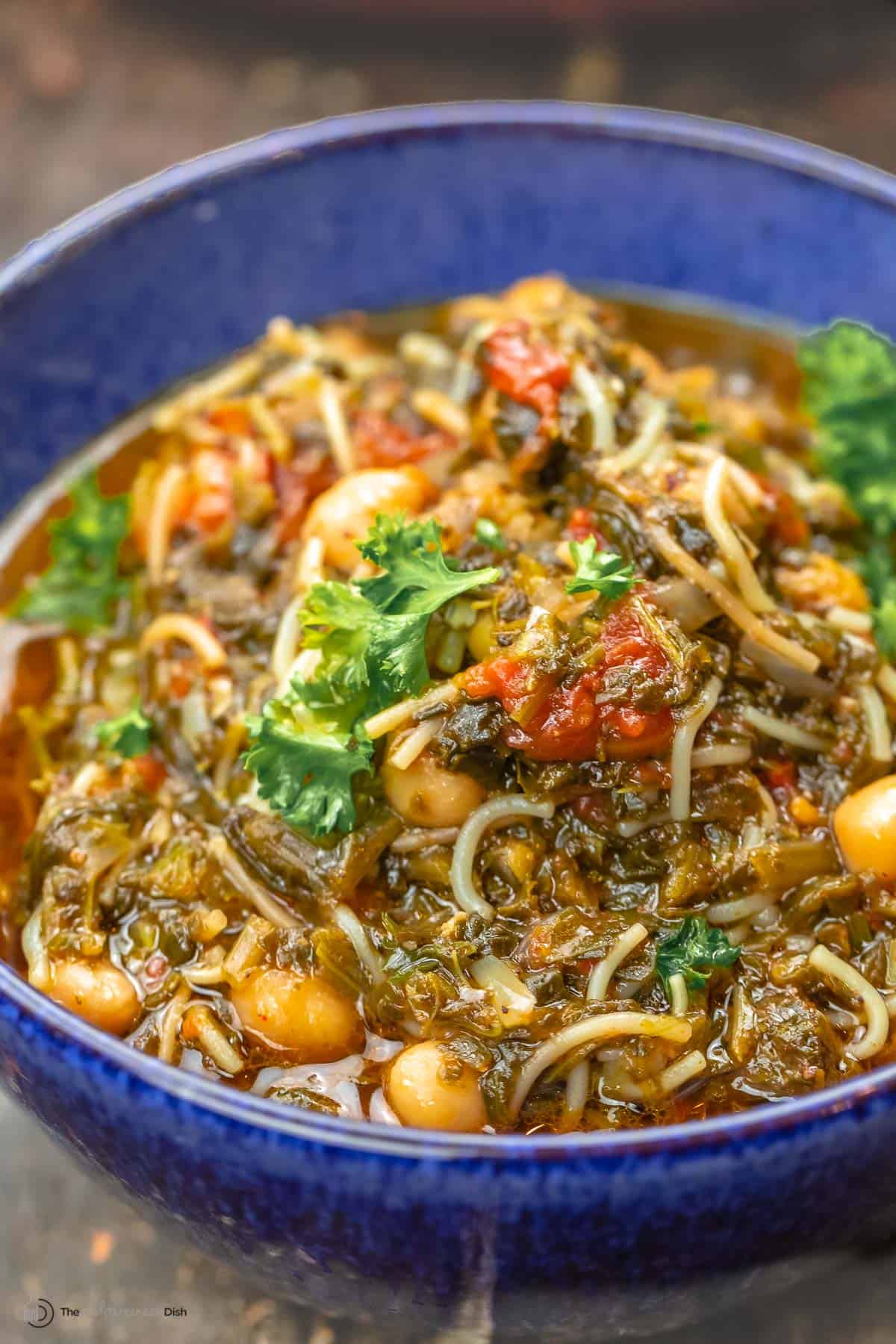 My family's favorite chickpea stew! The warm Mediterranean spice mixture deeply flavors this comforting vegan stew with notes of cumin, cinnamon and turmeric! Serve it over quick-cooked couscous, or rice. Some rustic bread to sop up all the goodness won't hurt, either!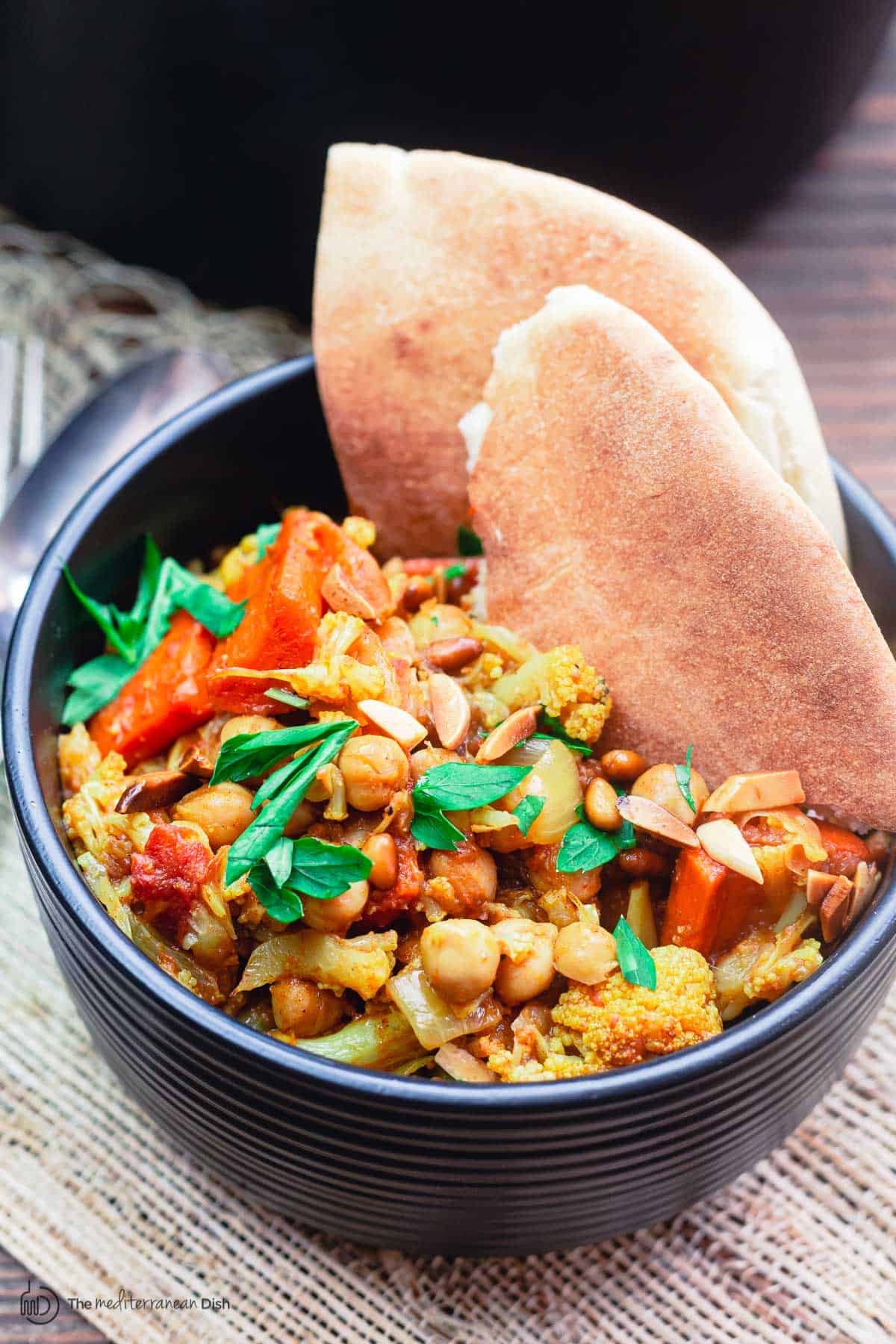 Soups and Stews for Meat Lovers!
I couldn't list my best cozy soups and stew recipes without including a couple of meaty options for my meat lovers!

This easy meatball soup combines Italian-style meatballs, chopped veggies and pasta, all simmered in a rich tomato broth. I like to finish with some fresh parsley and a good sprinkle of grated Parmesan cheese.

Here's a tasty and fun twist on classic minestrone with bowtie pasta, Italian sausage, and a few unlikely additions like chickpeas, green beans, and artichoke hearts.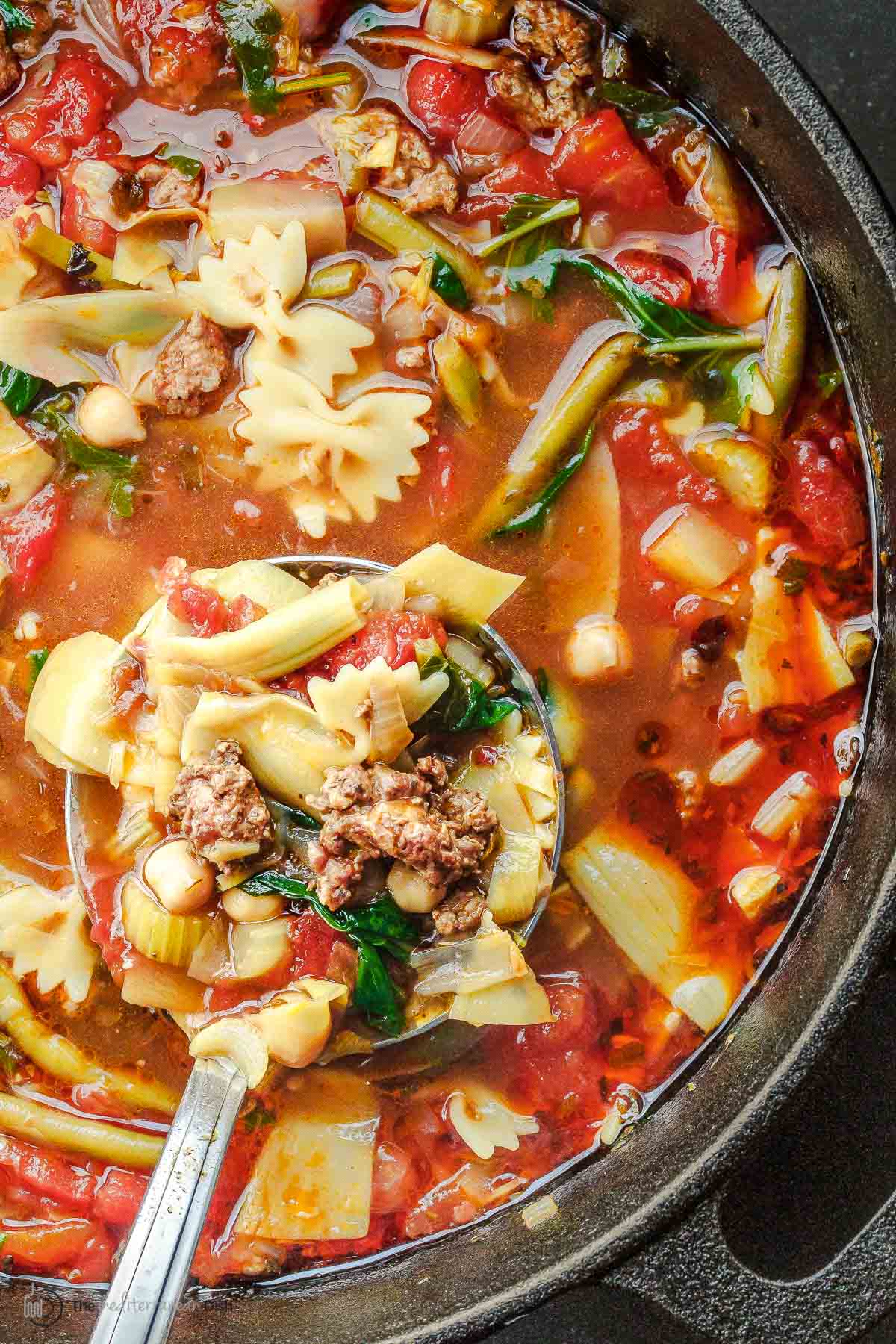 Simple rustic Italian beef stew recipe loaded with aromatics and vegetables like tomatoes, carrots and mushrooms. The slow cooker does all the heavy lifting in producing a meltingly tender stew everyone will love.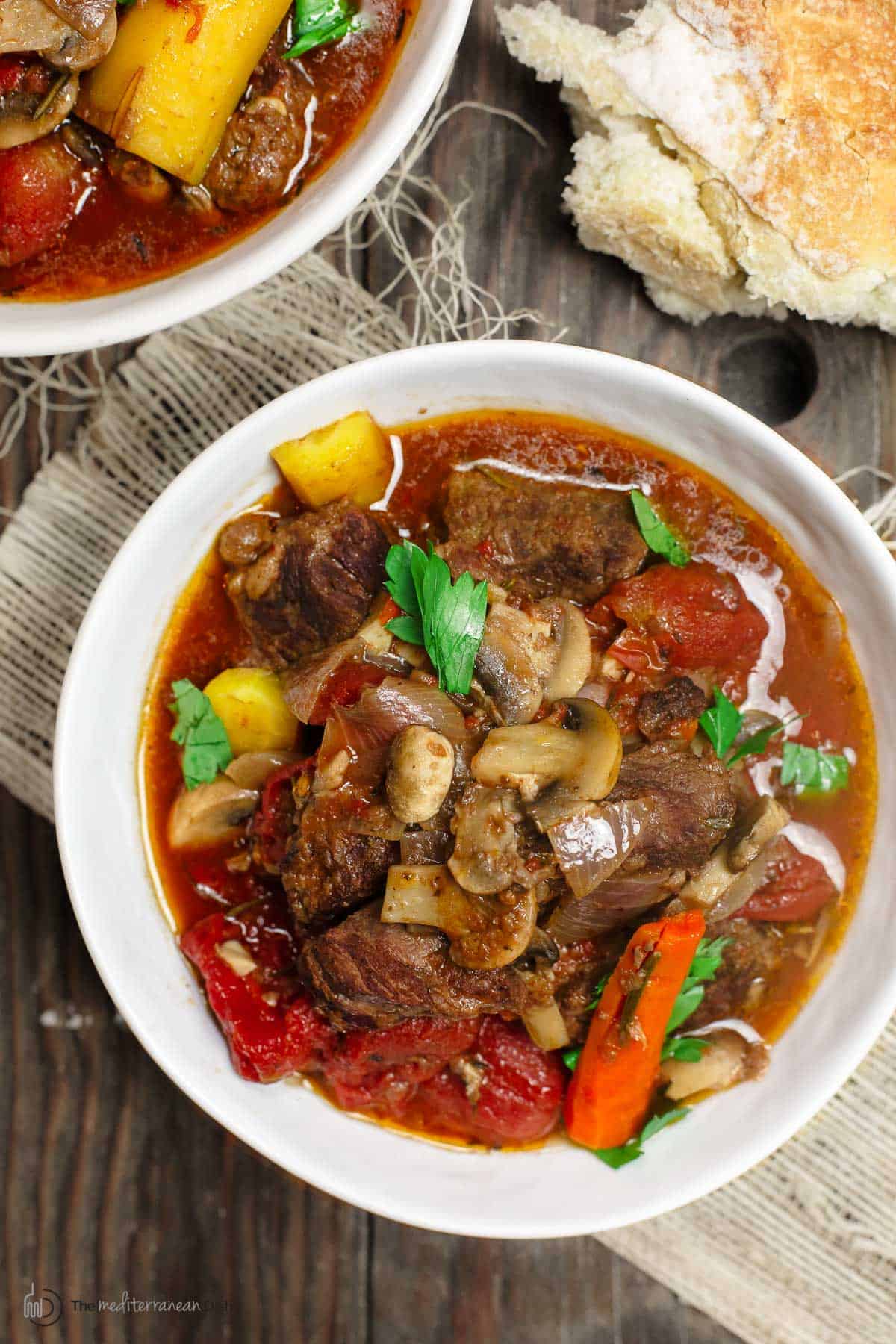 Comforting, fall-apart tender braised lamb stew recipe with loads of veggies, chickpeas and warm Moroccan flavors. (You can also make this in your Crockpot or pressure cooker). Serve it with my 15-minute couscous!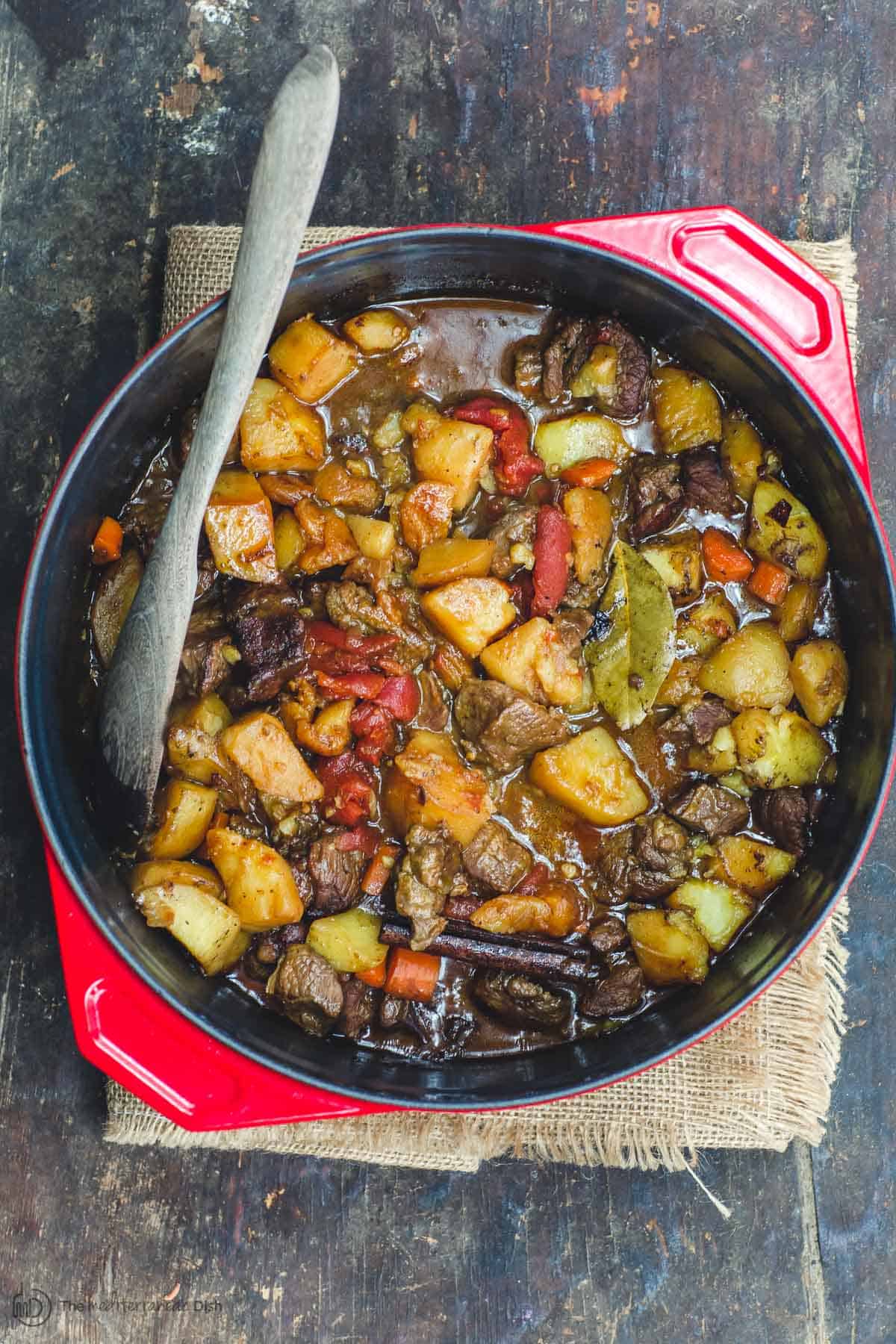 Easy lasagna soup with ground turkey and part-skim ricotta in a rich tomato-based broth. This is what I make when I'm craving lasagna but don't feel like working on a casserole.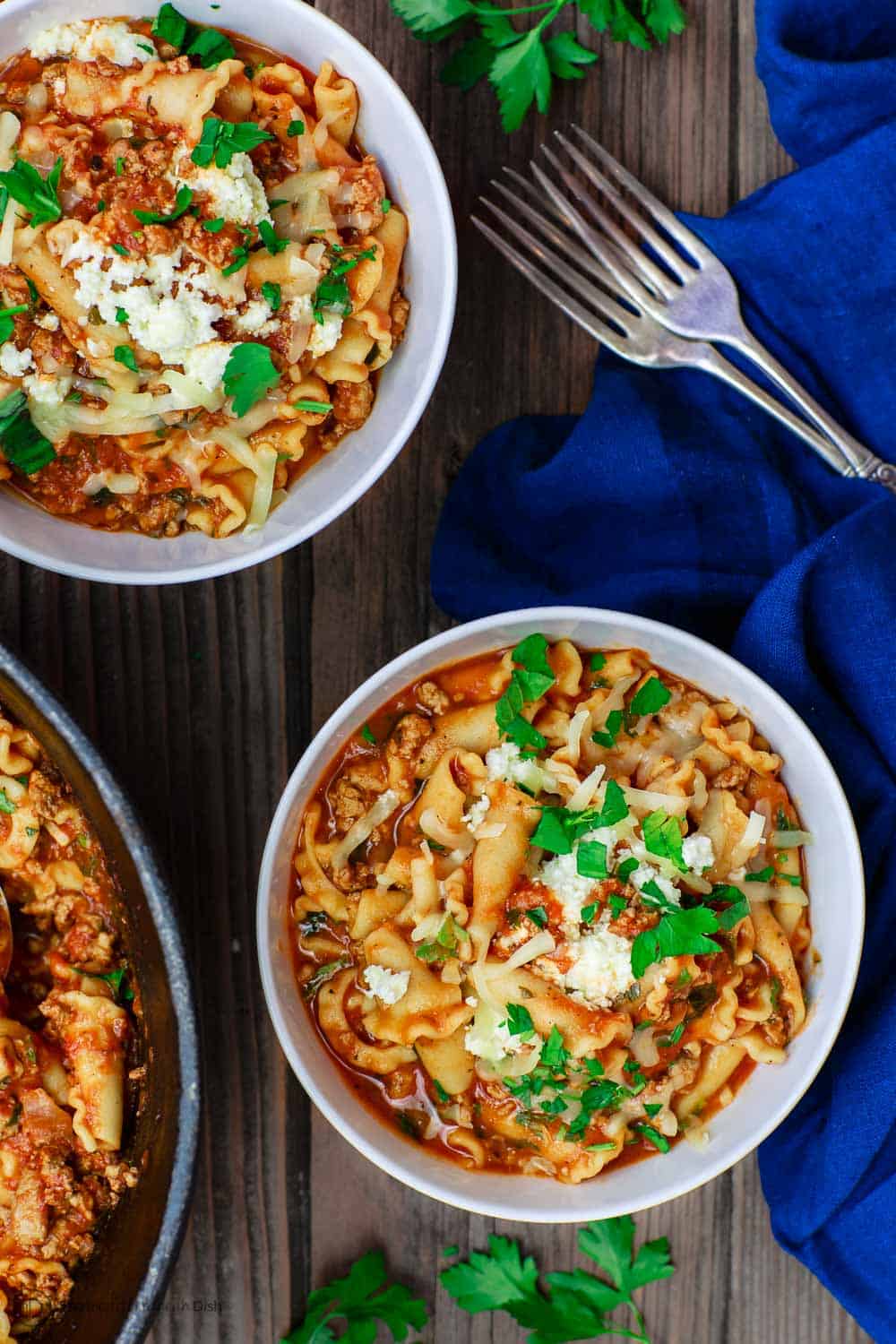 I hope you found something to try from my list of cozy soups and hearty stew recipes! I'd love to know what you have made, so be sure to leave me a comment below with your review, and if you post on Instagram, tag #themediterraneandish and @themediterraneandish so I can see your delicious creations.
Other recipe roundups you may like:
Browse all Mediterranean recipes

Visit Our Shop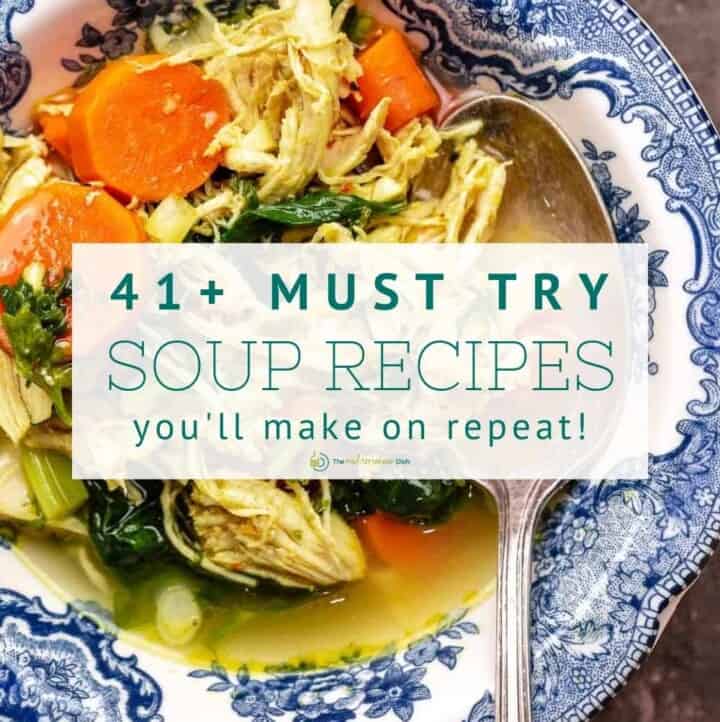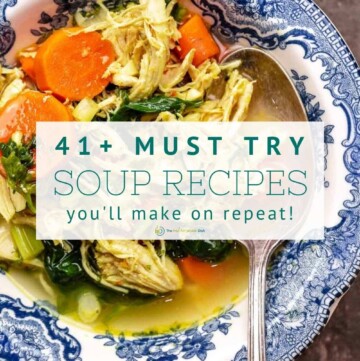 41+ Must-Try Soup Recipes: Mediterranean-Style Turmeric Lemon Chicken Soup
I've shared 41+ of my best soup recipes in the post, and if you're not sure where to start, let me suggest this comforting Turmeric Lemon Chicken Soup. It is one of my most popular soups for a reason. I'm sharing the recipe here again for your convenience. Swap out the veggies if you like, and add a handful of chickpeas or even your favorite pasta for some bulk.
Ingredients
1

pound

boneless chicken breast

1

yellow onion,

quartered

4

large garlic cloves,

divided (2 whole, 2 minced)

2

carrots,

peeled and thinly sliced into rounds

1

teaspoon

coriander

1

teaspoon

Aleppo Pepper

½

teaspoon

ground ginger

½

teaspoon

turmeric

2

cups

baby spinach

¼

cup

chopped fresh dill

½

cup

chopped fresh parsley

Juice and zest of 2 lemons
Instructions
In a large Dutch oven or pot, combine the chicken with 6 cups of water. Season with kosher salt and pepper. Add the onion and 2 whole garlic cloves. Bring to a boil over medium-high heat, then lower the heat and let simmer gently for 15 to 20 minutes (or until the chicken is cooked).

When the chicken breast is cooked through, remove from the pot and carefully shred using two forks. Strain the broth using a mesh strainer over a large bowl. Discard the onion and garlic. Set the broth in its bowl aside for now.

Carefully wipe the pot or Dutch oven and return to the heat. Add 2 tablespoons extra virgin olive oil and warm over medium heat. Add the minced garlic, carrots, and spices.

Return the shredded chicken to the pot. Stir to combine. Season with kosher salt.

Add the broth and bring to a boil, then lower the heat to medium-low, and cover partly. Cook for another 15 to 20 minutes (until the carrots are tender and cooked through).

Stir in the spinach, herbs, lemon juice, and lemon zest. Transfer to serving bowls and enjoy!
Notes
Shortcut homemade chicken soup

Use leftover chicken. If you have some cooked chicken on hand (or leftover rotisserie chicken), skip the step for boiling the chicken and use store-bought low-sodium chicken broth.
Make the homemade broth in advance. You can make and strain the broth in advance. Simply freeze it after it returns to room temperature (for broth, I like to use freezer-safe containers instead of bags). You can also freeze the boiled chicken in freezer-safe bags. Simply thaw both out in the fridge a night ahead of when you plan to make the soup.

Ingredient variations:

Add more or different vegetables! I love the idea of using up what vegetables I have on hand in a soup like this. You can add chopped celery or small-cubed zucchini, potatoes, or small broccoli florets, for example. If you do, make sure you add them in at the very beginning when you sauté the carrots and garlic. (Check out my vegetable soup for inspiration).
Add a grain or chickpeas to bulk up the chicken soup. If you're after something thicker or want to add volume to your soup so it's even more filling, you can add cooked rice or orzo, or canned chickpeas (just rinse the chickpeas and add them in early with the carrots and garlic).

Orzo pasta cooks faster, so you can either cook it in advance and add some to individual servings of soup, or add the uncooked orzo to the soup about 7 to 9 minutes before the soup is finished cooking.

Leftovers and storage: Store leftover turmeric chicken soup in an airtight container in the fridge. It will keep for about 3 days (unless you've worked in advance to cook the chicken or make the broth). To reheat, transfer to a pot and bring to a gentle boil over medium heat. Once boiling, remove from the heat and serve.
Visit Our Shop for quality Mediterranean ingredients including extra virgin olive oils and spices (like the coriander, Aleppo pepper, and turmeric used in this recipe).
Nutrition
Calories:
167.9
kcal
Carbohydrates:
8.3
g
Protein:
25.7
g
Fat:
3.3
g
Saturated Fat:
0.7
g
Monounsaturated Fat:
0.9
g
Cholesterol:
72.6
mg
Sodium:
180.5
mg
Potassium:
736.8
mg
Fiber:
2.3
g
Sugar:
2.8
g
Vitamin A:
7545
IU
Vitamin C:
23
mg
Calcium:
61.5
mg
Iron:
1.9
mg